Your new movie Heartbeat - in a few words, what is it about, and what can you tell us about your character in it?
What is this film about? You know, I'm not sure, haha. I haven't seen it yet (waiting on a physical media release, you know me). And while we were shooting, I still don't know if I ever got what exactly it was about! I just knew it was giallo-inspired, but that's about it. I mean, we made this film up as we went, so pretty hard to say. But Gregory Hatanaka (the director) somehow managed to figure it out, whilst shooting our other feature, Choke, which did have a script.
My character is nutty, I can say that. A conspiracy theorist, or a killer? A pervert? Maybe a mix? Hard to say without giving it away, I suppose.
What did you draw upon to bring your character to life, and how much of Shane Ryan can we find in Rick?
I'd hope not much of me is in this character, but I guess a lot actually is. As far as, he "lives his life through a camera", which I believe I even say at one point. Though he's a still photographer not a filmmaker, but similar enough. Those are my real glasses, I just don't usually wear them since I have contacts. I've been told I'm socially awkward, like him. But I've also been told I'm easy-going and easy to talk to, charismatic, the polar opposite in many ways. I guess I go with the flow; if I feel awkward then I am, if I feel talkative and comfortable, then I'm that. But Rick is a nutcase, and a total spaz.
We didn't have time to really come up with characters for this. We were getting ready to shoot Choke, which I had spent a couple months trying to get in character for. I didn't really know how to get in character since I don't act much (and I was playing Brandon for like a 5th time, who normally I improvise with versus in Choke I had barely any dialogue), but I watched endless crime documentaries, the entire Dexter series, Ted Bundy stuff, worked out vigorously, read up on killers' mindsets, etc. So, when Greg told us, "hey, let's shoot two movies at once" (I admit, I think that was in huge part my idea), I didn't have time to come up with anything or any idea for Rick. So, all I remember doing was picturing Gene Hackman in The Conversation (one of my all time top 20 favorite films). It was like 90-100 degrees or something when we shot this, and it tops out at like 72 degrees where I live so I was boiling hot. But I thought, "what if I always wear this silly jacket even though it's way too hot for one." Like how Hackman's Harry Caul always wore his raincoat when it wasn't raining. And then my glasses (since we'd jump back and forth between shooting Choke I didn't want to take my contacts in and out, so I couldn't see at all with the glasses on). Plus Harry is also a surveillance guy (with sound, not a camera), and thinks he's uncovered this murder plot and it drives him totally nuts. So, I relied a lot on that, since I knew that character so well, it's all I had time to really think of to draw anything from. And then I had forgotten, but Chris reminded me that I would spin in circles before each take. That helped me get the feeling of being out of breath, and panting and stuttering going on.
Rick in Heartbeat is a bit of a conspiracy theorist - is that something you can at all relate to?
Unfortunately yes in many ways. I can get very caught up in unsolved cases, or even in solved cases (i.e. Alyssa Bustamante) and start investigating all these ideas of cover-ups. But I'm more psychologically based, which is how my obsession with Alyssa's case started, wanting to understand why people do such evil things, and/or how they can go through with doing them, and then it leads to me thinking, "maybe they didn't do them." And like in Alyssa's case, I become obsessed with finding out what really happened, and believing it was a cover up or a coerced confession, etc. Ted Bundy is what started my fascination. I always heard such horrible stories about him growing up. I remember when he was executed (I was maybe 8 years old), so I don't know who or what I pictured him to be. But then it wasn't until 1998 or 99 when I finally saw an interview with him, and I was just floored by how normal and nice and charming and friendly he seemed. And I kind of became obsessed with crime stories and criminals after that. Trying to understand how people become these kinds of people. But Rick is more about cover-ups, not the psychology. Probably because he's a bit fucked up himself.
How did you get involved with the project in the first place - and how did you end up co-executive producing it?
That came from Choke. In pre-production of Choke things started looking bad as we were about to begin. I can't remember what exactly, stuff like locations charging way more than we originally were told, a lead actor maybe not being available due to family emergency, not finding enough actors overall (I think was an issue - we were always scrambling trying to get actors to commit and show for these smaller roles), etc. I remember having a meeting with Gregory Hatanaka, Chris Spinelli [Chris Spinelli interview - click here] and Nicole D'Angelo, and we were trying to figure out what to do. It was very stressful, so I can't remember all that occured. But I think it went from not knowing if we'd be able to shoot anything, or deciding if we should wait to begin filming, and eventually we just decided on making two films. I remember pushing that idea (so, my fault), because I said, well, even if we only end up getting enough footage for one, at least we still got one film in the can like originally planned. The problem was, we really didn't know if we started shooting Choke if we'd be able to finish. So then came along Heartbeat. And between the two, we'd get enough for one film. But if we lucked out, then two films. I didn't realize I was getting a co-executive producer credit, so I guess that came from being involved from the start, plus I technically did Heartbeat for free since I was getting paid just for Choke. And I did quite a bit of crew work (as well as created the character) on Choke (mainly contstantly looking to fill in these bit parts which was the absolute worst and most difficult thing to do on the film - I keep saying this, but I'm done scheduling/trying to find committed actors, never a-fucking-gain! - what a nightmare).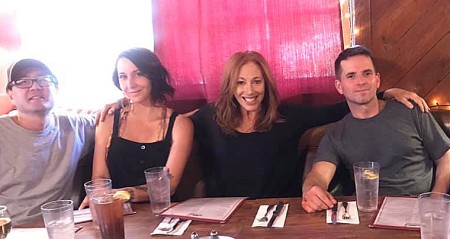 Lunch break with director Gregory Hatanaka
and co-stars Nicole D'Angelo and Lisa London
What can you tell us about Heartbeat's director Gregory Hatanaka, and what was your collaboration like?
Greg began distributing my Amateur Porn Star Killer films way back in 2007. But I started working with him as an actor (and sorta producer, though I hate producing) in 2014 with Samurai Cop 2 (I only began producing because I ended up with that title, basically, but I just wanted to be an actor in it). But Samurai Cop 2 was a huge headache for Greg, so he didn't direct again for several years until this past year with Choke, and then it just had this great domino effect of being followed with Heartbeat (well, those two together), Body of Night, Acrylic (though I didn't end up working on that), Sinful and next up Quarantine Girl. All shot since last September. I think it's gone pretty smoothly, though it started off rough with the Choke issue and that maybe not happening due to all the problems. I've only had one clash with Greg on these films, which was the climax in Heartbeat when I get punched. I wanted to make sure it looked good on camera since we were improvising this fight, and I got pushy about it and Greg got pissed. It was like 4am or something by that point. But that was the only dispute, aside from that it's been super fun. Granted sometimes I'd get only one take, or I'd get a script for a film the day before (Quarantine Girl) and not have a chance to memorize the whole thing, or have to switch characters that were polar opposites (Choke and Heartbeat) from one scene to the next, so I never really felt like I got to give it my all as an actor. But when you're making films like this, this quickly, this cheaply, does anybody ever get close to accomplishing or having the opportunity to achieve what they really want to? I heard that Denzel Washington got like 8 days to shoot one fight scene in The Equalizer (resulting in millions of Dollars being spent), until the studio finally said "enough." We don't get that luxury, unfortunately. We get maybe 8 minutes and a few bucks to shoot our fight scenes, so. Let's see Denzel look good doing that! (Note: I love Denzel, not a knock at him, he's incredible. But I still challenge him to that.)
Do talk about the shoot as such, and the on-set atmosphere?
Nicole, the star (co-writer), is insanely chill. Super easy and fun to work with. And funny enough, she came (from out of state) to shoot Choke, thinking she'd just be doing like, make-up or something. Then suddenly, she's starring in Heartbeat (and co-writing it!). Chris, who stars and produces (and also ended up co-writing), is the friendliest person ever. He makes everything stressful seem easy. I think he also was just looking to act (and/or had no producing experience), and has ended up producing all these, and is great at it. I couldn't handle that shit! I seriously just want to act (or just be behind the camera). I spent enough years doing both at the same time.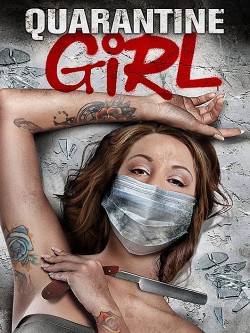 I think our hardcore crew team has mainly been Chris, Nicole and Greg. Other actors came for Heartbeat (like Lisa London [Lisa London interview - click here], who I worked on a few scenes with in Choke, and she had major roles in Body of Night and Acrylic), but I didn't see her much on this. Although (spoiler alert) I believe lots of us took turns being the "strangler hands". So I was the hands on Lisa. Sarah Brine [Sarah Brine interview - click here] also is in Heartbeat (my main scene partner in Choke) but I wasn't there during any of her Heartbeat scenes. I think that's when I had days off (although I usually spent my days off trying to cast those bit parts in Choke). Hard to explain these shoots; Chaotic, yet easy... in a way. Stressful, but relaxed and fun.
Any future projects you'd like to share?
Quarantine Girl should be out in a couple weeks or so. I play the lead male character in that, though Nicole is the lead, it's mostly about her. Sinful just came out, which also stars Nicole, Greg produced and shot, with Rich Mallery directing. I also recently completed my 80s anthology, Awesomely Righteous & Radical. I'm working on finishing the first two Ted Bundy Had a Son films. And early next year we finally get The Girl Who Wasn't Missing, and the 4th edition release of Amateur Porn Star Killer (both hitting DVD from Wild Eye Releasing). I'm also a producer on a ton of other recent films, including Attack of the Unknown (hitting theatres Aug 28, if they're open), Bridge of the Doomed, Bloodthirst, Jaws of Los Angeles, Takes from the Dead Zone. And on a couple of documentaries currently filming, Cúcuta and Heartprints in the Snow. And on a couple of dramas; the LGBT film Spring, and the recently released Homeless Ashes. Plus a bunch of anthologies coming up, including Philia, being released in 2021. I'm also still filming Red Oedipal, God Got Ill, and This Girl, This Boy.
Your/your movie's website, social media, whatever else?
You can find Heartbeat at
https://www.amazon.com/dp/B08DKP6JYB/
https://tubitv.com/movies/542256/heartbeat
https://vimeo.com/ondemand/heartbeatmovie/433270953

Feeling lucky ?
Want to
search
any of my partnershops yourself
for more, better results ?

The links below
will take you
just there!!!


My websites/social media
https://twitter.com/ShaneRyanFilms
https://www.instagram.com/madsincinema/
https://www.youtube.com/madsincinema
https://vimeo.com/shaneryanfilms
https://vimeo.com/madsincinema
https://www.facebook.com/MadSinCinema/
Anything else you're dying to mention and I have merely forgotten to ask?
Buy DVD, Blu-ray! Keep cinema alive. Go to theatres when they re-open, when it's safe. Cinema is about to collapse. Help save it! Streaming sucks! It's so goddamn fucking lifeless! With no cinemaGOING experience whatsoever!
Thanks for the interview!
Thank you!