I know we have talked about this before [click here], but bring us up to speed, what is the basic concept of your upcoming movie Scream Machine going to be?
Scarlet - Scream Machine is another anthology, it will be my 5th one, last time with Death by VHS we got away from the host but this time we will be bringing him back in such a way we have never done before: Scarlet Fry will actually have a co-host this time & a whole new Identity. I don't want to give to much away but it will have a last man on earth feel to it. The 5 short films will be tied into it. This is by far the best anthology I've done, the production value is much higher on this one, & I think a lot of people who have seen my past anthologies are gonna really be thrown for a loop on how much better this one is going to be.
How did the project come into being to begin with?
Scarlet - My partner on Death by VHS, David Sabal, mentioned he wanted to make another film. I agreed only if we could shoot it & have it done in 20 weeks due to some other commitments I have, so it was a big challenge for us, we agreed to do it & we really bared down. When Paul came into the picture it was a huge blessing, he really pushed all of us to make this film much better than it would have been if we stuck with our original plans. Paul hopped on board and we all three just gelled really well, it's a great team, all the actors did great & we will be done shooting by the end of the year, our goal has been acomplished and then some. I'm more proud of this film than I've ever been of any of my prior projects. I really gotta hand it to Dave & Paul for being on board with me.
What's your collaboration on Scream Machine like - and how did the two of you hook up in the first place?
Paul - I met Scarlet through a horror film ďmovie nightĒ he was holding. The concept for the movie night was that once a week or so a bunch of horror film fans would get together and watch or share different films that the others might enjoy. I admired Scarletís ability to get things done fil- wise and get them to market (as well as promotion and such). Iím not great with social media and had some bad experiences with distributors so someone with his experience was quite a positive influence. We also had lots in common beyond that. From there, we started bouncing different ideas and that led us to Scream Machine. The collaboration has been great. Iíve not worked as a collective before. It was a nice balanced group dynamic. It was a very different experience from earlier films where I may have taken on too many duties which ultimately burned me out.
Paul, you have previously also worked on Dead Enders - so do talk about that one!
Paul - Dead Enders was a tremendous experience. That was where I was able to fully implement my philosophy of micro-budget filmmaking for the first time. My first film was called The Domain, and I approached that the way most filmmakers approach their work. You write the script and then find a way to shoot it. Thatís why locations often seem out of place. Four grey walls as I like to call it. Itís not very interesting for the viewer. Dead Enders was an existing script that was specifically re-crafted to take advantage of unique locations that had become available to me. Building sets is a fun (although tiring) experience. It can really add atmosphere to a low budget film. You can create a world for the viewer that doesnít otherwise exist. Thatís what Hollywood does on a larger scale. They donít ask around to see whose apartment they can shoot in. There is no reason why indie filmmakers canít follow that model. All you need is a garage or a work shed (you get the idea). For Dead Enders we built a set long enough to shoot a scene or sequence, then weíd tear it down and use the same materials in the same space to build something else. It was fun and very effective.
More about Dead Enders here: https://www.facebook.com/pages/Dead-Enders/129262703781852
As far as I know, four of the five segments of Scream Machine are already shot. So what are they about, and what were your inspirations for them?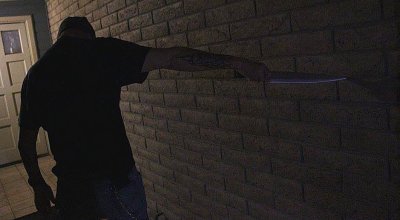 Scarlet - I really took my time with writing the 3 of the five segments I did write. The first one has a real slasher/revenge vibe to it & was influenced by some of my favorite slashers like Prom Night & Terror Train. Then we did one that was based on a true story , so I really reaserched this particular serial killer and made the film very true to the things he did in real life. This one will gross out the most jaded horror fan for sure. The last one I wrote was really influenced by April Fools Day - you don't know if it's real or a spoof, it's really effective. The final two segments are written by Paul and he really challenged me to up my game, these stories are going to be amazing & I can't wait to see what people think. We did things that I have never dreamed of ever doing in my films. People are really gonna watch these and ask themselves "How the hell did they do that?" I'd rather not say more until people actually see it, I promise you this film is going to be amazing.
Do talk about the individual shoots for a bit?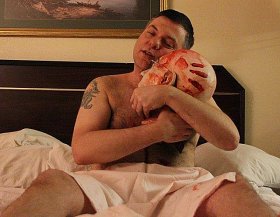 Paul - Scarlet and I discussed early on how this anthology should have an ambitious feel. It was important that we not fall into the old trap of segments being shot and edited the exact same way. We wanted a different feel and personality for each of the five segments. So far that has worked out nicely. The first segment shot was called Sledgehammer. That was shot and edited straight up using traditional filmmaking techniques for what was essentially a traditional revenge story. The second short was called Cannibal Pen Pals. In its heart, this short is a love story, twisted as it may be. We added scenes of wistful reflection that make the audience strangely sympathetic before we gross them out. Third was April Foolís Party which was far more kinetic. It dealt with a group of sadistic tweekers, so we wanted to parallel the experience of drug induced euphoria by using more modern techniques, shaky camera, and quick edits. Itís a completely different feel from the other segments. Septic Shock was then designed to be dark and scary, claustrophobic and angry. Again, a big departure from the other segments. The final short (yet to be shot) will have a self-deprecating humor to it. Much more a tongue in cheek sense of self awareness that the audience should appreciate as we deconstruct Scarletís earlier films and signal a new beginning that Scarletís fans should really like. Ultimately itís all about the viewers and giving them a fun experience. Thatís where the gore comes in. That will likely be the bloodiest segment.
This leaves us with the fifth short - what have you planned?
Paul - The drive-in segment, which is the last to be shot, will be an exercise in self-deprecating humor with an ample supply of gore. We will actually use one of Scarletís earlier films as a plot device. Scarlet will physically move out of the films of the past into the current film and affect the actions of present time. Beyond that, youíll have to see the short because I donít want to give too much away.
What can you tell us about the film's overall approach to horror (as in suspense vs sudden shocks, atmosphere vs all-out gore and the like)?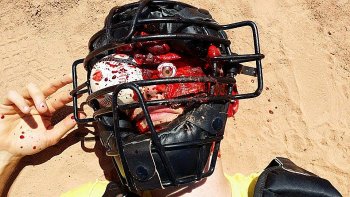 Paul - Iím as huge fan of film. There are elements of all different styles of film techniques in my work. Horror is my favorite and I often get frustrated by the lack of respect the genre gets. Horror as a genre is the most imaginative of all styles of film, in my opinion. Great filmmakers like Francis Ford Coppela and James Cameron have gotten their start with Horror because there is so much room to experiment and find their voice. While each of the segments of Scream Machine have itís own personality, you should see many familiar horror techniques used. Septic Shock for example is largely atmosphere, whereas Sledgehammer is all about the gore. For me, the biggest issue is to make the segments entertaining and distinct. I believe that horror film fans will appreciate the effort behind Scream Machine because we clearly respect the genre. Weíre not falling into clichť and weíre not padding the film with 20 minutes of someone walking around in the dark with a flashlight. For us, itís all about providing horror audiences with an experience they can connect with and frankly they deserve.
Your film will star the ubiquitous Troma legend Lloyd Kaufman - so how did that come into being, how will he be featured, and what was it like working with him?
Scarlet - I worked in acquisitions for a while, and a filmmaker named Derek Young [Derek Young interview - click here] was signed by me to the distributor I worked for at the time. He was very happy that we had got two of his projects out there, & one of them had Lloyd Kaufman. I asked him about acquiring him for Scream Machine & the next thing I know Lloyd shot some footage for us featuring himself & gave us permission to use it in the film. It really was a dream come true for me to actually make a film with Lloyd in it, & it is why this film is so dear to my heart. There is nothing that will stop me from releasing this film for that reason.
What can you tell us about the rest of your cast, and why exactly these people?
Scarlet - The cast was great. In my prior films I a lot of times just put my firends in the movie & they couldn't act, this made some of my prior films suffer. I did not do that with Scream Machine, everyone in this film is a professional actor & they all did a stand-out job. I wanted this film to really be the best thing I've ever done & it is by far.
Any idea when and where the film will be released onto the general public yet?
Scarlet - We have arrangements to submit the film in March to a well-known genre distributor - I won't say who yet but they have shown some interest in the film and we are very excited about it. I would guess this film will be released on DVD sometime by the summer of 2015.
Any future projects beyond Scream Machine?

Feeling lucky ?
Want to
search
any of my partnershops yourself
for more, better results ?

The links below
will take you
just there!!!

Find Scream Machine
at the amazons ...

amazon.com

amazon.co.uk

amazon.de
Looking for imports ?
Find Scream Machine here ...
Something naughty ?
(Must be over 18 to go there !)

Paul - I am planning to rerelease Dead Enders, which didnít get proper treatment from its prior distributor, as well as releasing my first film The Domain (despite some limited theatrical screenings it has never been officially released on home video). From there, there are several projects Iíll be completing over the next two years. The first up is a Kentucky Fried Movie style comedy from a team of writers I work with which goes by the name The Fancy Lad Theater (named after my production company Fancy Lad Films). This film will be called Closed for Renovations and should be a lot of fun to shoot. Then itís back to horror with a good old fashioned monster movie. Details coming soon on that. I think itís important to get away from horror from time to time so that you donít become clichť and disrespectful. You need to use all your muscles you know?
Your/your movie's website, Facebook, whatever else?
Scarlet - https://www.facebook.com/pages/Scream-Machine-2015/241739662701978
I would also like to thank everyone who funded this film via IndieGoGo, we promise to deliver!
Thanks for the interview!