Your upcoming comicbook Punk Rock Comics - in a few words what is it about?
Well, I could have called it "Sandez Rey's Universe", because in essence this is an anthology title that gives every character I've ever used in alternative and underground comics a chance for a turn in the sun. Each 24 page issue is divided into three 8 page chapters and each chapter is essentially a story unto itself as well as being a chapter in the larger story. The larger story uses the Kaiju (giant monster) genre to talk about the end of the world. In the first issue El Hijo del Cthulhu (the Son of Cthulhu) comes out of the Pacific ocean on page one and attacks Minneapolis (which has been relocated to California as part of an NBA basketball trade...). El Hijo del Cthulhu is only the vanguard of a veritable legion of monsters both large and small who will be appearing in this book. As for the title, Punk Rock Comics it is simply the best description of everything that I am doing in this book that I could think of. I have wide ranging musical tastes but will always have a special affection for punk which is both the music of my teenage years as an original '70s punk and a category I still go out to see and enjoy. In fact I was dead front at a club show last night featuring The Vibrators, a classic British punk act from way back and 2 other bands. I want this comic to be the most psychotronic comic ever produced, with more monsters, more boobs, more superheroes, more gunfights, more jokes, more, more, more, more! And that goal leads me directly to the title which only seems incongruous until you read the comic, then I think it will make perfect sense to you!
You currently run a fundraiser for your book, right? So what can you tell us about your fundraising efforts, and what will the money be used for?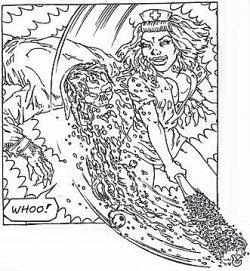 I'm running a Kickstarter campaign to try to raise $7,600. If I can raise that amount it will cover printing, distribution, a web platform and leave money for advertising and promotion. I am an experienced self publisher as well as having a background working for publishers, and I know from bitter experience that without money for promotion and advertising you wind up with a lot of unsold books just sitting in your closet and lot of potential readers who never hear about it. Perhaps I shouldn't say this but the comic WILL come out even if the fundraising fails. No indy artists worth their salt is going to let a little thing like public indifference stop them. But the bottom line truth of it is, without the fundraising I will be scraping the bottom of my personal funds just to pay printing, so unless you happen to shop at one of the friendly stores in Minneapolis who will put it on their shelves or see me at a conventions - and I rarely appear outside the upper Midwest - or stumble across it on the internet by accident, you will probably never hear of the comic or know it exists. And that's sad because I really think this comic could potentially have a circulation in the high 5 figures and replace my straight job allowing me to draw many more issues much quicker. But financed out of my pocket, the promotion will minimal to non-existent and I have to keep the straight job meaning even if I work steady in 'spare' time it will be struggle just to get out 2 issues a year. And when you don't have issues coming out it is a self defeating cycle because it's hard to build an audience on 1 or 2 issues a year. Trying to break out of that cycle is the purpose of trying Kickstarter.
http://www.kickstarter.com/projects/1122615729/punk-rock-comics-1
You stated somewhere that with Punk Rock Comics you want to do "the most psychotronic comicbook ever produced" - you just have to elaborate on that!
I can best answer that by saying that the 8 page prolog includes multiple shots of El Hijo del Cthulhu smashing buildings, Leopard Girl racing through the city ahead of him in her mag/lev hotrod with the Mayor. Black Dwarf shooting it out with gangsters and hooking up with the young adult drug dealing gang called 'Kidgang' who he will be mentoring in future issues and a 'trans-genre conference call' with Leopard Girl, Black Dwarf, Enchanted Dagger, Speed Centaur, Robot Jungle Girl, The Radioactive Kid, Doc. Delilah, Sheriff Judy and Summer Sky. The next 8 pages feature buxotic Sheriff Judy and Summer Sky from my adult comics in PG-13 versions battling through a wax museum of monsters come to life in what is essentially a tribute to Mexican monster movies. So that's a busty black cowgirl and sexy Vietnamese vixen wielding a baseball bat wrapped in barb wire against Nostradamous the Vampire, the Werewolf, the Bloodthirsty Beast, Frankenstein's Monster, Baron Terror, The Ghost of the Crying Woman, The Aztec Mummy and Coffin Joe. And they win the battle. In 8 pages. And a surprise new character is introduced. The last 8 pages is a no holds barred brawl between El Hijo del Cthulhu and Robo Gog ( the giant robot Doc. Delilah invented in my Big Monster Fight comic). And I try to break as many rules of Kaiju vs Robot fights as I can in that struggle. So that's what I mean- non stop violence, sex appeal, monsters and everything else I ever liked about comic books, genre movies and cheezy TV shows mashed together with a sledgehammer.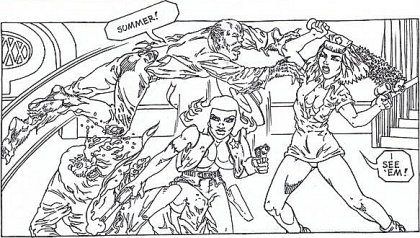 What were your inspirations for writing Punk Rock Comics?I haven't had much out the last few years and have kind of floundered from one project to another, many of them unfinished and unpublished, working on my style. This idea blends my longstanding desire to try to create an 'all action' project that would have some kind of action element on every page with the desire to create a vehicle that would be a sort of overview of all my characters and let me do some Robot Jungle Girl pages and then do Speed Centaur or Sheriff Judy or even invent someone new and tie it all together.
How would you describe your drawing style on Punk Rock Comics?
The easy way to explain is if a comic fan is familiar with the famous French artist Moebius. Moebius used to draw Blueberry, one of the greatest western comics ever, in a very busy, fantastically detailed style loaded with solid black areas and textures - then at some point he turned against what he was doing and began moving in the opposite direction stylistically. By the time we get to The Airtight Garage and his other later work he is just outlining everything with a pen, no solid blacks, very few textures and his detail work has achieved a perfect balance so that his work is no longer 'busy' but elegant in its clarity. I have struggled with what I was doing on the drawing board for years as I am somewhat obsessive/compulsive and tend to spend way too much time worrying about the weight (thickness) of every line putting in tiny details that get lost when the work is reduced anyways. I used to laboriously pencil in everything completely then trace over it with the ink as if each line was life or death. It was an excruciating process and although other artists often told me I was a 'great inker' I dreaded inking stage of the page as pure frustrating tedium. After much trial and error I made some big changes and came up with an 'outline' style of my own that works for me. First- I no longer reduce! Since I am going to obsessively draw small anyways ( I've tried to stop and can't!) I simply draw all my pages actual size now. I no longer use a pencil for most pages. I thumbnail what I want, measure the panels on the board, trace off the panels onto tracing paper and use a fat marker to do a layout on the tracing paper. I then tighten up the layout with a pen on an overlaying sheet of tracing paper and then tape that piece of paper to the back of my Bristol board. Then I letter the word balloons on the page - I now have a page with just panels and word balloons in ink - then put the page on my light box and using a pen, draw the finished art directly in ink based on the final layout which shows through on the lightbox. No pencil touches the page and there is no erasing, just a little correction with white paint for any place I screw up. So it's a radically different approach both from what I used to do and from what is the conventional way of doing comics in America. I call it 'my policy of radical discrimination against blacks'! My wife - who is black - has said I need a better name for it than that. So I am thinking about calling it 'I hate blacks'. But I am open to finding a better name for it...
Any idea when and where Punk Rock Comics #1 will be released yet?
Well, I'm going to go ahead and give you the link here for the Kickstarter drive which has more information than anyone needs about the project, the link is http://www.kickstarter.com/projects/1122615729/punk-rock-comics-1 and point out that if anyone is seriously interested in reading the book they should pledge $10 because if the fundraising drive fails to meet its goal - and it's a toss up now - you will not be charged for the pledge and pay nothing - that's the way Kickstarter works - but if I meet the goal any you pay the $10 you get a signed copy of the book as soon as it comes out and the postage is included in $10, there is no postage charge. So when you combine the cover price, which will likely be $4 with what you would have to pay in postage which would have to be at least $3 since I mail first class and flat to anywhere in the world, and consider that you are getting a signed book for only a few dollars more than cover price + postage, it's a pretty good deal. And if you want to go to $20 I am including signed copies of Big Monster Fight #0 & #1 a book that is totally out of print and unavailable unless you come to Minneapolis for a comic convention and buy it from me!
So I think the return on donations is very reasonable and provides value for the money. But everyone should check it out even if you have no intention of donating because if you like what you see you can provide an invaluable service to the effort by sharing the link on your social media and that's free! If the effort to raise money fails I will be putting up a website to sell this and my other past and future comics and the best way to follow my efforts in that regard is to either 'friend' me personally on Facebook at J. Scott Naylor (yes 'Sandez Rey' is a pen name as Spanish speakers knew already - it means roughly "nonsense king") or come to my art archive page on Facebook titled Sandez Rey's Crypt of Underground Art. There's a ton of artwork there of very questionable taste, including lots of nudes, and if you 'like' the page you will see all the new art as I put it in there and get updates and links to everything I have coming out. I should also encourage everyone to read a complete 24 page comic book for FREE at http://robotjunglegirl.blogspot.com (just scroll down to the oldest post and read the chapters in order by scrolling up to the next post) and you can read 16 pages or so of an unfinished abandoned story at http://cthulhupunksundaypage.blogspot.com/ again by reading oldest post first.
Punk Rock Comics #1 already sets the bar high for things happening in that universe - so how are you planning to top this in later issues?
I never worry about topping myself or coming up with an idea. I try not to think of story ideas, my mind is flooded with disturbing thoughts constantly and I already have more ideas than I could ever draw and more come unbidden all the time. My mom used to tell me that if I continued to read and watch nothing but 'garbage' that my brain would be filled with nothing but garbage and she was right. Thanks for the tip, mom! She also thought the Beatles were 'garbage' and repeatedly told me and my big sister so when we were wearing out our Beatles singles on a little plastic Sears record player back in the early sixties.
Since it's in the title: What does punk rock mean to you in your private life?
I talk about this some on the Kickstarter proposal and I don't want anyone to think I am whining or feeling sorry for myself, because I am not, I've had a good life. I haven't yet accomplished everything I want to but who has? Having said that, I grew up with one friend, the boy who lived behind me and was born just a month or so before me. We did everything together, then when I was 9 he moved away and I didn't see him again until high school when everything was different. It was devastating. We were very poor - navy beans on bread seasoned with salt and pepper for dinner poor - but we were the hidden poor. We lived in a 'suburb' but had no garage, an unpaved driveway and a tiny portable b/w TV in the living room for entertainment. Our house payment was only $135 a month and it still went into forclosure 3 times and was pulled back from the brink each time by my dad's talent for bullshitting and making empty promises. When I was 10 my parents started arguing in earnest and screamed at each other like insane people for the next year creating a nightmarish home life. When I was 11 my parents divorced and money problems got even worse. Dad couldn't pay child support, his landscaping business was just enough to keep him in cheap drink. At age 12 I went to work for him full time doing a man's job every spring and fall weekend and all summer, laying sod and planting trees and such. It was backbreaking adult work and I was a 12 year old boy. But it put money in my pocket, a lot of which wound up being 'borrowed' to mom to pay bills. She eventually paid it all back (she worked two jobs 7 days a week for 5 years straight without a day off herself after the divorce) but at one point her tab was up to $600 which is the equivalent of owing thousands in today's money. My big sis took me to a Jesus meeting and I became a born-again Christian just in time to enter Jr. High school wearing a Jesus button ön my shirt everyday and determined not to respond to any abuse. Which lasted about 6 months but by the time I started fighting back I was the favorite target of every bully in school and spent about a year having one fistfight after another and taken numerous beatings. And dispensed a few to be fair - and there are still a few more I am going to dispense if I ever run into certain people again. I tried to get parental attention to my woes, but she did nothing. I stopped doing schoolwork and the school didn't care. They passed me through 3 grades without me turning in any assignments. When I started high school at the age of 15 I had quite an attitude - I had adult money in my pocket, contempt for school and authority and the willingness to punch a guy twice my size in the face. I started hanging around with T. K. - a known bad boy who had been one of the biggest stoners in my Jr. High. I started smoking weed and fell in love with it, I was selling it 2 months after smoking my first bowl. Me and T.K. became partners in weed and joined at the hip in everything and soon were ringleaders in the gang of about 50 or so student stoners and troublemakers. I was having a great time. Then I went to see Iggy Pop ($6.50 day of the show) touring for his Lust for Life LP just because a friend had said he was 'cool'. From the moment the local warm up group - The Suicide Commandos, Minneapolis' first and finest punk group - hit the stage my life was changed forever. I became a devoted punk started hanging out and drinking at our version of CBGBs a pit called Jay's Longhorn Saloon at age 15 - they didn't check ID and didn't care - followed local bands and partied and drank every weekend, saw all the great punk acts including Iggy 4 more times and the Ramones 4 times including their Rocket to Russia tour with their original drummer Tommy and the Runaways for warm up. Fast forward 12 blurry but fun years, countless drug sales, hustles and odd jobs and the old gang has broken up and getting high and drunk all the time has become a boring routine. So I quit smoking, which I stuck to for 12 years and pursued my childhood dream of drawing comicbooks from scratch. I did go back to smoking but I am actually quit again now with rare exceptions. And here I am, a crusty old punk, still loyal to punk flag after all these years.
Any future projects beyond Punk Rock Comics?
My plan is to spend the rest of my life adding new issues to this project, that is why I am going with such an open ended title. I want this to be the banner under which the rest of my cartooning is published.

Feeling lucky ?
Want to search for books by
Sandez Rey
yourself ?
The links below
will take you
just there !!!


Anything else you are dying to mention and I have merely forgotten to ask?
Well, you know I love rare movies, I've become a big Reiko Ike fan in recent years and just added Guerilla Girl Boss 6 and 7 to my collection but haven't watched them yet. I was blown away by Instructors of Death and 8 Diagram Pole Fighter, two Shaw Brothers movies by the director of 36th Chamber of Shaolin, they are BETTER than the more famous 36th Chamber of Shaolin and frankly two of the best Kung Fu movies I've ever seen! I can also recommend to every horror fan Monstrous Dr. Crimin, a b/w Mexican horror movie that is one of the best in my rather large collection of those.
Other than that I just want to thank you for your interest in my work and allowing me to talk about this comic on your website which is a site I am happy to endorse to anyone. I have a collection of thousands of rare movies myself from all around the world so I know enough to know that you know what you are talking about, and you do. It's always fun to talk movies with you and I will drop you a email when I get my to watch my stack so we can compare notes. And a big thank you to anyone who took the time to read this.
Thanks for the interview!