Your upcoming movie Feral - in a few words, what's it going to be about?
Right, Feral is about strength! There are 4 characters in the film and it's all set in one flat. All 4 characters are completely different and life has brought them together. Ben has the gift of the gab, owns the flat and deals drugs from it. Dave is a lawyer with a dark secret side. Trish is a lost soul with a drug addiction. Sasha is a flamboyant sassy character who works as prostitute. That is an extremely brief description of the characters. There is so more to all of them, but that would be giving way too much away.
How did the project fall together in the first place, and to what extent can you identify with the movie's content and message?
Craig was executive producer on John#3 so that's how we got to know each other better. Craig mentioned a few scripts that he is wanting to get off the ground, so it made sense to work together on one. The original script had a different name and fewer characters, but as Craig and I shared some life experiences and some experiences of people close to us we then molded the script into what it is. Living in London trying to reach a goal isn't easy for most, especially when you're starting from ground zero, so you have to be strong. London will either make you or break you!
As far as I know, Feral will be your first film as a director - so why exactly that one, and hod did/do you prepare for the job?
There has always been a part of me that has wanted to direct, but never had the chance or actually believed I could. Feral is all about the characters, they need to be spot on and extremely realistic or the film will lose its rawness. So in my mind the best way to do this is direct the actors to the core of their characters. This is the first time for me as a director so we shall see, hey!!
Do talk about the intended look and feel of Feral for a bit!
I see Feral as quiet a fast-paced film. Very snappy and keeping the audience completely in the exact moment of what they are watching. Although there is a lot of darkness emotionally in the film,I am seeing a very rich colour grading for the film. Such as filling the screen with vibrant colours, but I may see and feel this out. Learning from my previous short film, John#3, I discovered that sometimes a completely different direction than planned works even better. A creation unfolds itself in its own time and it's my job to support it.
What can you tell us about your collaboration with your writer Craig MacLachlan, and how did the two of you first meet even?
I first became aware of Craig's name when I starred in the short film Fired written by the excellent writer Andy Davie. Craig was executive producer on Fired. When the word got around to the people I know in the industry that I was producing a short film and was in need of a team to pull the project together, Craig approached me and straight away became executive producer on John#3. As Craig and I learned each other's values and passions, it was a no-brainer to work together on a film that addresses issues that need addressing.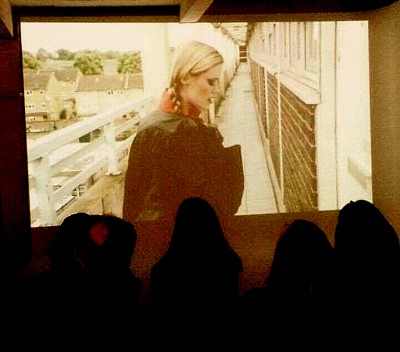 snippet from the John#3-premiere
As a producer, where do you see the main challenges when making Feral?
Hmmmm, dealing with many different personalities, finding cast and crew with the same passion for the message in the film and making sure I have good time management juggling a few jobs at once and keeping a good balance in life in general. You're a vessel that needs constant recharging, if you don't work the film won't.
You'll also play one of the leads in Feral - so what can you tell us about your character, what will you draw upon to bring her to life, and how much of Rosie Pearson can we find in her?
Initially I wasn't meant to be playing Trish because I just wanted to direct and produce the film, but soon as I read the final script, I knew I had to play her. Trish is a lost soul craving somewhere safe to land in life, but gets twisted up in the darkness of the underground of London. She realizes the only way out is on her own with inner strength, but whether she finds her inner strength or not, now that's another question. I have been kicked down to the depths of despair many of times in my life so I can certainly feel Trish's vibe.
What can you tell us about the rest of your intended cast, and why exactly these people?
Cast and crew so far:
Dan Brando

Sound - Jeremy P. Stephens
Make-up - Lucy Peach
Playing Dave - Dan Brando
Playing Trish - Rosie Pearson
DOP - Alex Harrison
Executive producer/writer - Craig Mac Lachlan
Set manager - Mattia Narciso
Graphic designer - Yassine Zine
Graphic designer - Trevor Pearson
Account manager - Lee Pearson
You're currently running a fundraiser for your movie - so what can you tell us about your campaign?
https://www.kickstarter.com/projects/7900326/feral-2
The message in the film is extremely important, and carries more weight than making a film. The issues in the film are happening every day and need to be addressed. It is intended for people to realize that there is help out there and you can get out of any situations that you don't feel safe in, or that you feel alone and suffering in that dark place (without having to go to extremes to escape like the women in the film do). Essentially, seek help before you are so deep in the despair and darkness of your reality that there is either no escape, or that the only escape is one that takes you to a mental state you never imagined you would become. Being strong within yourself and believing in yourself first and foremost is the key. By fundraising and bringing people together we can achieve getting this goal, and get this message out there. On a small level, Craig and I want to show that the underdogs can come up on top.
Once your budget's in place, what's the schedule? And even if it's waaay too early to ask, any idea when and where the movie will be released yet?

Feeling lucky ?
Want to
search
any of my partnershops yourself
for more, better results ?

The links below
will take you
just there!!!


As soon as the desired budget is in order, then I can start sorting achievable dates. Feral is going to be completed by 2017, regardless.
Any future projects beyond Feral you'd like to share?
Hmmmm, producing-wise opportunities are displaying themselves to me, but I still have a lot of learning to do. Next up will be producing a feature film; that's the only natural next step for me as a producer and whether or not I have the ability or resources to do so. It all depends on how much I learn and progress from Feral. It's funny tho my heart is in acting and always will be, but producing brings a new purpose to living.
Anything else you're dying to mention and I have merely forgotten to ask?
Mainly because I am a music addict, all the music in Feral - the same as John#3 - will be created for the film and there will be some tracks from great artists and mixes from some well-known DJs.
Thanks for the interview!