Your new movie Rawhead - in a few words, what is it about?
Rawhead is your classic "monster in the closet" tale. Very loosely based off the UK urban legend of Rawhead and Bloody Bones, this story pits our monster in a little girl's closet, where it enjoys tormenting her before its plan to abduct her and take her to "its dirty den". Of course the little girl's parents think her imagination is just running away with her and they want to help her through it but she's convinced he's real. Turns out she's right.
What were your inspirations when writing Rawhead? And have you ever been afraid of the monster in your closet when you were a child - or are you now for that matter ;) ?
When I set out to write the anthology, the goal was to write a series of 10 or so minute shorts that could be shot in the same location with the same core cast (man, woman, little girl). The main purpose behind it was to two fold, to showcase the talents of our team across a plethora of genres and storytelling styles as well as produce quality content that could be adapted into feature films for investors and distribution outlets. The first two stories, Revelations and The Jones, had more cerebral horror as opposed to violence or gore, the horror was more psychological in nature. Rawhead, on the other hand, is just a good old fashioned in your face monster movie. We up the tempo, don't write too much hidden meaning, just fun and excitement. I think every child lets their imagination run away with them. I don't fear the closet anymore, that is unless I've been watching scary movies alone all night in the dark. LOL
Do talk about your movie's monster, the Rawhead, for a bit, and how was it created and achieved, effects-wise?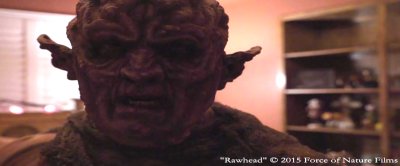 Robert Johnson
Rawhead's look is the brainchild of our amazing effects guru, Kristal White. I actually hand picked Kristal for the special practical effects for the anthology because of her stunning work in the field of monster creation. Her work is rather incredible. She worked with the actor who would play the monster and made a mold of his head and then literally created the exterior from her own imagination. Then she body painted the rest of his body and made his wardrobe. She created him from scratch! Remarkable!
A few words about your directorial approach to your story at hand?
The directorial approach to this film, unlike the first two films in the series, was to recognize the limitations we had shooting with just the one camera with a fight sequence, and factor in the action sequence which would restrict my ability to be in the room all the time during the action, so I asked my co-producer and DP Aaron Sparks to co-direct Rawhead and the upcoming The Origin of Species with me because as he runs the camera he can better see what is happening during the fight and it made it much simpler to provide the actors and crew feedback to get what we needed. That and Aaron has an amazing eye and some of the shots we got were his vision that made it into the film, so co-directing this film was just a smart idea all around. It made the film better, and makes us all look better in the process.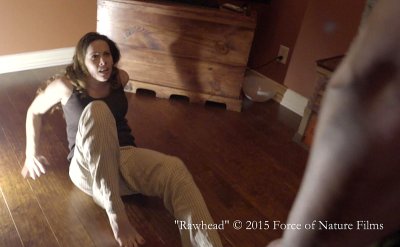 April Hartman
What can you tell us about your co-director Aaron Sparks, and what was your collaboration like?
Aaron has a great deal of experience in photography and film making and has an amazing eye on multiple levels including lighting, creative angles and setting tone and tempo. We met a few years ago talking about a project we actually never did, but when my wife and I made our weight loss documentary we finally had a chance to work together, and have become close friends. I really love working with him because I have complete trust that we will always get great cinematography and he has the most amazing ideas about how to improve a project. I am so grateful because having someone like that you can trust to make your vision look fantastic is crucial to success.
Do talk about your cast, and why exactly these people?
One of the goals of the anthology was to find a cast that we could work with for the primary roles throughout. As such, we began with the three principles in Revelations, and then starting with The Jones there were 5 characters involved. We have been so blessed by our cast, who are extremely talented and have been so supportive of everything we've done. Gracie Whitton is an absolute godsend. She's so talented I could just watch her work all day! Lance Eakright is a lot of fun to work with and has done anything we've asked of him and of course nails all of his own stunt work. April Hartman is a fantastic actress that I would gladly work with anytime who always comes prepared and nails her moments. Robert Johnson is awesome as well. As soon as we put him on set for The Jones, everyone knew we had found our Rawhead, and he was fantastic in the role! They are all true professionals.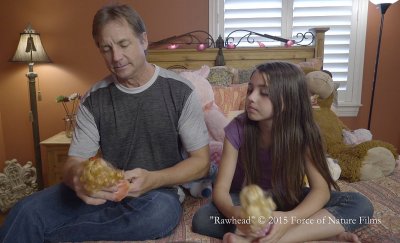 Lance Eakright, Gracie Whitton
A few words about the shoot as such, and the on-set atmosphere?
We were actually forced to shoot this film twice. Or at least part of it. The first time around, a 24 hour sickness hit the set and required a shut down and reschedule. I was very much concerned that having to come out again when everyone had already worked so hard was going to be an issue. And I could not blame them if they did. But instead, they were all very supportive and the second shoot went off without a hitch. Everyone knew we had a great film and we're all so excited to start getting the film into the festivals and for folks to see it online. You wouldn't think we shot it on a shoestring budget.
Anything you can tell us about audience and critical reception of Rawhead yet?
So far critical reception has been virtually positive across the board. Given the professionals we have on our team with Jeremy Mitchell as our production manager and script supervisor, Michael Head our amazing sound mixer and visual effects expert, of course Kristal's fantastic practical effects work, Trena Sparks amazing eye for production design, Sheril Rodgers magic touch with wardrobe and even the never tiring production assistants we've had including Wesley Trout, Rachel Cook, Addison Mitchell and Michael Cruz as well as others who have contributed to the film including 1st AD Clint Moody and our amazing composer Ryo Utasato, we believe Rawhead is so far the best film in the anthology. So far public opinion seems to agree.
The $64-question of course, where can the film be seen?
Rawhead can be seen on YouTube using this link https://www.youtube.com/watch?v=XlPF4dabdXo
With any luck at all there should be festivals coming in the not too distant future you can also see it at. If you keep an eye on social media we will keep everyone apprised.
Any future projects you'd like to share?

Feeling lucky ?
Want to
search
any of my partnershops yourself
for more, better results ?

The links below
will take you
just there!!!

Find Roger Sampson
at the amazons ...

amazon.com

amazon.co.uk

amazon.de
Looking for imports ?
Find Roger Sampson here ...
Something naughty ?
(Must be over 18 to go there !)

We're shooting the final installment of the anthology next weekend, called The Origin of Species. It is a vampire tale with another OMG ending like the other films. One of the signatures of these films is their twist endings you don't see coming, and that's my favorite part. Once the anthology is completed, we are touring the festival circuit with them and starting development of our thriller The Zombie Effect and will also be shooting a few other short films to be announced later. I actually have a ton of other projects in the pipeline and seemingly adding more all the time. Check out my IMDb page for all the details on what's coming - http://www.imdb.com/name/nm1418787/
Your/your movie's website, Facebook, whatever else?
https://www.facebook.com/forcesofhorroranthologyseriesvolumeI
https://www.facebook.com/pages/Rawhead/1464203113900432
https://twitter.com/forcesofhorror
Thanks for the interview!