Your upcoming movie Sinema - in a few words, what is it about?
Sinema is one man's experiment to see whether a normal well-adjusted person can commit mass murder and then return to their normal life. It centres around the anti-hero and film fanatic, Han Whitman.
Sinema is of course based on a novel of yours, Sinema: The Northumberland Massacre - so what were your sources of inspiration when writing that one, and did you intend to eventually turn it into a movie from the get-go? And to what extent will the movie follow the novel, and will there be any major differences?
I often wondered about evil in humanity and what was true evil or whether it even existed. Are some people just pre-destined to be evil or can it be turned on or off like a switch? I thought what if a person with a happy upbringing, a nice life, someone who is a really likeable, essentially decent person… what if that person one day decides to commit a murder just to see if he can do it and then return to his normal life to then never do anything evil ever again? Then what if he decides that one murder isn't enough, that in fact to make his experiment as challenging as possible he must slaughter an entire village. I didn't originally intend for it to be turned into a film, but quite early on after its release I started receiving emails from readers saying that it would make a great film. We did have to trim the story down a little to squeeze it into a 90 minute feature, but other than that it stays true to the book.
How did the film project get off the ground, actually?
It wasn't until several years after the release of the novel while working on The Sceptic with director Kev Harte [Kev Harte interview - click here] that we got talking about the novel and the film adaptation. Kev was hooked right away. I'm a novelist rather than a screenwriter, so I managed to recruit the help of a screenwriter friend of mine (Ricki Thomas) to adapt the novel. When I saw how The Sceptic turned out and how well it has been received I knew Kev was the right director for the job. Kev also managed to drag out of me what I think might be my best performance yet, so for perhaps the first time in my acting career I actually thought I could pull off the extremely challenging role of becoming a likeable mass murderer.
What can you tell us about your co-screenwriter Ricki Thomas, and what was your collaboration like?
Ricki Thomas is a best-selling author in her own right, known for her crime novels, including Unlikely Killer. She was already a fan of Sinema and a talented screenwriter, so she was the best choice for the job. The most difficult part of the process was condensing the novel down to squeeze it into a 90 minute feature. There was a great deal of toing and froing before we were both completely happy with it.
You also play the lead in Sinema - so what will you draw upon to bring your character to life, and how much of Rod Glenn can we find in Hannibal Whitman? And back when you wrote the novel, did you already picture yourself as him?
Right from the first draft of the novel I wrote Han Whitman as myself. I haven't done it with any of my other novels, but for this one I felt I needed to be at the centre of this journey. I knew it was going to be dark and disturbing, so I felt I had to go through it to justify it to myself. I read a great deal about real life serial killers to get an insight into their motivations and desires, but ultimately I drew upon how I might react in a given situation with this specific agenda.
Disclaimer - I'm not a serial killer, honest!
What can you tell us about Sinema's director Kev Harte [Kev Harte interview - click here], and what's your collaboration like so far? And seeing that you have worked with him before, how did you first meet even, and what can you tell us about previous collaborations?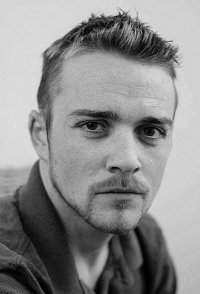 Liam Grahame Olsen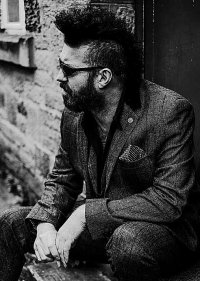 Warren Speed
We originally met through a mutual friend. Kev needed an actor at short notice and a friend recommended me. We hit it off right away - Kev is very professional, but not averse to a good laugh while getting the job done. It's important for me to enjoy myself during the creative process, so that was just fine with me. He has a keen eye for detail and can create the most stunning shots using clever tricks. He also doesn't put up with any crap. The collaborate was born during the making of The Sceptic and was sealed when I saw how stunning the final film turned out. The collaboration is working very well - we both have enough respect for each other to trust the other person's judgement and everything is open to discussion. We also both know our own strengths, so we're happy to defer to the other's better judgement at those times.
Do talk about your movie's key cast and crew for a bit!
We are still putting together the cast and crew, but so far we have cast Eileen Daly (Razor Blade Smile and recent Big Brother contestant), Nicholas Vince (Hellraiser I & II and Nightbreed), Warren Speed (Zombie Women of Satan) and Liam Grahame Olsen (an exceptional young local actor who both Kev and I have worked with before). Other than Eileen and Nicholas we are gathering the rest of the cast and crew together from the amazing wealth of talent we have in the North East.
From what I know, you're currently running a fundraiser for Sinema - so what can you tell us about your campaign?
We have secured several corporate sponsors like Greggs, Nerdoh Clothing and Danielle Tunstall Photography, but on top of that we are running an IndieGoGo campaign to raise the rest of the funds. We have some fantastic perks on offer starting from just £10, including signed merchandise, lunch with me and Kev and even a small part in the film.
https://www.indiegogo.com/projects/sinema-the-movie-based-on-
the-best-selling-novel#/story
Once the budget's in place, what's the schedule? And any idea when and where the film might be released onto the general public yet, however tentatively?
We plan to begin principal photography around November/December and are anticipating a Christmas 2016 release. We have already secured a global distribution deal with Reliance Entertainment, who have been responsible for bringing films like Need for Speed and Dredd to the market, so we hope for at least a UK-wide cinematic release, as well as media and digital releases.
Any future projects beyond Sinema you'd like to share?
Kev and I have another collaboration in the pipeline which hopes to resurrect the character of Dr Jan Lucane, who I played in The Sceptic. I am also writing another novel that is a sort of mash up between The Wild Geese and Lord of the Rings.
What got you into acting and writing even, and what came first? And did you receive any formal training on either?
I love books and films equally - I devour them at a rate of knots! I loved writing and acting right from primary school, making up short stories to share with my teachers and acting in school plays. I started as a shepherd in the school nativity play, next year I was promoted to the donkey and then the following year I played Joseph. I started my first novel in high school (The King of America) which was published some ten years later and then went on to drama college to complete a theatre and performing arts course. I also took English and creative writing courses to improve my writing skills and then developed both crafts over time.
What can you tell us about your writing and filmwork prior to Sinema?
My published novels include three Sinema novels, a post-apocalyptic thriller (The Killing Moon) and a sci-fi adventure (The King of America). I also have a number of short stories in various anthologies, including Holiday of the Dead, Wild Wolf's Twisted Tails, Radgepacket vol I and Action: Pulse Pounding Tales Vol 2. Acting roles include World War Z, Fury, Macbeth, Bill, The Monuments Men, Ripper Street, Vera, Inspector George Gently, The Hollow Crown, Midwinter of the Spirit, Beowulf, Bliss, The Fairy Flag and tons of short films.
How would you describe yourself as an author and as an actor?
Yes, I'm not one or the other - I'm both. My life wouldn't be complete with only one. Sorry, that sounds greedy, but it does keep me busy and out of trouble (mostly)!
Actors, writers, filmmakers, whoever else who inspire you?
I get inspiration from everywhere I look - an act of kindness, suffering, travelling, comedy. Some of my greatest inspirations come from Edgar Allan Poe, H P Lovecraft, Stephen King, James Herbert, Ridley Scott, Quentin Tarantino, Robin Williams, Philip Seymour Hoffman, Bill Hicks, Winston Churchill, J K Rowling, Ernest Hemingway, Nelson Mandela, Martin Luther King, Bruce Lee, Oscar Wilde and many many more.
Your favourite movies?
Hundreds, but some that would definitely be up there are Alien, The Thing, Lost in Translation, Almost Famous, The Way Way Back, Shaun of the Dead, Jaws, Pulp Fiction, Who's Afraid of Virginia Woolf, The Wild Geese, Life of Brian and Key Largo.
... and of course, films you really deplore?

Feeling lucky ?
Want to
search
any of my partnershops yourself
for more, better results ?

The links below
will take you
just there!!!

Find Rod Glenn
at the amazons ...

amazon.com

amazon.co.uk

amazon.de
Looking for imports ?
Find Rod Glenn here ...
Something naughty ?
(Must be over 18 to go there !)

I don't like to put other people's work down, but I dislike the overuse of CGI and the erosion of character-driven stories in some modern films.
Your/your movie's website, Facebook, IndieGoGo, whatever else?
https://www.facebook.com/sinemathemovie
https://twitter.com/SinemaTheMovie
https://www.indiegogo.com/projects/sinema-the-movie-based-on-the-best-selling-novel#/story
Anything else you're dying to mention and I have merely forgotten to ask?
I think you covered everything, but thank you for the opportunity to chat about Sinema, and I'm very excited to start filming and seeing my novel come to life on screen.
Thanks for the interview!