Pretty much everyone seems to be impressed by your startling performance in the short Worm these days. So, what can you tell us about the movie and your character in it?
Thanks for the compliment but, unlike poems or novels or even screenplays, a movie is created by the efforts of many - most of those people are invisible on-screen but their creative contributions are essential to every aspect of the finished film. So kudos to the legions of the unseen creatives who brought this film to the screen. Here's a summary of the movie and all the people involved that created something I'm very grateful to be a part of:
Fatal Pictures presents Worm (Short Film)
'A day in the mind of Geoffrey Dodd, a seemingly kind, gentle and sane High School teacher. As we follow Geoffrey through the course of a typical school day we gain an eerie insight into the darkest corners of his soul and beyond. Beneath the carefully constructed veneer of Geoffrey Dodd lies something wretched, insidious and foul rotting him from the inside out.'
Written and directed by Richard Powell [Richard Powell interview - click here], produced by Zach Green [Zach Green interview - click here], starring: Robert Nolan, Kimberley Curran, Christina McLain.
Geoffrey Dodd is a pretty dark character. Do you see anything of yourself in him, and what do you draw upon to bring such a character to life?
I see everything of myself in him as I approach the role by first knowing that I am a human being, one of 7 billion on this planet and so I have access to every quality, potential and possibility of any human being - and that is infinite. So my craft is to become Geoffrey Dodd by exploring my inner and outer worlds and finding the reality of myself in the circumstances of his life. They say human nature is unchanging - but I don't believe that. I believe that all things change, including human nature but our evolutionary history shows these changes tend to occur slowly in times of safety and rapidly at survival crisis points. The same could be said for individual humans and the points of crisis in their lives. Worm is a drama about a crisis nearing boiling point in Geoffrey Dodd's interior world. So I become myself in the circumstances of his world and that world then becomes my reality and then I do not play Geoffrey Dodd - I am him. Scary eh? Better be sure you know you're acting when you do that! One point I'd like to stress is it seems most people don't believe they're capable of doing the most horrific (or brilliant!) actions of some humans that co-exist with us on this troubled planet. I believe that I am. And that we all are. The difference between me and them is they do these things in "real" life and I act those things on the screen - but the impulses and motives of those actions are the same and come from the mysterious and problematic depths of our common humanity. Putting it on the screen allows it to come safely into group consciousness where our observing minds can explore and examine safely what usually is only seen in the horrific (or wondrous) results of actions created by these impulses in our common external reality by individuals who act on them.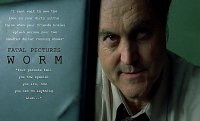 How did you initially become involved with the project?
I was referred to producer Zach Green by a very fine actress (to whom I am forever grateful!) Kimberley Curran, who plays Patricia (my fellow teacher) in Worm. I was then contacted by Zach, auditioned and won the role.
A few words about Worm's production company Fatal Pictures' masterminds Richard Powell [Richard Powell interview - click here] and Zach Green [Zach Green interview - click here]?
Zach Green is the most dynamic and unstoppable force-of-nature producer I know. Fatal Pictures is unusual in my experience in its absolute commitment to preparation and quality of production. Zach's endless energy got the film off the ground, collected a sublime quality cast and crew. Zach got me my first reviews (and many more of Worm) and his promotion of the film is second to none.
Richard Powell is a wonderful writer. Every film fails or ascends on the basis of its script - and the Worm script was superb! Richard also directed and I consider him to be a very fine actor's director - this is a special term of affection in the acting world reserved for directors who understand the interior process of the actor's preparation. Richard is a madman for preparation - and it shows in his scripts, on-set presence and direction. I find I work best in performance when I reach a level of trust with my director and can hand-over most of the self-observation every actor does to the director. With Richard I have complete trust in his judgement of the nuances of my performance and rely completely on his fine-tuning of my performance to the moments of the story. This gives me the freedom to involve myself completely in the performance. This is a rare freedom in the acting world.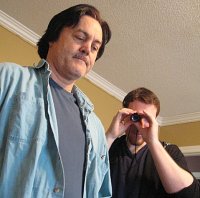 Robert Noland and Richard Powell on the set of Familiar
You are also playing the lead in Worm's semi-sequel Familiar, playing Worm's Geoffrey Dodd's brother. What can you tell us about that project yet?
Familiar is a separate project from Fatal Pictures. Thematically it has some relation to Worm but stands on its own. Familiar is the story of a series of tragic events in which a middle-aged man grows to suspect the negative impulses plaguing his mind may not be his own. Co-starring Astrida Auza as my wife and Cathryn Hostick as my daughter - both wonderful actors. We have just finished principal photography on the film. Lensed by the incomparable MJD (Michael Jari Davidson) with sound by the impeccable Adam Clark and amazing special effects by Ryan Louagie, Carlos Henriques and Steven Dawley (The Butcher Shop - http://www.thebutchershop.ca). Production Designer is Serge Tsukanov. Another stellar script by Richard Powell produced by the indefatigable Zach Green. It was an intense experience. I believe the film explores new frightening territory, not only in the human mind, but in the relationships within a family and with a horrifying realization that -- but I've said too much. You'll have to wait for the release of the film!
Between Worm's Geoffrey Dodd and his brother in Familiar, which is the scarier person?
The films are complete in themselves. As far as the characters go they are both a combination of character and circumstance. In Familiar we go deeper into the sources of the negative impulses that creep into the interior life of the character - you'll have to judge for yourself (by the depth your nails embedded into the wooden handles of your chair!) when you see Familiar. Coming soon!
Speaking of scary persons, I've read somewhere that you have played Adolf Hitler in no less than three different films. Is that true, and how do you approach such a character?
Yes. True. Two of these were dramatic depictions. One was a comic turn in Inside Steve's Mind: Hitler's Apology, written and directed by Steve Markle (Testees). You can see it here: http://youtu.be/kN-MwBptYRo.
I see Hitler as a man like me who had certain beliefs that I myself do not share - but belief is a human characteristic. Why we have such beliefs is somewhat mysterious. Some of them are unquestioned teachings from our culture, family and friends. Others come up from below, the mysterious depths. Sometimes they arise and clash on a cultural and international level. The resulting conflicts and wars are in some sense a war of belief systems. So I immerse myself in the period and the person and explore why they may have held and acted on these beliefs. This research can result in a comedic or dramatic performance depending on the script. Of the dramas, one film was about distracted soldiers waiting to assassinate Hitler as he enters a bunker. The other was the final moments of Hitler's life involving his romance with his personal secretary (played by Kelly-Marie Murtha) which has some historical basis.
Let's go all the way back to the beginning of your acting career: How did you start out as an actor, and what can you tell us about your first experiences on a film set?
I began my life as an actor at the tail end of an Honours Degree in English and Drama from the University of Toronto. My first role was in a play at University playing a Duck swimming around in the pool of of Alice's tears in Alice in Wonderland. I also played the King of Hearts in that play. He is the meek husband of the Queen of Hearts who is very short-tempered and runs around yelling "Off with his head!" whenever she gets upset at someone (which is a lot!). My first film role was in a short film as a husband whose house was invaded in 19th century Quebec (The Strange Story of Jaques Laplante).
I'd like you to talk about a few movies from your filmography I have picked merely based on the strength of their titles:
The Universal Hanging Together of All Things?
A very interesting short film about karma. Evil is done in the world and those who commit it believe they are immune from the consequences but circumstances conspire against them and justice is done in bizarre ways. I played a homicide investigator looking into the strange death of a very rich man in his front garden by a severed frozen foot falling from the wheels of an airplane. Incidentally, Ryan Ward (of the current critically-acclaimed hit feature Son of the Sunshine) acted in this film as well.
Nothing Shocks Anyone Anymore?
We are so immune to the horrors of the modern world. A Chinese restaurant hides a gambling den that bets on customer food orders - until they are exposed. I played one of the gamblers betting on the next specialty dish. A lot of losers and a couple of winners!
Kill Your Television?
A film by Hank DeVos. A man (Bear Schaal) wakes up alone on a hospital bed in the middle of a vast plowed field. The only other object is a television set sitting unplugged. He wanders over. It turns it on when he hits it and he surfs the channels. On one station I play a soap-opera doctor romantically involved with my nurse during surgery. Then the scene changes and we are operating in the field over the body of our hero. The film is about imagination, the dominance of cultural programming and finding meaning in a shallow world.
Homeless Yoga?
A film by Linda Matarasso. A wealthy man's wife leaves him and takes his house leaving him homeless. Sleeping in the park he encounters a yoga group that meets there, joins them, then sees a young troubled woman outside the group. He brings her in and a romance ensues. I play the ill-tempered bum in the park with my rags tending my pathetic fire and seeing the group as an intrusion on my territory.
Chop Chop You're Dead?
A fine trailer from Brian Clement (who loves those old Japanese Horror drive-in flicks). A young woman is murdered and left for dead, but returns from the grave to exact vengeance on her killers. I play one of her victims and have my *ahem* severed with an ax! Stars Mary Kate Haché - who is also a wonderful singer by the way!).
Restaurant Etiquette?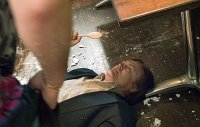 Restaurant Etiquette
A wonderful comedy by Bruce Clement starring myself and Paul Nicholls. An argument between two has-been actors over a restaurant bill gets out of hand fast.
A Date with Fear?
A thriller feature directed by Asit Kaul and starring Ashley Kranz and Amar Agha. I play the mysterious (and possibly dangerous) stranger who turns up unexpectedly when a young couple is on a blind date. What if everything we plan is challenged by the surprises of destiny? Do you like surprises? It had its premiere screening at the Bloor Cinema recently.
Directed by Ryan M. Andrews [Ryan M.Andrews interview - click here] and starring myself, Katie Uhlmann and Sandra DaCosta [Sandra DaCosta interview - click here]. In this modern world few believe in the existence of the devil but what if they are wrong? As a restaurant closes for the night, a stranger approaches, a man with a dark mission. What will it take for you to believe?
Teach'er?
A new film from the talented Cody Campanale starring Katie Uhlmann, Cameron Rufelds and myself. Acting sounds glamorous and fun but the dark side emerges in this film about a drama school with a placement competition at a prestigious school. A little bit of love and a lot more of Richard III infuses this tight drama. I play the acting teacher.
Any other films you'd like to talk about, any future projects?
I just wrapped on three projects.Stander by Max Kosc is a carefully-crafted film about a effete artist hospitalized after a shocking public display goes very wrong. In the hospital he meets Stander (played by me), a man of the no-nonsense gritty streets where violent solutions are preferred. The two get involved in a plan that also involves the poet's girlfriend, a strange road trip, a lake, money and an old score. Coming out soon!
The second is a financing trailer called Lamb written by Matt Spencer and directed by Alex Young starring Matt Spencer, Hunter Hollick and Astrida Auza with Steve Dalcin as DOP - and I must mention the wonderful catering by Cutie Pie Cupcakes & Co (Melanie Abdilla). I play a mysterious late-night talk DJ who involves a young man in the moral dilemma of his life. 'Hunter is a man on a wire, teetering between being a family man and an addict. Each day bleeds into the next, a slipper slope of poor judgement and a lack of self awareness. Like every man, he prides himself in being a provider but has nothing left to give let alone pay his local booky. Enter a mysterious man with a curious proposal.'
The third project is the feature film Jane Doe (see the trailer here: http://www.janedoemovie.com) I play a brain surgeon in a scene with nurse Vivica A. Fox (Kill Bill) and Veronika London who plays the lead in this story about a young heroin addict and prostitute who has amnesia after being the victim of a violent crime and sets out on a journey of self-discovery.
Also it looks promising that I will be doing an action-adventure feature in the summer (hush-hush for now!).
Browsing through your filmography, one can't but notice you have appeared predominately in short films. Do you have any explanation for that?
Yes I do. I went to University and studied English Literature (BA). I took a couple of courses in drama and got hooked in performance. But I did not go to a four-year drama school so my approach was to learn on the job. Short films are wonderful learning experiences. You can have the lead, act in stories from young minds that are outrageous, imaginative and sometimes brilliant - and hone your acting skills in a great variety of roles. Students and indie film-makers lack experience mostly but not talent. We're all trying to advance and improve. My experience with these films is priceless in the breadth and depth of roles I've been offered and working on these films has brought me to this present moment with a skill-set honed in the ditches and high-places. I have no sense of entitlement because of this. I'm earning my place by working on the job - and doing my best in each one. I encourage any actor to seek out these films, do their best on each role and challenge your own limits. This is how you grow as an actor.
You are living in Toronto, Canada. What can you tell us about the local movie scene, and how easy/difficult is it to find good roles in Toronto?
It is vibrant, alive and diverse. Finding roles is a numbers game. Hard to get a role? Hey, sitting by the phone or waiting for your agent to call gets you little. You don't deserve anything. You have to work for it. So get off your ass and out the door. Audition for anything you can possibly fit out there. Press yourself to your limits (they're just in your imagination anyway - let them go) and beyond. Good roles are everywhere. But you have to earn them. Give your best and one day repeat business will call your phone. That's show biz baby!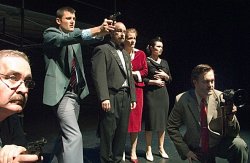 stage production of Rebel Without a Cause
Robert Nolan on the far right
Besides having appeared in numerous movies and on television, you have also performed on stage. How does performing on stage differ from performing in front of a camera, and which do you actually prefer?
Both stage and screen are worlds for the actor to play in. The techniques differ. My stage experience is not vast (I want more!) but the stage is unforgiving to an actor's weaknesses. You don't get multiple takes - just one at-bat - so you better have your lines and timing down! You also have to be aware of your audience so you do some unnatural things, like talking very loudly to someone you are whispering to and making sure your body and expressions are seen by the audience - sometimes hundreds of feet away. In film, the camera loves honesty. That's what you must be on film. You can be subtle or grossly extreme but if that comes from a place of truth the camera will love you - but it will also expose every nuance of falseness and show your flawed performance (flawed by ego). The camera is your true and demanding lover and will accept nothing less than the depth of your truth. So the more you delve truthfully into yourself, the more the camera will love your performance.
I would like to mention my "almost-got-it" audition with Woody Harrelson for A Bullet For Adolf. I got called in for the audition, the call-back and the final callback but no cigar! Great experience meeting him though and I ended up with tickets to see the upcoming show so that ain't bad!
Actors (or indeed actresses) who inspire you?
Actors:
Jack Nicholson, Jim Carrey, Humphrey Bogart, Matt Damon, Charlie Chaplin, Marlon Brando, Robbin Williams, Johnny Depp, Russell Crowe, Harrison Ford, Jimmy Stewart, Frank Sinatra, Sean Connery, Alec Guiness, Tommy Lee Jones, Tony Curtis, Sidney Poiter, Claude Rains, Bruce Willis, Clint Eastwood, Mel Gibson, Edward G. Robinson, Montgomery Clift, Robert De Niro, Al Pacino, Anthony Hopkins, Gene Wilder, Steve McQueen, Eddie Murphy, Ian McKellen, James Cagney, Robert Downy Jr., Peter O'Toole, Kirk Douglas, Michael Douglas, Denzel Washington, Morgan Freeman, Kevin Spacey.
Actresses:
Meryl Streep, Ingrid Bergman, Bette Davis, Jodie Foster, Katherine Hepburn, Charlize Theron, Grace Kelly, Sigourney Weaver, Jane Fonda, Jessica Lange, Kathy Bates, Diane Keaton, Lauren Bacall, Audrey Hepburn, Glenn Close, Michelle Pfeiffer.
Your favourite movies?

Feeling lucky ?
Want to
search
any of my partnershops yourself
for more, better results ?

The links below
will take you
just there!!!

Find Robert Nolan
at the amazons ...

amazon.com

amazon.co.uk

amazon.de
Looking for imports ?
Find Robert Nolan here ...
Something naughty ?
(Must be over 18 to go there !)

Casablanca, The Bridge On The River Kwai, Lawrence of Arabia, In the Heat of the Night, Unforgiven, War of the Worlds (original), When Harry Met Sally, The Godfather, Citizen Kane, Chinatown, City Lights, Raging Bull, Sunset Boulevard, 2001: A Space Odyssey, The Maltese Falcon, It's a Wonderful Life, Singin' in the Rain, Annie Hall, The Wizard of Oz, Ninotchka, Dr. Strangeglove, One Flew over the Cuckoo's Nest, Apocalypse Now, Network, Jaws, The Silence of the Lambs, Modern Times, West Side Story, The Red Violin, Rebel Without a Cause.
... and of course, films you have really deplored?
Well, let's just forget those! Every film is a noble experiment. Hopefully all learned something from the experience.
Your website, Facebook, whatever else?
* Website - http://robert-nolan.blogspot.com/
* IMDB - http://www.imdb.com/name/nm0634349/
* Twitter - https://twitter.com/robertnolan
* Facebook - http://www.facebook.com/robert.nolan3
* Facebook Fan Page - http://www.facebook.com/group.php?gid=54605981248
Anything else you are dying to mention and I have merely forgotten to ask?
Yes, being an actor is a wonderful opportunity. Treat it seriously. Work hard at your craft. Network. Get your ass out there. No-one owes you nothin' baby. Go out and earn your place.
Oh, and thanks for the interview!
Thanks for the interview?