Your new movie Friends Don't Let Friends Date Friends - in a few words, what is it about?
A love-resistant young woman finds herself in the middle of her friends' tumultuous romances.
What were your sources of inspiration when writing Friends Don't Let Friends Date Friends, and is any of this based on personal experiences?
Friends Don't Let Friends Date Friends is based on the friendships I had when I was young and hung out in coffee shops.
As far as I know, Friends Don't Let Friends Date Friends is the first feature film you've ever directed - so why exactly this one?
We chose this script from the many comedies I had written because it was highly ranked among my peers and feasible to film on a limited budget.

You've once described your film as an anti-rom-com rom com - care to elaborate, and what can you tell us about your views about the rom com genre as a whole?
I enjoy a good romantic comedy, however, I find most of them fall short with their predicable formula storylines and cardboard cut out characters. I wanted realistic characters who are more likable because of their flaws.
What can you tell us about Friends Don't Let Friends Date Friends' brand of humour?
It is quirky characters and witty banter. It is much like hanging out with a group of friends who know each other too well and are not afraid to call each other out on their bullshit.
Do talk about your directorial approach to your story at hand!
My directing style is to cast the right actors and trust them. I try not to over-direct a scene and lose the spontaneity. On set I like to have fun while still moving at what looks on paper to be break neck speed.
What can you tell us about your key cast, and why exactly these people?
Amelia Favata was a delight to be around both on screen and off. She was a perfectionist that often requested to do a scene again after I was happy with it. She had many similarities to the character of Della and added a lot of humor to what could have come off as an abrasive character.
Adam Dixon wholeheartedly became Kyle and has a gift for spontaneity. He stayed in character between scenes so convincingly that neighbors were convinced he was too drunk to drive. He was the perfect balance of quirky, annoying and charming to play the part.
Casey Litzenberger had the talent to play any character, but knew she was best suited for the clueless beauty, Allison. She was the first main character to be cast and referred Adam Dixon to the project.
Erin Stamp was our set diva. She was always last to come out of the dressing room wearing the flashy clothes that made her character, Gwen, stand out. She always lit up up the screen with her effortless performance.
Eric Witkowski was cast without a formal audition. He was simply instructed to 'hit on' me in a bar. We sought him out for the actor's charisma to balance out the creepiness of the character of Jeff.
You also play a very small role in Friends Don't Let Friends Date Friends yourself - so do talk about your character for a bit, and why exactly her?
In my days of coffee shop poetry readings, we nicknamed a group of people "The Hippie Fishermen". Since the character's description for Carla seemed too grotesque to put out a casting call, it was the perfect chance for a director's cameo.
A few words about the shoot as such, and the on-set atmosphere?
The Friends Don't Let Friends Date Friends set was described as the funnest set anyone had ever been on. That is, until being dethroned by my second feature, Lonely Bananas. Friends Don't Let Friends Date Friends's cast was a great big dysfunctional, happy family. Actors would ask me to write sequels delving into the backstory for characters such as Papa Curt or Daddy number two. The sound guy would remind the director and camera man, (husband and wife) not to fight in front of the children. Our stars, Amelia Favata and Adam Dixon had a few awkward moments that I attribute to different acting styles. During rehearsal, I describe a scene to which Adam remarks, "That is when we kiss." Amelia corrects him, "That is when you kiss me." To which Adam hysterically replies, "You need to give me at least 10%, I am no kiss rapist."
The $64-question of course, where can your movie be seen?
Currently it can be seen by purchasing the DVD on our website and at some libraries.
Anything you can tell us about audience and critical reception of your movie?
Friends Don't Let Friends Date Friends was sought after by a predominate local festival prior to completion, because the festival director said it had the 'best trailer of the year.' We screened an unheard of seven times locally to a crowd that was more accustomed to horror and science fiction. To everyone's surprise the film was enjoyed by men and women of all ages.
Any future projects you'd like to share?
My third feature, Message in a Bottle premieres in September. In the spirit of coming of age films like The Goonies and Stand by Me, Message in a Bottle follows three young teens as they set out to rescue a child sending mysterious messages down stream. Their bond of friendship makes the journey more important than the destination as they share their dreams, frustrations and fears. The story goes on to show the dramatic impact this innocent childhood adventure has on their young adult lives. The talented young cast features Matthew Owen Kozak as Johnny, a passionate young teen that has been mislabeled due to skeletons in his family closet. His sarcastic, socially immature best friend, Timmy, is played with hysterical perfection by Jack Champion. Emma Morrison is delightful as Emily, a young women trying to get out from under her sister's shadow to find her own identity.
My fourth film, Lifeboat will be a psychological thriller about a man faced with an impossible choice aboard a doomed cruise ship.
What got you into filmmaking in the first place, and did you receive any formal training on the subject?
from an early age I would act out favorite scenes in films. By high school I was co-writing and filming short films as school projects. This continued as a hobby as my husband and I would film skits with our friends and children. A few years ago when I was in college for my Paralegal degree, I decided to take the film classes. I created a music video and a 27 minute zombie comedy, Biting Off More Than You Can Chew, starring a well known local actor, Jason John Beebe, from Sharknado 2. That summer is when I filmed Friends Don't Let Friends Date Friends as an honors project.
When it comes to making movies, you wear many hats, both in front of and behind the camera - why is that, and what do you enjoy most, what could you do without?
I enjoy writing the most, with directing as a close second. I absolutely hate doing sound, and wish someone else would take over promotions. I do it all primarily out of necessity. We do not have the money to hire a crew, and it is rare to find quality crew for free.
What can you tell us about your filmwork prior to Friends Don't Let Friends Date Friends (in whatever position)?
I have written screenplays for 20 years and worked as a reviewer for 14. Biting Off More Than You Can Chew was filmed in a day and a half, contained about 30 actors, and was our first attempt at bloody special effects. I do not recommend filming a zombie movie outside in sub zero temperatures. The blood will freeze.
How would you describe yourself as a director?
I am fun whenever there is time to kill, but I keep things moving along. I am known to flirt with everything that moves, randomly break into song, and make sarcastic comments.
Filmmakers who inspire you?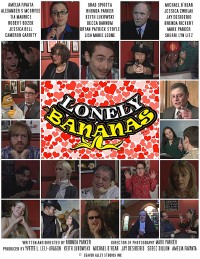 Feeling lucky ?
Want to
search
any of my partnershops yourself
for more, better results ?

The links below
will take you
just there!!!


John Hughes and Kevin Smith. Both are clear influences in Friends Don't Let Friends Date Friends. And of course, Rob Reiner.
Your favourite movies?
The Breakfast Club and Some Kind of Wonderful - John Hughes.
Chasing Amy and Jay and Silent Bob Strike Back - Kevin Smith.
Princess Bride, When Harry Met Sally and Stand by Me - Rob Reiner.
... and of course, films you really deplore?
The Graduate is overrated, in my opinion. I just did not care for any of the characters. It serves best as a long, boring Simon and Garfunkel music video.
Your/your movie's website, Facebook, whatever else?
http://www.beaveralleystudios.com/
https://www.facebook.com/Beaver-Alley-Studios-134449286606339/
https://www.facebook.com/Lonely-Bananas-1543639282564795/
https://www.facebook.com/messageinabottle2015/
https://www.facebook.com/lifeboatmovie/
Anything else you're dying to mention and I have merely forgotten to ask?
My production company, Beaver Alley Studios Inc, is a non-profit organization that also puts on a festival. WNY Film, Art, and Music Event is a celebration of international films, live music, and art, that features educational workshops.
https://www.facebook.com/WNYFAME/
Thanks for the interview!