Your new movie Michael: A Murderabilia Memoriam - in a few words, what is it about?
It is the portrait of a collector in his own words.
What drew you to the film's subject matter in the first place, and how did you find Michael?
I think the idea about this movie came up in 2020 directly after I finished the work on Mondo Siam. Since I started making movies I had a project at any given time in a different state of production but that time I had nothing, so I made a list of possible projects I was interested in. One of them was to make a documentary about the legal status of owning human remains, especially human skulls. Probably because of the experiences of working with Marian Dora on Das Verlangen der Maria D. and later on my short film Ossarium which both focus on owning people by owning their remains. And then everything went on rather quickly.
I met Michael at a convention a couple years ago and we have had a sporadic contact since then. So I asked him what he would think about the idea of making a movie about him and his collection. The rest is history.
To put the last question somewhat onto its head, what was your first impression of Michael after you found out about his hobby?
Since my early childhood I have a liking for weird and bizarre things so I had no reservations towards him or his hobby. Maybe I was a little jealous about all the great stuff he got with him at the convention.
Another very subjective question, what did it feel like to stand in Michael's "museum" of murder memorabilia? And some of your personal favourites among his exhibits?
Due to some pieces of his collection you could think that the place may have a threatening aura, but I felt nothing like that. Though I felt that something was going on there. But generally I felt very welcome at his museum. Personally I am most impressed by his collection of skulls. The idea of owning a person by owning his or her remains just won't let me go.
What can you tell us about your overall directorial approach to your subject matter at hand?
Most of the time my movies don't have much dialogue or monologues at all. The idea is to show and not to tell. During the silent era directors tried to tell their stories using as few title cards in between shots and scenes as possible, and somehow I try to achieve the same. Film is a visual and a surreal medium and this is how I try to use it.
This movie was something else though. A collection like Michael's could surely speak for itself but it couldn't explain Michaels motivation, reasoning and world view. Leaving this out the movie would have been incomplete to me. And since the movie was intended as a portrait I thought the right way to make the movie was to let him explain himself. I tried not to intervene too much or force anything. I wanted him in his own words, and wherever that would lead to.
What can you tell us about your collaboration with Michael on the movie?
He was easy and fun to work with. We share the same childlike curiosity towards things most people don't know or don't want to know about. I had a good time with him at his place. The questions I would ask were preassigned by me but I did not show them to him up front, but there were many questions that came up on the spot during the interview.
Do talk about the shoot as such, and the on-set atmosphere?
A couple of months before the actual shoot he invited me to his museum to stay for a weekend. He showed me everything and I did some test footage. The actual movie was basically shot in a day and some additional hours. A friend of his named Tony, with whom he had organized two exhibitions before, was also there and assisted during the shoot. This was the only crew. The day was tiring but also successful in the end.
The $64-question of course, when and where will Michael: A Murderabilia Memoriam be released?
The US DVD was released a week ago on the 09/15/2021 and can be purchased from https://putridproductions.bigcartel.com/products
Anything you can tell us about audience and critical reception of Michael: A Murderabilia Memoriam yet?
So far I haven't heard too many critical voices. This will probably change when the first copies arrive at their new owners.
Any future projects you'd like to share?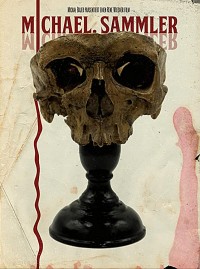 Feeling lucky ?
Want to
search
any of my partnershops yourself
for more, better results ?

The links below
will take you
just there!!!


I am still working on Warum läuft Herr W. Amok? But I made rapid progress in the editing and it won't take too much time anymore. It will probably have feature film length in the end. It is a semi-documentary about the actor Jörg Wischnauski [Jörg Wischnauski interview - click here] and his movie appearances over the years containing many clips from my movies and movies by other filmmakers. A second much smaller project I have already shot is a short documentary about a Thai widow mourning her dead husband. The last project is called Es geschah in Deutschland. I started the pre-production some time ago but couldn't progress as I wanted yet, but I hope that I can start shooting in October. It will be a feature length narrative feature starring Jörg Wischnauski (Pesthauch der Menschlichkeit).
Your/your movie's website, social media, whatever else?
Anything else you're dying to mention and I have merely forgotten to ask?
You can buy my movies from Putrid Productions/Vile Video Productions in the US. There is also a German DVD of Mondo Siam which can be purchased directly via me.
Thanks for the interview!
Thank you very much to you, Mike! And a special shout-out to the few collaborators that have supported my work for a long time by now. You know who you are!