Your upcoming film Cam Girl - in a few words, what is it about?
Cam Girl is the story of a week in the life of Mary. Sheís a pretty girl who just so happens to need money in-order to get herself through college to become a nurse. She decides to join a webcam company and offer to expose her body for cash. It all goes terribly wrong.
Cam Girl is pretty much a one-person drama. Was this an artistic or a purely budgetary decision?
I know this may sound strange, but it had nothing at all to do with cost.
I used to present a TV chat show called Gardinerís World. In some of the studios nearby there were ladies lounging on sofas with cameras pointed at them. I had no idea about this stuff, so I asked. Then I got into conversation with one of them during a break and because I am forever asking questions I delved into the why and how this all came about. The girl was very pleasant and very well educated. Her parents were good honest folk but couldnít afford to pay for her tuition fees. She desperately wanted to become a nurse. She was very maternal and loving. Cared for animals. I was totally gutted to see a young woman having to sell herself this way just to give something back to society. The thought that one day, these men who call in and pay for a view of what nature gave her, could possibly be turning up in A & E to be nursed by her made me think. She was chasing an ideal Ė a natural urge in many ways to be maternal and caring. The men paying her were following a natural urge too. She didnít mind taking her clothes off and they didnít mind paying. But I started to ponder about where it could lead. And I questioned the purity of those pointing the fingers at these girls. The puritans. Hence the way the story unfolds.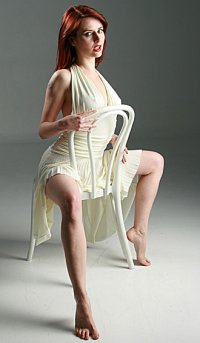 A few words about your leading lady, Layla Randle-Conde [Layla Randle-Conde interview - click here], and how did your collaboration come into being?
I met Layla through some filmmaking friends in Stoke on Trent, England. We hit it off straight away and a few weeks later the incident at the TV studios happened. I immediately thought of Layla. She is beautiful, passionate and also very esoteric and intelligent. As a model she took off her clothes for money, and yet that girl could write a novel better than any Dan Brown. It just seemed to fit and I think thatís why she plays the role so well, she got it.
The film is quite demanding on Layla at times. Was there ever a point where she would just draw the line?
Layla never drew the line at any point. She pushed me.
With the cast consisting of no more than one person, how big was your crew, and how intimate was the atmosphere on set?
There was me, John Symes and Nick Spencer. Three grown men covering our eyes every 5 minutes.
For me, the claustrophobic nature of your main set perfectly mirrors the image of the cam girl confined to (or even captured in) the section of her bed her web-cam aimed at. Was this effect intended or was this just a given, locationwise?
Actually it was and the fact you picked that up brought a grin to my face! I could have used fish eye or wide angled lensís to make the rooms feel a bit bigger, but I liked the intensity of the standard lens, so I kept it that way.
To prepare for Cam Girl, have you done any research on cam girls and webcam sex, and your personal opinions about it?
You open a can or worms with this one thatís a fact. Everybody has an opinion. I personally believe the female form to be one of the most beautiful works of art in creation (if it was created). I think the guilt and shame of having to "cover up" whether you are male or female is religious based and causes more trouble anyhow. There is however, a time and place. You donít strip off when youíre teaching junior school kids. But a nice sunny beach, thatís different. Web cam girls on the other hand are doing it for the sex drive of males. What if they didnít? What if there was no access at all to the female form for millions of men? But then why call them whores and abusive names? We appreciate their beauty and then accuse them of being harlots. That said, we also have to be careful. Sex can release dopamine and create an addiction (so Iím told J). At the end of the day, itís not so different to old works of art with naked ladies in. The tools (canvass is now pixels) and the amount (millions of them not just a few paintings) has changed. The factor that remains is the drive Ė the drive to see and the drive to be secure.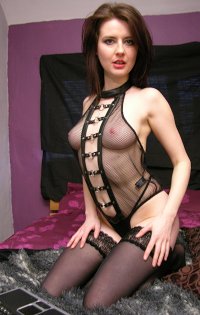 Your film has a voyeuristic streak to it, but much more it is about the very nature of voyeurism. Would you like to elaborate on that?
I think voyeurism will increase personally, or at least the idea that men alone at home can watch ladies taking off their clothes. I think society is just going that way. We get our groceries delivered to the door, why not get our kicks too. We hide behind the computer screen, nobody can see us and so we feel at ease doing it. Because of that, and because of the increase of computers and people, I believe it will just grow and grow. You canít stop the power of nature.
Another film you are about to release is The Stone - No Soul Unturned. A few words about that one?
A much bigger production set in the grounds of a beautiful but derelict mansion. Whatever the main story is you see on screen, the underlying story is one of our own inner demons. All the things that cause us to grieve, feel guilty, envious etc. The Stone unlocks this within each of us and releases them physically. Itís the anti-philosophers stone.
Currently you are in the middle of filming Paranormal Haunting - The Curse of the Blue Moon Inn. Anything you can tell us about that one yet?
Well, this one is a good old-fashioned Hammer House style film with some modern twists in filming techniques and effects. Itís based on some very ancient, even Pagan, myths and gives alternative explanations for the term once in a Blue Moon and why Matthew Hopkins, the witchfinder general, did what he did. Big cast, lots happening and very weird. Weíve shot some scenes already and Iím looking forward to really getting going on this one.
Any other future projects you want to talk about?
I shall be making another intense film after Blue Moon with a cast of two! The Madness of Mary. A psychological thriller of twists and turns that gets into the mind of madness Ė something that fascinates me.
Your films all seem to have some horror theme to them. Is horror a genre you are especially fond of?
Ever since as a kid I saw The Omen (original) Iíve loved horror films with more depth Ė religious, mythical stuff. I prefer things that arenít normal, boring life. When the budget comes along Iíll do a fantasy or sci-fi.
Before going into feature filmmaking, you made tons of documentaries, often on supernatural subjects, and also wrote a few non-fiction books. What can you tell us about that aspect of your career?
That came about because Iíd written books on various subjects such as the Holy Grail, Ark of the Covenant and even life-after-death. I met up with a big record producer in LA and we were chatting on his mountain about this and that. It just came up in conversation that we ought to tell some of these tales in film. So we did. We started out with a cheap camcorder and a web microphone! Now years later we have built up a massive store of equipment, over 200 documentaries and films and got contracts with Warner Bros and others. Weíve ended up being the biggest in the genre. But it is damned hard work!
A few words about Reality Entertainment, the company that produced most of your documentaries?
Reality is a great company now covering everything from esoteric to bird watching! Because of the growth it now means that Reality can get good distribution for independent filmmakers and thatís a real bonus I love.
With quite a number of documentaries to your name, what made you eventually go into feature-filmmaking?
I think it was because of the creativity. Iíve always loved being artistic, creative and to be able to create something with light and sound, telling a story with some power and meaning, just seemed the right thing to do. I now take everything Iíve learned about the mind, about mythology, about religion and of course, marketing, and try to create something special Ė that hopefully sells too.
How did you get sucked into making movies in the first place?
The death of books. Simple really. Looking at the future, looking at book sales and realising it wasnít getting out there as much as Iíd like. You might sell a few thousand books, but you get across to more in film.
Directors who inspire you?
M. Knight Shyamalan, Alfred Hitchock, Lasse Hallstrom.

Feeling lucky ?
Want to
search
any of my partnershops yourself
for more, better results ?

The links below
will take you
just there!!!

Find Philip Gardiner
at the amazons ...

amazon.com

amazon.co.uk

amazon.de
Looking for imports ?
Find Philip Gardiner here ...
Something naughty ?
(Must be over 18 to go there !)

Your favourite movies?
Lord of the Rings, Chocolat, The Village, The Happening, Star Wars original 3 films, Close Encounters, Jaws, The Omen, Exorcist, Revelation.
... and of course, movies you really deplored?
Star Wars Ė all the new ones! Almost any remake of an original film you can think of including The Italian Job, Charlie and the Chocolate Factory etc.
Your website, Facebook, whatever else?
My personal website is www.gardinersworld.com. But thereís a ton! www.reality-entertainment.com, www.thestonefilm.com, www.paranormalhauntingmovie.com, www.houseofsin.webs.com.
Anything else you are dying to mention and I have merely forgotten to ask?
Yeah. This industry in my opinion is full of divas in one form or another. That drives me mad. Iíve turned down huge amounts of money from executive producers to make films because they want to bend the way you do things and force you to take on an actress or actor that is so far up their own ass they have forgotten what itís like out there in the big wide world. I want to champion unseen talent Ė real talent. Whether itís actors, musicians or whatever. Thatís one of the biggest things I enjoy most about my job and thatís what Iím going to continue to do. Nobody knew who those guys were in Blair Witch or Paranormal Activity, but they were successful. Itís about content, storytelling and acting ability. Not stardom. Thatís my two cents anyway!
Guys like No Redemption for instance. A band that write and perform great rock music. They deserve to be seen and heard. Producers like Nik Spencer or John Symes. These guys not only act, they do everything else too. Together, all these folk make a film, not the Director alone, not the guys with the money who want to maximise their yield, but hard working skilled individuals that come together as a team to create something from nothing.
Thanks for the interview!
And thank you for asking!