Your new movie Sweet Madness - in a few words, what is it about?
Sweet Madness is about Harley Quinn regaining her independence by completing her descent (or ascent, if you were to ask her) into pure madness.
As far as I know, Sweet Madness is your first "fan film" - so how did you end up making one at all, and what made Batman's Harley Quinn so intriguing to you to dedicate a film to her? And to what extent can you identify with her madness, personally?
Yes, this is my first fan film. I had no interest in doing one before because I prefer one hundred percent original content and I, of course, didn't create Harley Quinn so I held off on making this for a few years. I made an exception in this case because I just love her character so much. She's whimsical, witty, likable... and deadly. A potent mix. I felt it was time to show her some proper love since the live action Batman franchise had never done so. She's so fabulously complex and entertaining. She deserved her own story. Simple as that. When news of Suicide Squad broke, I finally decided it was now or never.
It's not so much that I identify with her madness so much as I think she perfectly encapsulates the world of Batman that I love most, amongst all the various renditions of it through the years. A world where the good guys have flaws and the bad guys can, at times, be empathized with. Even rooted for, in a way. Things aren't so black and white, cut and dry. A world of gray. I think that makes these characters far more interesting, and I give due credit to Batman: The Animated Series for incorporating a lot of this into the Batman universe. This, of course, is the show that created Harley and the fact that she became so incredibly popular I think speaks volumes about what kind of characters people tend to respond to.
What were your inspirations when writing Sweet Madness, and did you follow any actual comicbook storylines when cooking up your plot?
My inspiration was the original Harley Quinn character from the 90's Batman: The Animated Series. That will always be Harley to me more so than where they've taken her characters in the years since. She's been pushed around a lot and I wanted to give her the opportunity to push BACK in my story, in her own way. I challenged myself to be bold with the characters and with the story, but to by and large stay true her backstory from the show
I really wanted to bring Harley to LIFE and I think we achieved that, thanks in large part to lead actress Madeleine Wade's performance [Madeleine Wade interview - click here].
For Sweet Madness you made what some would call a bold decision and let the Joker appear without makeup - what drove you to do that?
If I'm going to break my own rules and do a fan film I might as well "go for it". Do it right and yes, be bold. Not make just another fan film that will blend in with a thousand others, nor create just another guy painted up like a clown. It's just been done so many times now. I wanted to explore the relationship between Harley and the Joker in a new way, so I made the decision to strip Mr. J. of his signature look. To show the twisted man behind the clown make-up. I also wanted to keep the focus on Harley so people understood that this was HER story. It felt like the right thing to do story-wise, but I'm anticipating some resistance to it from some viewers. That's to be expected. It would not actually be the first time this has been done. They actually show a glimpse of the Joker without make-up while at Arkham in Batman: Year One, an animated feature based on Frank Miller's popular graphic novel of the same name.
What can you tell us about your overall directorial approach to your story at hand?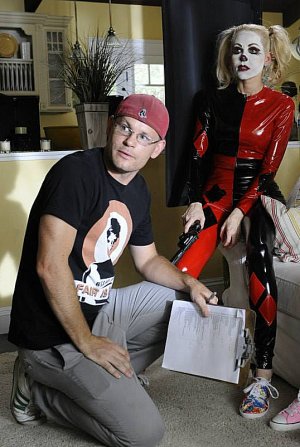 Peter with Madeleine Wade
With me, character, story and atmosphere are of the utmost importance so I really stress this when approaching my work. If the audience isn't pulled into the world from the get go, then all your effort has been for naught. Although budget and time constraints make it difficult at times, I'm also always trying to take advantage of the medium itself, as it IS a visual language, to help me tell my stories. In other words, I prefer articulating as much as I can to the viewer visually as opposed to "telling" them everything. Typically, the less dialogue the better, although I'm not able to pull this off as much as I'd like.
Sweet Madness was all shot in one location - so what can you tell us about your location, and what were the advantages and challenges of limiting oneself to just one place?
I had to keep this to one location for budgetary reasons, so I really tried to pack as much punch into it as possible. It saves time and money when you do this. It also puts more pressure on you to tell a really engaging story, otherwise the viewer will get booooored. Suffice it to say I pine for the day when I have a real budget to play with, which would allow me to expand the parameters of what I can do with my stories.
What can you tell us about your key cast, and why exactly these people?
Casting was absolutely crucial to this project. It can make or break any film, of course, but the fact that we were taking on such iconic characters made it all that more important in this case.
Madeleine Wade [Madeleine Wade interview - click here] was the perfect fit for our Harley. She has a way of just coming to life when the camera starts rolling, bringing an effervescence, wittiness, energy and unpredictability to the moment that perfectly complimented the character. It was a pleasure to watch.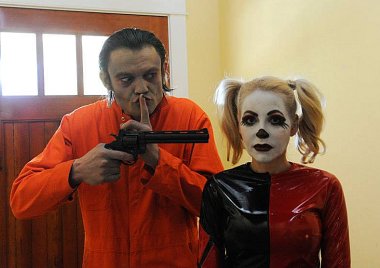 Micah Fitzgerald, Madeleine Wade
Micah Fitzgerald has a strong overall presence in front of a camera. Intimidating stature. Strong eyes. Strong voice. These were all important to me but above all he brought something DIFFERENT to the table. I didn't want someone to come in and do their best Heath Ledger impersonation, and with the vast majority of fan films out there, that's all the cast is doing. Impersonating someone else's past performance. That's not the kind of fan film I wanted to make.
Do talk about the shoot as such for a bit, and the on-set atmosphere?
The on-set atmosphere was good. Typical. Busy. Spurts of hectic movement surrounding long periods of waiting. That's just how it goes when you're shooting a film, it's just that it tends to get compressed when you're shooting on a super tight budget and schedule. This being said, the cast and crew were great. Hard workers. Experienced. Solid.
What can you tell us about audience and critical reception of your movie so far?
We released the film to some media outlets this past Sunday and opened it wide just yesterday, so it's very early but so far the reception has been great. Very positive, from fans and critics alike. Very energetic. That's great. I want people to watch it and talk about it. To share it and spread the word. It's high time Harley got the spotlight and I hope this film helps her achieve that.
The $64-question of course, where can your film be seen?
The film is currently available to view through my company's YouTube channel. Here's the link: https://youtu.be/RAw2YYjibcQ
If people like what they see and they want to check out more of my work through Dream Seekers Productions they can check us out through our main website as well as our Facebook and Twitter pages.
Any future projects you'd like to share - and with your experience on Sweet Madness in mind, will you ever do any more fan films?
Funny enough, I've already been approached by numerous people to take on other fan films, based on how well Sweet Madness turned out. I don't currently have any plans to do so, but we'll see what happens. I have to allocate my time and my efforts carefully, but if Sweet Madness really takes off I might be inclined to take on another one.

Feeling lucky ?
Want to
search
any of my partnershops yourself
for more, better results ?

The links below
will take you
just there!!!

Find Peter Dukes
at the amazons ...

amazon.com

amazon.co.uk

amazon.de
Looking for imports ?
Find Peter Dukes here ...
Something naughty ?
(Must be over 18 to go there !)

As for the immediate future, I have two features coming up. One is a werewolf horror feature I wrote that's been optioned and is being developed at Top Ranked Pictures. Another is a yeti horror feature that I came in and helped rewrite for Veluvana Pictures. I'm attached to direct both projects. Keeping my fingers crossed they come to fruition:)
Your/your movie's website, Facebook, whatever else?
Dream Seekers Productions main website: www.dreamseekersprods.com
Dream Seekers Productions Facebook page: www.facebook.com/dreamseekersproductions
Dream Seekers Productions Twitter page: www.twitter.com/dreamseekerfans
Sweet Madness Twitter page: www.twitter.com/sweetmadnesssss
Thanks for the interview!