First of all, why don't you introduce yourself to those of us who don't already know you?
Iím your atypical grassroots indie filmmaker, working myself up from the bottom, (always) learning and growing along the way. I currently live and work in Los Angeles, writing, directing and producing films through my company Dream Seekers Productions. Iím known mainly for horror and fantasy, but am a fan of, and indeed have delved into, several genres. What matters to me most is an interesting and challenging story.
What can you tell us about your production company Dream Seekers Productions, and the philosophy behind it?
Dream Seekers was originally formed to serve as a focal point for my creative endeavors. The goal was to produce high quality content despite uber limited budgets, learn as much as I could along the way and eventually use the complete body of work as a way to gain exposure and to break into the (often elusive) feature world. Despite the limited scale of my productions, these films have attracted name talent and have received press worldwide.
Let's talk about some of your recent movies then, and your motivations and inspirations behind them:
Little Reaper?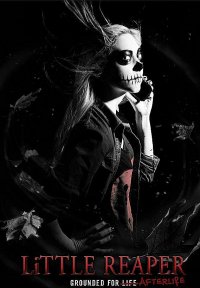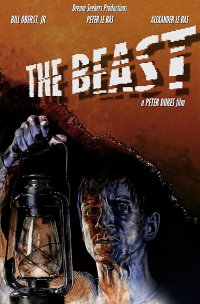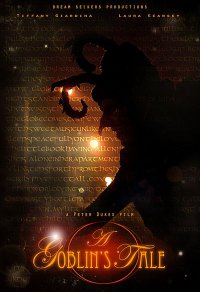 Death is an important theme to me, though not in any kind of macabre way. Itís just this THING that hangs around us at all times, as the sands of our life slip down the hourglass one grain at a time. It plays an important part in who we are and how we live our lives, so itís a theme that runs through several of my stories. Anyhow, Iíd long wanted to take on the Reaper, but it took a long time to figure out what angle I wanted to approach him from. As it turns out, Iíd done a lot of broody psychological pictures in recent years and I was looking to just make something fun and lighthearted. As I looked at it, I realized it was a great combo for this particular story. Death and humor. After that, the script came about very quickly and we were off and shooting.
The Beast was my ode to the classic horror films of yesterday. Films that relied more on atmosphere, tension and imagination than a full frontal gore/shock assault, which weíve been oversaturated with these days. To each their own, of course, but for me I lean towards a more subtle approach to horror.
The Beast was my attempt to remind viewers that horror has many different faces. I hoped that young people in particular would find it refreshing because a lot of these kids have grown up with a very limited perspective on what horror can be, and I want them to see it can be so much more.
A Goblin's Tale?
I was on a bit of a fantasy kick at the time. Iíd just finished The New World, another fantasy film of mine, which had gotten pretty good press and had just won Best Sci-Fi Film at the Burbank International Film Festival. I intentionally set out to make something as a nod to the darker fantasies of the 80ís ŗ la The Dark Crystal, Legend, The Secret of N.I.M.H. and Labyrinth. There were many things that inspired the story, but one of the biggest was literally just a snow globe. The idea of living inside a world within another world, and being entirely unaware of it. Funny where inspiration can kick in sometimes. It can be anywhere anytime if you know where and how to look.
Any future projects you'd like to share?
Iíve just green lit another short horror film, though I need to keep the details under wraps for the time being. Itís in the initial stages of financing and I hope to be shooting by January or February. Iím also working hard on a few different feature projects. Iím attached to direct a horror (creature) feature starring Gabrielle Stone (Dee Wallaceís daughter), Jessica Cameron [Jessica Cameron interview - click here] and DJ Perry. Iím developing three of my own spec features, one of which has rising horror icon Bill Oberst, Jr. attached in a lead role and, finally, Iíve been talking with a couple of different companies about possibly hopping on board to direct their upcoming features, slated for production next year. These projects will either reach fruition or they wonít. Iím pretty even keel about the whole thing. Itís just a funny business like that.
What got you into filmmaking to begin with, and did you receive any formal training on the subject?
Iíve always loved telling stories and letting my imagination run wild. It was only natural that this eventually lead me into a filmmaking career. I attended film school, graduating in 2001. Learned some things about production, but mainly learned a tremendous amount of film HISTORY, and I think thatís proven itself invaluable to me, in terms of what kind of filmmaker I wanted to be. Film school or no film school, thereís no training like first hand experience. Thatís where my real training came about. Getting on to sets or just shooting my own films. Getting out into the trenches and learning from the bottom up. This kind of experience will tell you pretty quickly if the life of a filmmaker is what you really want!
What can you tell us about your directorial debut Halo, and how did it come together, and lessons learned from it?
Iíve been making films ever since I was little, but Halo was the first film I ever shot on actual FILM. 16mm. It was a student film, and a very personal one to me at the time. Iím still very proud of it, but itís an interesting peek back into that part of my life. Comes off a bit dramatic nowadays, ha! In terms of what I learned from it, Iím sure there were things, but honestly, I learn something on literally every single film I do, even to this day. Weíre all students of the medium until we retire or die.
What can you tell us about your evolution as a filmmaker?
As we all grow older and more experienced in life we change, even if only in subtle ways. The same thing goes for filmmakers I think. Certain core aspects of what kinds of stories I tell, and how I approach them remain relatively constant, but otherwise Iím a much different filmmaker now than I was when I was 18 or 20. How I perceive the world and my place in it is much different now, and that invariably affects what kind of storyteller you are, and what kinds of stories interest you.
Now, in terms of my evolution from a ďtechnicalĒ standpoint, Iíve evolved quite a bit obviously. A goal of mine early on was to learn about every piece of gear on set, and how it works. So, now I know exactly what I need and donít need, where I can cut corners, where I canít, etc. A director who is knowledgeable in these matters is a much stronger asset on set than one who isnít, particularly if youíre dealing with tight budgets and shooting schedules. Iím also far more experienced in the ďmechanicsĒ of filmmaking, and what all goes into, from pre-production through post. Iíve also dealt with all kinds of cast, some easy to deal with, others quite a challenge, but all have helped me sharpen my skills as to how to cast the people I want and how to get the performance I want out of them. But donít be fooled, I have a long way to go, of that I have no doubt. Itís a tough job and thereís always more ďevolvingĒ to undergo.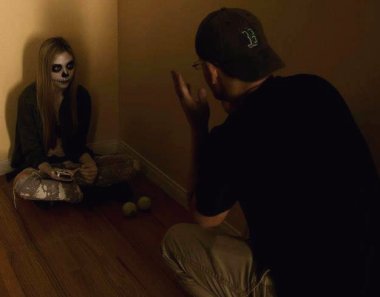 Peter (right) on the set of Little Reaper
The $64 question of course: Where are your movies available from?
All my films are available through our main website, Youtube and our social media channels. You can find those links below. Check them out. Enjoy them. Thatís what theyíre there for!
www.facebook.com/
dreamseekersproductions
www.twitter.com/dreamseekerfans
In your movies, you never seem to stray far from horror and fantasy - genres at all dear to you, and why (not)?
I have a soft spot for horror and fantasy because they allow for a lot of creative flexibility, and that meshes well with how my mind operates. As mentioned earlier though, Iíve toyed around with other genres, and have an active interest in continuing to do so as long as thereís an engaging story to tell.
How would you describe yourself as a director?
Ha, best to ask someone else. I suppose I would consider myself a focused director, with a clear vision of what I want. Iím also pretty good at keeping the ship upright and sailing straight, which is not always easy. Productions can get crazy. Thatís one of the reasons Iíve done so many different kinds of films, with all sorts of varying logistical issues to deal with. Iíve been through the fires and it takes an awful lot to rattle me or throw a production off course. Thatís important because there will almost ALWAYS be things that pop up that will push you to your limit and threaten your production. Finally, Iím not one of those ďgeneralsĒ you hear about from time to time who make being on set miserable. Weíre making movies, not saving lives, so if at all possible I keep my sets calm and respectful.
Filmmakers who inspire you?

Feeling lucky ?
Want to
search
any of my partnershops yourself
for more, better results ?

The links below
will take you
just there!!!

Find Peter Dukes
at the amazons ...

amazon.com

amazon.co.uk

amazon.de
Looking for imports ?
Find Peter Dukes here ...
Something naughty ?
(Must be over 18 to go there !)

There are many but Iíll just name two, each on opposite sides of the filmmaking spectrum. Steven Spielberg and Krzysztof Kieslowski. Both true auteurs. They both influenced me a lot.
Your favourite movies?
A constantly changing list, but I love Let the Right One In, which basically restored my faith in modern day horror, Duel, Jaws, Close Encounters of the Third Kind, Raiders of the Lost Ark, E.T. (picking up a Spielberg theme are you?), Poltergeist, Vampyr, Lawrence of Arabia, The Lost Boy, The Thing, The Colours TrilogyÖoh good grief. I could go on and on. And letís not forget books. Iím a book junkie. Thatís actually where most of my influences stem from.
... and of course, films you really deplore?
The ratio of good films to bad films produced on a yearly basis is pretty wide. I think Iíll leave it at that :)
Thanks for the interview!