Your new movie Zombie Dust - why a zombie movie, is that a genre you're at all fond of, and why (not)? And some of your genre favourites?
I have always been a fan of zombie movies. The first I can remember was George Romero's Dawn of the Dead back when zombies were zombies and could hardly move without an arm or a leg falling off and when you would shout at the screen "Just walk quickly past them, you'll be alright!"
Surprisingly I also really liked the 2004 Zack Snyder remake (I feel bad for saying, maybe even more than the original). More recently I have really loved the zombie comedies that have come out, the best of which, in my opinion, is Zombieland.
How did the project come into being in the first place?
Zombie Dust really started by accident (yes we accidently made a zombie movie), my son was studying a film course and had to come up with an idea for his second project, I suggested that he do a zombie movie. Before starting the project however he decided to switch courses and there was no longer a need for the project. So, as would be the normal response, my wife and I decided that we would do it instead (a few beers may have played a part in that decision!).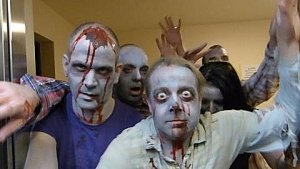 While planning Zombie Dust, I thought that it would be great to set up a non-profit production company (more like a filmmaking club) which would give people the chance to get involved and perhaps encourage young people to get into the industry. With lots of interest but no experience in the field we would need to get a few projects under our belts and then try to tap into the wealth of experience that there is here in Ireland and in particular in the North, with productions such as Game of Thrones, The Fall, Your Highness and the upcoming Dracula film all being filmed here and get the professionals in to spread their knowledge and experience (that's for the future though).
What were your sources of inspiration when writing Zombie Dust, and how much of what got onto the screen was actually in the script, how much was improvised?
The sources of inspiration were many and varied, from the obvious Zombieland, to cheesy lines inspired by films like Airplane and right down to "Tick, tick, tick, tick, tick, tick, tick, tick, tick. - How many ticks is that..." from Reservoir Dogs. Actually quite a lot of what you see (hear) was in the original script albeit with a few on-set-pencilled in last minute changes and a few adlibs that worked better than the original. The script actually started a lot smaller but we had found ourselves adding scenes as more people wanted to get involved we didn't want to turn anyone down - after all it was really just a bit of fun.
How would you describe your directorial approach to your subject at hand?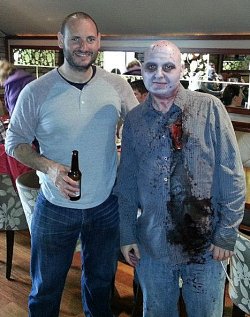 Paul McMurrough with zombie Gerard Broderick
Well, as this was my 'directorial debut' (sounds very grand), I had nothing to go on in terms of previous similar projects, so I approached it the same way I do in my professional life (i.e. as a control freak) - I tried to control every aspect of the process personally; from the script, location selection, pre-production, production, camera, FX, editing, everything - which in the end meant that we missed some opportunities to get more out of the times when we had a lot of people on set in full makeup.
You also appear in front of the camera in your movie - so how much fun was it to play spaced-out zombiehunter Zed?
I had intended to stay behind the camera at first but as so many people were really throwing themselves into it and stepping outside their comfort zones I thought it only right that I give people the chance to laugh at my wooden acting. Actually the first half of the Zombie Hunter scene turned out to be at the top of the shot list and so was the very first thing that we filmed. It was shot in a local park and as if trekking through a public park with a homemade dolly system, tripod and camera with a body building zombie wasn't bad enough I had to do it wearing a fake gun, a crazy hat and ith a wooden sword on my back. Needless to say a few people chose an alternative route to walk their dog once they saw us.
What can you tell us about the rest of your cast, and why exactly these people?
All of the cast are friends or friends of friends, and in the case of the Zombie Daycare-scene, all their kids. There turned out to be around 40 cast on Zombie Dust. Every time I tentatively asked someone if they would like to get involved, expecting to be told to 'wise up', they jumped at the idea and couldn't wait to get involved. Bare in mind we are all professionals mostly in our thirties with absolutely no experience in any film-related discipline. (During a mid-life crisis some people buy a boat or a sports car - here in Ireland we make zombie movies!)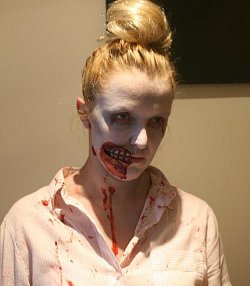 Natasha Barr
What can you tell us about the actual shoot, and the on-set atmosphere?
The movie was shot over 6 shoots spread across about 4 weeks. The most memorable shoot was the party scene. For this we brought in couple of beers and few cases of pizza (or maybe it was the other way round). We shot the 'pre-infected' shots and started doing the makeup, Natasha Barr was leading the makeup task with some 'help' from a few others, although it turned out that one of the helpers thought that we were making a sequel to The Smurfs and started painting everyone bright blue (Clare?). The makeup took quite a long time (longer for me as I was the only person not drinking) but by the time it came to shooting the rest of the scene everyone managed to get into character very well, either that or they were just completely wasted, either way they could hardly stand up or talk, which came in very handy. The apartment where we shot the scene had a balcony which backed on to a local hotel so when a few hotel guests heard some commotion at 3am and looked out their bedroom windows they saw a hoard of zombies heading for the elevators. For some reason they complained to the management???
The key question of course, where can the movie be watched?
Zombie Dust can be seen on YouTube - http://www.youtube.com/watch?v=P0rcqWcLFmQ.
What can you tell us about audience and critical reception of your movie so far?
For the screening of the movie we approached the local cinema who were only too happy to screen it for us. So for our 'world premiere' we filled a 100 seater theatre with the cast and family and friends. I don't think anyone asked for their money back but I can't be sure.
Since putting the movie up on YouTube, the feedback has been very good. Some good comments and I don't think anyone has taken it too seriously. It would be good to get some constructive technical feedback so that we can improve for our next project.
As far as I know, when making Zombie Dust, you (like everyone else involved) were pretty much a beginner when it came to filmmaking. Any filmmaking experience prior to the movie?
Yes we were all complete beginners. The extent of our experience would be that a few of us have done some extra work in the past (including a half second shot of the back of my head on Game of Thrones - Spielberg has not called yet, he must be busy!). A couple of the guys are going to try to beat my half second record on the upcoming season.
The only person with any professional production experience (on the music side) would Neil Lavery, who, as well as playing the role of Dave, composed and performed all the music for the movie. Neil's soundtrack is available on iTunes.
After the experience of making Zombie Dust, could you ever be tempted to return to the director's chair again/any future projects?
Yes - would love to, although I would also be happy stay in the role of producer (closer to the project management work that I do in the real world) and let someone with a better eye take the big chair. We have two further shorts (much shorter this time) in planning, both horror/chillers, at least one of which I would like to get out later this year. Although we need to wait until we get a decent camera (Zombie Dust was shot entirely on a Panasonic Lumic FZ150 which doesn't even have a manual focus ring).
How would you describe yourself as a director?

Feeling lucky ?
Want to
search
any of my partnershops yourself
for more, better results ?

The links below
will take you
just there!!!

Find Paul McMurrough
at the amazons ...

amazon.com

amazon.co.uk

amazon.de
Looking for imports ?
Find Paul McMurrough here ...
Something naughty ?
(Must be over 18 to go there !)

An absolute beginner who has learned so much from so many mistakes.
Filmmakers who inspire you?
Quentin Tarantino, JJ Abrams, Steven Spielberg (is it wrong to George Romero?).
Your favourite movies?
Saving Private Ryan, Forrest Gump, Django Unchained.
... and of course, films you really deplore?
The Happening - I usually like Mark Wahlberg but WTF? What was really great was the way the lead actors made it look like they had never acted before in their lives - that is a real skill.
Your/your movie's website, Facebook, YouTube, whatever else?
Facebook - https://www.facebook.com/zombiedustmovie
MeAndMeMates Productions - www.mammproductions.com
Thanks for the interview!