Your upcoming movie The Ungovernable Force - in a few words, what is it about?
The Ungovernable Force is about a bunch of punks in Anycity, USA living their day-to-day PUNK LIVES until they find out that this asshole fascist sheriff is going around raping and killing homeless women at night. So they team up with the local homeless community to take the pig down!
What were your inspirations when writing The Ungovernable Force - and since the film is at least on some level about punks vs the system, to what extent can you identify with punk rock culture?
I've always been involved in, fascinated by, and identifying with punk culture. I was in an anarcho-punk band in high school and though I've dabbled in just about every subculture and music genre I always consider punk and the punk attitude to be closest to my heart. At one point a writer friend of mine said, in the midst of myself and some mutual punk friends, that he would like to write a screenplay based on a house we all lived in at that time, because it had naturally become somewhat of a "punk house", full of rats, swarms of mice, trash, booze, drugs, and rotting food. One of the punks said later, "If he writes that script, it'll suck. You should write it, Paul," him knowing that I was also an avid writer. That wasn't the inspiration for me writing this script, and the script has nothing to do with a "punk house", but it is a source of encouragement when looking back on the conversation, because even at that time, when I wasn't identifying as a punk to a large degree, I could still identify with the subculture, music, attitude, etc. more than the average young adult. Since then I've gotten back much closer to my punk roots. My inspirations, therefore, have been my own adoration of punk music, the punk culture and attitude, and just the fact that punk rules.
Somewhere I read The Ungovernable Force being described as "punxploitation mondo" - would you care to elaborate on this?
Around the time that my last feature film Honky Holocaust was in post-production, I was developing a much stronger admiration of unorthodox shooting styles. There is a scene in Romper Stomper, right after the raucous skinhead party, when the lead character Hando walks around their squat and the music from the party has ended. There is unmistakable feeling of realism; the scene was unnecessary to the plot development and it was shot in a way that made you feel like you were really there. I want that feeling to pervade through our film The Ungovernable Force especially during certain scenes. And there are some great filmmakers, films, and film genres that really exploit that feature: namely mondo films such as Mondo Cane, Cannibal Holocaust, and Goodbye Uncle Tom, that I really like, and also a bunch of other films that break the fourth wall directly or indirectly by having the camera be so involved in the film that the audience really feels like they are sitting in a room with real people, not just characters, a few primary inspirations being Kids, Panic In Needle Park, Sid and Nancy, Walker, Blue In The Face, and even to an extreme and dichotomous degree Reds by Warren Beatty. So I really wanted to take the campy b-movie feel of films like Escape From New York, Suburbia, Class of 1984, Repo Man, Street Trash, and others with those obvious campy sets, characters, plot devices, etc. and juxtapose them with the mondo-style gritty realism of the less structured films aforementioned. Reds and Blue In The Face were huge inspirations for this style, and Martin Scorsese and Spike Lee pull off this technique beautifully, but they don't make exploitation films in the classic sense, with the obvious exceptions being portions of Taxi Driver, Boxcar Bertha, and even Summer of Sam, and all three of those are excellent examples of the style of filmmaking I want to exploit and emulate with The Ungovernable Force.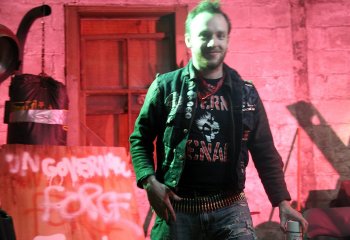 Maybe it's just me, but it seems that The Ungovernable Force will have a bit of a violent streak to it - so how are you planning to go about your gore effects and the like - and since we're at it, also do talk about your "Fuck CGI" motto for a bit!
Funny, because you're right on the money. The Ungovernable Force actually won't have as much violence as our other films have, proportionally, but it will have a lot of gore and violence. I refuse to use CGI for any of our special effects, aside from the occasional cheeky green screen, which is a technique so old-fashioned by now that I don't even consider it to be real CGI, just computer-enhanced effects, I guess. But none of the blood, none of the wounds, none of the gore, muzzle flash or gun flare, monsters, etc. will be created or enhanced by computer generated images. We make our own blood, use tubes and pressure (generated by hoses or squeezing plastic bottles), or just our best out-of-shape pitcher's arms to project gore and blood across the set or from somebody's body. We recently recruited a bunch of talented special effects artists who are already working around the clock on prosthetic wounds and gore. CGI is stupid. It rarely looks real, and even when it does it's just because the "filmmaker" has access to lots of money and/or powerful computers. If somebody watches one of our films, they can know with absolute certainty that what they are seeing is what they'd see if they were on our set. We do use digital cameras, but only because we can't afford to use real film.
A few words about the film's intended look and feel?
I want the film to look very gritty. I want it to have a very raw appearance and to really exploit the realism of punk. There will plenty of uncomfortable sudden cuts, and we'd like to use multiple cameras with different looks and feels, if the budget and time allows. I ideally want it to look like somebody found all this footage and spliced it together to look like a movie, sort of like "found footage" films, but to also have that campy B-movie feel that you get with so many Troma, Carpenter, and Corman films [Roger Corman bio - click here].
What can you tell us about your intended key cast and crew, and why exactly these people?
I like using non-professional actors. In fact, with no disrespect to "professional" actors, I prefer to use under-experienced actors over actors who have been in the game for a long time. I just think it's more fun to watch someone who doesn't consider himself or herself to be an actor become a character onscreen. It's part of the process of watching my script become a film - seeing ordinary people become characters. Professional actors can be very talented, which makes for a smoother production, but I never got into filmmaking to have a "smooth" experience. If it's not challenging or gritty or feeling like we're moving uphill or against the current, we're not doing the right project. So our cast includes mostly local actors. The few bigger-name actors that we are using were chosen because they are heroes to us, in one way or another. Lloyd Kaufman is one of our heroes, and he'll be making a cameo appearance in the film. Tony Moran is set to appear in the film; he was the original Michael Myers from the first Halloween. Debbie Rochon, scream queen of the 90s [Debbie Rochon interview - click here], and Bill Weeden of Sgt. Kabukiman, NYPD, are also set to appear in the film; they are both Troma veterans and heroes of ours for that reason. We also have punk rock legends Merle Allin, Steve Ignorant, Steve Lake, Nick Cash, Zillah Minx, Thomas Mensforth, and The Shend participating in the film. It's another way of making the film appear to have been "spliced" together - to include cameos from all over the place, appearing in a variety of roles and scenes, and bringing our film to life like some kind of Frankenstein monster, patched together like a bloody quilt.
As far as I know, The Ungovernable Force is currently still in its fundraising stages - so what can you tell us about your fundraising efforts?
Fundraising is never easy. It requires a lot of begging and bargaining. We're running a Kickstarter campaign now (https://www.kickstarter.com/projects/743768696/the-ungovernable-force-punxploitation-feature-film) with some awesome incentives and really need to hit our goal or I'll be selling kidneys and sperm to finance it. We're on track to exceed our Kickstarter goal of $12,000, but there is no guarantee that we'll get even one more donation, so we could easily stall out at the halfway mark. It's just a matter of tireless promoting and corresponding with people who already have little to no money to part with a few bucks. If 12,000 people donate $1.00 each, we'll reach our goal. But it's hard to get even 100 people to part with $1.00, which you don't realize until you start the begging haha.
Once your funds are raised, what's the schedule - and any idea when and where the film might be released yet (and I know it's probably waaay too early to ask)?
I'd like to wrap principle photography by the end of August. Our schedule for our last feature film, Honky Holocaust, was to finish by the end of 2012 and we didn't finish shooting until May of 2013. Only now is the film finally just about ready to be screened to the public and it's now May of 2014... Filmmaking is very unpredictable, especially when we all have dayjobs. So ideally The Ungovernable Force will be ready for its first large screening in January of 2015, but who the hell knows. We plan to start shooting almost immediately once fundraising is complete, so in late June.
As we're talking, your debut feature Honky Holocaust is coming out of post, right? So obviously, you have to talk about that one for a bit, from your initial ideas, to the actual shoot, to the finished product? And any ideas when that movie might be released onto the general public yet?
Honky Holocaust is about to undergo its first large screening, which we'll use to fund the festival run. Once the festival run is concluded, we can start deciding how to release it to the general public. Again... no idea when that will be. Maybe 2015? Only time will tell. For now, it's basically in its final cut form. And I'd love to show it to the public, but there's a lot of politics and money involved in deciding how to do that and when. The film looks similar but at the same time nothing quite like I initially pictured. I wanted it to be very campy with lots of allusions to Spaghetti Westerns, which it has. I also wanted it to have lots of male nudity, which it has. One thing that got a major overhaul was the amount of female nudity, which we increased about 1000% from the script to the final product. Oh, and there's way more blaxploitation influence in the final product as opposed to the script, because I was watching a lot of Jack Hill, Rudy Ray Moore, Pam Grier, and Fred Williamson films while we were filming.
Any future projects beyond The Ungovernable Force you'd like to talk about?
I always have about five to ten projects in the works, either in my head, in outline or treatment form, or as fully written scripts. I'd like to do a short film I already wrote called Gay Jesus after The Ungovernable Force. Gay Jesus is basically a retelling of Christ's final days by somebody who has virtually no knowledge of the gospels (myself) and a sincere distaste for religious oppression of sexuality. Gay Jesus will portray Jesus and his disciples in basically the same way they are portrayed in The Bible, only they will all be bisexual or homosexual, and very promiscuous. I also have a script called Bookworm Biker vs. Demons of the Third Reich, a Jewsploitation film about a Jewish girl who has to battle demon Nazis resurrected by a deal with the devil that Hitler made just before the end of WWII. It's also a biker film reminiscent of Wild Angels and Devil's Angels. I'm also working on a script for a film that takes place in Haiti and intends to combat Free Trade policies, corporate and capitalist greed, and economic/social oppression of impoverished workers. It's my Marxist film set in the jungle, and I want it to be my homage to Jack Hill and Roger Corman projects [Roger Corman bio - click here] filmed in the Philippines like The Big Bird Cage and The Big Doll House. I also have an idea for a film about a guy who gambles on the Superbowl and gets arrested for manslaughter right before the game begins, then relives his life through flashbacks while he is mistreated by the cops in the holding cell. It will be my homage to Buffalo '66. Then there's Revenge of the Bitches, a rape revenge/women in prison/biker film. I won't go into detail into any more film ideas though because it won't end.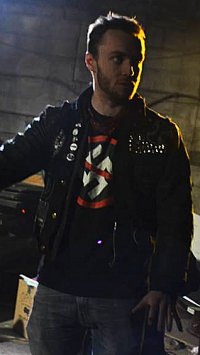 What got you into filmmaking to begin with, and did you receive any formal education on the subject?
I have zero formal education on filmmaking or writing. I have always been an avid and obsessive writer, starting when I could first hold a pencil. I've written four and half novels, dozens of screenplays, several plays, and countless short stories and personal essays. A lifelong film fanatic, I got frustrated when all the screenplays I wrote were just collecting digital dust on my computer and not getting produced, so I decided I would take a stab and producing and directing my own films. I started with Super-Townie, a sitcom I co-created and co-wrote with my close friend Greg LaVoie. It is nothing great, but taught me almost everything I needed to know about producing and directing an independent film. After two Super-Townie webisodes were finished, Nick Norrman asked me to direct a short b-horror film he wanted to make. I accepted, primarily because I owed him for helping and educating me on the set of Super-Townie, on which he was the unpaid director of photography and 1st camera (and only camera haha). It was called Moonsmilers, and I had so much fun making it that I realized I'd have more fun and better success with making b-movies than I had in comedy web-series. The rest is history. I have a bachelor's degree in Sociology which has gotten me nothing as far as paid work goes, but it has turned me into a radical liberal.
What can you tell us about your filmwork prior to Honky Holocaust and The Ungovernable Force?
Prior to Honky Holocaust, we did short films and a web-series called Super-Townie. I've acted only once on a production that wasn't my own and wrote a script for someone else's short film; everything else I've done is my own work, noting of course that Moonsmilers was written by Bill Freas and produced by Nick Norrman, but as director I considered it to be Nick's and my collaborative effort. After Moonsmilers, we did No Thanks, a short film about a Thanksgiving dinner incurring some much deserved wrath by local Native American zombies. It was our "fuck you, Columbus" film. And then right after Honky Holocaust was finished filming, we did another short, 12 Rounds For The Loaded, a torture Western with no moral lesson, just lots of nihilistic gore and shock humor.
How would you describe yourself as a director?
I think I'm a pretty fun person to work with, but that's something you'll have to ask the cast and crew. I am very open-minded and will pretty much give the green light to any idea that I think will elicit some kind of extreme response from the audience. I'm a no-bullshit kind of guy, though, and refuse to answer questions such as "when will we wrap today?" or "what's my motivation in this scene?" when we are six hours behind schedule. I'm a firm believer in having a decent finished film than a half-finished masterpiece, similar to my idols Roger Corman [Roger Corman bio - click here] and Lloyd Kaufman, so a lot of the time we're cutting corners and replacing said corners with nudity, gore, or obscene violence. I am not a perfectionist and actually loathe perfectionism on set - if "perfect" will take an hour but "acceptable" will take a minute, I'll go with "acceptable". I believe that film is a form of entertainment, not some perfect alternate universe through which egomaniacs can engage in a pissing contest, so if what we film is entertaining, we've succeeded. End of story. If it looks beautiful, that's simply icing on the cake. But if it's boring or bland, we've failed miserably.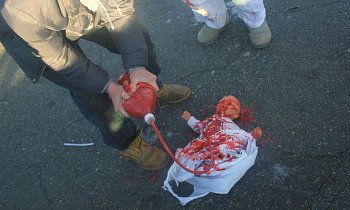 Filmmakers who inspire you?
My biggest, purest influences are Roger Corman [Roger Corman bio - click here], Lloyd Kaufman, Jack Hill, John Carpenter, Sergio Leone, Sergio Corbucci, Ruggero Deodato [Ruggero Deodato bio - click here], Dario Argento, Oliver Stone, John Waters, Richard Linklater, Terrence Malick, Akira Kurosawa, the Coen Brothers, and Martin Scorsese.
I also need to give a shout out to Quentin Tarantino, who I love and hold in a league of his own, not because of his greatness but because he is so misunderstood by mainstream audiences. His work is genius and borrows directly from my absolute favorite films and filmmakers, and so many modern day cretins don't understand his work. That's fine, but I put all his films in a protective bubble in my head to keep them from leaking integrity into the black holes of contemporary audiences.

And, though I think his work is complete garbage, I have to give another shout out to Bill Zebub, whose approach to filmmaking as simply "showing images that elicit a response of arousal or horror" has been hugely inspirational and liberating to me as a filmmaker.
Your favourite movies?
Dazed and Confused, Clerks, The Big Bird Cage, The Good, The Bad, and The Ugly, Cannibal Holocaust, Django Unchained, Foxy Brown, Born on the Fourth of July, Big Lebowski, Black Caesar, Do The Right Thing, All About Eve and A Clockwork Orange... those are some of my all time favorites.
... and of course, films you really deplore?
Haha, these don't come to mind very easily. Anything by Uwe Boll. He's terrible. If he wants to challenge me to a boxing match I'll tell him watching any of his films is more painful than his best haymaker. House of the Dead is the worst film I've ever seen, and NOT in an amusing way. I also don't like films based on graphic novels, and I'm not sure why. I hated Sin City, and get a lot of shit for that. I also don't like Shaun of the Dead, another one I get a lot of criticisms for hating. Other than that, I don't care for most mainstream films, most films with a lot of CGI (though I do love everything Star Trek, CGI or not), but most films I can watch and appreciate at least the fact that it was made, unless it's CGI-heavy, in which case it's boring to me.
Your/your film's website, Facebook, Kickstarter, whatever else?
Kickstarter campaign: https://www.kickstarter.com/projects/743768696/the-ungovernable-force-punxploitation-feature-film
Website: www.ungovernablefilms.com
Facebook: https://www.facebook.com/ungovernablefilms
Anything else you are dying to mention and I have merely forgotten to ask?

Feeling lucky ?
Want to
search
any of my partnershops yourself
for more, better results ?

The links below
will take you
just there!!!

Find Paul McAlarney
at the amazons ...

amazon.com

amazon.co.uk

amazon.de
Looking for imports ?
Find Paul McAlarney here ...
Something naughty ?
(Must be over 18 to go there !)

Just one point on my drive and motivation when making any film or anything people will hear or see: I hate the idea of inherent sanctity, and love anything that shatters the assumed sacred nature of anything. Honky Holocaust, if made by a black director, might be seen as something very dangerous and anti-white. And it is very anti-white, and that's what I was going for, because I'm sick and tired of racism so I decided to make something racist toward white people in an attempt to shatter the sanctity of caucasian genealogy. I made an Islamic terrorist group some of the "good guys" in the Bookworm Biker script because they're just as good and bad as any militant group, and it was about time they get to be the good guys in a movie. Sorry, America, but we're no more "sacred" than Palestine, China, Russia, Cuba, or any other region of this planet. Comedians who are obscenely politically incorrect are some of the best influences our society could hope for - the more we consider topics to be "off-limits" or "exempt from ridicule", the closer we get to repeating witch hunts, fascism, genocide, apartheid, oligarchy, racism, etc. We need to all accept the fact that we're all equal mortals and we need to ridicule the things that we think are sacred, and not just in the religious sense but in every sense. I'm glad Rolling Stone put the marathon bomber on the cover of their magazine - if people want to figure out how to avoid "terrorism", we can't ban the photograph of a "terrorist". It's like that classic scene in The People vs. Larry Flynt where Woody Harrelson asks "Is this obscene?" to a bunch of pornographic photos and images of war and atrocity. We're animals, we're mortals, let's have a laugh and fuck everything else. That's exploitation film to me.
Thanks for the interview!
Thank YOU!