Your new movie Outre Tombe - in a few words, what is it about, and what can you tell us about your character in it?
True story : In the seventeenth century, Catherine Lapeyre was wrongly accused of being a witch according to the register of the bishopric of Agen France. She was juged and found guilty by a College of Ecclesiastic and beaten to death.
Who I play is Catherine Lapeyre raised from the dead. She is lost in the space-time without knowing how she came back to Earth, a wasteland. She walks and walks through the country and just finds ruins, but never find any human beings. She wanders and feels terribly alone.
What did you draw upon to bring your character to life, and how does one prepare to play a revenant even?
I drew upon the fulfillment of wanting to do it. Actually I have always been interested in the paranormal and all this. This character is a part of me.
With Outre Tombe's director Alexandre Mathis, you have made several movies of late - so what's your collaboration usually like, and particularly on this movie, and how did you two first meet even?
I have known the producer/director Alexandre Mathis for about 45 years. Our first get-together was for in interview and then we lost sight of one another for about 40 years. I was curious and wondering what had happened to him. On the internet I found out he wrote books so I called his editor, left my number, and he called me back right away. He invited me and we talked and talked about life and movies. He is a movies historian and said he would like to make a film with me.
Were started a few months later with little bits of films as Outre Tombe and Vampyr, Lady Usher and others.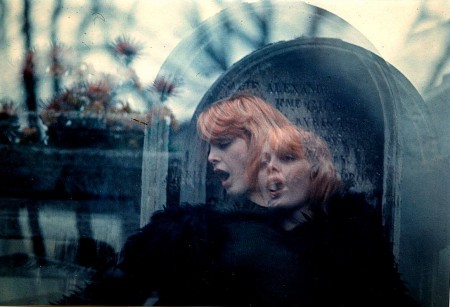 Pamela as photographed by Alexandre Mathis, 1976
A few words about the shoot as such, and the on-set atmosphere?
The atmosphere of the shoot was quite intense, especially at the beginning. I relived my dreams like a young girl.
The $64-question of course, where can Outre Tombe be seen?
OutreTombe is a feature film and is now being assembled. I don't know where it will be seen, DVD I think. And specialized experimental cinemas.
Any future projects you'd like to share?
I have other projects with Alexandre Mathis. I would possibly play in others films.
What made you want to become an actress in the first place, and did you receive any formal training on the subject?
What made me want to become an actress? It's a little hard to explain. I had a miserable childhood without a normal family. My mother was old, ugly and ill in a wheelchair. She always talked about my older sister who married a GI after the war and was living in the US. I felt my sister who was very pretty was my real mother. When I saw American actresses in magazines I imagined that my mother was like that. So cinema was a kind of a family for me and a normal way of life. I also took refuge in different characters in the life to escape to my bad treatment.
As far as I know, you've gotten into film via being a dancer at the Folies Bergère - care to elaborate, and how did you become a dancer in the first place, and how did it prepare you for being an actress?
I became a dancer at the Folies Bergère after training. I was one of the first places. The choreographer put me there not very long after my arrival. I don't know why. Girls who've been there for long time were jealous. So my life with them was hard.
Can you still remember your first time in front of a camera, and what was that experience like?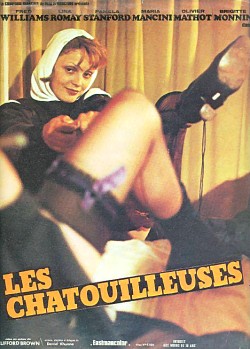 1975
My first steps in front of camera were great. At the age of 15 I was sent to an employment agency in Fontainebleau by my mother. I was so sad and said to myself if only it could be playing in a movie. As I walked on the sidewalk I saw a group of people watching me. A man broke away and approached me: "Hey Miss, would you be interested playing in a movie?" Oh yess! I was tall for my age maybe he tought I was older.
A few monts later he wrote my mother to ask for a main role for me on TV. She refused !
Over the years, you've made quite a few movies with cult director Jess Franco - so what was it like working with him, and how did you get involved with him in the first place?
I used to leave my pictures in producers' offices. I got involved with Jess Franco by Robert de Nesle who was his producer.
Between shooting I loved to tell ghosts stories to the other actors. For me it was like a theater scene. They all were very fond of them and left the cinema tray so at the moment the director was going to say "action", they were all gone!
I liked Jess as a director, as a person he was very involved in his work, very educated very intelligent, a musician too, very good pianist. We talked about the paranormal and UFOs.
Quite a few of the movies you've made back when are of the erotic variety - so has it ever bothered you to appear nude in front of a camera?
Being nude in front of a camera did not bother me for I was used to after modelling for photographers or painters. My first pose (dressed) was for Patricia Highshmith at the age of 14, for painting.
Other past films of yours you'd like to talk about?
When I was an extra in Les Fugitifs, Gerard Depardieu was one of the first role, he was close to me but we didn't talk. That day I was late and didn't have time to eat breakfast so I was very hungry. When we went to the restaurant, I devoured the pickles on the table. So the memory I have of that one is not Depardieu but the pickles.
I was also an extra in Scorpio at Orly Airport. Alain Delon was there, he looked at me. He called a guy and they both seemed to talk about me. After a moment, the guy came by me asked my telephone number without saying why. I don't know if it was him or for Alain Delon. The day after I moved so I'll never know if one of them called me.
Several of your films from the 1970s and early 80s have become cult items. Did you ever expect for any of them to have such longevity, and do you have an explanation for this?
I never expected my films would have a such longevity. My explanation is that sex and nudity are taboo and what is taboo is in the same time kind of sacred. I am quite sure that if I had played in "normal" films they would'nt have become cult.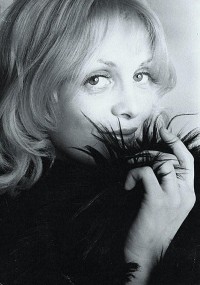 Feeling lucky ?
Want to
search
any of my partnershops yourself
for more, better results ?

The links below
will take you
just there!!!


From what I know, took a break from acting from the early 1980s to only recently - why, what did you do in the meantime, and what drew you back, ultimately?
Why I got out of acting in the eighties? Some producers and directors of "normal" movies considered Jess Franco's actresses or actors untouchables. That's pretty much the reason. I was surprised that artists were so prude and had a limited imagination.
What I drew me back ultimately? Alexandre Mathis's proposal to make films together.
In the meantime I did odd jobs. I even insured deaths.
How would you describe yourself as an actress, and some of your techniques to bring your characters to life?
My technique to bring my characters to life is to enter it. I know life, people and all that. I can play a stuck-up old bat, a whore or a lady.
Actresses (and indeed actors) who inspire you?
I don't see any actresses or actors who inspire me, I am just myself.
Your favourite movies?
I like The Night of the Living Dead, The Enigma of Kaspar Hauser, La Vérité (Henri-Georges Clouzot), Inspector Harry, Close Encounters of the Third Kind ... these are just a few of my selection of films.
... and of course, films you really deplore?
I deplore sentimental films without an ounce of philosophy or humour.
Your/your movie's website, Facebook, whatever else?
I only have Facebook.
Thanks for the interview!