Your new movie The Star Light Motel - in a few words, what is it about?
The Star Light Motel is a short film about a woman who seems to have some serious substance abuse issues spending the night in a haunted motel room. After having a nightmare involving the ghost who committed suicide in the room, she subsequently finds a photo of her and then attempts to summon her, with dire results.
What were your sources of inspiration when writing The Star Light Motel?
I don't know if any come to mind in particular. The two obvious ones would seem like Psycho and The Shining, but I didn't have them in mind when I wrote it. I mean, nobody gets butchered in a shower and there are no evil butlers lurking around (or are there...?). I just think motel rooms are a good, claustrophobic setting for a horror film or thriller.
To what extent could you actually identify with The Star Light Motel's protagonist Kathy?
I'm not sure if I identify with her, although I tried making her an empathetic character and I hope the audience does. She just seemed like the right character for this story: the seemingly perfect mom with a secret drug problem who's about to experience a horrible fate.
A few words about The Star Light Motel's approach to horror?
I don't know, I suppose it has a fairly nihilistic approach to the material, sort of like a John Carpenter film, plus the music sounds similar to his stuff. Not that I'm a nihilist, by any means, though. The snide, fairly over-the-top approach to the drug use probably made it more comedic than I wanted, though.
Since The Star Light Motel is basically limited to just one motel room, what were your techniques to keep things visually interesting throughout?
What I really wanted was a good sense of atmosphere. The kind some of the old-timey "dark and stormy night" mysteries had, like The Old Dark House, The Black Raven, or The Night Has Eyes. A tiny room in a remote location, during a horrible thunderstorm, with the lead character being forced to take shelter in what ultimately turns out to be a very dangerous place. I tried using a lot of extreme wide angles to try and make this small (very small) shoebox of a motel room seem much more cavernous than it actually was. I also tried going for a more gritty/grindhouse-type vibe, but I don't think that works as well in HD as it does on celluloid.
What can you actually tell us about your location, and what was it like filming there?
We shot it at a motel in Burlington, Ontario. The room was so small only four people could have fit in there, and we couldn't have fit any lighting or grip equipment in there either, but that's okay because we didn't have any anyways! We basically lit the movie with the motel room lights, two of which were broken. I can say in its favour that I did not detect any insects in the motel room.
Do talk about The Star Light Motel's cast, and why exactly these people?
The film only has two actors in it, Kristi Everard and Concetta Roche. Kristi, I think, made her film debut with it. She had the kind of "housewife/professional mom" personality I was going for. Concetta was a last-minute replacement as the original actor couldn't make it, but I'd already made several films with her. There was supposed to be another character in it, the motel owner, but they were cut out of the movie.
A few words about the shoot as such, and the on-set atmosphere?
It was fine. Very workmanlike. The only issue which concerned me was filming the nudity, but Kristi was very professional about it, as was everyone else. This film actually took me nearly two years to get made, was rewritten many times, and had several aborted attempts at production. Originally there was supposed to be a lot more gore and special effects in it, but these were all cut out simply because of the tiny budget. For a film which took me so long to get made it is ironically probably my most poorly-prepared film, but I'm perfectly satisfied with the end result.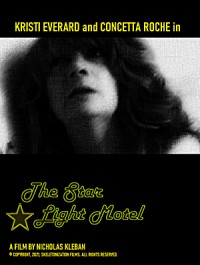 Feeling lucky ?
Want to
search
any of my partnershops yourself
for more, better results ?

The links below
will take you
just there!!!


The $64-question of course, where can The Star Light Motel be seen?
The Star Light Motel can be viewed at zellcoentertainment.com, along with my feature The Kingdom of Var.
Anything you can tell us about audience and critical reception of The Star Light Motel?
It was screened at the Nasty Frames Film Festival, the self-proclaimed "World's Worst Film Festival", and was pretty well-received. Albeit by a bunch of who I presume were drunken horror/exploitation afficionados that were encouraged to heckle the movies.
Any future projects you'd like to share?
Yes, I am currently in pre-production on my next feature film, the aptly titled Blood Fury. It is sort of like Poltergeist meets Society. Luckily there are no blood orgies with shunting in the film. The characters just stick with blood, mucus, vomit, farting, and other mysterious bodily amenities during the blood orgy sequence, the old-fashioned way. It's a bloody good time!
Your/your movie's website, social media, whatever else?
I don't have a website at the moment but am working on making one.
Anything else you're dying to mention and I've only forgotten to ask?
You wouldn't happen to know tomorrow night's lottery numbers, would you?
Thanks for the interview!