Your new movie Dalmatian - in a few words, what is it about?
Doug is a lone wolf type of guy who finds himself in a new town in a coffee house in 1980. He is struck immediately when he sees a beautiful young woman seated by herself. Doug finds a reason to strike up a conversation, the two begin dating by seeing The Empire Strikes Back and eventually marry and have three children. Unfortunately, as we find out, Doug is emotionally absent and misses out on a lot of family experiences and they split up. In 2017, Doug and Carol, now divorced, reunite at the same coffee house and Carol fills Doug in on what he's missed out on. Scenes intersect throughout the thirty-five minute movie between the two time periods.
What were your sources of inspiration when writing Dalmatian, and was any of this based on personal experience?
I was in South County Writers Group out of Rhode Island in mid 2017. Unlike most writing groups I've been in, this particular group actually has its members write on the spot , in each other's company, for twenty solid minutes 'in live time' after someone chooses a prompt (theme) for everyone as a starting point. Most of the people wrote poems or short stories, but I figured I'd go ahead and write a short play during the course of the evening. I had likely been further inspired by a group I was working with earlier in the year called Play in a Day, produced by Michael Gonza out of Natick, MA, which challenged playwrights, actors, and directors to write, produce and perform ten minute plays in a twenty four hour time-frame.
Dalmatian jumps back and forth between 1980 (the beginning of the characters' relationship) and 2017 (long after that relationship has ended) - so what was the idea to tell the film on two time levels, and how hard was it to not lose track eventually?
I wanted to show how much people can change in that arc of years; how the enthusiasm people have when meeting someone new can eventually turn into dread after their relationship has turned sour. For me, I did not want to 'lose people' with the time jumps and especially since the same actors (Jack Shea as Doug and Ashley Shea as Carol) play the characters in both time frames, I had the characters directly address the time jumps. In addition, they wear different outfits for the two time frames, we set up the set differently for the two time frames, and the musical score (by Tony Cadamadre) used a different aesthetic for each period.
At least for me, Dalmatian was despite all its drama also a pretty humourous film - would you at all agree, and if so, do talk about your movie's brand of comedy for a bit?
Oh sure, there has to be some comedy in this piece to make it palatable. I really do find myself to be walking in the footsteps of Larry David (Curb Your Enthusiasm), so a lot of the particularly quirky moments that Doug has in life really more or less represent my own struggles with life. To be blunt, I'd call Doug's issues with his own mere existence to be "White Guy Problems" such as where to sit in a movie theater, pontificating what to call 'half-time' in a three period hockey game, and the easiest way to solve a Rubik's Cube without figuring out the puzzle. The funny thing about "White Guy Problems" is that you don't have to be white or a guy to have them ... but it does help.
In sets, camerawork and even performances, Dalmatian feels intentionally stagey - so do talk about that aspect of your movie for a bit, and your general directorial approach?
We performed this piece as a stage play first, in the Wickford Museum of Art and later at Article 24 in Boston, as part of Barstool Stories, before live audiences. My general approach to this particular piece was to cast two great actors who I knew could pull it off and just the right amount of deep conversations about character development and rehearsals that we were all comfortable with. Luckily, Jack Shea and Ashley Shea happen to be a married couple, so they were able to run lines and get off book on their own time.
What can you tell us about your cast, and why exactly these people?
Jack and Ashley Shea have a rich history in theater, and Jack taught theater at college level himself for many years. I first met Ashley in the Play in a Day series, where she brought one of my other short pieces, The Impeccable, to life. We have since also filmed The Impeccable.
Basically, when I wrote this piece, I gravitated to Jack and Ashley because I wanted to work with people who understood the nuances of relationships and who, quite frankly, would 'get it'. A lot of people say they want to be 'actors' but what they really want is to just be on camera, just to be famous. Jack and Ashley actually respect the craft and tradition of acting, much in the way my own acting teachers like Barry Primus and Tim Hillman did. So, that is why I wanted to work with them and I'm quite happy with the results!
Do talk about the shoot as such, and the on-set atmosphere!
We got so much done in such a short amount of time. In a nutshell, we shot a thirty five minute movie in about four and ˝ hours, using a three camera, studio set-up. As far as being expedient, this is about as good as it gets. Much of the credit goes to the actors for being extremely well rehearsed but also credit goes to the on-set crew of Henry P. Gravelle and Dave Young for having a very well run studio.
So, I'd say the shoot day went very well and quickly. A lot of this comes down to the actors having their lines properly memorized, and their characters fully developed, which these actors did quite well. I only mention this because I've seen other film sets where the actors show up with seemingly no prior work put into their character, because, apparently this did not occur to them, or more so, they were not even directed to do so. These days, there are so many technical advancements, but the downside is that the human aspects of filmmaking and acting seem lost on some people.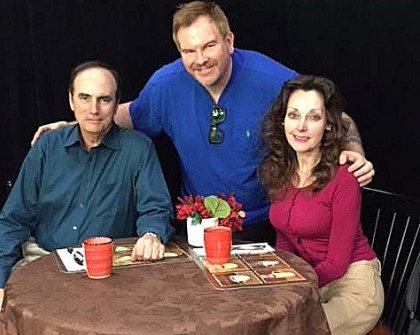 Mike with Jack and Ashley Shea
The $64-question of course, where can Dalmatian be seen?
To be determined. I'm currently assessing the best plan for Dalmatian. Any suggestions are welcome.
Anything you can tell us about audience and critical reception of your movie?
You are among the first to see the finished piece! Other film critics and exhibitors are welcome to contact me to see a screener.
Any future projects you'd like to share?
I have two full length stage plays that I am looking to have produced; Margins, a comedy in the spirit of The Producers and Distance from Avalon, a vampire philosophy seduction piece. I have also written one act stage plays such as Blood! Sugar! Sid! Ace! and Joe which are also available.
As far as films go, Disregard the Vampire - A Mike Messier Documentary has won eight awards and counting and can be found on my YouTube page. I also was the lead writer and an actor in a horror film titled The Manor, which has been picked up by Lionsgate and is currently available on VOD in many markets.
I also help produce Avalonia Festival, a film and film photography festival, that is currently a FilmFreeway Top 100 Best Reviewed Festival.
Your/your movie's website, Facebook, whatever else?

Feeling lucky ?
Want to
search
any of my partnershops yourself
for more, better results ?

The links below
will take you
just there!!!


https://filmfreeway.com/AvaloniaFestival
https://distancefromavalon.com/
https://www.youtube.com/channel/UCSx8RE_a4Nh_Fq-BpUq7ghw
Anything else you're dying to mention and I have merely forgotten to ask?
A lot of credit to the final look - and sound - of the piece goes to musical composer Tony Caramadre of Phattones Studio and post editor Tim Labonte of Stand Still Pictures. As usual, film is a collaborative medium, and this one needed some extra attention, so Tim came through to help me finish the job.
Overall, I'm quite happy with Dalmatian; I believe we've honored the characters of Doug and Carol and produced a short film with a lot of emotional gravitas.
Thanks for the interview!
Thank you, Michael!