Your upcoming movie Wrestling with Sanity - in a few words, what is it about?
Wrestling With Sanity is about the anguish of mental illness versus the escapism of pro wrestling entertainment through the eyes of a young boy named Sam and his uncle Eddie, who both experience post-traumatic stress syndrome and hospitalizations after a car accident kills four people.
Do talk about the film's focus on wrestling for a bit, and what does wrestling mean to you personally?
Pro wrestling is a very exciting and photogenic exercise. The wrestling in this story represents the bond between Uncle and Nephew and how their own little world of wrestling is their escape, namely Eddie's escape from his own limitations, as a man-child of sorts, who struggles with mental illness. Like a more seasoned, even cryptic Peter Pan, Eddie brings young Sam into the brash and colorful world of wrestling. When Eddie and Sam drag Sam's parents to a wrestling show, things take a turn for the worse after the aforementioned car accident, and the line becomes blurred between life and death. Four wrestlers named Concrete Rose, Syxo Spyxo, Stylin' Brian and Rude Joe Spirit become vital parts of Sam's journey.
Pro wrestling means a lot to me. As a child, the larger than life characters were like real-life superheroes but with more humanity and more of an edge. I actually stopped with cartoons and comic books in order to watch wrestling and read wrestling magazines. I had a pro wrestling card game, called The Superstar Pro Wrestling Game, that I played for hours and perfected. I played with the action figures etc. Both of my parents were generous in their support of this and took me to many live pro wrestling shows.
Years later, I got involved in the local circuit as a ring announcer, commentator, timekeeper and I even wrestled thirteen matches myself. I had an interview with the human resources representative at Titan Tower (WWE Headquarters) for the WWE Creative Writing Team. However, I think it's more of a personal reference business. If anyone has direct connections to the WWE, my comprehensive tournament based storyline would still be a good fit for the company, and I'd love to share it with the true higher-ups at WWE.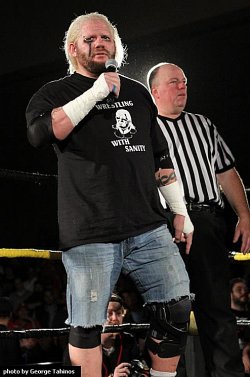 Raven - photo by George Tahinos

What were your inspirations when dreaming up Wrestling with Sanity? And to what extent do you identify with either Eddie or Sam?

I understand the many levels of battle that people diagnosed with a mental illness face. It's a daily fight for understanding, happiness and even survival. That is the nature of the beast. Many good people struggle without proper support and are left to their own devices to get by. Wrestling With Sanity will share the battle in a creative and narrative way that many people can relate to.

Some uniformed or otherwise intelligent people will throw out terms like "bi-polar" or "schizo" as insults when they don't truly know of what they speak. It seems that many people consider themselves expert enough to diagnose others mental health without truly evaluating their own selves first... or at all.

So legitimate mental illness gets lost in this and those that truly have a serious condition can be marginalized and/or trivialized and/or discounted as people. Many brilliant minds are wasted, many artists are squandered.

I'd like to see that change.

Pro wrestling is my friend. It's been there for me. People who face serious hardships rely on all types of things to get them through. Some may choose comic books or some other hobby. Others may have a personal relationship that gets them through some tough times. For me, it's been wrestling and I am unapologetic and will defend the sport and speak on its behalf to the critics and "non-believers". It's not just "a soap opera for men" or a "childhood hobby". For me and millions of others, wrestling is the life-blood. It is life.

To be blunt and "hard-core" as wrestling fans tend to be, when I was younger I had troubling thoughts as many do. But I would never consider suicide because there was always the next big Ric Flair match.

Therefore, I identify with Eddie and Sam Pause. They pass through the doors of life into death, and wrestling is there for them on both sides of that velvet curtain.

Eddie and Sam Pause come from me. We are brethren.

Wrestling with Sanity's narrative is rather on the non-linear side - care to elaborate on this, and how hard was it to not lose the story in the writing process?

The non-linear nature of the story is how I experience life. I experience things far differently than most people. For more on this, read my M-Life Theory on www.mikemessier.com.

For a creative industry, filmmakers and actors must think outside the box. For Wrestling With Sanity, I'll challenge the audience to join me way outside the box.

The story of nephew and uncle in Wrestling With Sanity is really held together by another major character named Concrete Rose. Rose is the pro wrestler that both uncle and Sam look up to. Rose comes to be a guardian angel of sorts to them in a projected vision by young Sam.

With Rose in the story, the wrestling and ethereal worlds are brought together in a unique way.

Finally, the female lead character of Elizabeth Metzger bridges the gap of our story to the audience. While Metzger represents the audience, she also has her own slant, so that is a delicate balance. To write the Wrestling With Sanity story is to walk on a tight rope with shards of broken glass and a barbed wire fence underneath. Stay the course or take your chances.

Wrestling with Sanity has been in preparation for a long time - so do talk about your efforts to get the project off the ground for a bit?

It's been tough. Very tough. I am a good writer. Some would say a natural storyteller. However, I was not born into connections within the film or business financing industries. So, whoever reads this, if you've taken an interest in Wrestling With Sanity, and you have some ideas on how or who may help fund this film, by all means contact me. I'll correspond with all serious parties. I am still open to enlist a proper crowdfunding campaign manager.

Wrestling with Sanity has already spawned a stageplay and a trilogy of shorts [click here] - care to talk about those, and how do they fit into what I'd call the Wrestling with Sanity-universe?

The piece was born from two creative writing classes and it was all very stream-of-conscious initially.

I eventually made a deal with a Providence nightclub to host what became a stage play called Victorious - The Battle for Sanity, and it ran for four nights. I wrote and produced but did not direct or choose the cast.

With time, I used the stage play narrative to move into a film screenplay. With time, and many, many re-writes and table reads, the piece added characters and the psychiatric hospital and pro wrestling backdrops.

Meanwhile, I enlisted co-producer/DP/and Editor Tim Labonte to co-produce the Short Film Trilogy. We used different actors for the short films based on my own choosing. I think it's important to mention this because I think "creative ownership" of a piece is highly important for a project to fully come together.

We eventually won three film awards for just the Short Film Trilogy itself. I find it cool that we won awards in both the categories of drama and comedy in separate festivals.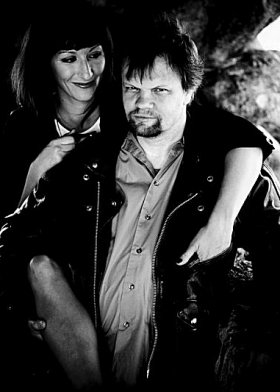 Irina Peligrad, Mark Carter
photo by Courtney J. Wilson
You're also releasing a Wrestling with Sanity graphic novel these days - want to talk about that one, and about your artist Marc Macrina, and what made him perfect for the job? And of course, where's the graphic novel available from?
The graphic novel may be seen and read for free right on www.mikemessier.com. Marc Macrina is a smart and cool guy and I love his art. He's very gifted, works hard and he "gets it".
The graphic novel is another way to promote the feature film screenplay. Another way to relate the story.
Back to Wrestling with Sanity the movie: You seem to have lined up quite a prolific cast already - care to elaborate, and why exactly these people?
Irina Peligrad plays Elizabeth the Therapist as seen in the Short Film Trilogy. Irina just nailed the audition. Irina has a real sense of style and her intellect shines through.
Mauro Canepa as Sam Pause is a very close friend of mine and he understands the whole wrestling mentality as well as me personally. Mauro is highly attuned with Sam.
Mark Carter as Eddie Pause is a natural fit. There is a real chemistry between my words and Mark's rapid fire dialogue in Eddie's rants. It's a great character for Mark.
For Concrete Rose, I contacted the pro wrestler Raven who has agreed to be in the film when we have the proper finances in place. Raven is a real cool guy and a straight shooter. He has lived the business of wrestling and he fully understands the depth that many fans, and the wrestlers themselves, get into it.
At what stage is the project currently at, and any idea when you might start filming?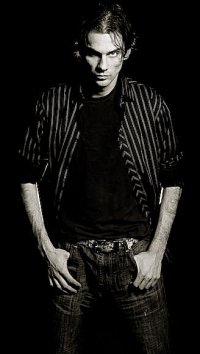 Mauro Canepa
photo by Courtney J. Wilson


Feeling lucky ?
Want to
search
any of my partnershops yourself
for more, better results ?

The links below
will take you
just there!!!

Find Mike Messier
at the amazons ...

amazon.com

amazon.co.uk

amazon.de
Looking for imports ?
Find Mike Messier here ...
Something naughty ?
(Must be over 18 to go there !)

I need at least $115,000 to produce, market and distribute this movie properly. So I welcome all opportunities, resources and connections to bring Wrestling With Sanity to its full feature film vision.
Other future projects of yours you'd like to share?
Let's let Wrestling With Sanity shine in this discussion.
Your/your movie's website, Facebook, whatever else?
Anything else you are dying to mention and I have merely forgotten to ask?
About the creative process, my friend and fellow writer Mary DeBerry warns me of the affliction she calls "film by committee". I am naturally a very open minded and generous person who believes that awesome artistic contributions can come from anyone who has passion for a given project, be it the set designer, the DP, the make-up artist, etc. However, as I progress with my career, I realize that I must step up and be more of a single-minded and focused leader, even if that makes others or me uncomfortable. Comfort is not always a good thing it would seem.
I am a member of a Facebook group called The Frugal Filmmaker, and there was a post recently from one of the members named Alexander Fattal. Alexander says, "I have a confession as a filmmaker... I plan projects, get all excited, and fail to execute them. And then I get all depressed that I didn't complete the project, and the cycle starts over again."
With Alexander's consent, I share his words to inspire myself and other filmmakers and artists out there to "finish what we start." It is hard. Some projects are just difficult and can fall by the wayside, even after tremendous amounts of work, time, patience, and money.
So, it's easy for one to forgive oneself and "move on" to the next thing. One can't dwell on seemingly insurmountable obstacles and squander in its shadow. However, I think that with too many projects "on hold", on "the back burner", "in the cue", or "in the mix", it becomes tougher and tougher to get any of them off the ground and fully realized.
I think many of us really independent filmmakers struggle through this dilemma. So I understand and sympathize with others in this creative and financial quandary. For those who follow my career, let it be known that I work on my own goals to finish the projects that I've started daily. I owe that to people, myself included, and also to the art itself. I consider my life's work to be Wrestling With Sanity and either I'll complete the work or die trying.
Thanks for the interview!
Michael, thank you for your continued support of myself and other independent filmmakers.
edited by Mary DeBerry