Your upcoming movie Help Me First! - in a few words, what is it about?
It's about a haunted asylum that is waiting for new souls to claim. A group of wannabe ghost hunters break in and try to get recorded evidence. One of the members goes alone while the other two see her on monitors, video from a rig she wears. The video picks up the images of the ghosts but she can't see them.
Why a ghost story, is that a favourite genre of yours - and some of your genre favourites?
It is a favorite of mine. I like the slasher as well but ghost stories have always fascinated me. Ghost Story was one that scared me as a kid. I always searched to find movies like that one and when I sat down to write Help Me First!, I thought of what scared me in that movie. It's funny too because I watched a TON of slasher/gory movies when I was younger. Totally dug Fulci [Lucio Fulci bio - click here] and Argento especially. I don't think they influenced me as much though because I focused on the story instead of the gore. I'm also a huge fan of the first 4 Friday the 13th. I love the franchise and always watch one on those special fridays.
(Other) sources of inspiration when writing Help Me First!?
The Exorcist easily. Loved the idea that maybe that could have happened. Amityville Horror as well. I read that book and it scared the bejesus out of me. I wanted the movie to be as good. Stephen King definitely influenced me since I read him so voraciously when I was younger. I hope my characters come out as complete as his. Mine aren't as flawed though.
What can you tell us about your movie's approach to horror (as in suspense vs sudden shocks, atmosphere vs all-out gore and the like)?
I'm not a huge fan of the sudden shock. I think it can be done correctly though and sparingly placed. Mine is HUGE on atmosphere. I like to linger on a shot to make the suspense amp up. The idea that "something" is going to happen is great. I hope to keep that going for most of the 13 minutes of run time.
Do talk about your film's intended over-all look and feel!
Coming from animation, the look is a huge part of it. I have very specific goals for the camera and the lighting. We basically lock down the camera when we see the ghost hunters. It becomes looser as the movie goes to amp up the intensity. We're playing with some colors too to change throughout the film. Really makes the mood. We're also going to cut a little differently than I have in my animated shows. There may be some experimenting going on. I'm doing a 3D animatic of the entire film right now so I can see what it looks like before we get on set. I modeled the set in 3D to exact measurements of the location. I'm a little insane.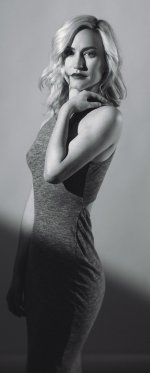 Maggie Carr
Now with a movie like yours, location's the key - now do you have a location locked, and where do you see the advantages and challenges of filming there?
I got so incredibly luck on this one. I wrote the feature script first. I researched a ton online and didn't see any place too close to me that I could actually go to. I went to one insane asylum but it wasn't exactly what I wanted so I made one up from pictures I saw. Then Hill View Manor popped out of nowhere - and it was 45 minutes from me! I went and thought I had been there before. It was perfect. Had all of the rooms and the hallways were exactly what I thought it would be. We are going to do the entire production there in April.
What can you tell us about your projected cast, and why exactly these people?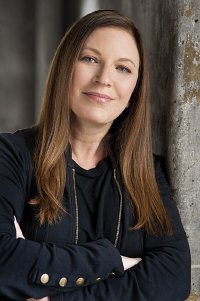 Lori Cardille
When I start a script, I get to know my characters very well. I don't even write the dialogue until I have a complete background of who they are, what they are afraid of, what they like and love, what are their goals. I draw mental images in my head too and then write the script. I saw Maggie Carr at an event here in Pittsburgh and whispered to my fiancee that was my Maureen. I didn't get a chance to talk to her so I thought maybe she slipped through my fingers. As luck would have it, my co-producer said he had someone that would be perfect for the lead. It was Maggie. I knew right away when I met her that she was Maureen. She agreed to do it on the spot without even reading the script. She's huge into horror and loved everyone who was working on it.
Luke was recommended from Maggie. He's done a lot of stage performances but his short film was exactly what I was looking for in Hoffman. He's subtle but strong. It's a plus that he and Maggie know each other too because that will show on the screen.
Lori Cardille was a complete coup. Day of the Dead is my favorite of the Dead series. I met Lori through one of the producers on my film and she couldn't have been sweeter. When we were all sitting around talking about the role of the demon, Lori's name came up and we all said that was a no-brainer. She's a Pittsburgh icon, as is her family, so it was a great pickup. She's way into it also. She ends her emails with "Your little demon". That's pretty cool for me.
You are currently running a fundraiser for your movie - so do talk about your campaign?
Begging for money is fun! It's horrible asking and constantly looking. I was doing a ton of looking for the right fundraising by talking to production companies and people with money. There were so many false starts. I had a partner drop out at the last second because he got busy doing other things. It was rough. But now I feel that I can do this all on my own, the way I want to do it. I'm not making a dime on this film so every Dollar is going to my cast and crew. I refuse to let anyone do hard work for free. It's not how this works. I know having talented people around you that are compensated for what they do, will make your job easier and the film much better.
We are ending on March 26th and have some cool rewards. One big one that we are going to release the day before the end too. Our posters and shirts are pretty awesome. I wanted to bring a 70's Argento feel to the poster and my artist, Tom Morgan, did that with very little direction. I also have some rewards for the animation students - since that's my day job.
https://www.kickstarter.com/projects/1271821223/help-me-first
Once the budget's in place, what's the schedule - and even if it might be waaay too early to ask, any idea when and where the film might be released onto the general public yet?
That's all set, actually. We are shooting the last week in April. Just three days. It's only one location so we should bang it out quickly - since I've boarded it all out and have an animatic too. We are ready to rock!
We're releasing at the end of September at Fantastic Fest in Austin, TX. Our partner, Drafthouse Films, is putting it on. It's a great film festival and Tim League is beyond amazing. I went two years ago and the entire event was so much fun. I couldn't be more excited. I've known Tim since we were kids - we both blame the other for getting in this business - and I think having it premiere at his festival is perfect.
Any future projects beyond Help Me First!?
Too many, actually. Help Me First is actually the "prequel" to Help Me. That's a full feature. Help Me First is about the ghost hunters that go missing. Help Me is about their friends that try to find them. I have plenty of scripts beyond that, in different genres as well. I'm just getting started.
I am shooting a short film in May also. It's a fun project with an old Jimmy Neutron buddy at the University of Nebraska. It's going to be a busy spring.
What got you into filmmaking in the first place, and did you receive any formal education on the subject?
I've always loved moviemaking. I did a ton of writing and shooting when I was a kid. It was all horrible but I loved doing it. Then I got into animation and that allowed me to be super creative. Then I directed on Jimmy Neutron and that is when I got hooked. I was in charge from the script to final mix and everything inbetween. I knew I was made to do this.
My education is completely on my own. I read a ton. I studied films and acting a ton when I was learning to animate. When I got pulled up to direct, I jumped headfirst into it by studying movies in great detail. I didn't know what the 180 degree rule was so I popped in a movie and then every time there was a cut, I paused it and drew it. Kinda like a reverse storyboard. I did that for every single scene. I have an entire sketchbook of movies. Jaws was the first. Took me a year to finish it. Then I did The Graduate (just a few months) and Notorious by Hitchcock and finally Cool Hand Luke. I learned so much about cameras and reframing. Cutting and pacing. It was the best education I could do.
Prior to Help Me First! you did mostly animation - so do talk about your experiences in that field, and what made you choose to switch to live action for a change?
I was in animation, well, still am in animation, for almost 25 years now. I worked at Disney Imagineering for a while, worked on a game and then moved to Jimmy Neutron. I supervised the animation on the film (and did my own shots) and then directed half of the episodes for the series and its three season run. I was slated to direct a feature for Warner Brothers. We did a ton of pre-production work on it; it was looking awesome. Warner Brothers pulled the plug and I moved to San Diego to work on two other shows for Nickelodeon. I was a co-producer on a show I helped create.
I moved back to the midwest of the US for a family reason and had to stick around because of my kids. There wasn't very much animation around (meaning none) so I knew I had to keep telling stories. Pittsburgh has such a rich tradition of movie making and is a great place to shoot. It's the birthplace of zombies too! All of those factors made my switch pretty easy.
How would you describe yourself as a director?
How much time do I have? I can talk for days on this. I love this so much. I'd like to think that the people who work with me (not under me but with me) would say I'm a great collaborator. I have a very specific look, intention and story and I want everyone else to be clear on that and make it better. Surrounding myself with people much more talented than I am is key. Communication is the other key. I'm very clear on my vision and I know what is important from the beginning. I'm definitely NOT a "know it when I see it" director. I know what I want and I want others to help me make it better.
Filmmakers who inspire you?
All of the ones I did boards for. Well, not FOR them but when I watched the movies and learned from them. Spielberg is a no brainer. Jaws was so meticulous with cameras and intentions; it's truly inspiring. Argento and Fulci [Lucio Fulci bio - click here] just for their sheer horror and in my opinion, weirdness - I love it! Gates of Hell is just sick! Hitchcock, Connie Hall, David Lynch, David Fincher, Tex Avery, Sam Raimi (it's called "Evil Dead", not "Evil Dead 1"), Wes Craven, ...
Your favourite movies?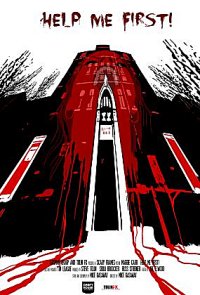 Feeling lucky ?
Want to
search
any of my partnershops yourself
for more, better results ?

The links below
will take you
just there!!!

Find Mike Gasaway
at the amazons ...

amazon.com

amazon.co.uk

amazon.de
Looking for imports ?
Find Mike Gasaway here ...
Something naughty ?
(Must be over 18 to go there !)

Jaws is the best, hands down. Love Friday the 13th Part 4 (Maggie Carr disagrees). The Exorcist. Any Monty Python. Fletch. Shawshank Redemption. Did I mention Jaws?
You can't go wrong with Gates of Hell, Suspiria, and Inferno. Of course there's Dead Alive, Evil Dead, Day of the Dead.
Hellraiser, Children of the Corn (not sure why but I love it), Christine, Cujo, Kubrick's The Shining.
... and of course, films you really deplore?
I HATE to say this but I get into arguments about this. Evil Dead 2. Now hear me out. I started watching it because I LOVE Evil Dead, but when it kept going, I thought, this is exactly Evil Dead if they had more money. I turned it off and refused to even acknowledge its existence. I know it's silly but I act like it doesn't exist. It's Evil Dead and then Army of Darkness. I've fought plenty of people on this but I stick to my guns.
Friday the 13, Part Five - I mean, really?
Dawn of the Dead remake - well, except the end credits. That was pretty damn cool. But ZOMBIES DON'T RUN!
Your/your movie's website, Facebook, Kickstarter, whatever else?
https://www.facebook.com/helpmethemovie/
https://www.kickstarter.com/projects/1271821223/help-me-first
www.gasmangroup.com/blog - that's where I've chronicled this journey to make a movie for a few years now. All of the missteps and great advances. Just me typing on a computer.
Anything else you're dying to mention and I have merely forgotten to ask?
This is a huge passion for me. I love sitting down and writing something crazy. Something that people will like. I'm not trying to be over the top original but am trying to make something entertaining. I want to scare people. I want to make people laugh. I want them to forget about what's going on in their lives and take a little journey with me. I'm hoping that this short is the start of a very long journey. If it's anything like what is like in my head, it's going to be a very interesting trip.
Thanks for the interview!