Your movie Billy's Cult - in a few words, what is it about?
It is basically about a guy that never had a chance in life. It is a classic good versus evil, but with a twist. The Billy character is not a typical person, he is demonic and because of the way he was conceived is sort of a messenger from the devil. He wants to kill his parents and along the way he realizes that it is really his father that is the one he targets.
What were your inspirations when writing Billy's Cult?
I wanted to create something that I have never seen before. I am a huge fan of story driven films and prefer practical effects over computer animation. I don't really have a favorite horror film, but movies like Silence of the Lambs, The Shining, and The Devil's Rejects are some of the films I think Billy's Cult is similar to. I also didn't want to rely on a gimmick for the story, I wanted to try to provoke the audience and make them have to pay attention and also leave them with questions.
With Billy's Cult, you touch many a taboo subject (like Billy being the son of a priest and a prostitute, the killing of pregnant women, ...). Was it your intention to provoke, or did all of this merely come with narrative necessities?
After you see the film you will see there are many more taboo subjects! Those are just the ones that we put into our press information because they are not as taboo as some of the content in the film. I do firmly believe that there is a reason for everything we do in the film and they are necessities. They definitely cross some lines, but in the world we live in, lines are crossed daily. This film is entertainment and I can separate that from reality, but unfortunately sometimes things that we think are unthinkable happen in real life. In this film, there are subject matters that I would never condone, nor want to see in real life, but feel they describe the character and show how scary things can be in the suburban parts of New Jersey!
Speaking of taboos and such - how far do you go concerning violence and gore?
There is a pretty good amount of violence and gore in the film. I don't think we go over the top, the effects are realistic. We have a lot of blood and guts, but we tried to keep everything realistic and pertaining to the story. The situations are more uncomfortable than anything.
How would you describe your directorial approach?
I try to approach my projects with a team mindset. We have a Director of Photography, Actors, and a crew and sometimes you have to trust that everyone is doing their job. I am not afraid to tell people exactly what I want, but when working together I like to see what others are thinking and try to mix in their thoughts and input as well. I don't like to waste time and feel that being prepared is the biggest asset you can have on set. When filming a movie like Billy's Cult, we were on set for 20 days and we shot over 80 pages of script and had over 16 different locations, therefore we had a lot of challenges, but those challenges are what make a film special. I don't believe in shooting different takes over and over a million times, I like to get the actors warmed up and then roll. I think you get more out of everyone when you are moving and changing positions instead of wearing them out with the same shot over and over again.

Lou Martini jr
A few words about your principal actors: What can you tell us about your duo of detectives, indie horror icon Debbie Rochon [Debbie Rochon interview - click here] and Lou Martini jr, and what was your collaboration like?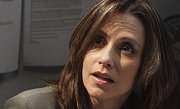 Debbie Rochon
Both Debbie and Lou were a pleasure to work with on set. They have an incredible chemistry together and sometimes I felt like I was actually interrupting them. They've worked together in the past and their bond is amazing. Lou is a great guy and the nice part about working with someone like him is he is a straight shooter. He brings ideas to his characters, he asks questions about what they should be thinking, and he plays the character that the director wants, not what he wants. That is a hard thing to get from an actor sometimes. Lou also introduced me to a lot of the cast in the film and was a huge part in making this project a success.
Debbie is a whole world of compliments rolled into one. She is a true professional and there isn't a bone in her body that doesn't give 100 percent to her job. I literally kidnapped her for an entire week during filming and she didn't complain once. She does an amazing job working off the actors and really understanding what her character needs to do in situations. When she is in character you forget she isn't a real detective and in this film she plays a hard ass, which I think she really enjoyed!
Genre fave Suzi Lorraine [Suzi Lorraine interview - click here] also has a supporting role in this one ...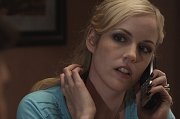 Suzi Lorraine
Suzi is another star. She is more than an actress she is an intelligent woman that really has it going on. I had the pleasure of meeting Suzi in New York and from the moment I met her I knew she was special. She is very passionate about her career and truly wants anything she does to be successful. It is so rewarding to work with someone like that because it helps everyone involved knowing that people care about more than themselves and want the success for the entire project.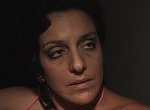 Susan Campanero
Susan Campanero plays Billy's mom ...
Susan is an extraordinary actress. I can't wait for people to see the role she plays in this film. She and Lou Martini Jr have worked together and she came highly recommended to me. I had no idea who she was and when she walked in for her audition it literally took me 5 seconds to realize she was Billy's mom. I can't wait to work with her again and she is going to be someone that opens peoples eyes after this project. She is an amazing performer.
... and then there's of course Donovan Kern as the titular Billy. What made him perfect for the role in your eyes?
Donovan and I have known each other for many years. When it came to role of Billy, I knew I needed someone special. This character is unique because he isn't hidden behind a mask or there is no question who the killer is in the film. I wanted someone that I could build a franchise around and I know Donovan is that guy. There are just some things you know and this was one of those choices that I knew. This aspect of the film is where I compare Billy's Cult to Silence of the Lambs, because everyone knows Anthony Hopkins is a bad guy and every time he's on screen you are anxious. I think Donovan does this very same thing in our film. He has a look about him that is unique and almost inviting, but when he's angry he can make you jump.
What can you tell us about the rest of your cast and crew?
We had a very small crew. Because of our budget and shooting schedule we were all forced to hold many positions on set. A lot of us have done projects together in the past and many of us are good friends, which made it a lot easier to pull something like this off. Our Director of Photography, Matt Joffe did a tremendous job and he has two amazing guys that work with him, Andrew Joffe and Phil Tartaglione. Those three guys were able to go to every location and create a look that I wanted within a matter of minutes. Also, we had a great make up artist, Erin Aweau, who did more than just the make up. She kept all the costumes in order, the make up, and was our go-to moral booster. She and I worked together for about five years and I don't think I could complete a project without her on set. Of course, I cannot say enough about our editor, Domenick Cucinotta. He is very talented and easy to work with. I think of him as my little brother because I really care for him and trust him. He has an amazing sense of pacing and creativity. We work really well together and I cannot wait to continue working with him. Another major contributor was Eric Myers, Producer, he and I managed to secure the majority of the locations through contacts of his. He also allowed us to use his facility as our home base production office and we basically took over his headquarters. I feel confident that with someone like Eric on my team, there isn't a location or piece of equipment that I could ever want that I couldn't get on set. This was his first time producing a film, but I can assure you it will not be his last. Another Producer, Derrick Hammond, gave up a successful job to be on set for the entire duration of the shoot. He also ran our on set-sound and is putting together a sound track for the film. We are fortunate that we all have many talents and all contribute to more than just one role in the project. Donovan Kern was not just Billy, he also creates the majority of our graphics for the website and all our promotional materials. He is a large part of the brains in our operation and truly a valuable asset in the behind the scenes of the film, as much as he is on camera. Another key producer is Shaun Klein. Shaun and I met in college and he plays a large part in my career. He is true friend and the definition of a good guy. I needed a lot of help getting this production off the ground and Shaun used his professional experience as a Certified Public Accountant to help me structure a solid business plan and professional approach to the film. He also is everything you can ask for in a friend, he would literally give me the shirt off his back.
As far as cast members go, there are some really amazing performances in the film. I know everyone speaks highly about their own projects, but two of the characters not mentioned yet are Father Allen Perry, played by Anthony Grasso and Officer George, played by Charlie Wilson.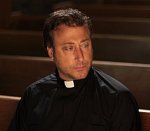 Anthony Grasso
Anthony Grasso plays Billy's father and there is a crazy resemblance in Anthony and Donovan, which make the characters believable. Also, Anthony just truly nails his performance and is a real professional. He has a strong knowledge of acting (he teaches acting classes) and knows the other side of the business too. He is a professional photographer so he really is easy to work with. His understanding of the business makes him easy to deal with and his performance speaks for itself.
Charles Wilson is the scene stealer in this film. He plays a police officer in the movie and there is a dark side to his character. He's determined to do whatever it takes to move up in the ranks and he wants to impress the detectives and the town's councilman. Charlie brought this character to life and after his first day on set, I actually rewrote the script to give him more scenes. I also consolidated another character into his because I was truly blown away by his performance. I expect to see him landing more roles and look forward to seeing him in other projects.
With Billy's Cult being a horror film, is that a genre especiallydear to you, and your genre favourites?
I have always enjoyed horror films. When I was a little kid, my grandmother and I would watch anything thing that came out. We were the only two in the family that liked them, so I think that was our special bond and one of the reasons that I picked horror. Another reason is the loyal fans. I love how horror films are guarded by the fans and there is really a sub culture of people that love this genre. I think that is truly a special thing and hope that Billy's Cult is accepted into that culture.
The $64 question of course: When and where will Billy's Cult be released?
Nobody wants the answer to that question more than me! We are in talks with a really great distribution company right now, however as you know these things take time. We have submitted the project to three festivals so far and we should know something by the end of September. I am optimistic that the film will play sometime in October, somewhere!
A few words about your other current project, the Paulsboro Wrestling Documentary?
The wrestling documentary is the ying to my yang so to speak. What I mean is, the horror film is very dark, depressing, and violent. The documentary is quite the opposite of that. It is a story that is truly amazing and I cannot wait to finish it. The town of Paulsboro is a small town that is struggling economically. There are a lot of people that talk negatively about the town and it's people, however in this documentary we show the passion and pride of the town. We also were able to really get into the life of the current wrestling coach, Paul Morina and see how amazing he is and the influence he's had on so many lives. I wholeheartedly believe this story will inspire a lot of people and will be entertaining to people that don't even necessarily care about wrestling.
Let's leave the present behind for the time being and head forward to your past: What got you into filmmaking in the first place, and did you receive any formal education on the subject?
Since I was a kid, I have always enjoyed telling stories. I felt what better way to tell a story, than to bring it to life on film? I actually went to Rider University for Television and Radio Production and had a great experience there. It wasn't necessarily a film school, but I was able to learn the skills needed to understand the equipment and a basic knowledge of production. I would say my real formal training came in the professional world. I was fortunate enough to land a job working with Tom Fontana's production company, Levinson/Fonatana. Tom Fontana was an inspiration to me because he is an incredible writer and he has no problem pushing the limits. I actually think he tends to outsmart his audience, which I find brilliant, but sometimes does not prove to be commercially successful. However, working with him and his organization was incredible. I was able to be on set with the legendary, now deceased, Sidney Lumet and I would say his directing style was one that I hope to emulate on set. He was a man that knew what he wanted and got it. He also always made everyone feel at home on set and he worked fast! Those experiences with them are priceless to me and I will never forget what I learned.
According to my information, your feature film debut was called Motherless Child. What can you tell us about that one?
Motherless Child was written by David Occhino. He is a great guy and I think he is finding his own success now as a writer. We met on the set of the television show, OZ. He and I just wanted to make a film and we were young and clueless about the industry. However, we somehow managed to pull it off and it was great learning experience. I think the film itself came out pretty nice, but the problem was we shot it on miniDV and unfortunately that technology is a thing of the past. We also had a micro budget and really had no plan for distribution or anything with the film. I wouldn't trade the experience for anything though, but I really wish he did a few things differently.
Any other movies you've worked on you'd like to talk about, any future projects?
In the future, I plan on shooting Billy's Cult 2 and am currently developing a television show locally. We are excited about this show because it will be based around my town and the surrounding areas. We don't plan on pitching it anywhere, but it will be fun to produce and should create a lot of local interest. I really love where I live and want to continue making projects in my area, so this will give me that chance.
What can you tell us about your production company, Jaunted Productions?
We are a production company that really tries to passionate about our work. We have a full fledged operation, we own the RED ONE camera, have a few fully loaded editing decks, we have Pro Tools, and Davinci Coloring and recently partnered up with a 6,000 square foot studio space. There really isn't anything we can't do.
Directors who inspire you?
Quentin Tarantino, Kevin Smith, Oliver Stone, and Sidney Lumet for sure. There actually is a really long list here, but they are just a few. I honestly know this probably sounds like bullshit, but I think something can be learned from every director out there. It is not an easy task and just finishing a project should be commended. When I watch something I try to keep that open mind and try to see what others are doing and look for that.
Your favourite movies?

Feeling lucky ?
Want to
search
any of my partnershops yourself
for more, better results ?

The links below
will take you
just there!!!

Find Michael P. Lucas
at the amazons ...

amazon.com

amazon.co.uk

amazon.de
Looking for imports ?
Find Michael P. Lucas here ...
Something naughty ?
(Must be over 18 to go there !)

My top two favorite films of all time are True Romance and Natural Born Killers. I have watched both at least 500 times and still will sit through them. I also of course love The Godfather and Godfather 2. Even though, I enjoy dark films for the most part, I have to put Half Baked up there for comedy. I can't watch that movie without cracking up.
... and of course, movies you deplore?
I wouldn't say I deplore any films, but I can say I don't typically like Comic book films or crazy effect driven films. It's just not something I enjoy watching. There is nothing wrong with it, but films that are over the top with the effects and truly unbelievable don't usually hold my interest. I know film is supposed to be an escape and that is what makes them appealing, but for whatever reason, I just can't get into it. I also am not a huge fan of remakes. I truly believe that most films are meant to be the way they are and we should leave them alone! However, everything is driven by money and if a remake is going to make millions, then I can't blame them.
Your/your film's website, Facebook, whatever else?
On Facebook, we have two pages a fan page and group. Fan page is https://www.facebook.com/pages/Billys-Cult-the-movie/196672630377803
Group is https://www.facebook.com/groups/40704402374/
Anything else you are dying to tell us and I have merely forgotten to ask?
I would just like to thank everyone that has either invested in the project, joined our group, or worked as either a cast or crew member. I could seriously talk all day about so many different people involved and hopefully I will get the chance to personally thank them all again soon. There are a lot of people that made this film possible and just not enough space to mention them all here.
Thank you.
Thanks for the interview!