Your new movie Erebus - in a few words, what is it about, and what can you tell us about your character in it?
Erebus opens on a team of researchers who are looking into the haunted history of the Gorham House, an old hotel on Block Island. The story is broken up into 3 vignettes accounting the activity that has taken place there over a few decades. I play Robert Neville, a man who inherited the hotel back in the 50s.
What did you draw upon to bring your character to life, and how did you prepare for the role? And how much of Michael A. LoCicero can we find in Robert Neville?
I don't think I had to draw upon anything, honestly. When you've got a strong script with fully developed characters like this one did, it's all right there on the page. Just do the work and the story will bring your character to life. And I believe there's a little bit of me in every role I take on. Some more than others of course, depending on how horrible of a person I'm portraying. But in my opinion, you have to be able to see yourself in the situation your character's in if you hope to deliver a truly honest and believable performance. I need to empathize with my character. If I can't find empathy in him, how can I expect to get empathy from an audience AS him? I definitely empathized with Robert Neville. As for preparation, Neville was a bit of a recluse, so I needed to achieve that "I haven't slept in a year" type of look. I hadn't shaved in a few days and our hair and make-up team did a fantastic job of making me look awful. They always do. (There's been a running joke among some of my filmmaking friends that I constantly get cast in roles where I have to look like sh*t.)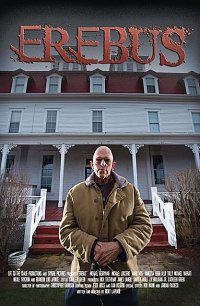 How did you get hooked up with the project in the first place, and to what extent could you identify with the film's horror theme?
A friend of mine, Nick Beaubien, called me in to audition. Nick was one of the writers on Erebus. They sent me sides to prepare for 2 roles. After I read them, I didn't care who they wanted me to play as long as they cast me. The script was great and my favorite kind of horror! The kind that's more of a psychological thriller, haha. Strong plot, characters with some meat to them. It felt very reminiscent of The Shining. Not relying so much on the blood and gore as it does on the dark, weird, and suspenseful. My kinda scary.
What can you tell us about your director Rick Laprade, and what was your collaboration like?
Ricky is one crazy bastard. He's also extremely intelligent, funny as hell, and an all around good guy. And quite the writer too! I thought we had a great actor-director relationship. Very collaborative. He always valued my opinion and there was an obvious mutual respect for one another. I'd work with Ricky again anytime.
Do talk about the shoot as such for a bit, and the on-set atmosphere?
Working on the set of Erebus was a blast. When it comes to a cast and crew, we had the best of the best in New England in my opinion. I knew most of them already from previous film projects so morale was high going in. The Block Island shoot was where the majority of the movie was shot and the most memorable for me, so I'll talk about that. They put us all up in this big house together... I felt like a kid at camp. We had the opportunity to shoot inside two incredibly beautiful and historic hotels, that were closed for the season, and absolutely haunted. Seriously. A phone kept ringing even after we unplugged it. It was awesome. And honestly, being on Block Island during the off season with no tourists was kind of creepy in its own right. But I loved it! I felt like I was living this movie. During the time I was on set, our crew was running like a well oiled machine. Very productive. I was proud to be working alongside such a talented group. Everyone had an excellent work ethic. They were professional but still had a lot of fun. My only complaint was that I couldn't hang around long enough to party with the rest of the team after we wrapped! Jerks! ;)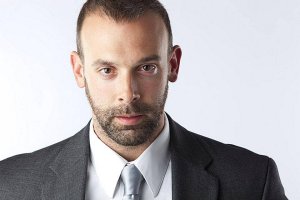 Any future projects you'd like to share?
Well, the main project I have going on right now and for the next 18 years or so, is my 3 month old, perfect baby boy... Jack. Did I mention he's perfect??!! I do have a couple of film projects on the horizon as well... one is a short sci-fi/thriller called Static, directed by Nick Beaubien who I mentioned earlier. And there's a number of people from Erebus working on it too! Keep an eye out for it. Set to release summer of 2015! The other is a screenplay (my first!) I've been writing for a while. It's my other baby. Can't give away any details right now, but it's almost done! I plan on producing it and being in it as well.
What got you into acting in the first place, and what can you tell us about your education on the subject?
I randomly took an acting class my first semester in college and completely fell in love. Became a theatre major immediately, graduated, and worked in the theatre (professionally and non) for many years after. Eventually I discovered the bustling film scene here in New England and haven't looked back since.
What can you tell us about your filmwork prior to Erebus?
I'm proud to say that that mostly consists of locally made indie films. Many of which were accepted into some well established festivals too! But kind of a fun one to bring up was a not so indie film I worked on... the Disney movie Underdog, filmed here in Providence back in 2006. I was hired on as the "on-set voice". Which basically meant I was the temporary voice of every talking animal in the movie for the actors to react off of on set. Sort of a place holder until they recorded the celebrity actors' voices who were cast. I tried to give each animal a different voice/character. It was lot of fun.
Besides making movies, you also did quite a bit of theatre - so how does performing on stage compare to acting in front of a camera, and which do you prefer, actually?
Oh man, I'll try to keep this one somewhat brief because I could go on for days... I think an actor's playground will always be in the theatre. We're in more control of our performances on stage than in film. We have to be. In a play, you don't get another take because you didn't like how you delivered that particular line. You usually get a lot of rehearsal in theatre, which gives us the opportunity to craft and really mold these characters into what we (and obviously the directors and writers) envisioned them to be. It's good training too because you have so much less time in film to try and put that same quality of work into a role. The style is different too. Generally, when acting on stage you have to make yourself "big" and project your voice and sort of amplify everything about yourself to get it across to an audience. Film acting is usually rather intimate, but technical. I love how real and natural the performance can feel, but we also have to be aware of the camera at all times without ever looking like we're aware of it. You can sometimes feel like a puppet when acting on screen. The gratification is different as well. I love all elements of filmmaking. I think movies are the greatest invention in the world. And to see yourself up on the silver screen? It's pure magic. But... there's nothing like performing for a live audience. It's an amazing and exhilarating experience. One you can only get from performing on stage. And for me, that's the reason theatre will always win me over as an actor.
How would you describe yourself as an actor, and some of your techniques to bring your characters to life?
I just do the best I can to make my acting look like I'm not acting. I think I've picked and pulled from many various acting techniques. A little StanisIavski here, some Meisner there... I wouldn't call myself a "method actor", but I have no problem taking a hard, real slap if that's what it's going to take to make it look right. Nothing looks worse than a fake slap. As I mentioned earlier, I mainly try to rely on the script itself to bring the characters I play to life. It's all about the story. If I don't believe the characters I'm reading on the page, I'm not going to be much help making them believable.
Actors (and indeed actresses) who inspire you?

Feeling lucky ?
Want to
search
any of my partnershops yourself
for more, better results ?

The links below
will take you
just there!!!

Find Michael A. LoCicero
at the amazons ...

amazon.com

amazon.co.uk

amazon.de
Looking for imports ?
Find Michael A. LoCicero here ...
Something naughty ?
(Must be over 18 to go there !)

Oh, so many... but Daniel Day-Lewis would probably be my top choice. My dog is even named after him, haha. That's no joke.
Your favourite movies?
Beetlejuice! Michael Keaton is another hero of mine.
... and of course, films you really deplore?
I really can't think of any right now to be honest. I know they're out there... but I can give you a TV show I think is God-awful!
The Big Bang Theory.
NOT. FUNNY. AT. ALL.
Your website, Facebook, whatever else?
http://m.imdb.com/name/nm3304503/
http://neactor.com/m/profilescreenName=3sc4h0kgnrxro
Anything else you are dying to mention and I have merely forgotten to ask?
No, I think I've said it all! Yeeesh...
Thanks for the interview!
Thank you, Mike!