Your upcoming movie A Grim Becoming - in a few words, what is it about, and what can you tell us about your character?
This movie is a dark comedy about my boastful boss who goes crazy because he comes in contact with "Death" and I have to deal with his craziness because I'm his personal assistant! I'm kind of in love with my boss but he doesn't even notice me... ahhh the suspense! :)
What did you draw upon to bring your character to life, and how much of Melyssa Jade can be found in Carrie?
This character took me back to my teenage years when I was a push-over, and took people's crap. Not much of Melyssa Jade is portrayed in this character so it was definitely a challenge for me to be sweet. Out of the acting world, I'm really an outgoing funny loud mouth!
How did you get involved with the project in the first place?
I worked with Adam on two other films, Ombis and To Release a Soul. I met him through some mutual friends. My boss and super good friend Darrin Stock mentioned to Adam of my interest in acting, and also told him that I won Miss Hawaiian Tropic, and had been in some commercials, so Adam wrote a memorable, yet funny bikini scene in his movie Ombis, which is how I then became involved in To Release a Soul, and of course the latest film A Grim Becoming.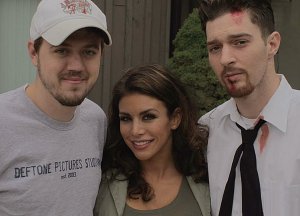 Adam R. Steigert, Melyssa Jade, Brandyn T. Williams
What can you tell us about your director Adam R. Steigert [Adam R. Steigert interview - click here], and what was your collaboration like?
Adam has a knack for bringing his creativity to life on film. He is an epic visionary, and a serious director! He will go to severe lengths (like getting no sleep) to turn his paper scripts into ubiquitous productions! Oh and he should never be an actor unless he could play Dr. Evil with his dog Izzy... hahah! Our collaboration on this film was very rewarding for me because Adam and I have a wonderful professional relationship and he is always open to my creative ideas and I like that!
What can you tell us about A Grim Becoming's brand of humour, how easy was it to adapt to it, and since we're at it, what can you tell us about your own sense of humour?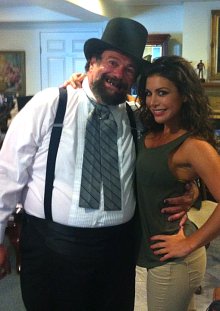 Michael Sciabarrasi, Melyssa Jade
A Grim Becoming's brand of humour was not easy for me, because I'm the person always cracking jokes. Dark humor is very different from what I'm used to, it's like this uncomfortable take on a dark subject that has comedic aspects to it. As for me, my sense of humour is like that of Jenny McCarthy on MTV's Singled Out. I like being funny because it gets reactions out of people, and it comes as normal to me as breathing air!
Do talk about the actual shoot and the on-set atmosphere for a bit!
I shot in a lot of cool places with A Grim Becoming, but my favorite one was the Elicott Square Building in downtown Buffalo. The architecture and the high ceilings made me feel like I was a pea-sized Cinderella at the ball!
Any future projects beyond A Grim Becoming you'd like to talk about?
I have so many future projects in the works! I was offered a serious role, Priscilla Presley, in an upcoming film based on the book Who Murdered Elvis. I am scheduled to shoot with Careyhopephotography.com in Long Island, NY for istock images, so if you're on the streets of New York you may see my face on a familiar billboard or ad! I got some life! :)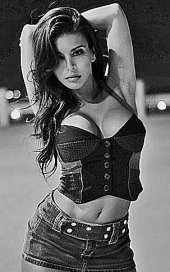 photograph by Tim Greene
You originally started out as a model, right? So what can you tell us about that aspect of your career, and how does modelling compare to acting - and which do you prefer, actually?
I did start out modeling at 17 years old in college. I still remember my first shoot and how I brought one of my close guy friends with me for security purposes. Modeling is cool because the goal is to capture an audience with still shots, so people can begin to know and recognize you in everything you've been in and you eventually become your own brand, which is pretty cool. Modeling is the total opposite of acting, it requires you to hold poses, facial expressions and portray different kinds of emotions depending on the audience you're trying to get a reaction or sale out of. Although I truly love both, I feel that acting is a more versatile and continuous challenge with a lot more talent and skill involved than just being really really ridiculously good-looking - LOL! When you're being filmed, you're not yourself anymore, you transform into the characters you're playing, which is super fun to put all your real life problems aside and be someone else for a while.
How did you eventually get into acting, actually, and can you still remember your first time in front of a movie camera - and what was that experience like?
Your gonna love this. My first "acting" experience was the first commercial I ever shot over 10 years ago. I did a heating and cooling commercial which was pretty hilarious and all my friends and family made fun of me for it, but it definitely sparked my interest in acting and being on film. After this, I became a natural in front of the camera :)
What can you tell us about your filmwork prior to A Grim Becoming?
Previous to real films I was on Animal Planet for an hour special on a show called It's Me or the Dog, which they still have re-runs of today. The ratings did so well for this show that Shed Media offered my former fiancee Matt Demar and me a deal to shoot a pilot called Committed to the Castle, which did amazing but never made TV. I've done 2 other films with Deftone Picture Studios before, A Grim Becoming. I played Savannah Kelly (sports newscaster) in Ombis in a very memorable must-see scene, and I played the role of Carrie (a naive girl who idiotically goes home with a physcopath) in a short film called To Release a Soul.
How would you describe yourself as an actress, and some of your techniques to bring your characters to life?
As an actress, I would say I'm pretty dramatic, intense and emotional. I am quite the chameleon when I play characters. I like to record myself, listen to my lines, and meet with characters that I am going to be in scenes with to develop comfort and familiarity. Character study is also extremely important, you really need to know your character and the whole script... even the scenes you're not in!
Actresses (or indeed actors) who inspire you?
I'm a huge Jim Carrey fan, he is the ultimate entertainer to me and his facial expressions are priceless! Kristen Wiig is a personal favorite of mine as well because she's hilarious and extremely talented. I really need to be in a romantic comedy! I'm also inspired by classic actors such as Rachel McAdams, Nicolas Cage, Lucielle Ball.
Your favourite movies?
My favorite movie is Dumb and Dumber I memorized it by heart and I would love to re-make the girl version of it!
... and of course, films you really deplore?

Feeling lucky ?
Want to
search
any of my partnershops yourself
for more, better results ?

The links below
will take you
just there!!!


I really don't hate on any films because I have been on both sides and I know how much dedication and commitment goes into making a film, and they can't all be 5 stars or else what the heck are ratings for?!
Your website, Facebook, whatever else?
My Facebook is Melyssa Jade where most of my work can be seen, my fanpage is Melyssa Jade Bella, and my YouTube channel is MelissaMuffin1.
Anything else you are dying to mention and I have merely forgotten to ask?
Thank you for the opportunity to share my thoughts and I am etremely excited to see A Grim Becoming when it comes out :) YAY!
Thanks for the interview!