You have recently released the (first season of the) web-series With the Angels, working as writer, director and producer - tell us what that series is about?
It's about a Christian girl from a small town in Arkansas who moves to Venice Beach, California. It's about faith in all its forms, and about the connections between people who don't seem particularly connected.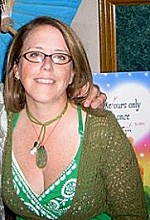 Mary Feuer
What inspired the series, and is it in any way autobiographical?
Some of the characters were inspired by a play by my friend, Werner Trieschmann, who did some writing on the show also. But I wanted to tell this story, basically, because I think people in America are so divided along lines of faith, though they rarely talk about it. I wanted to look at that. All of the characters are me in one way or another. I'm an incredibly optimistic cynic, if that makes any sense, so different characters reflect different aspects.
A few words about the freaks in With the Angels, and are they based on real-life persons?
Well, Taffy is a Jesus freak, so I guess she's our central freak. She's not based on anyone in particular that I know in my life, but there are probably lots of her out there in the world. People think of southern Christians as being pretty narrow-minded, and in some ways Taffy is, but I wanted to create this person with an incredibly open heart, to kind of mess with the stereotype. We're all freaks in one way or another, I guess. Some people embrace it, some hide it. But it's always in there.
Where did the title With the Angels come from?
It seemed like a natural choice, given that LA is the City of Angels, and the expression with the angels has a spiritual connotation, as well as a connotation of a certain darkness because of its association with death. It seemed like it was a title that encompassed both light and dark.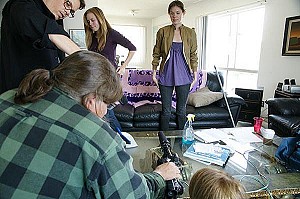 On the set of With the Angels
Some words about your cast?
They are miraculous. Especially Jamie Tisdale, who plays Taffy. She's in almost every episode and literally carries the show. It would not be the same show without her. Everyone else is amazing, too. Carly Jones, René Alvarado, my brother, Sean Biggins, and Tim Depriest were people I'd worked with before. Kay Ostrenko is a dear friend and we'd always wanted to do something together. Jamie and Madison Palasini were found by my great casting director, Amy Desouza.
Some personal thoughts on Venice Beach, California, where the series is set?
It really does have a high freak factor, like Taffy says. We decided to shoot there because we had a visually perfect building to shoot in, but it fits for Taffy, too, because it's such a total culture shock. It's a place where there's a lot of spirituality floating around, but it's very very different from the type Taffy grew up with. There are also people wandering around in star spangled speedos, clown make-up, and half-naked. Visually, it's a crazy fun place - this juxtaposition of the natural beauty of the ocean and the trappings of a city, with a dash of the just plain weird thrown in.
Websites to go to learn more about/watch the series?
withtheangels.com will take you to our YouTube page, which is right now the easiest place to watch the show, because it's set up with some nice playlists. Strike.TV is our home base. But the best visual presentation of the show is at Koldcast.tv. They have an amazing player, though I'm hoping they find a better way to aggregate the episodes eventually.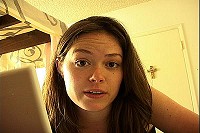 Jamie Tisdale as Taffy
Any future developments on With the Angels you can at least hint at?
Well, the first season is over, so there aren't really any secrets left there. If we do a second season I think it will be time for Taffy to get on with it, and explore the entertainment world, which is why she moved to LA in the first place.
Is With the Angels essentially an open-end series or do you already have a particular finale all mapped out?
Well, Season 1 ended in such a way that it could be the end, or not. I don't have an ultimate conclusion I need to get to, but I'm also not one for leaving a lot of loose ends, either.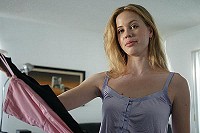 Carly Jones as Ashley
Any future projects besides/after With the Angels?
I just finished writing a feature, a thriller that's going into production soon. I have a few other web series ideas cooking, and I have 2 TV pilots out there as well.
The series is a part of Strike TV - a few words about that website/company?
Strike TV was founded during the writer's strike, and the idea is to put the power into the hands of the creators of shows rather than a studio or network. Strike provides a lot of support, but doesn't finance projects, and the show remains the property of the creator.
You have previously written for the now almost legendary lonelygirl15 - could you elaborate on that web-series?
It started out as a girl blogging in her bedroom, and grew to a kind of adventure series, with a lot of action and intrigue. The show's biggest claim to fame is that people initially didn't know it was fictional - they thought Bree was a real girl. That happened before I got there, though. The show gave birth to an incredibly loyal, cohesive community that still exists even though the show is over.
Other films, TV-shows or web-series you worked on and would like to talk about?
I have written for a crazy TV show called Dante's Cove that couldn't possibly be more different from With the Angels. It has a pretty solid niche/cult following. I worked on a web series for my incredibly talented colleague, Paul Etheredge, called Buried Alive. And the movie I just finished is going to be very cool, but I'm not going to say much about it. I don't want to ruin the surprise. My short film Rock Bottom was my film directing debut and prepared me for directing With the Angels.
Currently you are mainly making movies for the web. How does filmmaking for the internet differ from theatrical moves or television?
Well, it differs less and less as TV and the web merge, and as online video players get more sophisticated. But for me personally, I still find that shows with great visuals but very little dialogue don't hold my interest on the web. I want my web show characters to TALK - a lot. I'd rather hear them tell me what happened than watch it happen, weirdly enough. On TV, this is less true, and when you get to movies it becomes much more about the visual. People have created some incredibly beautiful and lavish visuals for the web, so there are exceptions, but I think the most successful stuff doesn't have a lot of really wide shots - more close-ups of people and a good amount of dialogue. Even monologue. The immediacy of the audience response is really exciting to me as a writer, as is the ability to send the audience to different sites to pick up deeper threads of the story. The web is still largely a one-to-one experience, or simulates one, because people are more likely to be close to the screen and watching alone. This invites interaction in a way that TV or movies can't. You interact with a movie mainly by suspending your disbelief and letting it wash over you. You interact with a TV show by investing in its characters as a spectator, maybe comparing notes with other spectators. But on the web, there's often an opportunity to actually touch the story yourself.

Feeling lucky ?
Want to
search
any of my partnershops yourself
for more, better results ?

The links below
will take you
just there!!!

Find Mary Feuer
at the amazons ...

amazon.com

amazon.co.uk

amazon.de
Looking for imports ?
Find Mary Feuer here ...
Something naughty ?
(Must be over 18 to go there !)

Any web-series/web-shows by others that you find particularly interesting?
My new favorite is Mountain Man, which is on StrikeTV. I enjoy The Guild. One of my favorites over time was a show you can still see on YouTube called Where Are the Joneses?. I love Mortified Shoebox, because I love exploring the real lives of regular people. I think there's a real shortage of good dramas, and StrikeTV is really leading the way in that regard, with some solid dramatic series like John's Hand, Anyone But Me, and Dangerous Women. They have a lot of good things that so far have produced only one episode. It'll be interesting to see which of those get off the ground. Of course, the Battlestar Galactica web series is fantastic. I'm not a big sci fi girl, but that show rocks. I wish there were more dramas that understood interaction, though.
Your main influences as a writer and director?
I guess I'm influenced by everything I've ever seen on some level. My favorite TV shows of all time are probably Six Feet Under and The Shield. Those shows are pretty different, I know, but they're connected by a certain fascination with humanity, our flaws, our virtues. I don't know. I'm a pretty sincere person, and a sincere writer. I appreciate irony and sarcasm, but I think they're overused. I'm influenced a lot more by TV than by movies at this point, though that hasn't always been true.
What kind of movies do you watch privately and your favourite films?
I watch an incredibly wide range of things. No particular type. I love everything from wacky comedies to super serious dramas. It's not about the type of movie for me as much as it is about the strength of the writing.
My favorite films change constantly. One of the more recent ones is Pan's Labyrinth, which works on so many levels. Clint Eastwood's Unforgiven is very high on the list. Twelve Angry Men - the original. American Beauty, which I think is a very misunderstood movie.
Some films you really deplored, and why?
You know, I'd rather not go there. Every movie works for somebody, even if it doesn't work for me.
Anything else you would like to mention and I have just forgotten to ask?
Nope, I think you covered it all!
Thanks for the interview!
You're welcome!