Your upcoming book Thank You for Letting Me Be Myself - in a few words, what's it going to be about?
This is the authorized biography of comedian and filmmaker Rudy Ray Moore. Most people know him as his character Dolemite. The book covers every aspect of his life and career, from his poor and abusive childhood, his life-long struggle for relevance through now being a household name, thanks to the Eddie Murphy film Dolemite is My Name.
For the uninitiated among my readers, what can you tell us about Rudy Ray Moore's impact on pop culture and about his legacy?
Moore worked hard to be a success and tried to achieve that any way he could. Singing, dancing, comedian, filmmaker… He really hit big in the early to mid- 1970's with some widely popular explicit comedy albums and his films (Dolemite, The Human Tornado, Petey Wheatstraw and Disco Godfather). His material was based in African American verbal traditions, largely spoken in rhyme and accompanied by music. In the 1980's he was nearly forgotten, but all of the up-and-coming rappers had been exposed to him by their fathers, uncles, etc. and took great influence from his work. Artists like 2 Live Crew, NWA, Ice-T, Dr. Dre, Too Short, pretty much everyone, began to sample and reference him, and in some cases even include him on their albums. He would become known as "The Godfather of Rap" for this influence.
Now how would you describe Rudy Ray Moore as a filmmaker, and some of your favourite and least favourite movies of his?
Moore's films were made on incredibly low budgets. Dolemite cost him $140,000 and over a year of work to get that film distributed across the country. He knew he had an audience and he risked everything he had to make that film. Yes, they are poorly made and it shows on the screen, but his films have heart. They are totally outrageous and unlike anything out there really. You can laugh at them and with them at the same time, but they all are entertaining in so many ways. Rudy's and my personal favorite was his second film The Human Tornado. At the end of the 70's he tried to clean up his image a bit, and that film, The Disco Godfather, was a commercial failure. I love it for many reasons, but it was Moore's least favorite because it ended his film career.
From what I know, you've been working on Thank You for Letting Me Be Myself for close to three decades now - so what inspired you to write a book about Rudy Ray Moore in the first place? And what do you think makes you the perfect man to write about him?
When I first saw Dolemite in 1991 at 17 years of age, I was awestruck. It was so insane to me, and it's my nature to find out everything I possibly can when I become interested in something. There was no information on him available then but I discovered he was a comedian, had more movies and just kept digging. Luckily, I was able to track him down just a couple years later and began to help promote and support him any way I could. Having an official webpage (www.rudyraymoore.com) was one of those ways. In 2001, he agreed for me to write his biography, but it was a struggle as he was often times not cooperative when it came to subjects that were painful to him, like his childhood. Even after his passing in 2008, I continued to put all the puzzle pieces together until I had the entire story. Nearly everyone who was around Rudy and involved in his career during the 60's and 70's has long passed and I was fortunately enough to not only interview them all, but also become close to many of them individually, and all of that is a major part of this project. It's not just an author paraphrasing statements. All of these people, Rudy included, have their voice in this story.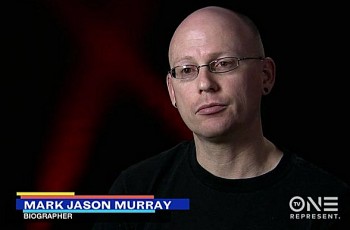 According to my information, you've been friends with Rudy Ray Moore from the 1990s to his death in 2008 - so what kind of a person was he privately?
As I mentioned, Rudy was private and often very reserved. He was also very sensitive and not like his public persona of Dolemite. It was hard at times to get through that protective shell. There were many times when I had to really push him to open up and he would usually get very angry with me, but those were the moments when deeper truths and emotions would come forward. His main concern in life was his career and he never stopped working or trying to get that next project going.
Apart from knowing Rudy Ray Moore personally, what can you tell us about the research you've done for Thank You for Letting Me Be Myself?
I made a promise to him that his story would be told and that I would do everything I could to keep his legacy alive. I always said the book needed to be "right, not rushed," so I waited patiently for the things that I needed to become available. From making a necessary contact, finding some paperwork or a script and for other things to happen like his biofilm Dolemite is My Name to be made. There was an order I felt necessary for everything to fall in line. This book is that final part. Outside of hundreds of hours of interviews with dozens and dozens of people, I've scoured every possible newspaper article, magazine article, book, film and whatever else I could find for even the most minute of details. I've spent thousands of hours and three decades of my life to complete this project.
What were some of the most surprising things you've found out about Rudy Ray Moore while doing your research for the book?
I don't know if this was the most surprising, but I really connected personally with Rudy and his story by just how determined he was. The deeper I got into his story, I really was in awe of that determination. He just did not quit and his failures far outweigh his successes. He's become a champion now of believing in yourself and to just keep pushing forward if you believe you have something. Eddie Murphy called him "the loser who refused to lose."
Apart from research, what can you tell us about the actual writing process?
It's been laborious really as I felt it was necessary to create not only a document of Moore's life and career, but also the need to put everything into historic/cultural context. To fully understand his story, we really need to know what was going on around him, who he was acquainted or working with. He truly was one of a kind and largely dismissed because of the language and sexual nature of his comedy and low budget films. He was and continues to be an inspiration to so many, and because he never gave up on himself, I kept plugging away at this book, no matter how long it took me. Basically, I felt his story was important enough to dedicate thirty years of my life to and I would give it more if it was necessary.
You're currently running a fundraiser for the physical release of Thank You for Letting Me Be Myself - so what can you tell us about your campaign, and what will the money actually go to?
At its minimum, I'm basically looking for 1,000 people to support and make this a physical reality. Of course, I believe Moore's story should be read by millions. If it gets funded at its base amount, I will actually lose a little money on the crowdfunding campaign but will have a couple hundred books to sell afterwards when all is said and done. Moore made all his projects happen by sheer determination, and I always envisioned this book happening the same way. He always said "you take your product to the people and they will decide if it is a hit," so I am doing just that to see if his fans want this story to be told. In a way, this is my ultimate tribute to Rudy trying to make my project happen in a "grass roots" way. In his honor, I launched this crowdfunding campaign on what would have been his birthday, 3/17.
www.kickstarter.com/projects/mjmurray/thank-you-for-letting-me-be-myself
In 2019 you were the lead historian on the Eddie Murphy starring bio-pic Dolemite is My Name - so what can you tell us about your work on that movie, and your thoughts on the outcome, also in comparison to your book?
I was already in touch with the writers, Scott Alexander and Larry Karaszewski, who were known fans of Moore's work. They of course knew of my book and when the film finally began to get moving they brought me in. I shared my writings, research and contacts as needed, and they wrote a fabulous script. During my set visit the cast and crew were all truly incredible, and I'm biased of course, but the film came out much better than I thought it ever would. Netflix flew me down for a screening in their offices before it was released and I honestly cried while I watched it. Rudy deserved this and I had been pushing his legacy forward for so long, not that I am solely responsible for all of this, but it was finally happening. Eddie Murphy, possibly the most famous man on the planet, was playing Rudy and that movie did something that myself or my book could never do, introduce Moore and a part of his story to millions of people around the world. I later saw another advance screening with Jimmy Lynch and Ben Taylor, the only living participants from that part of Moore's life who are portrayed in the film. They both were very happy and loved it as well. I can't imagine a better endorsement than that.
Any future projects beyond Thank You for Letting Me Be Myself you'd like to share?
I'm in the initial stages of my next book, another authorized biography, this time on Gloria Leonard, an icon of 1970's and early 80's adult films. She was a pioneer, a mother and a free speech activist. She even created "phone sex", but there is so much more to her story as well. I'm excited to get that one rolling, but I swear it will not take me three decades to complete. I have all the materials I need basically. I joke that I will have taken on the most difficult and easiest book projects.

Feeling lucky ?
Want to
search
any of my partnershops yourself
for more, better results ?

The links below
will take you
just there!!!


Your/your book's website, social media, Kickstarter, whatever else?
Kickstarter available from 3/17/2021 – 4/15/2021: www.kickstarter.com/projects/mjmurray/thank-you-for-letting-me-be-myself
Visit: www.rudyraymoore.com
Facebook: www.facebook.com/realdolemite
Instagram: www.instagram.com/realdolemite
Twitter: www.twitter.com/realdolemite
Tumblr: realdolemite.tumblr.com/
Thanks for the interview!