Your upcoming film is called Counterpart. Can you tell us in a few words what the film is about?
When old school German crook, The Boss, and his apprehensive underling Marcus Knight bootleg a couple of cases of peach schnapps from two seemingly unsuspecting women, Loud Lily and Little Marie, they donít quite realise what they are in for. When several bottles of the peach schnapps drink their way through a rural community, itís not long before The Boss and Marcus realise the little bootleg expedition was more than just a fun and rewarding night out.
Itís time for these two small town crooks to be dealt with Ė multiplied by two!
With the film being a rather wild genre mix, what were some of your main inspirations for the film?
The film is certainly a wild genre mix. A mix I was unsure would actually work. Main inspirations would start with the early works of Peter Jackson namely Bad Taste and Brain Dead. Quentin Tarantino is definitely in the mix as well as his counterpart Robert Rodriguez. Iím a huge fan of Rodriquezís work and his hands-on approach to filmmaking which I employed in The Counterpart. From Dusk Till Dawn was probably an inspiration for the film story structure-wise and Martin Scorseseís film Goodfellas is always something I draw inspiration from with any film I make.
How far are you going in terms of violence and gore?
Not as far as many people would think. I wouldnít say itís ultra violent and gore ridden. Letís just say it is heavy on the splatter, but the blood is there to pull laughs. There are a couple of scenes which may get audiences squirming, however theyíll have to be the judge of that. Having said all that I might be just immune to the film because Iíve seen it so many times!
You haven't only written, produced and directed Counterpart, but you also play the lead. How hard was it to juggle all these responsible, and how easy is it to direct oneself?
Firstly I admire filmmakers who can juggle these roles through a feature film and remain still standing once the film is complete. I take my hat off to Mel Gibson and Clint Easwood! It was ridiculous taking on so many roles, letís just say that. It was a great challenge though, much was learned about the filmmaking process and different roles. Itís given me a clearer understanding of why producers and actors act certain ways and demand this, that and the next thing! I probably will not go back to taking on too many roles at once for a very long time. Taking on so many roles did give me a lot of freedom in pushing the film in the direction I wanted though. Directing oneself is difficult, you have to convince yourself you are delivering lines and acting out your role correctly in the way which you have planned when bringing the script to life as a director.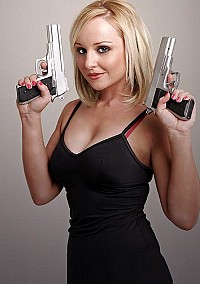 Julie Dickson
What can you tell us about the female lead Julie Dickson, who I understand is a frequent collaborator of yours?
Julie Dickson has been a driving force in helping complete The Counterpart. She certainly has brought the character of Loud Lily to life which she plays in the film. I had a clear picture in my head of how the character would be from day dot and once Julie stepped on set she made that character a reality. Although her main interests began in acting she has developed a keen interest in producing, assistant directing and writing. So much so that she has been employed at Scheffilm Productions for over a year now as Business Development Manager. She is very good at negotiating and making sure we secure deals which come through Scheffilm Productions. It is certainly a partnership which was meant to be.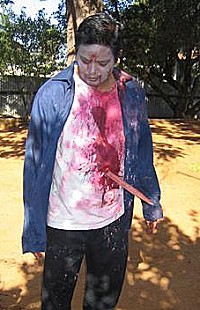 A zombie in The Counterpart
With Counterpart being essentially a horrormovie, is horror a genre especially dear to you?
To be honest the horror genre isnít a huge part of my filmmaking influences. I get really frightened of horror films and Iím a sucker for watching ones that I canít sleep after watching. Iím really more of a fan of the gangster genre and action films. I think you will see a lot of those influences throughout The Counterpart.
When and where will the film be coming out?
The Counterpart is available right now on DVD via our website: www.thecounterpartmovie.com
You are situated in South Australia. How hard is it to get a B-horror project like Counterpart going down there?
I funded the film out of my own pocket so in that respect it wasnít that hard, it was just hard to find the time and the money to make it happen. We do have a funding body in South Australia which provides government grants to filmmakers to make films - however a film in the genre of The Counterpart I know for a fact would probably not see the light of day if I approached them for funding.
Counterpart is your first feature film, but you have been involved in making movies in one way or another through your company Scheffilm for quite some years now. What can you tell us about your company?
Scheffilm Productions is a business I started back in 2000 which I ran in my spare time that I shot weddings and my short films through. The business has now escalated into a full time venture that deals with corporate videos, commercials, music videos, short films and feature films. Eventually I would like to have a wing of Scheffilm which deals solely in video production and another wing which deals only in feature films.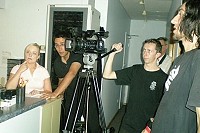 On the set of Coil
A few words about your short Coil?
Coil is a short mystery/thriller I directed in a co-production with another South Australian production company, Deor Productions, in January of this year. Deanna Ortuso at Deor Productions wrote and produced Coil and asked me if I would direct the film as she was impressed with snippets she had viewed from The Counterpart. Julie Dickson also acted and assistant directed on the film. Recently Coil was screened at the 2009 Cannes Short Film Corner and has also been doing the festival circuit for most of this year.
Any other film projects you've been involved with you'd like to talk about?
Recently I played a small role in a South Australian short film called Line of Friendship directed by Lenny Smith. Julie Dickson won a role in the film and I was asked to jump onboard as a helping hand where I ended up playing a school teacher in the film and also helping out as a stills photographer on set.

Feeling lucky ?
Want to
search
any of my partnershops yourself
for more, better results ?

The links below
will take you
just there!!!

Find Lucas Scheffel
at the amazons ...

amazon.com

amazon.co.uk

amazon.de
Looking for imports ?
Find Lucas Scheffel here ...
Something naughty ?
(Must be over 18 to go there !)

Any future projects you'd like to mention?
At Scheffilm we have two feature films in development. One derives inspiration from The Counterpart and the other is a more serious drama based on true events. We also have a short film in post production which Julie Dickson wrote, itís a horror/thriller, more will be revealed on that short film very soon.
Your website, MySpace, whatever else?
Scheffilm Productions: http://www.scheffilmproductions.com
The Counterpart: http://www.thecounterpartmovie.com
The Counterpart Myspace: http://www.myspace.com/the_counterpart_movie
Directors who have influenced you?
Martin Scrosese
Steven Speilberg
Quentin Tarantino
Robert Rodriguez
Peter Jackson
Mel Gibson
Clint Eastwood
Michael Mann
Your favourite movies?
There are so many however this list is just a few:
Goodfellas
Casino
Back To The Future
Sneakers
Viva Las Vegas (Iím a big Elvis fan)
Raiders of the Lost Ark
The Insider
And of course, some films you really deplored?
The swag of remakes they make these days!! What is with making them??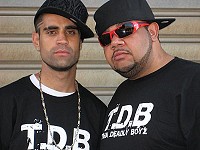 T.D.B.
Anything else you are dying to tell us and I've simply forgotten to ask?
I recently won a Bronze Australian Cinematographers Society (ACS) Award in the music clip category of the South Australian Branch for a music video I shot for local hip hop duo T.D.B. (Tha Deadly Boyz). The video was for their song Rise - itís on YouTube check it out!
Thanks for the interview!