There are many documentaries about many famous and even not so famous directors - so what inspired you to make the assistant director the focus of your movie Legendary AD for a change?
Almost no one knows what a First Assistant Director does, but if you were to watch a first AD in action, you'd notice he is the busiest person on a set.
First ADs know everyone and have their hands in all departments. They need to have social and organizing skills, and knowledge of all elements of movie making. If there are stories to tell, they always have all the details.
We know everything about actors, directors and even the producers and directors of photography but nobody ever thought to interview first ADs of legendary movies to obtain their tips, advice and the stories about these classic movies that we love so much, such as Star Wars, The Godfather, Batman, Superman, Lord of the Rings, Pulp Fiction, Mission Impossible, Saving Private Ryan and many more. This project is a unique.
The title Legendary AD is to remind people that these individuals are the core part of a movie, and the stories that they can tell have never been told before. The extention of this is also the fact that people now have the possibility to be part of this project, in the production of this documentary, thanks to my Kickstarter Campaign of Legendary AD. Included in the prices is the opportunity to become Associate Producer of the project.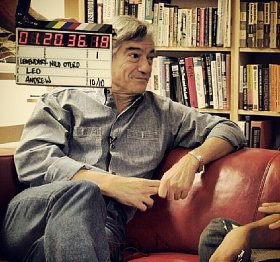 Legendary AD Nilo Otero
As you have also worked as an assistant director time and again, to what extent can you identify with your subject matter?
Absolutely yes I can identify. The only difference is the scale of the films, these "Legendary ADs" they run huge movies that have up to $400M budget, and I've done Independent movies, where the biggest problem is to always try to spend as little money as possible. In the big blockbusters instead, you actually try to use money to solve problems and save time. Also when you are in these big budget movies, you start to delegate a lot of work to the second AD, the second second, the third, the second unit etc. I think a big budget movie (from the first AD's prospective) is more similar to a military campaign. Instead, when you run the set of small Independent movie, it is more similar to a big "Family". For sure it's fascinating and very helpful to listen the stories of these Legendary ADs to prepare and prevent problems I may have in future feature films. If I had the budget, I'd never stop interviewing these people and gleaning from their infinite wisdom. Time with them is priceless.
How do you approach your subject matter stylistically?
This is really important for me. If you watch the trailer, you'd notice a lot of B roll with these Legednary ADs. First of all, it is a movie, and visually needs to be interesting. I spent a lot of time on this, I don't want to do these kind of documentaries where there are heads talking all the time, I entered the houses and private life of these legends to share with the audience what they do on an every day basis, and what they like to do.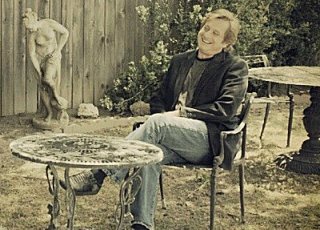 Legendary AD William Paul Clark
Do talk about your interviewees so far for a bit, and why exactly them?
I started researching what are the best 100 movies ever made by the world audience, and then try to contact each First AD of these movies. We start by asking them a series of questions, but then we cover other aspects of the job that are different with each interview, and they come randomly during the conversation. It is a 2 cameras recording, and a long chat about their experience - usually each interview became a 6 hours casual conversation. We are the first audience because we're the filmmakers, and we never want to leave this amazing meeting with these extraordinary people.
You cover some pretty iconic movies in Legendary AD - so how easy or hard was it to track some of the ADs of these movies down?
This is the point. It is extremely difficult to reach these people. First of all for privacy purposes. Their email addresses don't exist, no phone numbers, and only agency contacts, which receive unsolicited messages and calls all the time, and most of them extreme fans of these legendary movies who want to know more details about their favorite films and stars, even from the first ADs of these projects. What I did then, I started using my connections in Hollywood, and call after call I reached the first person, met for a coffee, chatted about and did my first interview. Then start from zero again for the others, now it's a bit easer because people in the field of first AD know about this documentary and they are more confortable to meet us for the interview. For sure is not easy at all, actually this is the most difficult part of this documentary.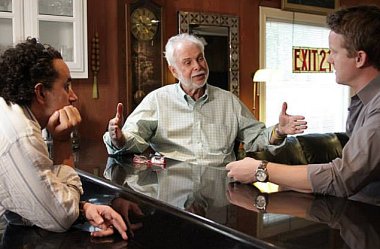 Legendary AD Burt Bluestein
As far as I know, you're currently running a campaign to raise funds to finish your movie - so what can you tell us about your fundraiser?
I think is an extraordinary opportunity to be part of a Legendary Project. You can chip in and receive so many great rewards: Special Thanks credits, Associate Producer credits, special editions of the movie, special videos, private projections, a day on set, and even a dinner with one of the Legendary ADs! There are so many rewards that involve the audience in our project, which make Kickstarter the best tool for a person who want to know more about this profession or the stories of his favorite movies.
https://www.kickstarter.com/projects/815483644/legendary-ad
Any idea when and where the film might be released onto the general public yet?
Yes, the movie will be released to some Special Theatrical Projections during Christmas 2015, then right after released on Video on Demand. Also the film schools and film programs will have a special version much longer for special film classes.
Any future projects beyond Legendary AD you'd like to talk about?
Yes, first of all the fact that Legendary ... will become a franchising idea for documentaries, we are debating the fact of a Legendary Stunt or Legendary Composers for the next episode. I am also these days filming the movie The Art of Fighting and preparing an horror film that will take place all in one "place". People can check www.leonardocorbucci.com for news about it.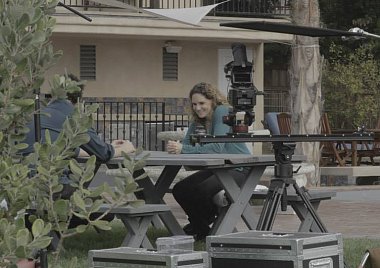 Legendary AD Lisa C. Satriano
What got you into filmmaking in the first place, and did you receive any formal education on the subject?
Part of my family in Italy come from the film business. The Great Silence I think is the best movie of my uncle Sergio Corbucci and one of the best Westerns I ever watched, together with the original Django that Sergio Corbucci directed and Quentin Tarantino made the remake of. The funny part is that I interviewed the first AD of Django Unchained too and we become friends.
I started to be interested in movie making around the age of 14, when I was watching the TV Show Twin Peaks by David Lynch, and that let me really think "How is that possible that I get so much emotionally involved in a movie that is a fake representation of reality? What is there behind moviemaking?" Then I started to do my first short films in Super8mm because I was fascinated by film. With digital it's easier, but is also easier to quit a project. With film once you start the process, you don't want to waste that "physical material" of film rolls!
Yes I did attend a few film schools, in Italy and in the USA, but honestly I don't think they are important if you want to become a director. For however romantic people think the "job" of the director is, in the end the definition is one and one only: "A director is an individual that is able to convince other people to give him money to produce his movies." Period. It is really this simple. It is up to you how you convince producers to invest in you and your movies, and how many you are able to do.
What can you tell us about your filmwork prior to Legendary AD?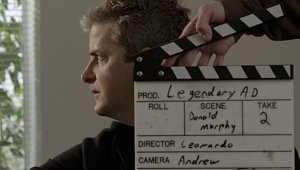 Legendary AD Donald Murphy
I directed documentaries, short-films, feature films and even music videos and commercials. I think my best movie is Black & White in Colors, a metaphysical drama feature film I shot in Bulgaria over 3 years of production! My first feature film project I did at the age of 21 was Cinecittà Story! is still for me to this day the movie I directed that did more money and got a bigger audience at the movie theatre than anything else ($380,000 in the first week).
How would you describe yourself as a director?
An "actor driven kind of director". I think the most important element of a movie is acting. I am one of these directors who work a lot with actors in pre-production, and care a lot about casting. If an audience doesn't believe in the acting of the actors in a movie, you want to leave the movie theatre after 5 minutes, no matter how beautiful the cinematography is, no matter how smart and intrigueing the script is, you just don't believe the acting, then all the rest become useless, just a frame of a bad painting. I love long takes and shots that nobody did before.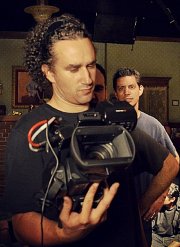 Leonardo Corbucci
Filmmakers who inspire you?
Francois Truffaut is my prime influence, but also Fellini, Antonioni, Sergio Corbucci, Sergio Leone, Bunuel and Kubrick. Contemporary directors are Richard Donner, David Lynch, Alejandro Jodorowsky, Emir Kusturica, Alfonso Cuaron and Wes Anderson. These are the filmmakers that are always on my mind, but I love cinema and movies in general, each filmmaker has a specific style and quality that I love.
Your favourite movies?
All the movies of the filmmakers that I mentioned - my top 10 change pretty often depending from my feeling and status.
... and of course, films you really deplore?
None. I really enjoy all kinds of movies. I just wish the big audience was less interested on "big impact" movies like Transformers, X-Men, Avengers etc. and more interested in original Independent movies like Primer"by Shane Carbuth or El Topo by Alejandro Jodorowsky or The Cube by Vincenzo Natali - that way there would be a bigger market and more money for these auteurs, rather than so many huge franchise "big Impact" movies that are very similar to each others. But again, I enjoy them too.
Your/your movie's website, Facebook, Kickstarter, whatever else?

Feeling lucky ?
Want to
search
any of my partnershops yourself
for more, better results ?

The links below
will take you
just there!!!

Find Leonardo Corbucci
at the amazons ...

amazon.com

amazon.co.uk

amazon.de
Looking for imports ?
Find Leonardo Corbucci here ...
Something naughty ?
(Must be over 18 to go there !)

First of all the Kickstarter website: https://www.kickstarter.com/projects/815483644/legendary-ad
The Facebook page of Legendary AD:
https://www.facebook.com/LegendaryAd
The Legendary AD Instagram: http://instagram.com/legendary_ad_com
Then my personal homepage: www.leonardocorbucci.com
Our production company webpage: www.embassiesofcinema.com
My Facebookpage: https://www.facebook.com/pages/Leonardo-Corbucci-Zanobi/56368587719?ref=hl
The Facebook page of our production company: https://www.facebook.com/pages/EMBASSIES-OF-CINEMA/86667043863?ref=hl
Anything else you are dying to mention and I have merely forgotten to ask?
Please become part of our LEGENDARY PROJECT and help us to finish this amazing documentary, it deserves to be finish, and you deserve to listen these amazing stories.
Legendary AD
https://www.kickstarter.com/projects/815483644/legendary-ad
Thanks for the interview!
Thank you! :)