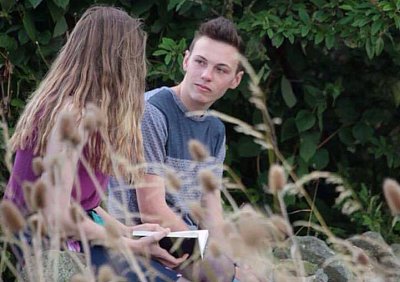 with Elizabeth-Mae Starbuck
Your new movie The Night Monica Came Back - in a few words, what is it about?
Well, a group of teens go to a casual camp with Pops, however we discover 2 individuals who are not so bothered about Pops' camp story and end up reliving this exact story, causing the other camp members to experience the true meaning of horror!
How did you get involved with the project?
I was lucky enough to be part of the Northern Star Acting tribe when the wonderful leader, Eirian Cohen [Eirian Cohen interview - click here], told us all she had just confirmed that she was producing a film whilst doing an acting workshop with Laurence R. Harvey from Human Centipede 2 and 3… Which of course we didn't know who it was, until we got there.
Do talk about your character for a bit, and how did you prepare for him?
Haha, well, exactly 1 week before the trip, I got a call from Eirian Cohen, she asked, out of nowhere 'Lee, can you do a Czech accent?' Of which I replied 'I can try.' - then I found out I had a week to try be as fluent as I could be. So not knowing anything else about my character, I spent a week on Google and YouTube, which by the way has very little to help you on doing a Czech accent, haha. I somewhat cracked it, I think. Then I got there and got a basic character break down. In a summary, I'm an exchange student who's a good flirt and proved this by attempting to 'pull' Monica, which ended up turning out for the worse… Funny enough, this character is basically me, being known as a big flirt and confident… besides being a Czech exchange student. So I was pretty confident and knew what I was doing haha.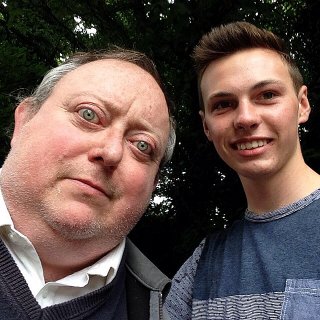 with Laurence R. Harvey
The Night Monica Came Back features horror icon Laurence R. Harvey from Human Centipede 2 and 3 - so what was it like acting opposite him?
Working alongside Laurence R. Harvey was genuinely an honour, plus I was one of the first to see him because I was in the kitchen talking to other staff when he arrived, lucky for me, so being able to talk to him on a personal level rather than professional level too was so cool! Plus, to say I was a character in a film alongside a national horror legend… How much better does that get? By the way, you can see he's well experienced and had great training as he can pull off such great, detailed characters in a flash… inspirational to watch.
From what I know (and I was there), you didn't only shoot a movie but this was part of a "horror camp" - so do talk about some of the other activities and workshops you did at the camp!
The horror camp was great fun, not just for the movie but for the great activities we did too. When we arrived and sorted ourselves out, the first thing we did was go to the field just by us and did a name game, since we were from different groups (younger/older groups, different area groups), then we played our group's beloved game of Ninja Warrior, where you get 1 step and have to try hit people to get them out, a game of which at my group, I win a lot hahaha. Then we did like, acting exercises but the best part was, we laid down and got into the mindset of a zombie, of which we had all of us attack the camera and then did a zombie wedding which was live streamed on Facebook. That was so much fun. Then we had food and stuff but at approximately 7:30, Laurence Harvey arrived so we got to talk to him about himself and get to know him too, then we did a workshop with him. This consisted of doing the 5 states which were: We walked in a circle and he said what to do and we did it, then we did this again for the 5 S's which were: search, select, stare, succumb, switch. This is used for finding new objects and using imagination to look at something else instead of the camera. Then, everyone's favourite, we did an exercise where we had to stare at the camera and not laugh, but once we did this we got up in pairs (I got to do it first with Laurence) and had to intimidate the other person, like the other tries to stay close but look terrified or whatever emotions came. Then we swapped. For the rest of the trip, if you got bored, this was entertainment haha. Also if we're weren't filming then more zombie fun or games took place.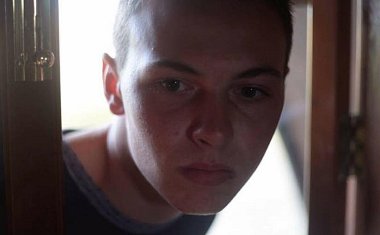 So talk about the shoot as such for a bit, and the on-set atmosphere!
Well, it started off great and fun, we were all having a laugh in the beautiful sun… until it got freezing and started pouring it down. However despite this our attitudes didn't crumble and we still had loads of banter and fun not only on but off set too. Luckily we were all rather close and especially after the trip so there was no awkwardness anywhere. Plus, the shooting was fairly quick for what I was on, it was more different angle shots than retakes which made us feel great since we didn't get failing, haha.
If there was another horror camp or whatever-else camp again next year, would you at all want to join again?
1 Million percent yes!! Not only do we get to film, learn and chill… but we had FUN, which was the most important part. Everyone was close and supported each other and it was full of happiness and excitement. What else do we need? Haha.
Anything else you're dying to mention and I have merely forgotten to ask?

Feeling lucky ?
Want to
search
any of my partnershops yourself
for more, better results ?

The links below
will take you
just there!!!


Since we have all come back from the trip, everyone has been so productive too including me, I have created my own Facebook official page which is https://www.facebook.com/LeeAshleyPreston which would be appreciated so much if you'd like and follow me which is full of stuff I am up to, mostly acting related. This applies to everyone too plus we have all made profiles for Twitter and Instagram which mine, personally is @L_presto99, plus we are creating our casting network profiles like StarNow, Casting Call Pro and others which for the last time would be great especially if you could follow me on StarNow under "Lee Ashley Preston" as I'm now in the top 5% of the talent directory I that too. Also, everyone is wanting to join Northern Star Acting's agency rather than others since we have seen and know that our lovely leader, Eirian Cohen [Eirian Cohen interview - click here], does so much for us it's unreal.

By the way don't forget to follow the movie on Facebook - https://www.facebook.com/thenightmonicacameback. On there you will be kept up to date about the movie and all the characters too.

Thanks for the interview!

Thanks so much for this interview and take care.