Your new movie The Tent - in a few words, what is it about?
The Tent is about two people who have gone through an apocalyptic event deemed The Crisis and have to figure out how to accept the otherís idea of survival.
With The Tent beint a post-apocalyptic thriller (of sorts), is that a genre especially dear to you, and some of your genre favourites? And what can you tell us about your approach to the genre?
The post-apocalyptic genre has always been an intriguing genre to me. I would say some of my favorites have been the Mad Max series, The Book of Eli, and even The Road. Itís interesting because it's really a genre that lends itself to raw character moments. It's something that can really strip a human being down to their roots, and that's what I wanted to do with The Tent. My approach to the genre, with The Tent, was to really strip away the set-up of The Crisis in favor of letting the audience focus on the characters. I didnít want to explain what happened because that felt more realistic to me. They wouldnít just naturally explain it if they had been living it for quite some time. I also wanted to be very sparing on details in general because of the nature of the story. I really wanted the audience to ultimately decide for themselves what it all meant versus laying out in a neat, simple way.
(Other) sources of inspiration when writing The Tent - and as weird as this may sound, was any of this based on personal experience?
A huge source of inspiration was the film Signs. How Shyamalan handled the threat of the aliens was so realistic and personal to that family. He also didnít feel the need to explain everything, he really just leaned on the information the family received through other people's interactions. It was also very disciplined in revealing too much too soon, I loved that. Another film that inspired me was Get Out. The layers of symbolism in that film were SO deep that we now have websites devoted to deciphering what everything meant. It was really important to me to allow that kind of world building and hidden meaning in our props, sets, and dialogue. The film itself, the 3rd act primarily, was very much based on a personal experience of mine. I donít want to say too much as to not spoil it, but some of those scenes at the end were almost verbatim what I experienced as a young man with a loved one of mine.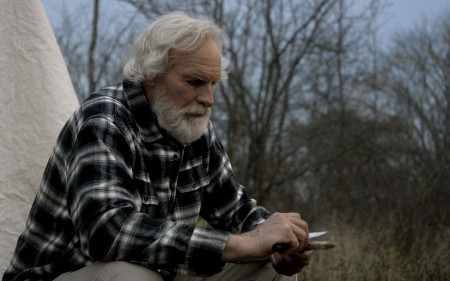 The Tent's ultimate resolution is a rather unexpected one - so was it intended right from the beginning, or did you only come up with it during writing?
The resolution was always planned. I knew I wanted to take something very real and build a very abstract story around it. However, with that being said, the level and extreme it ultimately equated to was encouraged late in the writing process by Tim Kaiser, who played David. He threw out an idea to take it to an extreme and I initially turned it down. After writing it though, I knew I wanted to move in that direction and so
I began going back and helping to set that up a little better, without being too obvious. Symbolism was the name of the game at that point.
Do talk about the main location of The Tent for a bit, and what was it like filming there?
The main location was all thanks to our executive producer Nancy Lynette Parker. She had shown me several locations, and when we found that one, I knew it was what I wanted. The only negative was it was truly out in the middle of nowhere. We had to order portable bathrooms, run generators for power, and at night, when it got dark, it REALLY got dark. It was great though in adding to the feeling of isolation. The cool part was we shot all of the internal scenes inside the tent on a stage, to better control it. That seamlessness is owed to our incredible director of photography Robert Skates. He really knew how light that and made it feel natural, even on a stage.
A few words about your overall directorial approach to your story at hand?
My approach was to really focus on the characters. I knew I wanted minimal angle changes throughout to really let the actors dig deep and not feel too choppy. It had a MAJOR amount of dialogue and I have to really credit Tim Kaiser and Lulu Dahl for hanging in there and really challenging themselves to learn those lines. We would sit and rehearse a lot a few months before shooting, and once we showed up to shoot, we knew already what we needed to do and that really led us to improvise in moments when it felt natural. While being the writer, I am not entirely married to dialogue, as long as we get to where we need to be. I really tried to let them make those words their own.
What can you tell us about The Tent's key cast, and why exactly these people?
I had worked with Tim Kaiser and Lulu Dahl before on a short film, The Eulogy. They had such awesome chemistry in that and I knew when I made my first feature film, I wanted to bring them in on it. I didnít know I would be lucky enough to get them as my leads. I wrote the film with Tim in mind. I knew he could dig deep and really dedicate himself to that character. With Lulu, she came on later in pre-production. She is the type that I wouldnít even audition because I believe in her ability to bring a real, raw energy to her characters.
Do talk about the shoot as such, and the on-set atmosphere?
The shoot was 14 days long. We knew we needed to move fast and yet slow down enough for Tim and Lulu to knock those characters out. The crew was so dedicated and they brought a creative energy to every issue we ran into. From our gaffers and DP figuring out how to light everything, to our script supervisor and assistant director keeping continuity in check, no one ever seemed irritated. We knew we had a massive task in front of us and we marched into it with a very positive outlook. Outdoor shoots can be unforgiving but this crew made it feel easy.
Anything you can tell us about audience and critical reception of The Tent?
Most people seem shocked at some of the twists and turns it took for sure. I think the level of horror we set up and then somewhat pulled the rug out from everyone is sometimes perceived as a cheat to a degree, but I can assure you that I tried to lay as many breadcrumbs as I could along the way to make it feel earned. Overall, I know the film will be for some people and maybe not others and that's ok. Itís important to me that for the people that really respond to it, in a positive way, feel like they went on a journey through the eyes of David and that more than anything, they understand where I was coming from as a filmmaker and a human being.
Any future projects you'd like to share?
I have a script Iím working on that involves a similar level of psychological suspense but itís much more grounded in reality than The Tent.
What got you into filmmaking in the first place, and did you receive any formal training on the subject?
I have been into filmmaking for as long as I can remember. Iíve always wanted to tell stories through this medium and I have personally been impacted by this medium above all others. I do have a degree in cinematic arts but a lot of that was studying films and writing scripts. I didnít really begin learning how to build a film until I began making short films on my own, making mistakes and having successes along the way.
What can you tell us about your filmwork prior to The Tent?
My filmwork prior to The Tent was strictly making films for another production company I helped found at a local church called By Grace Productions. A lot of the material was Christian based content. From modern day adaptations of bible stories to documentaries about recovery and redemption. The Tent was my first feature film, made by my own production company, 1926 Pictures.
How would you describe yourself as a director?
Thatís a tough question. Itís hard to subjectively look at yourself as a director. I know I love collaborating with actors, cinematographers, and the entire crew. I really do think some of the best ideas Iíve heard have come from those cast and crew who are open enough to share. I also do video production work as my dayjob, so I understand the stresses of editing and getting good sound and then editing that sound. So I really do understand most positions myself and I think that helps me to think about ALL aspects prior to filming. I just really try to be kind and respectful. These people CAN become like a family and I always want to champion that.
Filmmakers who inspire you?
Oh wow, the first names that pop up are probably on everyoneís list, from Spielberg and Fincher to the Coen Brothers and Carpenter. For this film, I really leaned into learning more about David Lynch and M. Night Shyamalan. I knew what I was trying to do and I knew researching their films, most of which I had already seen, were going to be helpful in achieving what I wanted.
Your favourite movies?
My favorite movies are mostly horror or supernatural suspense. I love how a movie can impact you in such a way that it can make you so scared you canít sleep. That idea has always fascinated me and I always wanted to explore that, to a degree, with a film of my own. I also really love hard hitting dramas. One of my favorite movies of all time is No Country for Old Men. The simplicity of the story is so deceiving because underneath, itís probably one of the deepest pictures I have ever had the joy to watch in a movie theater.
... and of course, films you really deplore?
I donít really like to label a movie as bad. I think every movie has its time and place but above all else, its audience. Sometimes a movie is not for me and sometimes it is. I have always been open to giving any movie a chance to grow on me. That being said, there are movies that have grown on me quicker than others, haha.
Your/your movie's website, social media, whatever else?

Feeling lucky ?
Want to
search
any of my partnershops yourself
for more, better results ?

The links below
will take you
just there!!!


You can find our website for The Tent at www.survivethetent.com, there are TONS of cool easter eggs and extra content on there. We are also on Facebook as The Tent Movie. Finally we are on Instagram as The Tent Movie also. So come check us out to see tons of awesome content.
Anything else you're dying to mention and I have merely forgotten to ask?
The last thing I want to say is thank you for your time, it has been an honor to be interviewed about a project that is so near and dear to my heart.
Thanks for the interview!