Your upcoming documentary Scars - The Third Reich in Ruins - in a few words, what's it going to be about?
Kris: Cinematic, atmospheric, historical adventure travel. Journeys into military history through the ruins that still remain, that's the brief.
Lawrence: History that is still alive today - and the joy/interest to be had from finding these places and checking them out :)
Kris: Absolutely.
How did the project come into being in the first place - and since we're at it, how did you two first meet?
Kris: I was really keen to create a very visual, urban exploration project. Always loved sneaking around derelict structures as a kid.
Lawrence: We met over music videos. Kris has filmed three for three different bands I was in as well as a live DVD and documentary style thing.
Kris: Lawrence is a pretty established heavy metal drummer, I was just starting out in corporate video when he booked me for the first one. It was a great experience. We got a ton of pyrotechnics in and blew the shit out of everything, whilst filming in this amazing Napoleonic fort. I found out then how knowledgeable Lawrence was with regard to military history and World War 2... and of course how loud and fast a drummer he was! I'm not sure if the persistent ringing in my ears was from the Pyro or the Heavy Metal ;)
Lawrence: I have always liked the way Kris captures things. Having been most of these places I know that it takes a particular type of cinematic 'eye' to really get across just how amazing they are. I know Kris is the guy to do it.
How do you plan to approach the subject from a directorial point of view?
Kris: It's going to be an interesting one, I have to balance direction with cinematography whilst still having a limited on-screen presence which is a first for me. It's very much a by the minute road trip, but intercut with huge cinematic visuals, score and of course incredibly compelling narration. It will have a lot for everyone. History buffs will hopefully love its fresh approach and detailed information, but travel show enthusiasts will get a lot from it too. The idea is to introduce a new audience, and re-engage the one that may be flagging. As comedian Micky Flanagan recently quipped "Dear History Channel - The Nazis were bad, we get it!" We want to avoid falling into a 'by the numbers' walk-and-talk Nazi history show format and it doesn't need to be sensationalised.
Lawrence: In actual fact, if you're trying to show the dark side of an expansive subject like this, the truth is always far more frightening than any hyperbole.
What can you tell us about your intended route when collecting material for your film, and do talk about some of the sites you want to visit, and why exactly those?
Lawrence: It's actually a logical linear route we're taking. We 're starting at some of the most underdeveloped German fortifications in the south of France - a region only taken over by German troops in 1942 and never given a priority in men and material from the defensive standpoint. Hitler always failed to see the strategic importance of the Mediterranean... but that's treading on our second planned documentary ;) We head up the French Atlantic coast which houses the biggest U-boat bases - fascinating places to explore - and then along the Channel coast - Normandy to Pas de Calais - into Belgium, The Netherlands before swinging south back through the the Ardennes, the Westwall fortifications and Huertgen Forest and into Germany proper. Once there it takes a distinctly non military tone as we explore a greater number of buildings and structures more related to the Third Reich and its government - and governmental policies - than what you would see in occupied countries where the emphasis was on defence. In Munich the original places inhabited by the fledgling Nazi Party and its inner circle still stand. Finally we end in Berchtesgaden and the Obersalzburg where Hitler and his highest level subordinates actually lived. So, it plays like the history of Nazi Germany, in the West, in reverse: beginning at the furthest reach they achieved and ending where it all began.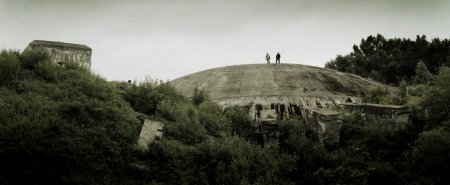 Kris: From film-making point of view it also serves the story very well. As we head North the weather will turn and as our historical account unfolds the journey get's colder and darker and the scale increases.
Quite frankly, what do you find so fascinating about these old sites?
Lawrence: They are living pieces of history. Recently we have seen the great - and completely justified and appropriate - fanfare given to Allied D-Day veterans. But, without at all detracting from that, EVERY day is an anniversary of events in World War Two. Every day saw somebody affected forever by something that happened then. These structures not only symbolize so much that happened to people in the war years, but they also are direct links to the men and women who inhabited them, served in them or even lived around them. People largely ignore what are actually fascinating gateways into a period of time so traumatic to the world that we still see the echoes of those days reverberating around the world. National borders, ideological standpoints... many of these things that are today causing so many headaches (watch the news!) were decided as a result of the Second World War. The places we are visiting are important; not least of all because of the human stories attached to each and every one, but also because they stand as a mute warning of what happens when you get it all wrong.
How do you go about preparing for your project and doing research on it? And how easy/difficult is it to obtain the fitting archive material to go with your newly shot footage?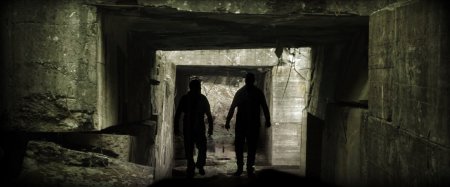 Lawrence: We don't want to be reliant on archive material. Research is something I have done for years in the course of writing 11 books, so that is always ongoing anyway! There will be some relevant archive material that we may use, but in my opinion, far too much time is spent in most Second World War documentaries with fanciful (and often wildly inaccurate) reconstructions and the use of the same grainy film to illustrate a point; frequently not a relevant piece of film either. I'm convinced that some documentary makers just pad out their programmes and select their 'archive material' by going: "Look! German helmets! Swastikas! We'll have that! And, look! There's Hitler! We'll have that... add some Wagner or villain music! There we go! Job done!" As a historian I am sick to death with that - it serves no purpose other than to disguise the lack of care taken with the subject. These places we are going - these are the stars of this film. They and the stories attached; even the 'feelings' they still emanate... that is the subject right there. We don't need someone to dress up and prance about in period clothes to make it come to life - that's Kris' job with the visuals, my job with the information, the narrator's job with putting the words cross... and Kris and my job to probably fall down some holes while abseiling to some of these sites!
Robert Llewellyn will be the narrator of Scars - The Third Reich in Ruins - now why exactly him, and how did you get him even?
Kris: Robert is a super intelligent guy with a great voice. He offers something in his voice that has the authority to speak on an important subject such as ours whilst still being off-beat and fresh. We need that to support the style of the project. We had a small list of voices we'd like to hear. I think Robert was the first person we put it to and he was the first to come back interested to do it. We like that!
As far as I know, Scars - The Third Reich in Ruins is currently in its fundraising stages, so what can you tell us about your fundraising efforts?
Lawrence: We are just trying to get the idea in front of as many people as we can. Every pledge - big or small - is important to us and hugely appreciated: http://kck.st/1pZ0aGz. WE had roadblocks in the way over the last two years, this will enable us to not have those roadblocks any more and to do this on a vastly reduced, yet totally realistic, budget from what we were being told we would need by people who were probably looking to benefit beyond reason from it themselves.
Kris: It's been great to meet people through the campaign with so much interest and support for what we are doing. Building momentum for any project is a full time job so we are trying to raise funds whilst engaging with the future audience. We have shared a lot of pictures and some promotional incentives, but one of the most amazing things we put out on facebook.com/scarsproject and our Twitter feed @Scars_Project are incredible This Day During World War 2 pieces that Lawrence writes from scratch. Amazing pieces and all the proof you would need we have the right team for the job.
Once your funds are raised, what's the schedule, and any idea when the film might be released onto the general public yet?
Kris: We aim to set out in late September of this year, finishing the trip at Hitler's Eagle's Nest, some time in mid to late October. As a photographer I really want to catch that great October light! The project including the documentary should be available just before Christmas of this year. It's a lot of work!
Any future projects beyond Scars - The Third Reich in Ruins you'd like to share?
Kris: Our time is now put into The Scars Project which has several In Ruins-formatted documentaries and photographic projects in the pipeline.
Your/your movie's website, Facebook, Kickstarter, whatever else?
Please check us out on Kickstarter http://kck.st/1pZ0aGz
We have loads of great rewards, ways you can get involved and there's plenty of project info there as well.
Give us a follow on www.facebook.com/scarsproject and Twitter @Scars_Project.

Feeling lucky ?
Want to
search
any of my partnershops yourself
for more, better results ?

The links below
will take you
just there!!!


The finished doc/project among other addresses will be available at www.scarsproject.co.uk, which at the moment holds a fairly basic holding page until we are ready to launch. It will be a huge, fully immersive site in the months to come but you can check it out now for basic info and some freebies!
Anything else you are dying to mention and I have merely forgotten to ask?
Kris: We would like to thank our supporters and also our great multilingual, multi-talented team including Anna and Celia. Time is running out for many of these locations and although up for debate as to whether that is a good or bad thing, it is important to remember them and their impact which has remained for over 70 years!
Lawrence: We genuinely feel that this is an important documentary that needs to be made while these places remain and while some of the people who were in and around them are also still with us. There are hundreds of untold stories - and each of these places holds the key to them.
Thanks for the interview!
Thanks Mike!