You've recently been costume designer on the movie Maturing Youth - so first of all, what's that movie about?
Maturing Youth from R&F Entertainment is a touching, coming of age movie about a deadbeat man-child, Roger, played by Sean A Kaufman [Sean A. Kaufman interview - click here], whose ex-girlfriend, Sadie, played by Kim Paris, shows up one day and leaves his toddler son named Junior, played by Joshua St. Leger [Joshua St. Leger interview - click here], with him. She disappears without a trace, and Roger is faced with the ultimate decision. Does he continue to be lazy and unproductive, putting his son's future at risk, or does he set an honorable example for his son by growing up and taking responsibility for his life?
So do talk about the outfits you designed for Maturing Youth for a bit, their style and inspirations!
The outfits are heavily inspired by the characters' personalities. So when you look at them before you even know anything about the character you have an idea of who they are. Just to name a few, Roger is a lazy bum who barely leaves the house so for a majority of the film he's in pajamas and a robe, symbolizing how comfortable he has become with his lazy lifestyle. Sadie is a young single mom, but just like her ex she likes to dress comfortably and keeps it casual. I also wanted to give her a subtle sexiness to sort of tease Roger and show him what he missed out on. Junior is in bright primary colors to symbolize his youth and innocence, I saw him representing a brighter future for Roger.
How did you get involved with the project in the first place?
I'd been following R&F Entertainment on social media, and was very impressed with the success of some of their previous projects. I reached out to them asking if the needed design assistance for any upcoming projects. Chase [Chase Michael Pallante interview - click here], the producer and founder/CEO, told me about Maturing Youth, and after reading the script I knew it would be a fun and exciting project to work on. It was a wonderful experience.
How do you approach designing costumes for a movie (both in general and especially in regards to Maturing Youth), actually, and to what extent do you familiarize yourself with the script beforehands?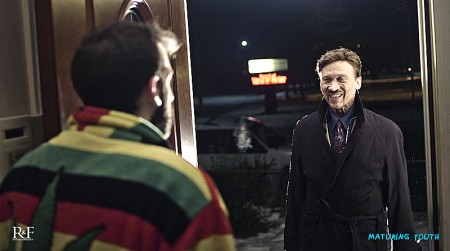 courtesy of R&F Entertainment
After reading the script I evaluate each character and their personality, and how I'd like to portray that through their wardrobe. I'll come up with ideas for each character's outfits by pulling imagery and sharing it with the actors, producers, and director. I like to make sure I get an idea of how they envision the character as well and mold the characters' costumes from our shared vision. I try to create a story with the characters' wardrobe, to show their development through the film.
What can you tell us about Maturing Youth's director Divoni Simon [Divoni Simon interview - click here], and what was your collaboration like?
I had a great time working with him. He had a very clear vision for each character and how he wanted to portray them. We worked togeher to bring the characters to life and have their costumes tell a story of who they are. He was a pleasure to work with, I can't wait for everyone to see the film!
Any future projects you'd like to share?
Earlier this year I assistant designed on a short Goodnight Mary (goodnightmary.com), I just finished assisting on a indie called Stepdaughter, and recently worked on a music video for a new duo TGR that I'm really excited about!!!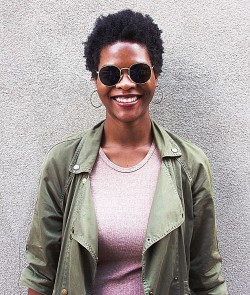 photography by Virginia Kluiters
courtesy of R&F Entertainment
What got you into fashion design in general and into costume design for movies in particular?
I used to sketch fashion designs and ideas during class in high school to pass the time. When I found out I could turn that hobby into a successful career I decided to enroll at SCAD and get my BFA in fashion! While I was in school I also was heavily involved with the SCAD Film Festival, I would make time to volunteer every year. I loved watching the indies, shorts and students films that would come each year. After graduating I worked in the fashion industry for a couple years but was still very much in love and fascinated by the film industry. I decided to take a risk and leave fashion to pursue costume design, which combined my love of film and fashion. I absolutely love it, and I haven't looked back since!
What can you tell us about your filmwork prior to Maturing Youth?
This was actually the first film I'd designed. I'd previously worked as a intern and production assistant on a couple of films; Radium Girls (a 20s period indie film) and The Pretenders (James Franco-produced film). In high school I designed a theater production of Honk (ugly ducking musical), and since college I've done work styling fashion editorials and test shoots for new talent. But this project was my first job as a costume designer!
Fashion and costume designers who inspire you?
Some of my favorite fashion designers are Yohji Yamamoto, Helmut Lang, Elsa Schiaparelli, and Stella McCartney. As far as costume designers go Colleen Atwood of course is ABSOLUTELY AMAZING (Little Women and Fantastic Beasts are my favorite films she's done), Mona May Renee Ehrlich Kalfus has done some of my favorite period films (Chocolat, Cider House Rules, and Hidden Figures), and Mona May designed several chick flicks I grew up watching (Zenon series, Clueless, Never Been Kissed, and Romy and Michelle's High School Reunion)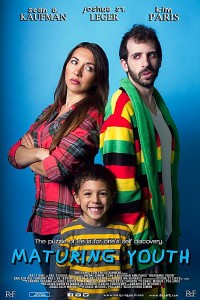 Feeling lucky ?
Want to
search
any of my partnershops yourself
for more, better results ?

The links below
will take you
just there!!!


And since this is primarily a movie site, your favourite movies?
I have so many that I love for different reasons whether it be the cinematography, costumes, or story. Just a few are Amelie, Royal Tenenbaums, Never Been Kissed, The Lord of the Rings series, The Outsiders, The Cider House Rules, and Remember the Titans.
... and of course, films you really deplore?
I'm definitely not a huge fan of the Mission Impossible movies, Maid in Manhattan, Pretty in Pink, National Lampoon's Vacation, Revenant, Star Wars: Rogue One... they just really need to stop making Star Wars movies.
Your website, Facebook, whatever else?
Instagram: kim_ware_here
Website: kimware.squarespace.com
Anything else you're dying to mention and I have merely forgotten to ask?
Maturing Youth is making its world premiere at the augural Cutting Room International Short Film Festival in New York City. For more information and details go to www.MATURINGYOUTH.com
Follow the film here:
Instagram: www.instagram.com/maturingyouthfilm
Facebook: www.facebook.com/maturingyouth
Website: www.MATURINGYOUTH.com
Thanks for the interview!