Your new movie Love a la Carte - in a few words, what is it about, and what can you tell us about your character in it?
The movie Love a la Carte is about marriage and all the responsibilities that come with relationships. All kinds of relationships. The good the bad and the truth. Rarely do people look at their own relationships and take responsibility for them not working. If you don't like the movie, maybe it is because you see a failure in ourselves that you are responsible for? Love a la Carte is a laugh-out-loud look at yourself for "those moments" when you have failed yourself and your mate. Angela's role in all of this is that of an opportunist… to take a moment and run with it! She is seeking the attention and the excitement that is long lost in her own relationship and finds that excitement and attention from Phil Anders.
What did you draw upon to bring your character to life, and how much of Kimber Leigh can we find in Angela Heavens? And what was it like to play the "other woman"?
When I get the opportunity to step into the shoes of another character, I want to give give that character the highest respect, and understand what the reason was for the experience to take place. I want to be that character and be in her essence and space. How are you going to respect that space, if you brush lightly over her experience. From all the research I have done and all the teachers I have had in the art of acting, I was taught to feel, to be the place you are in (the pictures on the wall, the carpet on the floor), the heart and soul of the reason why the character you are portraying lives somewhere deep inside of yourself. We are having a "human experience" ourselves daily. Why should the character that you are playing be any different? To play the "other woman" was exciting, sexy and flirty. There were no consequences… now how can that not be fun? We could all be naughty if we knew that no one was watching and that it was okay. We see "naughty" in the news everyday… so why is seeing it in a movie any different? How much of me can you see in this character? I love to be free, to love everyone, to be sexy and sensual, and who of the opposite sex doesn't love someone else from the opposite sex… so "a lot of me"?
How did you get involved with the project in the first place, and what were your first thoughts when you read the screenplay?
I got involved with this project by "word of mouth" from another actor, James Ray (Gene Isis in Love a la Carte), whom I had worked with on a previous project. He thought of me when Tim Mc Spadden (director/writer of Love a la Carte) [Tim McSpadden interview - click here] was finishing up the last part of his casting. I had no idea that Love a la Carte was being cast, so I am so grateful for James Ray!! He will always and forever hold a special place in my heart. My first thought about the screenplay that I read was…NO WAY!!! Lol, I remember sitting in my big comfy leather rocking chair, reading and slightly rocking… rocking faster and faster!! But then I understood, the depth, the dynamic, the realism of relationships and said, "Yup..I am up for it!"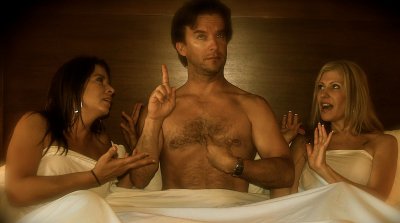 Cauna Mae and Kimber in bed with Tim McSpadden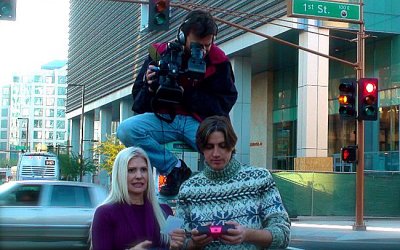 What can you tell us about your director Tim McSpadden [Tim McSpadden interview - click here], and what was your collaboration like?
Never met anyone like Tim... He is very dimensional and creative. He reminds me of "a wolf on a lone trail". I also see someone who created a road. He broke ground, he convinced others to help him reconstruct it, to create it to be even better, and to share his 'love and dream in a la carte style" We are who we are... we all have our imperfections as we seek perfection along the way... I am so happy that on my way… I met Tim Mc Spadden.
You helped behind the scenes on Love a la Carte quite a bit as well, right? Care to elaborate?
Well, if you call playing like a "dumb blonde" (when it counts) … yes, I helped. I remember when myself, Tim, Mike Rea, Aaron Gin-Forsberg, (who plays Phil Anders in Love a la Carte) were in the middle of the busiest intersection downtown, during a public concert, shooting guerrilla style. Tim wore his ABC jacket into the blocked off event that Channel 12 put on. (Tim used to work for Channel 12 and had lots of Channel 12 uniforms.) So how do you fit in, in the middle of town? Dress the crew in Channel 12 uniforms and let them think you are the new TV news anchors. The security officers were great. They helped us to the center of 1st and Van Buren. Once there, we did our best to get our shot... take after take... and finally security came back and said "you're not done yet?" Tim said,"If this blonde could just get it right!" I looked at security, smiled and shrugged. At the end of that day... we got our shot!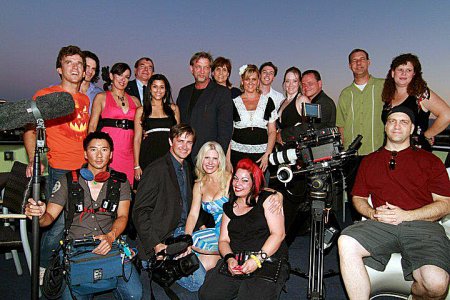 cast and crew atop the Claredon Hotel
I had a hand in creating the scene (getting other actors to join in) on the rooftop of the Claredon Hotel. I posted a shout out on Facebook, and we were able to fill up the scene as well as the scene that needed actors at City Hall.
What can you tell us about the shoot as such, and the on-set atmosphere?
The shoot was daring, bold, spontaneous and on purpose. We shot in the most 'AMAZING" places. Everyone on set gave it all they had. There are some of the best actors right here in our own acting haven. A community of dedicated and hard working actors, when you put them together the "on-set atmosphere" is buzzing with creativity. We all made a movie... and that is what we did.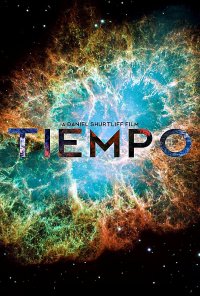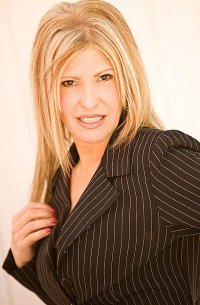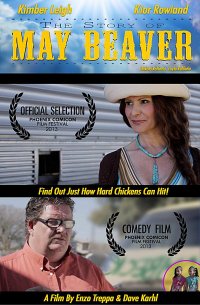 Although it took us 3 years to shoot it, each and every time we were back on set, it was as if a day never passed. We picked right up from where we left off. It was because we had a great director. Tim Mc Spadden knew his script like he knew his own life. So when it came time to get the cast back into character after months of being apart, he helped to direct us with the end goal for that scene. I was not in every scene so I am only speaking about those scenes that involved Angela Heavens character.
Any future projects you'd like to share?
Thank you for asking… I do have a film that is getting ready for release this year and it is called Tiempo. It is a love story about time travel. Not that a time travel movie is something new, but this one adds a twist with this one question. If the theory of relativity was tested in space, and you could essentially travel through time… what would your loved ones be like when you get back? I play the part of, Miranda Hawks, the wife of Captain Thomas Hawks who is in his early twenties when he decides to take the mission to travel through time to see if he could break light speed. What was only a week of his absence from his end of the marriage, was a grueling 60 years for his wife, Miranda Hawks. Here is the link to follow for updates on the film and its release.
https://www.facebook.com/pages/Tiempo/759286474150896
What got you into acting in the first place, and did you receive any formal education on the subject?
I came face to face with the "acting bug" in 1995 after being selected as a featured actor in a national commercial for America West Airlines. It was a very well executed production. I was a flight attendant for AWA when I heard about the audition. I knew nothing about being an actor, but saw an opportunity and wanted to give it a try. I was in awe after hearing that I made the cut, especially after seeing people show up with their agents and managers and I was just a flight attendant with no resume and no clue! After that experience, I was hooked. But I lived in Arizona and it was not Hollywood and thought that my days as an actor were finished as quickly as they started. So I tried fitness as an avenue to get some experience and have a gateway to the entertainment world. I had a career-ending injury in 2001 after 4 years of focused training. While in a cast from my foot to my waist, I could not do much. I was devastated that my journey to my goal and my fitness career.were over. While being driven to a doctor appointment, I saw a sign for acting classes given by Peter Stelzer (co founder Phoenix Film Institute, Ted Danson's long form television production company) and his wife, Marla Finn (who was the voice of Scooby Doo). Their classes were small and intimate. As I sat there (casted all the way to my waist), I decided in that moment to learn as much as I could from these two experienced Hollywood professionals. I have taken many classes since this one, but these two gave me the best education I could have ever received. Peter has since passed away... there is just no replacement for his knowledge.
How would you describe yourself as an actress, and some of your techniques to bring your characters to life?
Hard to answer questions about yourself in this way.. so here is my best shot. I would describe my acting self as someone who becomes the person that I was cast to be. I want to learn all that I can about that character. I spend time with them in my own silence getting to the core of their essence. I see them in my minds eye and can even dress the character in their own unique style. That is the creative part of the art that is a driving force for me. To take a name and a description from the script that is given to me and to turn that name into a person. The techniques that I use are those that I learned from acting books written by Constantin Stanislavski and from those acting teachers who had other methods of training. I take the combined knowledge and use what works best for me. I have studied acting as much as I have studied other religions. They all have their purpose and all lead to the same desired outcome. I choose to use the method that works best for me.
Over the years, you have also stepped behind the camera time and again - why is that, and what can you tell us about your directing debut The Story of May Beaver - Nefarious Feller?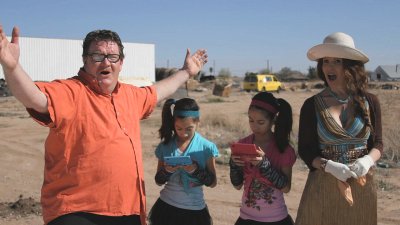 The Story of May Beaver - Nefarious Feller
My background was in aviation. I worked for the first deregulated airline in the history of aviation (America West Airlines). When I first got hired, we were asked to learn all phases of how the airline worked. I suppose the founder (Ed Beauvais) felt that if we knew all aspects of how the "wheel turns" then the airline would survive deregulation, because we were all responsible for its success. You cannot possibly blame the other department, because you were THAT department. I learned, ticketing, baggage claim, reservations, commissary, ramp, pilot operations, flight attendant… I was well versed in how the airline worked. That taught me, when I got into entertainment, to learn every facet of it. It was second nature for me to want to learn it all. So when I learned how the actor role was to be played, naturally I needed to learn how to produce, how to direct etc. I do need to make a correction here. The Story of May Beaver was my 3rd attempt at directing. My first directorial debut was a One Shot Challenge for the A3F Almost Famous Film Festival in 2010. The film was called Fakebook. I worked alongside Russell Williams who was so kind to let me attempt this feat. We made the coveted "top twenty" at the A3F Almost Famous Film Festival, and had a successful screening. After that, I was approached by Rory Pierce, who asked me to direct his film short that he wrote called Questions, which had a successful screening at the Jerome Film Festival (founder Toni Ross) in 2013. It has just this month been submitted to several film festivals across the nation. So you see, The Story Of May Beaver was the 3rd attempt at directing (along side Enzo Treppa/written by Dave Karhl) and had a successful screening at Phoenix Comicon 2013. Seems to have been a good year, 2013!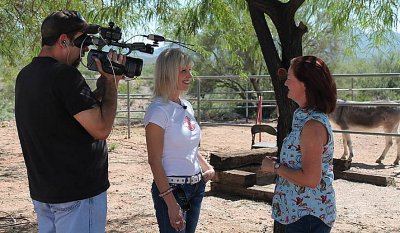 The Animal Rescuers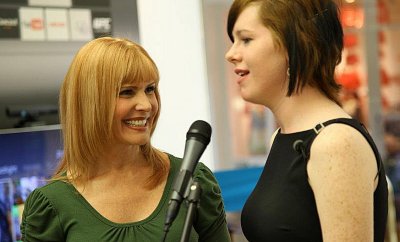 In Session
You also host two TV shows, The Animal Rescuers and In Session - so what can you tell us about those?
The Animal Rescuers, (brainchild of Cory Mandall and soon to be known as Global Rescuers) is about the people who do the hard work, and that is to "rescue animals". When someone turns an animal into a shelter, the animal rescuers, are at the other end of the shelter getting those animals fostered, until they find their "forever homes". It is "their work" and "their stories" that we feature. The four basic premises of the show are: "adopt, donate, volunteer, spay and neuter and be kind to all animals".
https://www.facebook.com/
TheAnimalRescuers
The show, In Session (founder Dwight Moss from Advision Media) is filmed on location at the Microsoft Store, in Fashion Square Mall in Scottsdale, Arizona. We interview, people who are innovative in technology, writers, singers, athletes, entertainers, or anyone who is currently working on a "positive project" and think their content will be informative and entertaining. The content of the show must appeal to college students (that is who our audience is). We air all episodes in college campuses across the nation on Trends TV. Since those on campus are our future, we choose topics that will enhance their journey to success.
https://www.facebook.com/pages/Advision-Media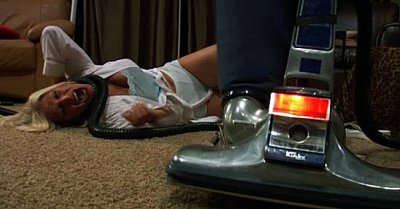 Vrooom!
Any other past filmwork of yours you'd like to talk about?
There are so many films that I have done and they all mean so much to me. The film short Vrooom!, original idea by Don Roff, directed by Jason Francois, means the most to me. Because it was the most original film I have done to date. The film was about myself and a vacuum cleaner. There were no other actors to draw from, no extras on set to give the mood or the feel of realism… just me and a vacuum. Director Jason Francois is a "one of a kind director", just like writer Don Roff. They to me are old school artists who give a project all they have. They write and direct the parts until the parts take on a life of their own, and don't need the human to continue to create for the parts. This film took on a life of its own at one point and drew attention and awards everywhere it was welcome. It is a timeless work of art that if given its full feature power, it would be a cult classic. Like most indie films, it lacked the funding to make this movie more than a short film. If the film Gods ever blessed me, I would want be to blessed with the ability to make this movie in its fullest form.
https://www.facebook.com/vrooomthemovie
Actresses (and indeed actors) who inspire you?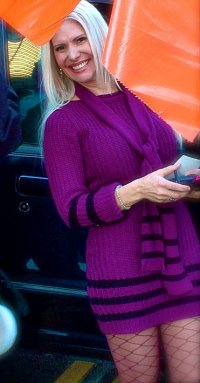 Feeling lucky ?
Want to
search
any of my partnershops yourself
for more, better results ?

The links below
will take you
just there!!!

Find Kimber Leigh
at the amazons ...

amazon.com

amazon.co.uk

amazon.de
Looking for imports ?
Find Kimber Leigh here ...
Something naughty ?
(Must be over 18 to go there !)

I am inspired by anyone who is making a conscious effort to make this planet we live on a better place. I am inspired by anyone who does extrordinary work, meaning they have overcome great odds to make their dreams come true. I am inspired by anyone who supports those making a difference and lending a helping hand. That is what inspires me… and if you can't find anyone to be inspired by "be the inspiration"!
Your favourite movies, and of course, films you really deplore?
I love any movies that have taken years to complete and a great amount of blood, sweat and tears to make. Anyone can make a movie these days, not everyone can make a great movie, a movie that will be remembered for years and years to come. The only thing in entertainment that I really deplore is reality entertainment (and I know the question was about movies but I have an opportunity here)… I mean I live in reality everyday. I see the drama everyday. When I want to be entertained, I want that entertainment to take me away from reality.
Your website, Facebook, whatever else?
https://www.facebook.com/kimberaleigh
https://twitter.com/Kimberaleigh
https://www.facebook.com/TheAnimalRescuers
email at kimberaleigh@mac.com
https://www.facebook.com/kimberaleigh
https://www.facebook.com/KimberLeighFanClub
Anything else you are dying to mention and I have merely forgotten to ask?
In closing, I never thought that being interviewed would be such a lengthly task, one that makes you go back in your timeline to see where you have been, to see where you are going, and where you are now. It is the "where you are now" part that amazes me most. I never realized my own hard work. I never realized the hours I have taken away from my family. I only know that the ride has been incredible, and I only know that I never thought I would get this far. I only know that I cannot give up until I hear my family say "YOU DID IT"
Thanks Vienna Austria... from my little corner of the world in Maricopa Arizona!
Thanks for the interview!