Your new movie Vesper - in a few words, what is it about?
A woman is afraid of her husband. Her nephew comes from Finland to give her some moral support. The threatening husband is coming for revenge. All three are shut away in a haunted house. Restless nights. Dark secrets. Something's wrong, why?
What were your sources of inspiration when writing Vesper?
I'm never looking to have sources of inspiration, I mean, I let ideas come naturally. However, for Vesper, I was inspired by Hitchcock who said that murder is more disturbing when it concerns family - that gave Shadow of a Doubt.
Do talk about Vesper's approach to the thriller genre for a bit!
I absolutely wanted to make a psychological thriller because this structure allows the audience to have some reflection, deep characters while be entertained and captivated by the suspense, the atmosphere. I wanted also to make a mix between a psychological thriller and a ghost story with a reality and fantasm structure to better understand the characters' psychology. And it was very interesting in a visual way to create closed doors with a deserted beach scene. It's a kind of atmosphere I love. I always care about making an experience, creating a visual and sound world. I worked a lot with the director of photography, Jean-Claude Aumont to make a strange, dark atmosphere with games of shadows. And, of course, Gréco Casadesus composed an unsettling score with a very mysterious main theme. I tried to make an immersive experience in this house, the camera needed to be close to the actors, so that you see what they really feel.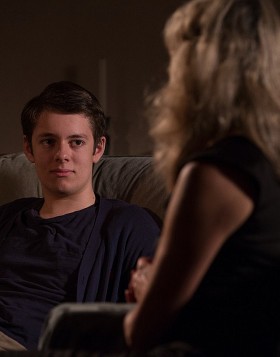 You of course have to talk about your wonderful exterior beach location for a bit, and what was it like filming there?
It was incredible to have a 3 miles deserted beach, especially one as-well-known as Deauville. This beach is famous and always too crowded with the festival event, the red carpet, the Planches which is an iconic promenade with beach cabins dedicated to Hollywood stars. During the scene, we're only two people walking towards our dreadful fate. The scene would show how Marge thinks of this world, feeling out of place, alone in the world…
What can you tell us about your overall directorial approach to your story and hand?
I know exactly what I want, I give a lot of information to the actors. But I think it's also important to let them do their thing, they're here to bring something personal to the role. It's important to me to make the environment warm and make them feel comfortable to do their best.
You also play one of the lead characters in Vesper - so what can you tell us about Christian, and what did you draw upon to bring him to life?
I had been looking forward to playing a ghost! There's very few actors who have the opportunity to play this kind of role, I loved it and I'd be ready to do it again. With Agnès Godey, we rehearsed many times to establish a very close relationship. I wanted him to be discreet, smiling, like someone who comes from nowhere, while being happy where he's right now.
What can you tell us about the rest of your cast, and why exactly these people?
Götz Otto is an incredible and very talented actor, he has new ideas all the time. As I am a huge fan of Bond movies, I've known him since I was a little kid and he scared me to death. He is part of my cinephilia. It was really the obvious choice. As for Agnès Godey [Agnès Godey interview - click here], I saw her by chance on the internet, it was love at first sight. They made a great pair!
Do talk about the shoot as such, and the on-set atmosphere!
The shoot lasted four days, so it was very intense. I had the chance to work with adorable people, as the shoot took place in my family house, there was a familial atmosphere, these four days were amazing.
The $64-question of course, where can Vesper be seen?
I hope a distribution company will distribute the short film. For the moment, Vesper is available on my official website keyvan-sheikhalishahi.com.
Anything you can tell us about audience and critical reception of Vesper?
I am very pleased that audience and a great majority of film critics are very positive. Sometimes, some people don't believe that I was only 18 when I made Vesper, and that I never took cinema classes.
Any future projects you'd like to share?
I want to continue to tell stories making films. I am working on both a feature and short film projects. We'll see!
What got you into filmmaking in the first place, and did you receive any formal training on the subject?
I have been passionate about cinema and telling stories since my childhood. I never actually received formal training on the subject, I am currently studying at Sorbonne Nouvelle University in Paris, which teach you theoretical lessons.
What can you tell us about your filmwork prior to Vesper?
I made an amateur movie each summer with my family members as the actors since I was 12 years. The last one I made in 2014 - I was 16 - was very appreciated by film professionals, festivals and even some celebrities, I received a lot of messages which encouraged me to carry on. I was satisfied because there was a very interesting atmosphere and story. It was something like a mix between a political, economic and psychological thriller. Then I made Vesper.
How would you describe yourself as a director?
I never forget my direction, highly concentrated on the technical (camera work, cinematography). I know exactly what I want, so I'm very demanding, this does not prevent to have fun at times. I'm doing everything I can to have the best atmosphere on the set, be closer to the actors. What I like is to play the music on the set, as did Sergio Leone - Gréco Casadesus composed the main soundtrack theme before the shooting. That way, both the actors and the technical team could better understand the atmosphere and what I want to see at the end of the day.
Filmmakers who inspire you?
Actors inspire me more than filmmakers, actually. But I love Alfred Hitchcock and Christopher Nolan.
Your favourite movies?
I have a lot of favourite movies, first all the films made by Hitchcock and Nolan and some made by Kubrick. Then, all the thrillers made in 1980s and 1990s, for example, Basic Instinct, No Way Out, Bodyguard, Blow Out, Die Hard, The Game, Léon: The Professional, Dead Calm, The Fugitive, Unfaithful, and Casino Royale, Dances with Wolves, Mulholland Drive, The Bridges of Madison County, Notting Hill, To Kill a Mockingbird too. That's pretty varied, isn't it?
... and of course, films you really deplore?

Feeling lucky ?
Want to
search
any of my partnershops yourself
for more, better results ?

The links below
will take you
just there!!!


Films which are so-called comedies but don't make laugh. So sad.
Your/your movie's website, Facebook, whatever else?
My official website: keyvan-sheikhalishahi.com
Movie website: https://vesperlefilm.wordpress.com
Movie Facebook: https://www.facebook.com/vesperlefilm
Twitter: https://twitter.com/Sheikhalishahi
Instagram: https://www.instagram.com/keyvansheikhalishahi/
Anyting else you're dying to mention and I have merely forgotten to ask?
I don't like at all CGI and everything that goes with. It's a real pity that a majority of blockbusters are fake and made by computer work. You don't watch a movie but a computer product, you wouldn't even have to use a camera. For Vesper, we worked with an astronomy club and the stars are all real, it's a lot more interesting.
Thanks for the interview!