Your movie The Formula - how did you get involved with the project in the first place? And what did you draw upon to bring your character to life, and how much of Katie Goebel did find its way into T.J.?
I first got involved when Joe Clarke [Joe Clarke interview - click here] and Tom Beecher pitched this idea they had for a film. I really loved the character of TJ and was committed to helping out in whichever way I could. To be honest, much of TJ Hansen is Katie Goebel and I think thatís why Joe was interested in me playing her in the first place. At first, I wanted to bring just a little bit of myself into the character and create a character that was all her own Ė just TJ, but after a while and during shoots, it just so happened that the two of us werenít all that different in any facet.
Somehow connected to the last question (maybe at least): As an attractive woman, you must have been subjected to some terrible pick-up lines - what were some of the best/worst/funniest?
Hahah! Well, first of all, thank you. Iím flattered. And second of all, itís funny that you say that. Every male on set, even the few of us females, spit some pretty mad game when it came to terribly ineffective pick-up lines. In reality though, thatís how we strangely formed a bond. We were constantly joking with each other. In a way, thatís how you find comfort in this weird group of strangers that are supposed to be a peculiar kind of family to you within a matter of thirty days. Anyway, Iím almost ashamed to say they worked.
ďAy, you girrrrrrl, whatchoo drankiní?Ē
ďCan I have yo babies?Ē
ďAre you from Tennessee? Because letís bone.Ē
ďDo you have a mirror in your pocket? Or is that a condomÖ ď
I wish I could keep goingÖ Theyíre all just so bad.
If you had "the formula" (or rather its female equivalent) at your disposal for 24 hours - would you use it?
Oh, absolutely. Without a doubt. Yes.
Let's return to the film as such: What can you tell us about your director Joe Clarke [Joe Clarke interview - click here], and what was your collaboration like?
What isnít there to say about Joe Clarke? Heís incredibly innovative. He has so many ideas and heís so young, itís only going to take him to bigger and better places. One of his most admired traits is his work ethic. In my experience, he stops at nothing to get the perfect shot, or delivery, or chemistry. He makes movies to tell a story, and whatever that story is, youíll see it through Joeís eyes Ė only because he wonít settle for anything less than his perceived best. In terms of our collaboration though, it was a memorable experience to say the least. If I said that we never butt heads, I would be lying! But had we not, TJ wouldnít have been the character that she turned out to be. We would be best friends and then worst enemies on a second-by-second basis, but thatís just how we work together, and I really wouldnít change it for the world. If I had to sum up our director/actress relationship in short, Iíd say itís a disastrously remarkable chemistry.
What can you tell us about the shoot as such, and the on-set atmosphere?
On set was, without a doubt, the best part of creating this film. And I feel very fortunate to be able to say that, because itís often not the case. I was always so excited to get to set because I couldnít wait to collaborate and learn from this awesome group of people. As a creative thinker, you find comfort in people who act and think like you. The on-set atmosphere was nothing short of this perfect realm where I felt like I really belonged. Is that too deep? You know, itís all good. Because Iíd like to think that everyone else felt the same way.
What got you into acting in the first place, and did you receive any formal training on the subject?
I started acting at a local theatre in my hometown when I was ten and fell in love with performing for people ever since. It wasnít until I was a freshman in college though that I took an interest in film. I grew up taking classes at the theatre in technique and monologues, but the summer of 2011 and 2013 I was trained in all aspects of film acting at the Young Actorís Studio and the New York Film Academy in Los Angeles, CA.
What can you tell us about your acting experience prior to The Formula?
My acting experience prior to The Formula consisted largely of stage acting in the theatre, you know, musicals and plays and such. I had landed some roles in feature and short films as an extra, but The Formula was my first lead.
Any future projects you'd like to share?
I just wrapped a short film and I am working on a feature as we speak. I wish I could share them with you! However, I am under contract not to until we drop publicly. But Iím very excited about these two! I hope they are projects audiences really want to view. I think people will find them particularly interesting.
Plus, I play Melanie in Thor Moreno's [Thor Moreno interview - click here] upcoming Revenge - A Love Story, which will be premiering this summer along with another one of his films, Helpless.
How would you describe yourself as an actress, and what are some of your techniques to bring your characters to life?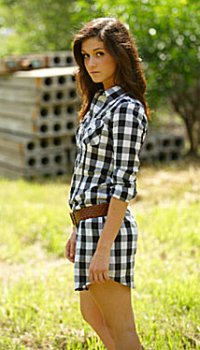 Feeling lucky ?
Want to
search
any of my partnershops yourself
for more, better results ?

The links below
will take you
just there!!!

Find Katie Goebel
at the amazons ...

amazon.com

amazon.co.uk

amazon.de
Looking for imports ?
Find Katie Goebel here ...
Something naughty ?
(Must be over 18 to go there !)

Iím not sure I would ever describe myself as an actress, so much as just a person with a really vivid imagination. I guess, we [actors] are all just really exceptional liars (jokingly). No, Iím really just your average individual afraid of failure just like the next person. So, when bringing characters to life, Iím constantly thinking of ways that I can incorporate characteristics of my persona and apply it to whatever situation I may be in within a scene. Iím constantly thinking, ĎOkay, how am I going to get through this? Whatís going to help me in this situation?í However, Iím not thinking as myself, Iím thinking as my character. I literally become that person, and from there itís somewhat of a natural occurrence.
Actresses (or indeed actors) who inspire you?
Jennifer Lawrence is actually my favorite human.
Your favourite movies?
Oh, my goodness. I have to narrow those down? Alright, Inglourious Basterds, Django Unchained, Good Will Hunting, Scent of a Woman, Weíre The Millers, We Bought a Zoo, Shawkshank Redemption, Mean Girls, Bridesmaids, Crazy Stupid Love, Silver Linings Playbook, Anastasia, just about every Disney movie, THE LION KING YES, The Blind Side, Step BrothersÖ Should I stop now? Iíll stop.
... and of course, films you really deplore?
I just saw the worst movie in the world. It's called The Bling Ring. Don't ever watch it. Ever.
Your website, Facebook, whatever else?
Twitter: @katie_goebel
Instagram: katie_goebel
LinkedIn: Katherine Goebel
Anything else you are dying to mention and I have merely forgotten to ask?
Nope! You pretty much covered it all! Job well done.
Thanks for the interview!