Your new movie Arkham Sanitarium: Soul Eater - in a few words, what is it about?
It's the age old story of a battling couple split by jealousy - who encounter the Old Gods of Lovecraft and must battle for their survival and sanity. You know, a boy meets girl meets Cthulhu kinda romance.
The title already suggests H.P. Lovecraft, and there are plenty of references in the movie - so to what an extent has Lovecraft actually inspired you when writing your movie? And other sources of inspiration?
The film is inspired by the mythos of Lovecraft - the octopeidal monsters, the madness of the empty space, the cultism and the dedication to madness and depravity. It's also a fun way to interpret H.P.'s body of work - devotees of his actual writing will be incensed by our tongue-in-cheek references, I am sure, but it's all in good spirits and with much love.
You've chosen the "found footage"-approach for Arkham Sanitarium: Soul Eater - to put it bluntly, why, and what are the advantages and challenges filming that way?
Found footage (FF) is a lazy genre - one that's been used and abused by many - and I wanted to do my wn take on it. Justifying the coverage is the puzzle. Where do these cameras come from? End of Watch - a big budget FF picture is bullshit in their treatment of this - but you fall through the screen and enjoy it for what it is. I'm a traditional filmmaker by calling with carefully selected compositions and setups so it was liberating (and maddening) to work with the conventions of FF. I break them in the last climactic moment as it's pretty insane - but by and large, I did a lot better than End of Watch.
Especially for a found footage movie, Arkham Sanitarium: Soul Eater contains quite a bit of dark humour and sarcasm - so what can you tell us about that aspect of your film?
FF can be sooooooo boring. You wait 40 minutes for a door to slam. I wanted to put the pedal to the metal from the get go - and add a shit ton of humor so the audience gets that we KNOW this isn't real life. I LOVE horror comedies like Evil Dead 2, Return of the Living Dead, Night Of The Creeps etc. - so this was a way to also pay tribute to those pictures as well.
What can you tell us about your key cast, and why exactly these people?
All of them are natives to the Chicago acting community and have personality and skills galore. Shannon Brown is very accomplished and the other lovely actors all work constantly. I cast Cthulhu once I met Jim Sorfleet. He's one of the only non-actors in the film (he's a great Dark Art photographer) - and I need my own Tor Johnson for this film [Tor Johnson bio - click here]. Everyone gave 100% and kicked butt - considering we shot the picture in 6 days, it's quite a testament to their preparation.
You of course have to talk about your location for a bit, and what was it like filming there? And how did you find it even?
My associate producer Dan Defore found the place. He's always looking for groovy spots for me to film in - and this was no exception. In Dekalb, IL he found an empty medical center that had been recently purchased and I toured the facility and came home and wrote the film to the location. Reverse engineering is critical to no-budget microcinema and here was a great diamond in the rough just waiting for our film to descend upon.
What can you tell us about the shoot as such, and the on-set atmosphere?
We all lived at the sanitarium using the local watermark for showers. Everyone had blow-up beds and separate rooms and my wife cooked and fed us all as we ran around day and night making this. Dekalb is a small college town 90 minutes from Chicago and we just camped out and bled, laughed and shot all day and all night. The cops showed up one night when we were in the bowels of the basement and they encountered our ghost girl, Anna (Shayla Sullivan) wandering the halls by herself. They were quite freaked out when they asked her who she was and she responded, 'I'm Anna - I'm a ghost.' Laughter ensued once we all finally figured it out.
Any future projects you'd like to share?
I just wrapped a mystery love story, Finding Hope that we are are editing as well as another FF picture, The Cropsey Tapes, which is another FF picture - it's MORE INSANE than Arkham Sanitarium: Soul Eater if you can believe that!
What got you into filmmaking to begin with, and did you receive any formal education on the subject?
Fell in love with the monsters at an early age and went to film school in the 1980's. I had a prolific and successful career in Canada as a producer/director for many years and moved to Chicago in 2008 to become a professor at Columbia College Chicago. I now pass on my DIY love to the next generation of filmmakers.
What can you tell us about your filmwork prior to Arkham Sanitarium: Soul Eater?
Arkham Sanitarium: Soul Eater is my 34th feature film so I've been doing this a while. Check out the IMDb credits and you'll see I have a long history of making much with less. I've worked for SyFy, Roger Corman [Roger Corman bio - click here], HBO, Lionsgate and others over the year so my chops are pretty good. It's what allows me to enter into a project like Arkham Sanitarium: Soul Eater and know how to shoot it efficiently and for the most impact.
During your career you have made commercial fare for studios, distributors and broadcasters as well as much more personal, independent films - so how (if at all) does your approach differ between the two, and how do studio-run and indie sets compare?
There are two types of cinema - MOVIES (which are the Hollywood, market-driven filmed entertainment vehicles) and FILMS (iconoclastic personal cinema with a specific world view designed for select viewers) and I approach both differently. With movies, I know I shall be micromanaged by producers and will have to toe the marketing line. With films, anything goes. As long as I can afford it (or am working with a distributor that allows it), I can make the most effective cinema based on my schedule, resources and time. Both have their benefits.
You have recently also dabbled into animation - so do talk about that aspect of your career?
I LOVE animation. My short films play around the world and are represented by Films Shorts International out of the UK. I keep on making them when I have time. I've got one half-baked right now based on an H.P. Lovecraft story.
You also teach filmmaking, right?
Yep, I'm a tenured professor at Columbia College Chicago. Part of my mandate is to be a working artist and my forays into micro-cinema and DIY feature films is a great opportunity to practice what I teach. The democratization of the cinema world through low-cost digital gear, internet streaming and multiple film festivals allows artists everywhere to show their work.
... and besides all of that, you also create the occasional comicbook - so obviously you have to talk about your comics for a bit?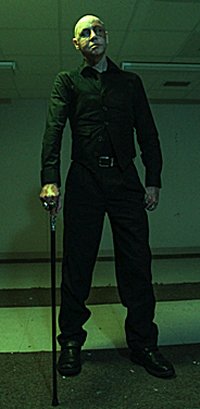 Feeling lucky ?
Want to
search
any of my partnershops yourself
for more, better results ?

The links below
will take you
just there!!!

Find Julian Grant
at the amazons ...

amazon.com

amazon.co.uk

amazon.de
Looking for imports ?
Find Julian Grant here ...
Something naughty ?
(Must be over 18 to go there !)

COMIX are my secret love. I see the parallels between that world and cinema as a very close one. Sequential art - the juxtaposition of panel by panel - in my mind is the same as SHOT + SHOT = MEANING which is a tenant of cinematic construction. We build story in cinema a frame at a time and that analogy is apt for comic work as well.
How would you describe yourself as a director?
I get out of the way of the actors. We discuss character, purpose and intent before shooting and then once we are rolling, I remind them of technical things, scenes that play before or after and keep the focused on what we the audience are seeing. I don't micromanage emotional response nor do I try and muddy the waters with less-than-specific directing. I use ACTION VERBS to activate their response if need be and tell them stories about their characters and let them do the heavy lifting.
Filmmakers who inspire you?
Sam Raimi, David Lynch, Wes Anderson - all have unique world views. Peter Jackson - the amount of work he does is phenomenal, the worlds of story he creates.
Your favourite movies?
King Kong (1933). The Phantom of The Paradise (1974) by Brian DePalma.
... and of course, films you really deplore?
Mostly stuff like The Notebook.
Your/your movie's website, Facebook, whatever else?
www.juliangrant.com is where to go and find out what I'm up to.
Anything else you are dying to mention and I have merely forgotten to ask?
Do more with less. Don't wait for others to give you permission to make your art. Be bold, be inventive. Challenge the status quo. Have a point of view and be dedicated in finishing your work. This is no equity in unfinished cinema.
Thanks for the interview!