Your new movie The Curse of Hobbes House - in a few words, what is it about?
The Curse of Hobbes House is a horror-drama. It centers around Jane Dormant and her estranged half-sister Jennifer. After their aunt commits suicide on the familyís remote run-down ancestral home, Jane and Jennifer are the last heirs to their familyís inheritance. When Jane and Jennifer reunite at Hobbes House, their familyís historic residence, to claim their share, their disdain for each other reignites. With the estate cut off from the outside by a powerful storm, Jane, Jennifer, her boyfriend Nigel, the groundskeeper Naser and the solicitor Saul are faced with strange creatures laying siege on the estate. Itís the undead, awoken by an ancient curse, hunting the living. Jane and Jennifer have to put their differences aside and work together in order to survive.
How did you come up with the idea for The Curse of Hobbes House, and what were your sources of inspiration?
I always wanted to shoot an out-and-out zombie movie again, because the fun on set of a movie like this is a very unique experience. While waiting for a bigger project to be greenlit, executive producers Malcolm Winter, Monika Gergelova and I were talking. I told them that screenwriter Wolf-Peter Arand and I were keen on shooting a lower budgeted film in between. They were game to put the finance together. Next Wolf and I bounced some ideas on what we wanted to see in this upcoming project. We wanted it to be female-led. Also, since Wolf and I have a soft spot for the political and social undertones of the zombie classics, we were pretty sold on having that in our new project as well.
What can you tell us about The Curse of Hobbes House's scriptwriter Wolf-Peter Arand, and what was your collaboration like?
I think Wolf is a very gifted writer and a great human being to be around. One of the reasons I love to work with him is that he doesnít always agree with my ideas. We challenge and push each other to get the best out of a project. It makes our collaboration all the more inspiring. I trust Wolf with my ideas and know when we are working on a story together that I will want to direct the resulting script.
This wasn't the first time you've worked with Wolf-Peter Arand - so what can you tell us about your previous films together, and how did the two of you first meet even?
Wolf and I first met about nine or ten years ago on a project called Vitro. Another producer friend of mine brought us both into the project and we loved the collaboration. We went on to work on more projects together. He co-wrote my feature 8 Remains, which I shot in 2016, and he wrote and co-produced 3 Lives, which was shot in 2017. Both films are psychological thrillers. We have several other projects in development too.
With The Curse of Hobbes House being a sort-of-zombie movie, is that a genre you're at all fond of, and what do you think makes your movie stick out of the crowd?
As I mentioned before, I enjoy zombie movies if they have a connection to relevant social and political events. I think whenever there's political turmoil in the world, horror and specifically zombie movies can be great vehicles to deal with it artistically. By the time we shot The Curse of Hobbes House Brexit was looming over Europe, Trump reigned in the US, and a number of populist movements were rising in mainland Europe. Refugees were drowning in the Mediterranean or were cooped up in camps at the EU borders, not to speak of the war in Syria and the many conflicts the world over. In The Curse of Hobbes House we tried to answer this push for division along racial, national and political lines by insisting that segregation is not only idiotic but leaves us more vulnerable and poorer on an intellectual, cultural and economic level. In the movie this was summed up and simplified with the message: Only unity will keep you safe. I think that this is as true of a message as ever. All the conflicts Wolf and I saw around us while writing and making the movie, still exist today. And because the pandemic dominates pretty much every aspect of our lives, it amplifies those conflicts, atrocities and grievances too. Which might pan out to be a good thing, because it forces our collective hand to act, to improve and actually change instead of shrugging it off, like we did so often before. Because we know whatís wrong, donít we? So, we either come together as a species, working on solving our issues, surviving and eventually prospering. Or we donít, in which case there will be more suffering and eventually extermination. Thatís how straightforward it is.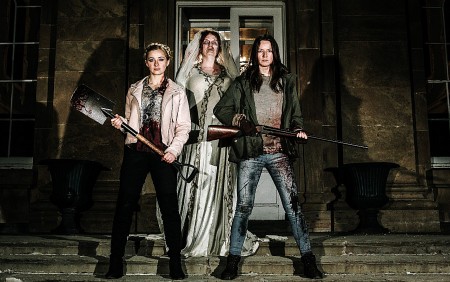 A few words about The Curse of Hobbes House's approach to horror?
With The Curse of Hobbes House we tried to stay away from bloodsoaked slasher horror. Whenever I watch a horror movie, or any movie really, Iím first and foremost interested in the psychological backbone of the story, and thatís a big part of our movie too. What does this bleak situation do with our characters and more importantly with the interaction between them? Thatís as much a part of the actual horror as the undead themselves, and thatís where the underlying political theme becomes most obvious as an analogy to people's interaction in the real world.
What can you tell us about your overall directorial approach to your story at hand?
For me, the strength of the two sisters was a very important theme in the movie. Itís embedded in the thrill and feel of this mixture of haunted house horror and classic zombie flick.
Do talk about The Curse of Hobbes House's cast, and why exactly these people?
From the beginning Wolf and I wrote the story with part of the cast already in mind. We worked with Mhairi Calvey on 3 Lives and we worked with Kevin Leslie on 8 Remains. Theyíre lovely, talented and our collaboration with them was great. So, asking them was obvious to us. Luckily both of them were game to work with us again too.
We then reached out to other actors to complete the cast. Mhairi recommended Makenna Guyler. Makenna convinced us with that raw strength and natural charm in her acting. She has an on-screen presence thatís simultaneously vulnerable and oozes physical resilience. To top it all up sheís one of the best humans weíve ever met. Again, Wolf and I were lucky that she was keen to join us.
The role of Naser, the groundskeeper, was harder to cast. Heís a complex, traumatised guy, not an easy part to play. Eventually the contact with Waleed Elgadi was made through our script editor and associate producer Clifford De Spenser. We talked to Waleed about the role. Heís such a prolific, experienced actor and a lovely person to boot. It became clear instantly that Waleed had a great grasp on Naser. So, for Wolf and myself there was no question that we had found the right actor for the job.
In general we had a really good time on set with all our actors and that made the experience truly special.
You also have to talk about your location for a bit, and what was it like filming there?
The location in The Curse of Hobbes House is almost a leading role. When we were on a recce in Bristol and the surrounding area, we really liked Kings Weston House, an old house designed in the early 18th century by architect and dramatist Sir John Vanbrugh. With a smaller budget you always need a bit of flexibility and often work around obstacles, especially when it comes to locations. You often have to adjust the script quite a bit to the location available. With Kings Weston House little adjustment was necessary. It ticked a lot of our boxes during our recce and we were able to get a good deal because we agreed on working around Kings Westonís normal events. It sounded good at the time, but during principal photography I came to regret that decision a bit, I must say. Somehow there was an event on almost every day and we had to adjust our shooting plan around it on the fly. We had everything from wakes to student parties to childrenís birthdays, weddings, and business events. What can you do? Thatís an independent horror movie set for you. We winged it and because our cast and crew did an amazing job and because the Kings Weston crew helped and supported us wherever they could, we got it done.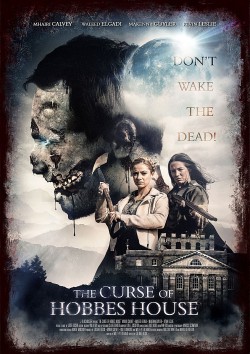 What can you tell us about the shoot as such, and the on-set atmosphere?
As mentioned before the cast was fantastic, on screen and off screen. Easy going, professional, talented and creative. Thatís all you can ask for really. When we are putting together our crew and cast for a production itís important to us to push for gender-balance and diversity. It was the same for The Curse of Hobbes House. Itís a political question of course, but also a question of reason and conscience. Since Wolf and I are in positions in which we can evoke necessary change, however small in the grand scheme of things, we feel obliged to push for it. Sometimes we have to compromise and have to cut down on our ideal in order to make the movie happen, but overall we usually manage to make it work. Also, in our experience, gender-balance and diversity has a positive effect on the on-set atmosphere. We certainly had a lot of fun overall and like to think thatís true for everyone else as well.
The $64 question of course, where can your movie be seen?
The US release for DVD and VOD is scheduled for December 15th 2020. Also The Curse of Hobbes House will be available in all bigger outlets in the States. A release in the UK will follow in Spring 2021. Of course due to the current situation things might have changed by then. You can check out our website and sign up to our newsletter to stay up to date on when The Curse of Hobbes House will be released in your territory: http://thecurseofhobbeshouse.com
Anything you can tell us about audience and critical reception of The Curse of Hobbes House yet?
It has been good so far. We had a few selected reviews upfront and they have been all very positive. Same goes for the test audiences we showed the movie to. All this can only tell you so much, though. We just have to wait and see. By mid December weíll have a better idea, if the general audience agrees.
Any future projects you'd like to share?
Like other artists Wolf and I were hit hard by COVID19 business-wise. Shoots have been postponed and no one really knows when business will go back to some sort of normality. But weíre keeping our heads up and our hands busy. Weíre using the time to deepen our connections with the German film industry. Recently we were granted development funding for two projects by Nordmedia, the Northern German funding body, and are currently working on the scripts. So thatís exciting obviously. Still, we canít wait to be back on set. The next projects that will be going into production are probably Hobbes House: The Necromancer, the sequel to The Curse of Hobbes House, and Lyraís Wish, a Christmas adventure for the whole family.
Your/your movie's website, social media, whatever else?

Feeling lucky ?
Want to
search
any of my partnershops yourself
for more, better results ?

The links below
will take you
just there!!!


Youíll find all our projects, released or in development on our website:
For the latest updates check out our Facebook and Instagram page: https://www.facebook.com/JBlockbusterMovies
https://www.instagram.com/jblockbuster
Anything else you're dying to mention and I have merely forgotten to ask?
Donít fall for the liars and charlatans, but listen to the voices of reason and science. Yes, sometimes the truth is inconvenient. Times are tough and scary and everybody is longing for some easy fix. But reality doesnít work like that. Itís not a movie script. All we can do is wear our masks, stay calm and look out for each other. Only unity will keep us safe.
Thanks for the interview!