Your new movie All 4da Green - in a few words, what is it about?
A paper-chasing young hustler trapped in a world of money, sex and mayhem.
Now how did the project come into being in the first place? And coming from a music background, what made you decide to go into filmmaking, and did you receive any formal training on the subject?
With this project I wanted to outdo my last album. To sell records is a great feeling but the game has changed. I used to sell records, now streaming is the new generator. I wanted to visually tell my story. I also wanted to do something that sets my work apart from others.
I had no formal training. It was a dream that turned into a working process. It was hard, but I knew that we grow the most through our struggles. It makes us stronger.
With All 4da Green being a gangster movie, is this a genre you're at all fond of, and some of your genre favourites?
Yes. I knew my first film was going to be gangster. Some of my favs are Scarface, Belly, Casino, and Streets is Watching, to name a few. Gangster movies influenced my life. I always liked movies where I can relate to the time or main characters.
(Other) sources of inspiration when writing All 4da Green, and was any of the movie based on personal experience?
The whole structure of my movie is based on my life, difficult situations and or my environment. Thatís why even though itís tightly budgeted, people like it because of the realness.
What can you tell us about your directorial approach to your story at hand?
At first we just wanted to put a bunch of skits together in story form and place it on YouTube. Then once we started shooting and adding cast members, we had to make the story make sense. Thatís when I actually had to make a script and learn more about filmmaking. I was learning as I worked.
A few words about your co-director Skip Haskins, and what was your collaboration like?
He actually hates that nickname but itís an inside joke. I feel like it puts him in a class of directors like ďSpikeĒ Lee. Skip aka CJ or VA-C, I consider him my little brother. Heís so selfless when it comes to this dream of mine. He doesnít care about the spotlight. Thatís why he is willing to work the camera. I pretty much was teaching him camera operation as we worked. Heís picked up on things really well and is really reliable.
Do talk about All 4da Green's musical score - and what came first, the music or the film?
The music came first. Then I started to film off of the music. Most of the scenes were based around the music. Then the project became larger than expected and I ran into some would-be copyright issues with a producer. So to solve those problems I connected with my brother and executive producer Brian ďAce ArsonĒ Wheeler. He blessed me with fill-in beats to replace the other producer's songs. Lastly I played a lot of the keys and placed the whole score myself. Iíve never played the piano or made beats before, but GOD gave me the gifts I needed to make it happen.
You also play the lead in All 4da Green - so what can you tell us about your character, what did you draw upon to bring him to life, and have you written him with yourself in mind from the get-go?
Geno is I and I am Geno. I really am just being myself. To never have written a film before, I found it easier to do and talk about things I know the most. From my relationships to my mother having breast cancer. I wrote the story on those emotions.
Do talk about the rest of All 4da Green's key cast, and why exactly these people?
I have the greatest cast because they supported the dream. Most of the people in it I have had personal relationships with prior. The RnbadGuy and I have been partners since high school. Heís super-creative and helped on screen and behind the scenes. Xavier Jones sr and DevinďD-LoveĒ McNeil, we all grew up together. Paco Loko played a huge role as Jimmy. Pacoís role grew because he actually showed up and played his role well.
When It came to the females I was very selective. I met Kierra Lavixx one night at a gentleman's club. She was super attractive and I felt we would have good chemistry. With Candi it was the same way. She was a heaven sent because she fit the Lola description perfectly. I could see myself in real relationships with them. Plus they are both talented individuals.
What can you tell us about the shoot as such, and the on-set atmosphere?
We had fun on set. Sometimes maybe too much. Lots of smiles and trees :)
We had outline scripts but did a lot of improv within the lines of the story.
I also had a lot of no-shows that altered the story's layout. That was one of the most frustrating parts. The main story was deeper and more thought out but in the end I had to make chicken pie out of chicken soup. Or however the saying goes.
The $64-question of course, where can All 4da Green be seen?
It's currently available on Tubi TV and can be found on any streaming device.
Anything you can tell us about audience and critical reception of All 4da Green?
My core audience has been great. Iíve received many words of encouragement and support. We sold out 2 of our 3 opening weekend theater shows and have maintained a 9+ IMDB rating since we released in January. I also feel that I have inspired many. This body of work has shown what hard work and drive can provide. Iím a small guy from a small town but made it to the big screen. Impossible is nothing. Keep going!
After having mounted All 4da Green, could you ever persuaded to make another movie, and/or any future projects you'd like to share?
Yes. This is only the beginning. I have written 2 more stories. Now I just have to write the screenplays for them. One is suspenseful family drama and the other a horror-thriller. Iím excited about both.
What can you tell us about your musical background, your style, your inflluences and the like?
I can remember making my first rap in kindergarten. I was raised and influenced in the 90s and 2000s. My style comes from those eras. Michael Jordan, Allen Iverson made me want to play ball. Jay-Z, DMX, 2pac and Biggie made me want to rap. BMF, mafia families, and hood guys in my environment with money made me want to hustle. All of those influences created Sporti-G.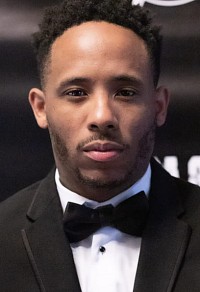 Feeling lucky ?
Want to
search
any of my partnershops yourself
for more, better results ?

The links below
will take you
just there!!!


How would you describe yourself as a director?
Creative and collaborative. I know what Iím looking for, but I am always open to characters inputs.
Filmmakers, actors, musicians, whoever else who inspire you?
Spike Lee, DJ Khaled, P. Diddy Love Combs, Ct. Fletcher, Ronnie Coleman, Master P, Sam Walton, Kanye West, West Coast pimps, Eastside hustlers and leaders. The list can go on but lastly, my goals inspire me the most.
Your favourite movies?
Belly, Scarface, The Big Combo, Gotti, He Got Game, Killa Season, Fridays, the old SuperFly, just to name a few. Iím also fond of Marvel studios and Dragonball.
... and of course, films you really deplore?
Anything male bashing.
Your/your movie's website, social media, whatever else?
Official Website: https://a4dgmovie.com
Google: All 4da Green
Anything else you're dying to mention and I have merely forgotten to ask?
To all of the readers, go watch All 4da Green. Then go give us a fair rating/review on IMDb.
Thanks for the interview!