Your films usually tend to be a mix of horror or erotica. Why do you think the two mix so well?
Well, I could state the obvious fact, that being classed as a horror fan opens the door to allow you to view a lot of naked people and sex without actually falling under the pervert category. You know, kind of like the whole test proven excuse: "I read Playboy for the articles" ...(Laughing)
How would you describe your directorial approach in general, and directors who inspire you?
Starting out was a lot of trial and error. Several Film Directors and TV Directors told me "You can learn all about directing, but the only way to learn to direct, is to do direct." They were right. As far as directors that have inspired me, I would say number one is John Carpenter. Simply because he has a real talent for scare and tension build up. He doesn't need to play on the in your face gore.
Before you were making movies, you were making music, right? Would you like to talk about that period of your life for a bit?
Honestly, no.
You went to broadcasting school to learn filmmaking. How well did that prepare you for the actual job?
Best question ever asked...
So here is the fact: IT DIDN'T. Best advice I can give to anybody is this: Obviously, you need to research and study, but all that can be done on your own. You really don't need to blow money for schools and courses which PROMISE you NOTHING. I learned more on my own, studying on my own, and opening my own doors, than ANY school could have ever offered to me - hell, I didn't even finish the Broadcasting, but I did stay at ABC.
What can you tell us about the very first film you've directed, the things you have learned from it, and would you do anything differently nowadays?
The first film I ever directed was a pretty tough experience. I had investor money in my pocket, I had the cast, crew, settings, script, you name it. The part that I forgot was, I don't really know what I am doing (laughing), I had little "hands-on experience" at that point, and I had an inexperienced editor. I have never admitted this before, but I was terrified! The first REAL film that I made was called Creepy Clips, which turned out to be an erotic trilogy.
Quite a few of your films are anthology movies, including Horror Hotties, the Goth Girls- and the Creepy Clips-series. What made you return to the format quite as frequently?
Quite honestly, TIME. I love Rod Serling's Twilight Zone, and I didn't want to just suck up additional time by showing nonsense, or building up "big" plots, because let's face it: I'm a Producer as well, I had to consider what was making the money... that money came from T&A.
And being that it was softcore / bondage, I knew that I could run a good amount of it for time issues, but I knew that after a while the viewer would also grow tired of seeing the girls "dance around" and not actually do anything. So, I found a format that worked for me, and stuck with it.
Island of Torture is more of a straight horror movie than your other films. What made you decide to tone down the sexual content for a change, and how would you describe your approach to horror in this one, as opposed to your other films?
Originally, the lead was meant for a female. However, I changed the lead to a male role for Shawn Titus, simply because he was reliable, and I knew I could count on him. I wanted to do something a bit different anyway, something a bit gory for once - think I was too into watching British horror film called Horror Hospital at the time.
The mention of an Island of Torture-remake with the new Doorway Productions Studio-girls did come up. Of course, if that were to happen, it would really have more sex, bondage, fetish, and horror than the gore.
I'd like you to say a few words about some of your films (often selected merely by the strength of their titles I have to admit)?
The Creepy Clips-series?
It was a fun series to do, and I tried to keep it as comicish (for lack of a better word) as I could.
The Goth Girls-series?
This was my highest seller. I based all the stories on the title Goth Girls. Again, it wasn't about making the best movie, it was about making the money. Here is a PRODUCER FACT I never shared with anyone about Goth Girls... I put $32.22 into making this movie, it generated over $10,000.00 - but that cost would have went up if I didn't own my own equipment too.
Horror Hotties?
This was made for fans when we were in between releases and new productions.
Torture Toys?
I did this one for fans of my work and had an exclusive release through DVD Empire at the time. It was made with my experimental grindhouse-look (now perfected by new director Veronica Blake [Veronica Blake interview - click here]) for several of the Adult Films currently on the market.
Slavez of Horror Land?
I think that every filmmaker has a movie that they are not proud of - well, this is mine.
Any other films of yours you'd like to talk about?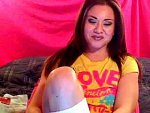 Veronica Blake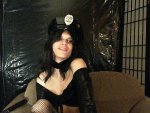 Joss Tarnez
I would rather mention the Girls from the "new" Doorway Productions... In such a short amount of time,they have long surpassed what I have done in way of fans and popularity.
You have recently left your own company, Doorway Productions. In a few words, why?
On occasion I do offer my time to help the girls run the new Doorway Productions. My final run with the company was what I wanted to do all along: get a Television Show... and I did! The Interviewers aired on The CW Channel in Youngstown. With the help of co-host Chloe the Biker (aka Veronica Blake) and Joss Tarnez (concepts, co-producer uncredited) [Joss Tarnez interview - click here] I ran the first 11 episodes, and ended it.
As far as I know, you still write for Doorway Productions every now and again. Would you care to talk about those movies for a bit, and to what extent has your collaboration with your former colleagues changed after your departure?
Well, I don't exactly write even... I helped my cousin Joss with the Adult film Michelle. And now and then I make a contact, or help Veronica with editing, if she needs it. For example, In Captivity is on the Adult Drive-In Double Feature... My version was Kept Secrets. This is the only title that I offered up to them to: insert scenes, and remove scenes to start them off with a "ready-made"-title, so to speak, and they did it beautifully!
As far as anything changing, my life RULES now! I'm surrounded by Porn People... Veronica is a half Native American knock-out with nice floppy tits, and let's face it, my TS Cousin, Joss, is freakin' HOT! - Cousin or not!
JUST KIDDING, everything is great!
Any future projects you'd like to talk about?
I do have a pilot episode, episode list, posters, art work, and pitch bible for a Sci-Fi television series, which I have turned over to Veronica and Joss. I would love to talk about it, but I don't want to give away any of the plots, or character descriptions.
But I will say this, if this ever gets made, I am quite confident that it will be a success. If the girls decide to make it into an Adult Film instead, I'm sure it will be quite popular in that market as well... Of course, if they do that, most of my character development, plots, and everything else won't be quite so visible... (laughing)
When it comes to filmmaking, you have pretty much done it all, directing, writing, producing, editing, scoring and whatnot. Which aspects of making a movie do you prefer, which could you do without?
I loved, and always will love Producing, Writing, and Editing. And gearing up for Production was always fun as well.
Directing was okay, but I did a lot of Directing without actually "Directing". Anybody that has ever worked with me in the past will know exactly what I am talking about... Everybody that I worked with in the past did such a wonderful job, and I wish that I could have made them millionaires from their work they performed for me.
Sex or no sex, pretty much all of your films are of the horror variety. Is this a genre especially dear to you, and why? And what kind(s) of horror do you actually prefer?
Well, I was a Horror Kid growing up... Actually, I was more of a Strange Kid growing up.
I loved the classic Universal Monsters, and The Twilight Zone were my favorites. When I was a child, I would dress up as Dracula, The Wolf Man, and even Psycho, and run around the neighborhood playing. My childhood friends would come over and we would play Alien or The Headless Horseman. Ironically, most of them were Girls.
Your favourite movies?

Feeling lucky ?
Want to
search
any of my partnershops yourself
for more, better results ?

The links below
will take you
just there!!!

Find Josh Maldonado
at the amazons ...

amazon.com

amazon.co.uk

amazon.de
Looking for imports ?
Find Josh Maldonado here ...
Something naughty ?
(Must be over 18 to go there !)

I have a several that I could watch repeatedly,
1. Fright Night (Original and Best)
2. First Blood (John J. Rambo)
3. The Fun House (Tobe Hooper's Terrorific)
4. Airplane1 & 2 (That's right)
5. Halloween 3 (Believe it or not)
6. Blood Diner (Funny Stuff)
... and of course, films you really deplore?
Anything by Eli Roth or Rob Zombie (just kidding). Anything by Rob Zombie or Eli Roth.
Your website, Facebook, whatever else?
Nothing for me... The girls have plenty though.
Anything else you are dying to mention and I have merely forgotten to ask?
Well... you know I am dying to promote the Girls here, right? So, if you don't mind... (for persons 18 and older)
New Doorway Productions films can be found at: http://www.fetishmovies.com/video/204112/Michelle/
Veronica Blake can be found at: http://www.mygirlfund.com/FoxyNative
Joss Tarnez can be found at: http://www.xtube.com/community/profile.php?user=JossT
Thanks for the interview!
Thank YOU for the Interview... God Bless!