Your film Nightmare Box - in a few words, what is it about?
Nightmare Box is a strange, fantastical, psychological thriller about a woman that wakes up in a room with no idea who she is, where she is, or how she got there and must unravel the mystery of her identity before the room destroys her. Along the way, she meets a host of bizarre and frightening characters as she tries to put the puzzle pieces together. It's definitely a mind-bending journey that is sometimes scary, sometimes dramatic, and not at all what people are expecting.
How hard/easy was it to get a film based on a bizarre story like this off the ground?
It was by no means an easy feat. Trying to convince people to finance a movie that takes place entirely in one room with a lot of strange things going on is like climbing a mountain covered in snow. I've had the Nightmare Box script around for years and knew it was one of those movies that I really wanted to make, but it was going to take the right group of people to get it made. So every once in a while I'd pull it out and pitch it around and everyone always wanted something more mainstream. And then in 2011, I set up Highland Myst UK with Carl Kirshner in England and he wanted our first movie to be something highly imaginative and artistic and that could be done on a low budget. We pulled out Nightmare Box and in a matter of months the financing came together.
Now this may sound like a silly question based on the subject of the movie - but was any of this based on personal experience, and other inspirations for Nightmare Box?
I canít say any of it was based on personal experience, but Nightmare Box was definitely inspired by true events. The idea for the script came to me back in 2003 when I heard a news story. The news story got my mind reeling with ideas and slowly Nightmare Box grew out of it. Unfortunately, I canít talk about what the news story was without giving away the movie.
What can you tell us about your co-writer Carl Kirshner and your collaboration with him?
I met Carl years ago when he submitted some scripts to Highland Myst. I loved his writing and weíve been working together for a while. Weíve written a couple of screenplays together that weíre working on setting up. With Nightmare Box, I had written the original draft and then would take it out every year or two and do some revisions to it as I continued growing as a writer. Once we knew we were making it in England, I turned the script over to Carl to do a lot of work on the dialog. He added some fresh dialog to places that needed it and did a lot of rewriting of the dialog to make it right for the way the British actors would speak. Once he had the dialog down then we came up with a few more scenes to fill out the rest of the story. It was a great experience.
What can you tell us about your directorial approach to the subject at hand?
This was the first time since my first two movies where I had complete creative control on a movie. Much of the work Iíve done has been work-for-hire so there were certain creative concessions that had to be made to fit the needs of the companies hiring me. But with Nightmare Box I was making this on my own terms Ė and my producing team of Carl, Matthew Tompkins and Charles Burnley backed me on this. I made this entirely as a Jon Keeyes movie without thinking about other movies, how they were made, or what someone else might have done. I followed my gut and instincts every step of the way, allowing the movie to unfold organically. We had an amazing team of actors and crew that threw themselves into the movie and brought so many wonderful ideas so I stayed out of my own way, supporting the imagination of the movie as it came together. It was a really liberating experience as a director.
A few words about your lead actress Johanna Stanton, and what made her perfect for the role?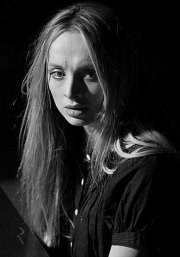 Johanna Stanton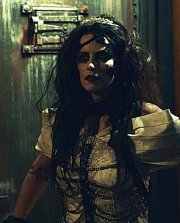 Debbie Rochon
Jo is just amazing. Sheís probably one of the most naturally talented actors Iíve ever worked with. We auditioned a lot of people, and I had certain preconceived notions in my head of how I wanted Woman to be, and Jo not only surpassed those ideas but also brought some wonderful personality traits to the table that I wasnít expecting. The thing that made her perfect for the role was two-fold. The first - and most important thing for a movie like this - is that you instantly care about her. She has a quality about her that makes people like her and care about what happens to her. And second, she is a truthful actor, which means that you believe her every moment of the journey. She holds the truth and feelings of the character in every pore of her body, in the soul of her eyes, and you never doubt anything that she is experiencing.
Nightmare Box also stars horror icon Debbie Rochon, with whom you have worked before, right [Debbie Rochon interview - click here]? Why her, and what was your collaboration like?
Getting to work with Debbie again was one of the true joys of making this movie. I think Debbie and I click and feed off of each other creatively in ways that a lot of people canít comprehend. From the first day I wrote Nightmare Box I knew that I wanted Debbie to play the role of Wife. She has a way of channeling her inner crazy that was made for this role. With Debbie, we usually spend a bit of time talking about the foundation of a character, how the character might react to certain situations, where the character has come from, and then I turn Debbie loose. A lot of time my direction to Debbie was ďgo for itĒ and I knew that I could trust Debbie to really tap into the character and drive her to places that would up the ante of the movie and keep all the actors present and on their toes.
What can you tell us about the rest of your cast?
We had such an amazing cast. I could say something great about every person involved in the movie. I was fortunate that Matthew Tompkins and Hayden Tweedie were able to come over from the States to be in the movie. Iíve worked with Hayden since she was eight years old and audiences have watched her grow up in my movies. Sheís one of the finest talents Iíve ever encountered and the brilliance of her performance as Innocence canít be stated enough. Matthew and I have worked together a lot over the years and I knew he would be great as the villainous Husband Ė and he nailed it. Matt is one of the nicest guys you can meet but when he puts his bad guy hat on, heís truly vile. And the great thing about Matt is that he doesnít have to go over the top, or scream and yell, or do any of the clichť things to make a character evil. You just look into his characterís eyes and you know this is a guy that would tear your soul out just for the fun of it.
All across the board I was surrounded by amazing actors. Carl Kirshner brought a few people he had worked with before such as Sal Esen, Scott Christie, Nicholas Ball and James Simmons. All incredibly talented actors that fully immersed themselves into their characters. And then we worked with some new talent to us Ė Katie Kensit, Claire Jared, Laura Whitehurst and Craig Bramley. They all embodied their characters and are so much fun to watch on screen. I definitely believe that when reviews for the movie start coming out, the quality of acting is something that will definitely shine.
According to my information (and I might be wrong), Nightmare Box is the first film you have shot in the UK? Why there, and what was it like filming abroad? And what can you tell us about the actual shoot and the on-set atmosphere?
You are correct. This was the first movie Iíve made outside of the United States. Doing Nightmare Box in England sprung from my relationship with Carl Kirshner who spear-headed that move. Over the last ten years Iíve been told by a lot of people Ė including my wife who lived in England Ė that I have a very European sensibility when it comes to telling stories and I wanted to test that theory. When the opportunity to make this in the UK came along, I jumped at it. I have to say, I absolutely loved it. There is something quite theatrical about Nightmare Box and because of the rich theatre history in England, the cast and crew tapped right into that. We had some very experienced people working on the movie and some people that are so talented yet fairly new to the industry. Across the board from top to bottom, every person gave everything they had to make this the best movie possible, and when people like this surround you; it really ups your own game as a filmmaker. The atmosphere was one of camaraderie and passion Ė everyone having fun, laughing and at the same time being fully committed to the movie. It was one of the best experiences Iíve had.
As we speak, Nightmare Box is still in post production, right? Any idea when and where it's going to be released onto the general public?
Nightmare Box is about 95% completed. If everything stays on track, weíll be completely done with the movie in October. Iím really excited for everyone to see it. Itís a movie that I think will do well at film festivals so as soon as possible weíre going to start taking it out to the festival world and run it there through the spring before we start actively selling the movie. I think itís reasonable to say that Nightmare Box could be available in regular release by this time next year.
Let's go back to the beginnings of your career: What got you into moviemaking in the first place, and did you receive any formal training on the subject?
In the traditional sense, I came into filmmaking later in life. I never had any formal training and never really believed that I would end up directing movies. In my later twenties, I started working as an entertainment journalist and during this time tried my hand at screenwriting and wrote American Nightmare. I had given it to my friend Brinke Stevens to read, thinking that I might try selling it, and she suggested that I go out and make it. And suddenly it was like a door opened up and the universe said, ĎHereís what youíre supposed to be doing.í So almost a year from the day I decided to make it, we were rolling cameras.
American Nightmare was great to make. It was my first movie and we made it with a lot of friends that werenít in the movie industry but now Ė because of that movie Ė have built careers out of it. It was also the first time I worked with Debbie Rochon. She and I knew each other because of interviews I had done with her, and through some articles she did for the magazine I worked at, and after getting to know her and her movies, I knew she had to play the serial killer Jane Toppan. And talk about a killerÖ Debbie turned Jane Toppan into an iconic horror movie villain.
Other movies of yours you'd like to talk about?
Itíd be nice to talk about every movie Iíve made but Iíve been blessed to have made quite a few at this point. Some have done well and others not, but I try to do the best with everything I have available to me. The last few years have been really exciting and I feel like Iíve taken another step as a filmmaker. Besides Nightmare Box, I also got to make a Victorian era murder mystery with a vampire twist called Phobia. I shot that one a couple of months before Nightmare Box and itís just been completed. It stars Erica Leerhsen from the Texas Chainsaw Massacre and Wrong Turn 2. Itís just now starting to get sent out to distributors and sales agents. I also made a short film called The Mechanical Grave with Matt Tompkins and Charles Burnley. Itís a steampunk, horror, sci-fi story set in 1895. The short has gotten a ton of attention and has been playing at conventions all over North America, so Matt, Charles and I are now developing it into a six-hour mini-series that weíd like to get sold to one of the networks.
You've also worked on a handful TV- and webseries like Inspector Mom and Throwing Stones - as a director, do you approach these any differently from your stand-alone features and shorts?
Yes and no. When I stepped into both of those shows, they had already been established so you have to approach them in a way that keeps it consistent with the series. But, in both cases, the producers gave me a lot of latitude to bring my own creative style or stamp to the episodes. I have to say: directing both of those was a lot of fun.
A few words about your company Highland Myst Entertainment?
I established Highland Myst in 2000 with Richard Carey when we were making American Nightmare. I didnít really think of it becoming a brand at the time. We just established the company to make the movie. But with the success of American Nightmare, Highland Myst just kept growing and growing. Under the banner weíve been able to produce more than a dozen projects, some of which Iíve directed and others where we were involved in some capacity as producers. The company has grown in reputation and that also allowed us to branch out with Highland Myst UK.
Most of your films are of the horror variety. A favourite genre of yours, and why (not)?
Horror, thrillers and the like are definitely my favorite genres. I grew up loving horror movies more than just about any other genre. I love the fact that horror can evoke so many different primal emotions and being able to play with those as a filmmaker is a dream come true. Iím also very interested in psychology, particularly the darker aspects of our psyches, and horror is a great playground for that.
How would you describe yourself as a director?
I think Iím an actorís director Ė or so Iím told. I think every good movie begins and ends with a good script, but as a director the actors are of paramount importance to me. I want to be able to communicate with them in a way that they can understand and I want them to always feel that they can go out on a limb and try new things and Iíll be there to catch them if they fall. When I was first starting out I would hear actors talk often about directors they worked with that were only concerned about the camera and the visual elements and didnít seem to care one way or another about the actors and giving them direction, so I took it upon myself from the very beginning to do the best I can to always support the actors.
Filmmakers who inspire you?
The list could go on and on, but Alfred Hitchcock would be the most influential director. Iíve loved his movies for as long as I can remember and Iíve spent much of my life studying his movies, his style of directing, and how he constructs a movie. After Hitchcock, other directors that most immediately come to mind include Steven Spielberg, Tony Scott, John Carpenter, Tim Burton and John Sayles. Each have very different styles of filmmaking and yet I love nearly everything that they make.
Your favourite movies?
John Carpenterís Halloween, Psycho, Rear Window, Beetlejuice, Edward Scissorhands, The Hunger, Black Hawk Down, CabaretÖ Iím really not hard to please when it comes to enjoying a movie but these are some of the ones that I can watch over and over again and I never grow tired of them.
... and of course, films you really deplore?

Feeling lucky ?
Want to
search
any of my partnershops yourself
for more, better results ?

The links below
will take you
just there!!!

Find Jon Keeyes
at the amazons ...

amazon.com

amazon.co.uk

amazon.de
Looking for imports ?
Find Jon Keeyes here ...
Something naughty ?
(Must be over 18 to go there !)

There are plenty of movies I havenít liked but I donít like sharing them. Whether a person likes or dislikes a movie is completely subjective. Even if I donít like a movie, I still want to applaud every person who had the guts to go out and get a movie made.
Your website, Facebook, whatever else?
Highland Myst Entertainment - http://www.highlandmyst.net and http://www.facebook.com/HighlandMyst
Facebook - http://www.facebook.com/jon.keeyes
Twitter - http://www.twitter.com/jonkeeyes
And, of course, the websites for Nightmare Box are http://www.facebook.com/NightmareBox and http://www.nightmareboxmovie.com.
Anything else you are dying to mention and I have merely forgotten to ask?
I just wanted to say how incredible our crew was on Nightmare Box. I worked with an amazing group of people who are incredibly talented. I wish I could talk about all of them, one by one. Nightmare Box couldnít have been made without all of these people and Iím looking forward to being able to bring them all back together one day for another movie.
Thanks for the interview!