Your upcoming film Polypore - in a few words, what is it about?
There are really two plot-lines, the first of which follows the protagonist who, to his great surprise, awakens one morning with the ability to read minds. The second plot-line follows the Rein Corporation, a pharmaceutical company that is trying to get people sick in order to sell them medication. When the protagonist tries to find out why he has telepathy, the plot-lines intersect.
Polypore seems to be highly critical of the pharma-industry. Where did the inspiration for that come from?
To be honest the pharmaceutical industry just seemed like an easy target. The Umbrella Corporation was also an early inspiration.
The plot of Polypore also seems to be deeply rooted in science fiction - a genre especially dear to you, and your genre favourites?
I don't like action films that happen to be Sci-Fi or television shows with a Sci-Fi theme, but I'm a huge fan of Sci-Fi films that make you think, and those containing social commentary, like Moon, District 9, Akira, 12 Monkeys, Pi, 2001: A Space Odyssey, The Matrix and They Live. The Fifth Element is a guilty pleasure.
Other sources of inspiration when writing Polypore?
Akira was a huge influence in the original story but the plot has since transformed and doesn't contain nearly as many references.
I've heard that Polypore grew out of a rather small idea into a comparatively vast project. What can you tell us about the evolution of Polypore at the writing stage?
The original story was written in a pretty informal fashion on napkins at the Tunnel Bar in Northampton during my senior year of college. I knew that the students who were filling crew positions would be departing after graduation, so I decided to start production immediately and wrote the script while simultaneously shooting the first half of the film. While slightly chaotic, this fluidity allowed me to add various forms of production value as they materialized (new locations, characters, etc.) and the writing process became very organic.
With Polypore having become a very ambitious project, how hard/easy was it to get production off the ground, and were there any major stumbling blocks bringing your vision to the screen?
I pretty much just jumped right into it head on. One stumbling block that occurred in particular was that the actor playing the protagonist went to Europe for a semester before we finished shooting. A pretty absurd re-write took place to solve the issue and the actor ended up shooting some footage on location while he was abroad. When he returned I shot additional scenes involving his character. At the same time I was doing videography work to fund the film so I was well aware that production would take longer than usual.
According to my knowledge, Polypore was shot all over the world. What can you tell us about the trials and tribulations, but also the appeal of shooting a small independent production on pretty much an international stage? And will you ever again go global to shoot a film?
Shooting internationally was mostly achieved through networking with other filmmakers and also through the help of actors who happened to be visiting other countries (i.e. Japan). One of my goals was to squeeze as much production value as possible out of a very low budget. This went a little too far at times and I've already identified scenes that will be removed from the final cut, but for the most part this strategy worked to my favor, and the film looks much more expensive than it actually is. It's pretty cool when you jump from the suburbs of New York to the streets of Tokyo. As for shooting globally, I would love to do so again in a much more professional fashion.
What can you tell us about your principal cast?
Jeffrey Bielat is an actor and musician with several years of experience in live performance and sketch comedy. While acting in Polypore he simultaneously worked at Animal Planet in New York City, then moved to Grenada as part of a study abroad program. Chen Tang is a professional actor based in New York City working in film, television, theatre, commercials, print, and industrials. He trained as an actor at the University of Miami and Emerson College and is originally from Memphis, TN.
Your film features Troma legend Lloyd Kaufman in a cameo. How easy is he to work with, is he willing to be directed or is he more likely to take control into his own hands? And what influence do Kaufman and Troma have on you as a filmmaker?
Lloyd was great to work with, I actually based his scene on an interview from The Long Road to Gary, a short mockumentary that I co-directed about the making of a zombie film. He was more than willing to take direction but also offered some improvisation, which worked well for the interview-style scene that he was acting in. I wasn't inspired by Lloyd's actual films so much as his do-it-yourself attitude. There is a lot of wisdom in his views surrounding the democratization of media as well as self-reliance when it comes to filmmaking and distribution. Self-distribution in particular is something that I'm quite interested in exploring.
On Polypore, you seem to have your hands in everything, from directing, writing and producing of course to filming, editing, even acting, and the like. What do you enjoy the most, what could you do without?
I enjoy directing the most but I also enjoy writing, as well as producing. I've actually had to spend most of my time producing on this project as opposed to directing. For my next film I'd love to have a producer and be able to focus entirely on directing. Acting was supposed to be out of convenience at first, when the film was very small, but as the plot evolved this actually became quite an inconvenience. I wouldn't recommend wearing too many hats, it can get pretty crazy.
The $64-question of course: When and where will Polypore be released?
I'll be releasing Polypore at a film festival in 2012 (I've fundraised $1,500 online which will be used to enter around 30 film festivals).
Let's go back to the beginnings of your career: What got you into filmmaking in the first place, and did you receive any formal training on the subject?
When I was younger I spent a lot of time drawing cartoons, which sort of drew me towards exploring animation, which in turn drew me towards filmmaking. My mother signed me up for a membership at the Pittsfield Community TV Station where I learned the basics of editing on an ancient version of Adobe Premier. After a few months of volunteer work they let me create my own television show so I picked up a copy of Final Cut Pro and messed around with it endlessly until I was fluent. In college I took a few film courses but I personally learn best from experience, so the time I spent making films for class was always more educational than anything that could have been taught in a lecture.
As far as I know, Polypore is your debut feature, but you have made quite a few shorts. Why don't you talk about those for a bit?
In 2005, I co-directed The Long Road to Gary, a short mockumentary based on the making of a zombie film. Numerous problems arise on the set and everything seems to go wrong for the enthusiastic filmmakers. The project won "Best Student Film" at the 2005 Northampton Independent Film Festival and "Best Overall" at the 2009 UVC-TV 19 Film Festival. My other shorts were created for experimental film courses and served as stepping stones to Polypore. They were a blast to make and seemed wonderful at the time, I look at them now and think, "dear god, these are absolutely horrendous in comparison" - but you learn the best from making mistakes and these shorts led the way to working on a feature where I was able to call upon those earlier experiences for insight. Of course I made new mistakes while working on Polypore, which is also a stepping stone to another film, which will be a stepping stone to the film after that, and so on, but in the process I learned how to make a feature-length film. Polypore is my film school.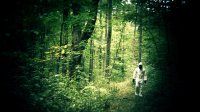 In what way does making a feature film differ from directing shorts (if at all)?
It is much more time-consuming and I personally pour much more energy into a feature because it is a "real film" that can actually go somewhere. I enjoy shorts and some stories only work as shorts, but I'm much more interested in creating feature-length films.
Any future projects you'd like to talk about?
For my next project I'd like to create a much more minimalist film on a somewhat larger budget. I'd also like to work as an assistant director on a larger film at some point, I think that would be a great learning experience.
Directors who inspire you?

Feeling lucky ?
Want to
search
any of my partnershops yourself
for more, better results ?

The links below
will take you
just there!!!

Find Jesse Barack
at the amazons ...

amazon.com

amazon.co.uk

amazon.de
Looking for imports ?
Find Jesse Barack here ...
Something naughty ?
(Must be over 18 to go there !)

Quentin Tarantino, Wes Anderson, Paul Thomas Anderson, Park Chan-wook, Darren Aronofsky, Guy Ritchie, Vincent Gallo, Chris Cunningham, Michel Gondry, Terry Gilliam.
Your favourite movies?
I would say that my favorite films are what I at least consider to be of the "dramedy" category - films like The Royal Tenenbaums, The Life Aquatic, Magnolia, Breathless, Pulp Fiction, Eternal Sunshine, Buffalo '66 and Lost in Translation. I also like some edgier films like Sympathy for Mr. Vengeance, Layer Cake, Fight Club, Kill Bill and Requiem for a Dream.
... and of course, films you really deplore?
Hollywood's mindless, formulaic and lifeless yet profitable franchises. You know what I mean.
Your/your movies website, Facebook, whatever else?
Thanks for the interview!