Your new movie Love is Dead - what were your sources of inspiration when writing Love is Dead - and is any of the movie based on personal experiences?
The film is about 90% based on real life experiences. I went through a very dark point in my life where I was drinking a lot and doing drugs and I had such a hatred of myself that I unfortunately took it out on my then wife. She attempted suicide because of it and it's been something I've been in counseling in ever since.
With the central part of your movie taking place literally in the shower, what kind of a challenge was that from both a technical and aesthetical point of view, and what was it like to have your actors do key parts of their performance pretty much in the nude?
Originally, the scene was to take place in a car but I felt putting it in a shower would feel more claustrophobic and not allow our characters or viewers an easy escape from what was happening.
Aaron Thompson and Joanna Angel both work professionally in the adult film industry so nudity was never an issue to them but it would be a lie to say it wasn't a shock to both my cinematographer Zach Shildwachter and myself to see the beautiful Joanna Angel like that in person. That quickly went away when we started shooting because the focus was solely on her gut-wrenching performance.
What can you tell us about your overall directorial approach to your story at hand?
Dialogue is what's most important to me. First and foremost. Everything I write is heavy in dialogue and it has to sound and feel real. Aside from that, I am very influenced by John Cassavetes so I like the camera to almost be a fly on the wall.
Do talk about your cast, and why exactly these people?
I knew Ruben Pla prior to casting him. He's a tremendous actor and when he signed on, I was incredibly happy. The reason I cast Aaron and Joanna is because I have such disdain for the stigma that people have saying porn stars can't act. I cast them because I felt they WOULD act their asses off and they did. Joanna has what was in my opinion, the best drama performance of 2016. That's cocky on my part but it's true. Aaron is also a wonderful actor and someone I feel is a kindred spirit to myself and somebody I am planning on working with again next year.
What can you tell us about the shoot as such, and the on-set atmosphere?
It was weird, only because we were all laughing and talking about enemas and being silly and listening to Nick Cave then it became emotionally devastating when we started to shoot.
So where can your movie be seen?
It's on Vimeo. www.vimeo.com/sickeningpictures/loveisdead
A few words about audience and critical reception of Love is Dead?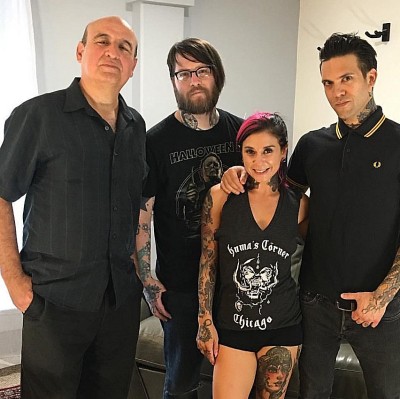 Ruben Pla, Jerry, Joanna Angel, Aaron Thompson
It's been absolutely wonderful and I am eternally grateful for getting such a warm reception, especially given the subject matter. Some of my favorite filmmakers have reached out to say they enjoyed it and it depressed them hahahah.
Any future projects you'd like to share?
I have a short film I'm shooting next called Penance which is a psychosexual BDSM story starting the beautiful Elissa Dowling [Elissa Dowling interview - click here] and myself and a bigger project that will follow that one that will feature some Love is Dead alumni.
You actually entered the film/horror world as a critic and journalist - so do talk about that aspect of your career for a bit, and what ignited your interest in horror movies in the first place?
I'm very much an active member of the horror journalism community, being the Senior West Coast Correspondent for Fangoria and writer for Blumhouse and Shock Till You Drop on occasion. I got into film journalism due to the very kind Rob Galluzzo and Rebekah McKendry, who really gave me chances to shine.
I became a horror fanatic due to being abused and molested as a child. My mom would give me money to stay at the next door theater all day so I wouldn't get harmed by my then stepdad so I spent my childhood with friends like Alice from A Nightmare on Elm Street 4 and Jamie from Halloween 4. Horror is my lifelong obsession because of that. My love for horror has lasted longer than two marriages at this point, lol.
What made you pick up directing eventually, and did you receive any formal training on the subject?
I've always been a storyteller and directing was something that always just seemed like the natural progression.
What can you tell us about your filmwork prior to Love is Dead?
I made shorts that weren't fully realized. There would be a scene or two I'd like but the whole of the shorts left a lot lacking both for me and the viewer. Love is Dead is what I consider my real debut.
How would you describe yourself as a director?
Sadistic and mean spirited. Jk. I allow my actors to make the roles their own and though dialogue is VERY important to me, I'd rather the actors feel comfortable saying stuff how they normally would, for realism sake.
Filmmakers who inspire you?
John Carpenter, John Cassavetes, Nicholas McCarthy and Richard Bates jr are HUGE inspirations to me.
Your favourite movies?
Halloween, A Woman Under the Influence, Darling, Friday the 13th Part IV: The Final Chapter.
... and of course, films you really deplore?
Any and everything Eli Roth does. Sorry guys, bro-horror is not my jam.
Your/your movie's website, Facebook, whatever else?

Feeling lucky ?
Want to
search
any of my partnershops yourself
for more, better results ?

The links below
will take you
just there!!!


www.vimeo.com/sickeningpictures/loveisdead //Fangoria.com" target="_blank">Fangoria.com
Anything else you're dying to mention and I have merely forgotten to ask?
I really like sex. Jk. I thought it'd be funny to end this in a pervy way. Ok, I'm not kidding. Sex is good.
Thanks for the interview!
THANK YOU so much!!