Your new movie Impact Event - in a few words, what is it about, and what can you tell us about your character in it?
Impact Event is about the end of the world, though the world is still around but everything's messed up. Can't even go outside. Hmmm... kinda hits a little close to home, these days. I play a character, Gordon, who was pretty much damaged goods before the world even went to hell, so you can imagine how he's doing post-major cataclysm.
What did you draw upon to bring your character to life, and how much Jed Rowen can we actually find in Gordon?
Hey that's a little personal, don't ya think!? Haha... I'm just kidding, great question. I love playing these kind of deranged characters because I'm so well-adjusted in real life... uh... that was a joke. I live to play characters like Gordon, as I totally relate to outcasts and marginalized people of all types. Playing roles like this I feel like I'm on a mission to give people on the fringe a voice, and in a way empowering them by bringing them to life in front of an audience, so people aren't just entertained but can understand someone better who's been marginalized by society, and even develop sympathy or empathy for people like that. I hope I did Gordon justice.
How did you get involved with the project in the first place?
I have luckily known Brian Barsuglia, the director, for many years, and he continues to employ me in multiple ways. He's the gift that keeps giving.
What can you tell us about Impact Event's director B. Luciano Barsuglia [B. Luciano Barsuglia interview - click here], and what was your collaboration like?
Brian is an incredibly gifted filmmaker, someone who continues to astound me with his resourcefulness and his seemingly endless talents and skills, both technical and artistic. He can multi-task with such precision and patience at such a high level of performance, that watching him do his thing just reaffirms that I will never be a filmmaker. Couldn't do it, no way. I'll just have my lines down and show up on time and find the crafty table.
Impact Event isn't your first movie with B. Luciano Barsuglia - so what can you tell us about previous collaborations, and about working with him in general? And how did you two first meet even?
Well, that brings up a great story that Brian and I often reminisce and laugh about. I remember sending in my physical headshot in the regular mail - I know that sounds very bizarre that people actually did that at one point in history, and it also I'm sure dates me - to a casting notice on his movie,Zombie Farm many years ago. Now, of course, I was attracted to the title because I love movies like this, but one of the characters in the casting call was named "Inbred Jed". I'm like, dude... that's gonna be my role. So I attached a yellow paste note to the headshot, saying, 'Hey I'm a Jed! I want to be Inbred Jed!' or something like that. Brian sent me a pic of that note on my headshot not too long ago. I can't believe he still had a pic of that. Anyways, Zombie Farm turned out to be a total blast, and we shot it up in the same kinda area where Impact Event was shot. Zombie Farm was everything I wanted it to be, as it performed incredibly on the film festival and convention circuit. It even landed me at my first convention as an official celebrity guest, and the crowds back then for indie films were rockin'. And it got written up in some great magazines and other media. It wound up being one of the big highlights of my entire career. And, of course, it started my whole collaboration with Brian, as he continues to be a terrific filmmaker to work with.
Do talk about the shoot as such, and the on-set atmosphere?
Impact Event was like going to camp. Me and Tasha, one of the other leads in the film, would always laugh about that on set. It was amazing to just get out of the city, and go to a faraway place like Hobb's Grove that actually felt like a big summer camp in a remote rustic setting where you're having fun doing what you love. Morale was very high on that shoot and everybody was having a blast whether it was cast or crew. It felt like family and everybody was cool. I made some great new friends. We all dug deep into our roles, and everyone brought their A game.
Any future projects you'd like to share?
Well, how 'bout some current and past ones with some future releases? I'm luckily in production right now on another film with Brian, Social Distance. The film is being done all remotely, of course, and it is a surprisingly cool way of making a movie. Sometimes when the world gets turned upside down, people are forced to try new things, and this remote way of making a movie I believe will stick. This remote kind of communication, after all, is not only a crucial way for people to interact with each other and keep society working and moving forward, but creatively it is a refreshing and innovative way for filmmakers to express themselves and uniquely tell a story.
What got you into acting in the first place, and did you receive any formal training on the subject?
I started off doing a lot of theater... ever since I think the tenth grade, and have always studied the craft of acting with tons of training and classes. I have always taken acting very seriously. It's the only thing I've ever really wanted to do as a career. I'll do it 'til the day I die.
What can you tell us about your filmwork prior to Impact Event?
Well, I've done a lot of films but I would say my biggest and best movie I've ever done is The Ghastly Love of Johnny X. That was a once-in-a-lifetime movie that I was lucky enough to get in. One of my all-time proudest achievements. Blind is another movie I just finished last year that should be coming out in the not-too-distant future. That was another exceptional movie that was one of my favorite experiences as an actor. Blind has had a tremendous run on the film festival circuit and has gotten lots of great feedback. I can't wait until it's finally released. Some other highlights over the years have been Eruption: LA, Xenophobia, Dr. Jekyll and Mr. Hyde, Giantess Attack vs. Mecha Fembot and, of course, Impact Event... among many others that I haven't mentioned. I did many horror movies in the 2000's that were crazy adventures and tons of fun. Oh wait... there's also a little obscure movie called The Amazing Bulk. You might have heard of it.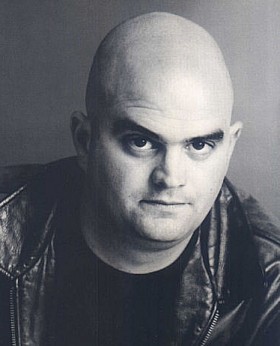 How would you describe yourself as an actor, and some of your techniques to bring your characters to life?
Techniques can change over the years, and directors and conditions and settings for acting roles certainly vary as well. These days I'm trying to relax as much as I can into some kind of meditative state where I feel like I'm channeling the role. Sounds weird, huh? It's hard to consistently get into this state, as shooting a movie can be very chaotic, and an actor can be under a lot of pressure and pulled in many directions. But I always strive to tap into something when I'm playing a role. Actor-Shaman-style.
Actors (and indeed actresses) who inspire you?
I love a lot of actors, from the biggies like Mel Gibson, Michael Douglas, Christian Bale, Charlize Theron and Harrison Ford, to the character ones like Kurtwood Smith, Christopher Lloyd and Bill Moseley, to just all-around great under-the-radar ones like Jason Isaacs and Richard Riehle. I respect 'em all, though, it's tough to be an actor and I admire anyone who does it for the long haul.
Your favourite movies?
This is kind of impossible to answer but I'll name some that really influenced me as an actor: Robocop, Texas Chainsaw Massacre 2, Blade Runner, Sharky's Machine, Sudden Impact - those are some movies that have specifically influenced my acting style, lots of bad guys in those movies, and the good guys in them were pretty messed up, too.
... and of course, films you really deplore?

Feeling lucky ?
Want to
search
any of my partnershops yourself
for more, better results ?

The links below
will take you
just there!!!


I deplore no films. I know it might be hard to understand that. But there is something special in all films, whether it's an actor having an expressive moment, a cinematographer having even a brief great moment of composition, a unique piece of wardrobe, or a cool prop. Maybe a set was well-built or the lighting was expressive and interesting during a scene. Maybe some physical special fx weren't too bad either, or the writer had a twist in his script that you weren't expecting. Too many little gems in any movie to completely write it off, even the most vilified and mercilessly attacked ones. I get something out of every single movie I watch. And maybe in this day of toxic vitriol of movies all over social media, YouTube and the internet or even in real life with people hating and bashing films constantly, maybe mine is a refreshing perspective that more people should consider.
Your website, social media, whatever else?
Come follow me at https://www.instagram.com/actorjedrowen/
Anything else you're dying to mention and I have merely forgotten to ask?
I think I've written too much already! Thanks for the interview and I love your review of Impact Event!
Thanks for the interview!