Your new movie The Ghost Club: Spirits Never Die - in a few words, what is it about, and what can you tell us about your character in it?
The Ghost Club: Spirits Never Die is a tongue in cheek homage to the ghost hunting reality shows we love so much. We based our show on the historic Ghost Club founded in 1862, which had members such as Arthur Conan Doyle, the author of Sherlock Holmes. We modeled our ghost hunting techniques off of the shows you can watch at almost any time of day or night on cable.
It's the final episode. The team is investigating a haunted house in the south. The theme of the movie is basically, "be careful what you wish for." I play the team leader, Jimmy, who is also the team's lead skeptic--in our world, The Ghost Club is made up of believers, and skeptics. Jimmy is more concerned with putting together a good TV show than he is with finding evidence of ghosts. Unfortunately for him, but fortunately for the audience, it doesn't really matter what he's interested in, because they find a lot of evidence.
What did you draw upon to bring your character to life, and how much of Jason Nunes can we find in Jimmy? And did you actually write him with yourself in mind?
I did write the role for myself. And there's a lot of me in there. And Hank Blumenthal [Hank Blumenthal interview - click here] brought even more out through his direction. I come from a long line of skeptical scientists (my grandfather was the Nobel Prize winning physicist Edwin M McMillan - https://en.wikipedia.org/wiki/Edwin_McMillan) hence skepticism, and a hubristic belief in logic, and the scientific method kinda run through my veins. I don't ever remember a time when I believed in Santa Claus. And I thought it would be really fun to put that kind of rigid character--me--into a situation that made him question everything he believed in... his very foundations... and see what happened next.
How did you get hooked up with the project in the first place, and how did you end up one of the movie's producers as well?
In another life, Hank Blumenthal and I worked together on some really great and innovative interactive projects. We were hanging out at SXSW when he pitched the idea of making a movie together. He already had the basic idea--a reality ghost hunting show that encounters real ghosts--and I loved it. He asked if I wanted to get involved, and what I wanted to do, and I said "I'll co-write if I can be in it." Hank liked that, and so we started working right away, passing the script back and forth until we had something we thought would be fun.
And then I got deeper and deeper involved as we went, designing graphics, the title treatments in the film, and working on a lot of the transmedia elements that we put together to create the storyscape of the world, such as The Skeptic's DIary, a webcomic I created to explain Jimmy's backstory - http://skepticsdiary.tumblr.com/ - and some ghost hunting hot-to videos such as this: https://goo.gl/N1zEXX. The producer title came from doing a lot of that work.
Have you ever been on an actual ghost hunt, and do you believe in ghosts as such?
I have done several ghost hunts. I actually rigged up a solo ghost hunting kit, with a GoPro camera strapped to my chest. I chronicle some of this in The Skeptic's Diary, with some fictional elements thrown in of course. And the location where we shot The Ghost Club was an actual haunted mansion that's appeared on several hunting shows. We may, or may not have had an encounter or 2 while filming (insert spooky music here).
Do I believe in ghosts? That's a tricky question. What I believe is that we radically change our understanding of the fundamental nature of reality every hundred years or so, and so I don't think we can say definitively what's possible and what's not. But I don't believe in the traditional view of ghosts. If they exist I'm more inclined to think of them as echoes.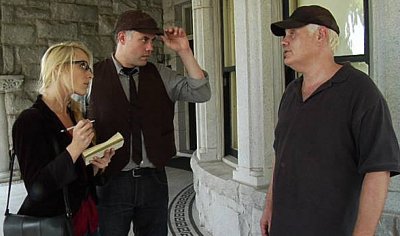 Clark Sarullo, Jason, William Forsythe
As you've also been one of the writers of The Ghost Club: Spirits Never Die - what were your inspirations when writing the movie, and what was the writing process like?
See question # 3. The way Hank Blumenthal [Hank Blumenthal interview - click here] and I work on scripts, is that one of us will take a first pass, furiously writing away, and then, when we hit a natural stopping point, we'll hand it off, and let the other person have a go. I think we came up with some fun things that way. Of course, once we started shooting, some of the script was discarded, because Hank really wanted to capture the feeling of us being in a real ghost hunting show, and a lot of what they do is improv, and riffing. That was a lot of fun.
What can you tell us about your director Hank Blumenthal [Hank Blumenthal interview - click here], and what was your collaboration like during the shoot?
Hank was great during the shoot. He really wanted a very specific feel for our performances--he wanted the feeling of a reality TV show that just dissolved into chaos and fear when things start getting a little too real. And I think he got exactly that. He gave us a lot of ideas to play around with as actors, and encouraged us to do a lot of research, and improv. I can't tell you the # of seasons of Ghost Hunters I watched prepping for the shoot. Hank also liked to throw some surprises into the mix as we were going, knocking things over, or pouring a bucket of water all over the floor right before a take just to see how we'd react to that. It was a lot of fun.
And of course we'd be shooting all night, and then I'd rush back to the hotel, and furiously write new dialogue, or fix some of the plotting, which had to change based on the location, so I was kinda cranky a lot of the time. Perfect for Jimmy actually. Hank put up with a lot from me, and we're still friends.
Do talk about the shoot as such, and the on-set atmosphere?
The cast really had a lot of fun. We all had such a great time on the shoot, but it wasn't the most comfortable thing I've ever experienced. We were shooting in a real haunted mansion, in the middle of the night, in the middle of summer. It was hot, and dirty, and dark, and, sometimes, actually really scary. Which was perfect for our performances.
Any future projects you'd like to share?
I'm always working on projects. I've got several dark comedy scripts that are in various stages of development, and Hank and I are talking about working on a science fact/fiction romance that plays with some interesting ideas based on quantum physics.
What got you into acting in the first place, and did you receive any formal education on the subject?
I've always loved acting, from my first play at age 5 to the present. I'm more of a writer now, but I attended the University of California at Santa Cruz, and got a degree in theater. While at UCSC I did 2 seasons of Shakespeare Santa Cruz, and got to act, run lights, build sets, dance around a redwood forest in a tutu, and fly through the air. It was one of the most fun times of my life.
What can you tell us about your filmwork prior to The Ghost Club: Spirits Never Die?
In the 1990s I moved to LA and worked in the art and props departments of some of the best/worst straight to video horror films ever made such as Return of the Living Dead III, Leprechaun II, Necronomicon, Pumpkinhead II, and Ghoulies 4. I got to build sets, make props, and spray fake blood, bile, cobwebs, and dust all over everything. Needless to say it was a blast.
After that I moved to San Francisco where I worked as a broadcast designer, and compositor, doing special effects for videos, and TV commercials for ILM commercial productions, and many others. I gradually got sucked into the burgeoning world of the internet, and eventually left the sfx world behind, but I couldn't quite quit the world of filmmaking.
In the 2000s I started to write screenplays. I won some awards, had some scripts optioned, and some projects produced.
I'm still writing, acting, doing some special effects, and producing. It's a hell of a lot of fun.
Actors (and indeed actresses) who inspire you?
I'll tell you what, it was intimidating, and really fun acting with William Forsythe. I'd been a huge fan of his since Raising Arizona (and Things To Do In Denver When You're Dead, and American Me, and and and) so it was really exciting for me to be on camera with him. He's really generous, and a great actor, and I learned a lot from watching him.
As for other actors who inspire me, basically anyone whose ever been in a Coen Brother's movie, oh, and Bruce Campbell in Evil Dead II. He's one of the great slapstick actors of our day.
Your favourite movies?

Feeling lucky ?
Want to
search
any of my partnershops yourself
for more, better results ?

The links below
will take you
just there!!!

Find Jason Nunes
at the amazons ...

amazon.com

amazon.co.uk

amazon.de
Looking for imports ?
Find Jason Nunes here ...
Something naughty ?
(Must be over 18 to go there !)

My 2 favorite films are Alien and Blade Runner, but I love so many movies. Everything by Pixar. Jodorowsky's Dune. Anything by the Coens, or David Lynch, or Darren Aronofsky. Recently I really loved It Follows, and I just saw Diary of a Teenage Girl, and I thought it was amazing. Basically I love movies of all kinds.
... and of course, films you really deplore?
Anything that feels phoned in, and I'm getting really tired of movies which destroy New York City. A) it's boring, and B) I live here. I don't like seeing my city torn apart.
Your/your movie's website, Facebook, whatever else?
https://www.facebook.com/TheGhostClubUSA
http://www.ghostclubusa.com/home.php
Thanks for the interview!
Thank you!