Your movie Stopped Dead - in a few words, what is it about?
Stopped Dead is about 4 friends on a vacation who get themselves into trouble and quickly find themselves running for their lives.
In theme, Stopped Dead is somewhat related to the movie Race with the Devil, which is even mentioned in your film - so what can you tell us about the similarities and differences between these two movies?
Ah, what can I tell you, indeed? Without giving too much away, on the surface, the idea of running from a gang of killers after witnessing a murder seems a lot like the classic film, but the real connection was the RV. I thought it was brilliant how they made a compelling suspense film with such a simple single "location" We nod our heads to the movie once or twice with the scene with the dog and the mention of it, as you said, but I think in the end we went in a totally different direction.
What were your inspirations when writing Stopped Dead?
I tried to write Stopped Dead like an old "Movie of the Week". I cast my power players from past movies, created characters that on the surface people could instantly relate to, but who would show deeper layers as you watched and then put them into a familiar scenario with a twist that would lead to mystery. I wanted that 70s "road movie" feel, but had the budget and schedule more of a day on a 60s soap opera. So really, a lot of the writing was inspired by knowing our limitations and wanting to push past them whenever possible.
Quite a portion of the movie is restricted to the inside of a van - what kind of challenges did that pose, direction-wise, and had you had a larger budget, do you think you would have done anything different, location-wise?
Originally we had a MUCH larger RV in mind and it was a loaner. Free. When that fell through I considered cutting open a junker and using that so we could shoot a bit more "professionally", but in the end our only way to have the Running RV for the shots we needed was to rent what we did. Most of the locations we parked in were donated or allowed to us VERY cheaply.
As for challenges of shooting in that little RV, there were many. Lighting for one. We couldn't run the A/C when we shot, so we needed to keep it cool in there. Instead of my regular video lights I used hardware store clamp lights and CFL bulbs to keep the heat down and light soft. Such a small space, this worked most of the time and when we were parked I could light it from outside with a monster light.
You'll notice the curtain to the back is kept closed most of the time. Our P.A. and our equipment was back there. A lot of the roads we took were too bumpy to put stuff underneath and we needed access to that stuff constantly.
Finally, my entire cast pitched in as crew. And I mean everyone. Debbie Rochon [Debbie Rochon interview - click here] helped shake the RV when it was supposed to be moving and wasn't. And they'd script-supervise while we did driving shots, in which I would give Bob (Joel D Wynkoop [Joel D. Wynkoop interview - click here]) directions while he was acting. Not film directions. Directions to where we were going. Our schedule was so tight we shot scenes while driving to other locations.
How would you describe your directorial style on Stopped Dead to begin with?
I'm not sure I could describe my style. I generally pick the best actors I can, stage them where I need them and let them do what they do. They all worked on each other's performances and I mostly directed the technical side of the shoot.
Two of your leads are played by horror mainstays Debbie Rochon [Debbie Rochon interview - click here] and Joel D. Wynkoop [Joel D. Wynkoop interview - click here] - so what made them perfect for their roles, and what was it like working with them?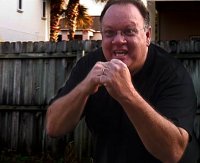 Joel D. Wynkoop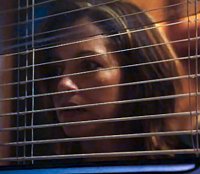 Debbie Rochon
I had worked with Joel and Debbie both several times before Stopped Dead and both had proven to be low maintenance, high output pros. I wanted Joel to play Bob because the character was so quiet and passive and that would be a big departure from Joel's past characters. I thought it worked well to show his evolution from mousy friend to heroic leader throughout the movie.
I had been wanting to put Debbie in a film with Joel (they've been in several of mine, but no scenes together) for a long time and this seemed like the best film to do it with. As little as we had it was the most of my own money I had ever put into a movie, and if you're going to do that you include all of your power hitters. That's why Kevin and Karen White are in there along with Mike Christopher as one of the police officers.
What can you tell us about the rest of your key cast?
Kevin and Karen White (Dante and Minerva) are a real couple and were my go-to people for shoots like this. Quick, little rehearsal time and needing actual dramatic performances (even though a lot of the movie is darkly comedic). They always deliver. Mike Christopher, who you may know as the Hare Krishna Zombie, is an excellent character actor and I can always count on him to bring me a character beyond the lines I've written. Johanne Marie Maurasse I met for the first time after she sent in a video audition. She's a SAG actress in N.Y. now, so expect to see her a lot more as you flip channels and visit theatres.
A few words about the shoot as such, and the on-set atmosphere?
It was horrible, but fun. Long days, cold nights and lots of times cooped up in that RV. We shot every moment we could. The cast had to actually eat in the restaurant scenes because there weren't going to be any more food stops. I think we had the RV for 8 days and some of the other shots had to be done while we had it, like the motel scene, so we had to do those in that timeframe too. It was quick, grueling, hard work, but I think the general atmosphere was a positive one. We could see our progress as we were going and we enjoyed what we were creating.
Since Stopped Dead you've made quite a few movies, most notably probably the Alien Vengeance-series - so do talk about the series for a bit?

The Alien Vengeance movies are a complete departure from Stopped Dead, except that you'll recognize cast members. It's my return to rubber monsters and each movie is made with a decade in mind. The first feature was a 70s schlock drive-in outing, while the shorts and Rogue Element have that 80s kind of movie and horror TV vibe (I hope). The most recent short, Onyx Origins went back in style (not time) to the late 50s and early 60s sci-fi, and when we shoot Alien Vengeance 3D I'm hoping give it an early 90s kind of kick. The CG will still be minimal and probably sloppy, like most low budget movies back then were. Mostly, though, the Alien Vengeance world is one in which Debbie and I get to play out comic book style sci-fi fantasy. Col Onyx is a caricature and even though her appearances have been scarce so far, the whole series has been building up to her big push to squash this alien invasion.
Recently, you've made a short called Crazy Fishman vs the Fish Stick Guy - which is much too good a title to not say a few words about it - so please do!
Ha! Crazy Fishman is my favorite creation. He started out as an alien form hinted at in the Alien Vengeance movies (we've seen the hand in three of them) and was finally totally revealed to actually be a mutant in Onyx Origins. While talking to a friend of mine, Martijn Berndsen, about something we could do quickly that would be fun, I mentioned that I thought it would be funny if Crazy Fishman had it out with the fisherman from the fish stick commercials. Martijn had the beard and the costume, I had Crazy Fishman and my wife had a day off, so we shot the silly short about a Fishman who gets revenge for the death of his brother against the guy who turned him into a fish stick.
Let's go back to the beginnings of your career: What got you into filmmaking in the first place, and did you receive any formal training on the subject?
A friend of mine, Gregor Joackim, convinced me at a very young age that I wanted to make movies. All I've ever wanted to do is write, but once I had a camera in my hand I couldn't help but want to write stuff for in front of that lens. My formal training was four years of college with concentrations in video production and film theory at the College of Mount Saint Vincent. We had a horror course there and it's really when I decided to concentrate on that genre, which I didn't do then until many years after my graduation.
According to my information, your first feature was Dark Rose: Feedin' and Breedin' - so what can you tell us about that one, and lessons learned from it?
I was writing a story online about a vampire hunter called Rose Lenoire. She was the sole remaining member of a werewolf clan. (This was all pre-Underworld and Twilight.) A reader liked the idea and wanted to see it on film. We went over the budget and settled on video. S-VHS video at the time.

I learned far too much to list, but the main thing was that I had a lot to learn even after all of my schooling. So, I set out to make three shorts, each adding a new part of production as we went. The first was silent, so we didn't have to worry about sound. It was called Z and is a fun little romp of a movie. You can find it on our website. Sort of like a live action Road Runner type of cartoon. Next, in The Challenge, we added dialogue and night shooting. Finally, in Hit or Miss we added cast. Not a lot of it, but significantly bigger than the single person in Z or the 2 people and an alien in The Challenge. There was also an amazing fight scene choreographed by Mia Morse. From that one I learned, have a good fight coordinator.
Other films of yours you'd like to talk about?
Stopped Dead is definitely one of my favorites of my own movies, but I've got a soft spot for all of them. I'd really like to encourage people who enjoy it to see Savaged and Indiscretions. They're distinctly different movies, but all three were based on the idea of isolating the main characters so we could experience their drama and suspense with them.
Also, I'd love for people to check out our sci-fi comedy The Simplest Things. It's the smallest budgeted thing I produce besides the Johnny Pitchman-stuff, but I really enjoy it and would just like people to see it.
Any future projects you'd like to share?
Alien Vengeance 3D is coming. Eventually. I hope. There have been a lot of changes recently, but the story for this movie has been rattling around my head for two years now and if I don't get it out there my ears might fall off. We'll get to see a lot more of Col Onyx (Debbie Rochon [Debbie Rochon interview - click here]). The 3D in Onyx Origins was a testing ground for the 3D we'll use in Alien Vengeance 3D. I think there will only be key scenes in 3D so you're not wearing the glasses just to watch conversations, but when an airplane flies into your living room you'll want the glasses on. ;)
What can you tell us about your production company Hocus Focus Productions, and the philosophy behind it?
As a film production company Hocus Focus Productions is a get-things-done sort of place. When I have an idea for a movie I want to make it and the company allows me to do that. We convert 3D content and shoot HD for outside sources to pay the bills, and you've got a movie you need made we can probably make that happen too, provided you have a reasonable budget. If you have an unreasonable budget we can probably work with that too.
How would you describe yourself as a director?
I really have no idea how to describe myself as a director. I sort of feel like a producer and cameraman who lets his cast run around doing their lines and I catch as much of it as I can. I try to have a good time while I do it and I hope that comes out in the finished product.
Filmmakers who inspire you?
There are lots of filmmakers I admire, but my biggest inspirations have to be Val Lewton, Roger Corman [Roger Corman bio - click here] and Don Dohler. All guys who did as much as they could with what "little" they had. Little being relative to their environments and stations in the business at the time.
Your favourite movies?

Feeling lucky ?
Want to
search
any of my partnershops yourself
for more, better results ?

The links below
will take you
just there!!!

Find Jason Liquori
at the amazons ...

amazon.com

amazon.co.uk

amazon.de
Looking for imports ?
Find Jason Liquori here ...
Something naughty ?
(Must be over 18 to go there !)

I love the old monster movies. From the Universal Monsters of the 30s and 40s and the Hammer creations of the 60s all the way through the rubber monstrosities of the 70s and 80s. Anything with the stop motion magic of Ray Harryhausen makes my list. If the creature can be described as "Atomic" or "Colossal" or ever "Challenged the Earth", chances are the movie makes me smile.
... and of course, films you really deplore?
I very rarely see a movie I have negative feelings that strong about. Most of the time the trailer and buzz will be enough to let me know I wouldn't enjoy it and so I just don't see it. Hard to hate something you've never seen.
Your/your movie's website, Facebook, whatever else?
We can be found at www.hocfocprod.com
Under About Us on that page is all of our movie pages. We've also got a section to see some of our stuff for free.
You can also find some of our 3D conversion work of old PD movies at www.bcinema.tv and of Fangoria's Fangovision 3D page.
Thanks for the interview!
Thank you.