Your latest film is called Red River - in a few words, what is it about?
Red River is about a serial killer(Roland Thatcher) that lives deep in the woods around the Red River area. Roland has a very prospering fertilizer business that he makes from the unlucky victims that meet their fate at the hands of Mr. Thatcher. A local reporter is tired of just posting more headlines about missing campers, and decides to dig deeper into the story. What she finds will be more horrifying then anything she could ever imagine.
What were your main inspirations for the movie?
The first and main inspiration is the Red River Gorge itself. For a very long time, I wanted to shoot a film there. First off the name of the river was perfect. I have been very deep back in the woods camping many times and at night when its pitch dark, and you start to think how easy it would be to be picked off, you start to think. Other than that Iím a huge fan of 70ís and 80ís slasher films, and I thought this would be the perfect set piece.
Even though it doesn't exactly follow genre formulas, I would label Red River as a backwoods slasher. Are you at all happy with that label, and your genre favourites?
As I mentioned above, yes it is indeed a slasher. Itís tongue in cheek, very silly at times, but very brutal. So yes Iím happy with that label. The thing that sets this film apart from other films I would say is the Gore. Itís full of the Red stuff. Very special thanks to Cineline Productions for making the River run red with the Dead. They were the SPFX make-up artists on the project along with assistant makeĖup by Roni Jonah. I still donít know how they pulled off the effects for the tiny micro-budget. We made the film on what most films spend on Craft Services for a couple days. I know it sounds so damn clichť and this point, but yeah The Hills have Eyes, and Texas Chainsaw Massacre were a big influence on the film.
Red River pretty much pushes the envelope concerning blood and gore. Was there ever a line you didn't want to cross when filming the gore scenes?
I think we crossed that line when we cut off the boob. I really wanted to push the limits as far as we could. At one time our Distributor said ďYou canít have Hamburger Head dry humping that girlís leg while he eats her brains.Ē I guess smashing a skull into a gooey mess is ok, just not dry humping while eating it (ha). It still made it in the film. I love POP Cinema. There would have been many scenes on the cutting room floor with other Distributors, but for the most part they let us do our thing.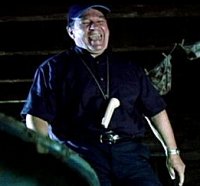 Dave Haney
A few words about your lead villain Dave Haney and his creepy character?
David Haney is a truly gifted actor. I have known Dave for a few years. We had a really hard time finding the character of Roland Thatcher. We wanted him to look like he was just another local. Not big and deformed, not stupid, just pretty much a regular guy (other than the electronic larynx). We got auditions from people all over the United States. We just couldnít find the right guy. At one point we had a fairly big name in the Horror world that wanted to be Roland, but in my opinion working with SAG can be a huge pain in the ass. I know that this will piss a lot of people off, but when you are working on micro budget films, it just doesnít work. Not taking away from SAG in general, just SAG Indie. If you are under a 50K budget I would say stay away. I mean we basically shot the entire film for 5K. We would have never been able to do that working with SAG actors.
OK sorry back to Mr. Haney. I think he nailed it. He was so dedicated it was almost scary. He would sit in the dark and work on speaking with the Electronic Larynx for hours. The role was also very demanding. We were shooting in mid August. The heat was overbearing, we worked very long hours, and Rolandís role was very physical. Heís a true professional, and now a very good friend.
What can you tell us about the rest of your ensemble cast?
I canít say enough good words about the cast. With all the elements we had to work in. Extremely hot conditions, working in an old decrepit house full of mold, snakes, Poison Ivy, spidersÖ etc. Not to mention the hundred year old basement. I highly recommend everyone to check out the Behind The Scenes-featurette to see the conditions we were working in.
In Red River you have a scene depicting a rather weird church service that involves snakes and the like. Is this scene by any means rooted in fact?
The scene was shot in a church with no running water or electricity. Complete with an outhouse and Baptism pond. The actual church was not a snake handling church, but I am familiar with them so I knew what it looked like. There are churches around the area that are in fact real snake handling churches, so yes it does happen.
Your previous feature Stash ended with a scene of a malformed child vowing revenge, a malformed child that could have evolved into the malformed cannibal in Red River - was that scene filmed with Red River in mind?
No not at all. To be honest I just really didnít like the way the film ended in Stash. I wanted to give it something that I think most people didnít expect. However the junkyard owners in Red River are supposed to be Budís (Stash) brothers. Although not mentioned, thatís what we intended, and if we do a sequel we will do more with that.
Both Stash and Red River question the effectiveness of authorities, at least to a point. Is this a statement you wanted to make or mere coincidence?
I think of Stash as more of a crime thriller, so the cops were more involved with the storyline. The lead actress's (Karen Boles)character's Dad was a retired cop so it obviously had to play more into it. I wanted to stay away from showing very much authority in this film. Is it unlikely that Roland has been doing this for so long and not got caught? Probably - but then look at other serial killers in history. Plus itís a real bitch to get cop cars, uniforms and shit to be honest. Plus usually it does not look that authentic and ends up hurting the film I think.
The title of your film is of course instantly reminiscent of the Howard Hawks/John Wayne classic Red River from 1948. To put it bluntly, why did you choose that title?
To be honest I canít think of another title that would work. Itís based out of the Red River area, itís a horror film. It just works. Iím just waiting to get sued by some old man who rents Red River thinking that itís the western and falls over.
Any future projects you want to talk about?
Right now I have a few offers on the table, but my heart is in finishing up a couple of my own self financed projects and getting into pre-production on Nature of the Daughters. A film adaption by the great author Elizadeth Hetherington.
http://www.amazon.com/exec/obidos/ASIN/1440471525/researmytras-20
Your/your film's website, Facebook, whatever else?
My official website is under construction but should be live soon.
Tuckwoodproductions.com or look me up on Facebook.

Feeling lucky ?
Want to
search
any of my partnershops yourself
for more, better results ?

The links below
will take you
just there!!!

Find Jacob Ennis
at the amazons ...

amazon.com

amazon.co.uk

amazon.de
Looking for imports ?
Find Jacob Ennis here ...
Something naughty ?
(Must be over 18 to go there !)

Anything else you are dying to mention I have merely forgotten to ask?
If you are going to make a film put everything you got into it. If you are doing this to be rich and famous go ahead and throw that new 60D in the trash and do something else. Everybody is a ďfilmmakerĒ, everyone is going to shoot a movie. There are so many people that are scum, bottom feeders. You will find these ďfilmmakersĒ everywhere. Actors and actresses beware. Research the Director youíre going to work with. Are they are on IMDB? Have they completed other projects? Does their work get out to the masses (Distribution)? Talk to others that have worked with the Director and crew. Just saying there are more films that never get completed than actually do. Do you really want to spend your valuable time on a project that will never be seen by anyone other than the Director's family and friends? If you are doing this just for fun or to get better than by all means go ahead! There just is a time when you kinda get a bit jaded in this business, and the filmfakers eventually fall off ítill new ones breed.
I must also give super props to my crew. Without you guys I wouldnít be able to do this. POP Cinema for believing in me, and giving me a chance to make another film. With legit distribution becoming increasingly difficult to find, these guys have always been upfront, truthful and professional.
You can order my films from Alternativecinema.com.
Thanks for the interview!