Your new movie Pernicious - in a few words, what is it about, and what can you tell us about your character in it?
Pernicious follows three girls who travel to Thailand to teach kids. In the house they find a statue of a little girl, and the morning after their first night out in the city, things take a turn for the worse. My character Rachel is the bossy and outspoken one, she's the first one to make plans and is usually seen as the leader of the group.
What did you draw upon to bring your character to life, and how much of Jackie Moore can we find in Rachel?
I noticed a lot of Rachel's dialogue sounded like stuff I would say, and I liked that the character had depth and a backstory that I could connect to. I felt that this was not just a typical horror story, and in the film you learn quickly that Rachel and Alex lost their mother, so Rachel became a second mom to Alex. I am also an older sibling, and am very protective of my little sister, Noel, so I could relate to that.
How did you get involved with the project in the first place?
I got an email from one of the producers about coming in to read for the part, I read the script and completely fell in love with it. The character I actually chose to read for first was Julia, but when James had me read for Rachel I totally connected to her. After that it was pretty quick, they called me back in and said, would you be willing to go to Thailand to shoot this for a month? I was so happy, and grateful. I still can't believe I got to do it.
To what extent could you identify with the film's horror theme, and is horror a genre at all dear to you, and why (not)?
Absolutely, I LOVE horror films. I have been obsessed with the genre since I was little and saw The Sixth Sense. Anything involving ghosts and mysteries is intriguing to me. I love Saw, Paranormal Activity, Let the Right One In, The Shining, Audition (even though I had to close my eyes for a lot of it), House of a Thousand Corpses... ahhh so many, seriously, if there's a horror film out I want to see it.
What can you tell us about your director James Cullen Bressack [James Cullen Bressack interview - click here], and what was your collaboration like?
James understands the characters he writes so well, and always has an answer immediately if you have a question about the script. He is also a very sweet, genuine person and cares about the people he works with and what he's doing. When there's a challenging scene, he's very good at connecting you to the specific emotion that you need to bring in that moment, and he calls you out when you're half ass-ing it. That's something that a lot of directors don't do, he's not afraid to get real, and I loved him for that.
As Pernicious was filmed in Thailand - what were the challenges here? And how does it compare to filming in the USA?
The rain. We shot this in the fall of last year, which is the rainy season, so there were a few days that were literally monsoons. I remember looking out of the makeup trailer, and it was like someone was pouring gallons of water on the windows it was so heavy. At the beginning of the shoot the house we were filming at was in the middle of a dry field, and by the end we were taking a boat to the front porch. It was crazy, but honestly one of the happiest times of my life. It was also freeing to have very little cell service and internet. I was able to live in the present without the restraints of modern technology. I absolutely LOVED Thailand, I would go back right now if I could. I also want to add that holding a baby tiger is a life changing experience, and one of the highlights of my trip.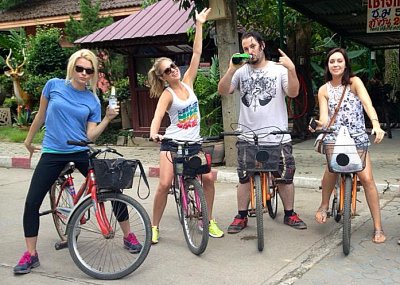 Jackie, Ciara Hanna, James Cullen Bressack, Emily O'Brien
What can you tell us about the shoot as such, and the on-set atmosphere?
It was great. We arrived to set every morning around 5am and everyone ate breakfast together (there were Thai and American choices). Then we went to hair and makeup and got ready for the day. Ciara Hanna [Ciara Hanna interview - click here] and Emily O'Brien are the coolest girls ever and we got along really well. By the end of filming we had so many inside jokes between the three of us, and became really close. James, Daemon, Rachvin, Kulthep, and all the producers, crew and special effects team were the sweetest, most down to earth people, and were always there for us every step of the way. They went above and beyond to make it a memorable experience, and I can't thank them enough. It was a special time in my life that I will never forget.
Any future projects you'd like to share?
I'm playing lead characters in some cool indie films coming out this year, Student Bodies, It's Gawd, Deadly Famous, and School's Out. I also shot a pilot for HBO, Westworld directed by Jonathan Nolan, and was involved in one of the shorts in Project Greenlight. Those are premiering this year as well, and I'm very excited about them.
What got you into acting in the first place, and did you receive any formal education on the subject?
Since I was little I actually wanted to be a director, I used to have my sister and the kids in the neighborhood act in plays that I would write and direct. I took voice lessons for nine years, and studied acting in New Jersey at the Phoenix School of Fine Arts. When I was in high school I took chorus and drama classes. When I started modeling in NYC, I auditioned for some projects, did some extra work, got my SAG card, and then ended up playing two small roles in independent films, Fugly! and Chlorine. I also trained with the legendary Elizabeth Kemp, who taught me that anything you feel can be a usable tool in creating a character. It wasn't until I moved to LA that I started focusing primarily in film. A few weeks after I moved here, I took my first lead role in a found footage movie, 100 Ghost Street, that got me familiar with on-set life. I also auditioned and was accepted into the improv school, The Groundlings, and still go to acting class every other day. Additionally, I've been so lucky to study with Greg Braun at the New Collective (Acting Club LA) since 2012.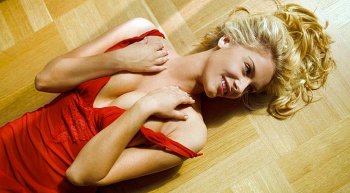 Can you still remember your first time in front of a movie or TV camera, and what was that experience like?
Oh man... yes. I started modeling when I was seventeen, and I still remember seeing my facial expressions on the computer screen during one of my first test shoots. They were completely different than what I had envisioned I was doing. My eyes were deer in the headlights insane. I remember thinking, "chill the hell out with the eyes". So I started doing this thing where I would squint to avoid that, but that didn't look too comfortable or realistic either. I think after some time I found a happy medium, but it was touch and go for awhile. As far as film, Chlorine was my first real film acting experience. I had done some small projects, but this was opposite Vincent D'Onofrio, who is like 6'4" and an incredible actor, so I was really intimidated. But he was super cool and easy to work with. My character was a bookstore owner that catches Vincent looking at a Hustler-type magazine. It came out really funny, and is still one of my favorite scenes today.
What can you tell us about your filmwork prior to Pernicious?
I have done a lot of indie films, I also did a mockbuster for The Asylum called Atlantic Rim. James had seen Atlantic Rim prior to meeting me. I love everyone at The Asylum, they believed in me enough to give me two of my first lead roles. Without those experiences I probably wouldn't have booked Pernicious, and some of the other work I've done.
Besides films, you've also done quite a bit of television - so how does doing a TV show compare to making a movie?
TV is great because it is a much faster pace, and if you're doing a guest spot you're in and out. With a film you're with the project from start to finish, and you have a certain amount of time to show your character's growth. In a TV series, each episode is contained and the character's journey can be spread out over time.
Over the years, you've also done your fair share of modelling - so what can you tell us about that aspect of your career?
Modeling was fantastic training for me. It made me comfortable in front of the camera. Just like acting, modeling is about creating characters, and teaches you how important stillness is and what can be conveyed with just a simple look. It also taught me about lighting and how to feel when the light's hitting your face correctly, which is an underrated skill in this business.
How would you describe yourself as an actress, and some of your techniques to bring your characters to life?
I'm naturally a very emotional person and I've always needed some sort of creative outlet. I definitely use everything I've experienced when connecting to a character. There are memories in our lives that shape who we are, whether they're good or bad, and acting is a way to connect to all of those things. For me, that is very therapeutic.
Actresses (and indeed actors) who inspire you?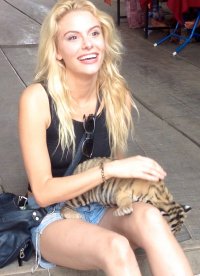 Feeling lucky ?
Want to
search
any of my partnershops yourself
for more, better results ?

The links below
will take you
just there!!!


Geez, so many... I love actors and actresses that have comedic depth. Some of my favorites are Lucille Ball, Marilyn Monroe, Reese Witherspoon, Viola Davis, Julia Roberts, Paul Giamatti, Phillip Seymour Hoffman, Forest Whitaker, Will Ferrell, Tom Hanks and Sandra Bullock.
Your favourite movies?
This is a hard one because I'm a HUGE movie buff. My favorite film this year was Wild. It was beautifully directed and filmed, and I connected to the character's journey. Some of my favorites over the years are Eternal Sunshine of the Spotless Mind, Before Sunrise (and the others in the trilogy), Adaptation, Big Fish, The Graduate, Breakfast at Tiffany's, Stranger than Fiction, Mars Attacks, City of God, Closer (actually anything by Mike Nichols... or Stanley Kubrick), Blow, Barney's Version, American Psycho, Sideways, Cast Away, The Sixth Sense, 500 days of Summer, and Jurassic Park of course. I'm sure there's a lot I'm forgetting and will regret not mentioning later.
... and of course, films you really deplore?
I don't like anything that shows animals being hurt. I know it's fake, but I'm a huge animal lover and I can't take it, even in a movie.
Your website, Facebook, whatever else?
My website is www.Jackie-Moore.com, I put all the videos I edit and direct on www.Vimeo.com/JackieMoore, and you can also follow me on Twitter at @JacquelineMoore or Instagram @MooreJacqueline if you would like.
Anything else you are dying to mention and I have merely forgotten to ask?
First of all, I want to say thank you for the interview, and I'd also like to say hi to my Pernicious friends... If you're reading this, I love you guys and I'm so glad I got to share this experience with you.
Thank you very much again, and I hope you enjoy the film:)
Thanks for the interview!