Your new movie Betrayed - in a few words, what is it about?
In very few words itís about trafficking, the dirty dark underbelly of organized crime and corruption, and the effects of making ďthe lesser of two evilsĒ choices.
Just curious, since Betrayed has quite a few central characters, and not all of them nice ones, who did you identify with the most, and why?
I am always a fan of the crossovers, the ones that sit on the fence to see them wrestling with choices and justify why they do what they do, and on occasion we get to see them wake up and change the course of things. In Betrayed I really liked Darryl (Sean Rey) and Mike Wolf (Billy Wirth).
With Betrayed exploring the blurred line between politics and crime - what are your personal thoughts on the subject, and are there any books and/or movies or whatever that have influenced you on that aspect of your movie?
I grew up reading Stephen King and Dean Koontz actually (hopefully youíll see that in Agramonís Gate early next year), but my mom read Agatha Christie, and crime drama has always intrigued me. Some of my favorite movies include The Usual Suspects, Se7en, Goodfellas. The inspiration for Betrayed though came from some church services at my church where I learned how much human trafficking is going on right here under our noses. Iím not a documentary filmmaker so I decided Iíd make a film that put these things in our backyards and gave the victims a voice and a face.
(Other) sources of inspiration when writing Betrayed?
Sadly I must admit interviewing some victims of human trafficking in order to get as much right as I could. It was really dark, painful to hear some of their stories.
Betrayed tends to get a little violent every now and again - so do talk about the bloody parts in your movie, how were they achieved, and where (if at all) did you draw the line regarding violence in your movie as such?
Yeah, I wanted a bit of ďshock and aweĒ - I believe itís that kind of movie. My production partner Nancy Oeswein is also a terrific FX make up artist, and with the very talented Nicole Diehl we were able to tackle some of the effects I saw some people turn their heads away and I heard some ďeeewwwísĒ. Each film will scream at a director what it needs and this one felt it needed that edge. Iím usually not much for being overly graphic with sex and violence, but I felt the edge of some was a good choice.
What can you tell us about your directorial approach to your story at hand?
It all starts with casting, right fit, and truth on screen, and especially for main characters you want someone with screen presence. I like a few table reads, and for the talent that flies in I like to meet with them the day before they start filming to go over their characters' details in choices, why do they do what they do etc, and after that there is usually just little tweaks here and there reminding them where they came from and where theyíre going in order to keep that red herring throughout and then just focus on capturing it best we can.
Do talk about your key cast, and why exactly these people?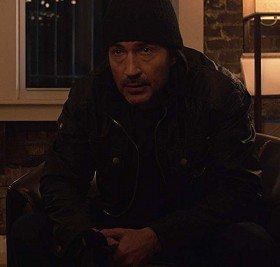 Iím so spoiled with these amazing iconic actors in all honesty, and the performances they gave!! John Savage was immediately my choice for the Mayor and I felt he truly owned that, and by the awards Iíd say they agree! Richard Tyson is such a great villain I was super excited he was in especially after covering with him how demanding his role was going to be, but it really needed his touch on Mr Stone. Another performance I felt deserved some notice was Billy Wirth as Mike Wolf, it was a really different approach especially with Billy who can play pretty big at times to bring it, in and Iíve heard people likening his performance to Clint Eastwood and Charles Bronson and thatís really what I wanted! I had worked with TJ Storm on two other films before so I knew right away I wanted him as Alpha, I never saw anyone else as an option for that character, and I was really stoked when my fellow Swede Yan Birch (The Stairmaster himself) said yes to play Coroner Bjork, that quirky character needed his feel and came to life. Another exciting part was giving Blanca Blanco, her first villain role and I think she really pulled it off and even more exciting she won her first Best Supporting actress and sheís so good person and so talented Iím happy for her. Not to be outdone, my beautiful and talented wife Kaiti Wallen won an award for Best Lead Actress in Betrayed, her most demanding role to date. Aphrodite Nikolovski was nominated for Best Lead Actress, but two missed performances came from Sean Rey as Darryl and Damien Chinappi as Karpov, I truly felt they were amazing!
A few words about the shoot as such, and the on-set atmosphere?
It was a rollercoaster honestly, the strong emotional scenes we had tears and hugs, and then weíd have action scenes with high fives and smiles all around. Itís a really heavy subject so at times that charged the air, but in some of the other scenes we got a break and had a blast. I always try to keep the set productive and creative. As an actor first, I know thatís where you usually get the best performances. Iím not going to lie though, seeing my wife Kaiti and Calhoun Koenig and Angelina Danielle Cama, who played human trafficking victims and are all very close to me, was rough.
Anything you can tell us about audience and critical reception of Betrayed yet?
So far most of what I hear has been very positive and reviews are good, sales are great! But youíre always going to have the ďhatersĒ who miss the forest for the trees I guess. But incredible compliments at the premiere and now a some really good reviews, and obviously the fact itís practically flying off the shelves in stores is a very good sign!
Any future projects you'd like to share?
Yes, next year will be a very busy year as two films I made before are coming out Abstruse starring Tom Sizemore and Dennis Haskins in a very edgy psychological thriller. As well as Enigma a supernatural thriller starring Dennis Haskins and TJ Storm. Also almost complete is my first stab at a horror film with Agramonís Gate and I have a feeling itíll make some noise! But the BIG one is Abeyance starring Scout Taylor Compton, Billy Wirth, Richard Tyson, Mel Novak,Vida Ghaffari [Vida Ghaffari interview - click here] and Yan Birch and the topic at hand is about as current as it gets with scientists playing god and testing boundaries that maybe we shouldnít cross, and I could see this one go very far.
What got you into making movies in the first place, and did you receive any formal training on the subject?
I actually started after the film incentives in Michigan got cancelled. I didnít think there was a very strong indie community and I felt it would kill our film industry, so we made the decision to go after it and start making movies. It took two short films and then an attempt at a feature film to make me realize I simply didnít know enough and needed to learn more and I needed to learn fast. I then brought in a mentor in Jerry Hayes to co-direct Moving Parts with me, and during that pre-production up until the beginning of shooting Abstruse I had taken two online classes for filmmaking - I really enjoyed RocketJump! And Iím still always searching for information, always trying to take it to a new level.
What can you tell us about your filmwork prior to Betrayed?
I am proud of each step and each film Iíve made and each has its own independent and unique voice. But the two that are already out, Moving Parts on Vudu and Amazon is a cat-and-mouse game crime thriller with a complex story line that will take you for a great ride, and Iím super proud of Bennettís Song that we just released in August, my partner Nancy Oeswein wrote a beautiful script and we made a film theyíve had a hard time defining as it has won awards in multiple genres. Itís a really beautiful story and itís doing well enough we are just about to start shooting the sequel!
How would you describe yourself as a director?
Iím definitely an actor's director, but Iíve learned enough on the cinematography side to capture it right, and enough on the editing side to know how to assemble it in post and what it needs from each scene.
Filmmakers who inspire you?
Quentin Tarantino, Christopher Nolan, David Fincher, Francis Ford Coppola, Martin Scorsese are up there.
Your favourite movies?
The Usual Suspects, Se7en, Fight Club, Goodfellas, Godfather, Deer Hunter... I could keep going.
... and of course, films you really deplore?
Nothing I really deplore but I have a hard time with enhanced reality or B-movies. I'm not a fan of fake wrestling either haha, no but really exaggerated acting that feels fake it tough to watch because I canít lose myself in the story or relate to characters.
Your/your movie's website, Facebook, whatever else?

Feeling lucky ?
Want to
search
any of my partnershops yourself
for more, better results ?

The links below
will take you
just there!!!


Iím all over the place haha, my Twitter and Snapchat was made in my MMA fighting days, so itís @HarleyTheSwede as that was my fighting name. My Instagram is OfficialHarleyWallen and Facebook is just my name Harley Wallen or Painted Creek Productions on Facebook - will have most of the film stuff and news.
Anything else you're dying to mention and I have merely forgotten to ask?
I just want to say a huge thank you to my manager and publicist Joe Williamson for all he does! And a huge thank you to the very warm reception of Betrayed at our very first Hollywood premiere. I appreciate you taking the time to find out more about me and what me and my team are working on!
Thanks for the interview!
Thank you.