Your new film Slime City Massacre - in a few words, what is it about?
Slime City Massacre is a sequel to a film I made in the 1980s called Slime City, which played as a midnight movie and has been released four times on VHS and DVD and has become a genuine cult film. Slime City told the story of a college student, Alex (Robert Sabin) who moves into a NYC apartment building, where his oddball neighbors give him wine and something called "Himalayan yogurt." The concoctions turn him into a slime dripping, murderous monster, part of a process of him being possessed by a cult leader named Zachary Devon. The film is best known for its over the top gore effects in the ending.
Slime City Massacre is both a sequel and a prequel to Slime City. The sequel portion is set 7 years in the future, after a dirty bomb has destroyed NYC and the US has invaded Canada for oil. An army deserter (author Kealan Patrick Burke) and his draft dodger girlfriend (Jennifer Bihl) team up with two grifters (Debbie Rochon [Debbie Rochon interview - click here], Lee Perkins) to survive in the ruins of Slime City, where they discover the elixir and yogurt from the first film. This time four people get possessed instead of one, and the "Slime Heads" battle mercenaries when they're not killing homeless people. In the prequel portions of the film, we see how Zachary and his cult came to be. The flashbacks balance the main body of the film the way the flashbacks did on Lost.
Your inspirations for writing the film?
Well, it's a sequel, so my inspiration was the original film, Slime City! But it's also a tribute to kindred horror films from the 1980s, like Basket Case, Street Trash, and The Toxic Avenger, and there are visual nods to science fiction films like The Omega Man, Planet of the Apes and Damnation Alley.
How would you describe your directorial approach?
I'm a writer-producer-director on my films, with a lot of responsibilities. My approach is to tell the best story I can while worrying about how to feed my cast and crew. A big part of directing is casting the right people, and on that score I pat myself on the back. For important scenes, I let the actors finesse the dialogue and action while me and the DP, Chris Santucci, figured out the best angles to cover. I've learned to allow the people around me the creative freedom to do their best work. We start with my story, progress to their interpretation, making sure that interpretation is best for the story, and shoot it. Then the editor, Phil Gallo, brings his interpretation to the table. It's a collaborative process, which is why I think a lot of directors who put "a so and so film" above the title are egomaniacal assholes. Even my five-year-old daughter says, "We ALL made Slime City Massacre", because that's the truth.
Despite a low budget, Slime City Massacre is pretty special effects-heavy. How did you manage that, and what can you tell us about the effects you are using?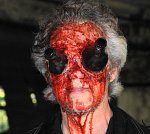 Slime City Massacre cost $50,000, the same budget that Slime City cost in 1988. That would pay for the catering budget for one day on a big studio film, but for a micro-budget filmmaker making a feature for $5,000 - $10,000, it's a respectable budget. SCM combines practical effects - as the original film did - with CGI. Both the practical effects and the CGI are intended to reflect the goofy charm of 80s films. For instance, when the three different colored brains crawl out of the Slime Heads' heads at the end, RJ Sevin used one rod puppet brain, colored blue, and shot it on the actual location three times. Then he combined those three elements so that it appears there were three brains, assigned a unique color to each one, and added the human eyeballs in post. The end effect is something that almost looks like a Harryhausen sequence. People who don't see the charm in that aren't my target audience. It's an FX heavy film, with appliances for five different characters, a giant vagina, and some pretty inventive deaths. We pulled the SFX off on a low budget thanks to careful planning and a really dedicated team of artists who pulled a lot of all-nighters.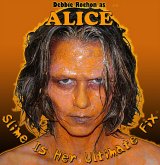 Your film stars B-movie icon Debbie Rochon [Debbie Rochon interview - click here] as one of the mutants. What can you tell us about her and your collaboration with her?
Debbie plays "Alice", one of the Slime Heads, and her character is featured in most of the most outrageous scenes in the film. I've toiled in this business since 1984, and she's absolutely one of the best and most talented human beings I've had the pleasure to work with. The lady is talented and a good person to boot. She was collaborative with everyone involved with the production, not just me, and brought a level of professionalism to the set that inspired everyone else. She was never a diva, never made any demands, just concentrated on the work, and seemed very pleased that everyone shared that attitude. The spirit of dedication on the set was truly remarkable.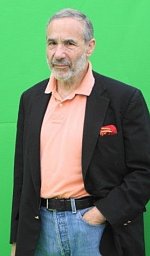 Lloyd Kaufman
Also, Troma-boss Lloyd Kaufman makes a guest appearance. What is it like working with him, and being a directorial legend himself is he willing to take any kind of direction from others?
Debbie suggested Lloyd come out to Buffalo to do a cameo because she really believed in the script, and he did so at his own expense. We took him out to dinner, then shot with him for a few hours the next day, and off he went. He was charming to have around, and I've seen him a few times since then. He took what little direction I gave him, and appears at the beginning of the film, in the scene where we blow up NYC - Lloyd is the face of NYC! That bit always gets big laughs when we show the film to an audience, so I'm glad it all worked out. He's sort of a Harrold Lloyd type in that scene, reacting with very little dialogue, and Mars, our talented composer, came up with a funny little ragtime piece to play against the mushroom cloud.
A few words about the rest of your cast?
SCM is an ensemble picture with a huge cast. I really shouldn't talk about anyone if I can't talk about all of them, you know? The actors are some of the people primarily responsible for making this film work. Let me say that I believe I was lucky to have had one of the best casts ever assembled for a low budget film, horror or otherwise, and name a handful of those we haven't already discussed: Jennifer Bihl, Kealan Patrick Burke, Lee Perkins, Robert Sabin, Mary Bogle, Brooke Lewis, Roy Frumkes, Michael O'Hear, John Renna, Sephera Giron, Sandra Roland... I could just copy and paste the IMDB listing!
Your movie is full of references to 1980's splatter cinema. Are these movies especially dear to you, and some of your favourites from that era?
I got my start working on I was a Teenage Zombie in 1984. After shooting Slime City in 1986, I also worked on Plutonium Baby and Brain Damage, and had a close association with the Street Trash crew. That was really my era. I worked in video stores and movie theaters in Times Square, and hung out on 42nd Street. I think all of that comes out in my film work.
Which neatly brings me to my next question: Slime City Massacre is a sequel to your 1988-film Slime City. Why did you figure the time was right to do a sequel more than 2 decades later?
People write to me about Slime City all the time, and I'm touched by the affection they have for it. It was during a 20th anniversary tour at conventions and film festivals that I told Robert Sabin and Mary Bogle I wanted to do a sequel. I knew the direction the story was heading in, and it seemed worth doing from a creative perspective. God knows I'll never get rich off this, it was a labor of love: a reunion of old friends, a meeting of new friends, and a thank you to longtime fans.
To my information, Slime City was your debut feature. What was it like to revisit these early filmmaking experiences with Slime City Massacre?
Making Slime City Massacre was the only experience I've had that matched and possibly surpassed that of making Slime City. I'll always be glad I did it, and I'm grateful to my wife Tamar for helping make it possible.
After directing Slime City, you have worked as an assistant director on films like Plutonium Baby and Frank Henenlotter's Brain Damage. What can you tell us about these experiences?
Plutonium Baby was the first time the "Slime Guys" got paid to work on a movie, but the producer and director didn't give a shit about making a good movie, it was all about the bottom dollar, and that's the kiss of death. Brain Damage was the opposite: Frank Henenlotter wants nothing more than to make the movie he wants to make; cinema needs more artists like him. It's too bad the system doesn't support guys like us; the deck is stacked against us in so many ways.
What got you into filmmaking in the first place?
I've loved monsters since I was four years old, and that love is part of my DNA. Comics, cartoons, movies, TV shows, books... I just have a burning desire to contribute to the genre in some small way.
A few words about the films you made in between Slime City and Slime City Massacre?
I shot Undying Love in 1991, and Naked Fear in 1995. Undying Love cost $35,000 on 16m, Naked Fear cost $7,000 on Hi8 video. Until Slime City Massacre, Undying Love was my favorite of the films I've made. It's a moody little vampire fim - more of an anti-vampire film - and pretty nihilistic. It doesn't have any of the over the top gore of Slime City, so it never caught on despite some good reviews, but I'm happy with it. Naked Fear is a psycho thriller about an agoraphobic man who takes in a claustrophobic roommate who turns out to be a serial killer. It features actors from my first two films, and as a companion piece to them, I think it works. The acting is strong, and I felt my direction showed signs of improvement. But Hi8 sucked as a format, and we dubbed almost the entire film because of a major technical screwup, and didn't finish it until 1999. Both films are available on POP Cinema's 2-disc set, Greg Lamberson's Slime City Grindhouse Collection, with a lot of extras.
Is it true that you are currently producing a film called Snow Shark: Ancient Snow Beast?
We just wrapped production. Sam Qualiana, who's 25, is the writer-director. This is his baby all the way. I helped him raise some money, and made some recommendations regarding special effects and post production - Brett Piper is editing the film with Mark Polonia. It's going to be a very fun creature feature, and I'm happy to have helped out. Maybe Sam will become successful because of this and he can produce my next movie!
Any other future projects you'd like to talk about?
I just finished a script called Scare Monger, which I wrote for Debbie to star in, something really scary and gory, and I've started the script for Slime 3. But who knows if either one will ever get off the ground? It's a tough, tough busines, and I'm not interested in making $10,000 movies. I only want to make another one if I can make it better than the last one.
You have written a book about low budget horror filmmaking called Cheap Scares!. What can you tell us about that book, and what would your advice for wannabe low budget filmmakers be?
My advice to aspiring low budget filmmakers is to read Cheap Scares! It's 100,000 words long, double what most similar books run, and it contains the hard truth about fundraising and distribution in the current brutal market, which only seems to get worse. Half of Cheap Scares! consists of interviews with other filmmakers, plus distributors, marketing people, and an entertainment lawyer - invaluable advice. The other half is about my experiences in this business, as someone trying to make films and as someone dealing with distributors.
Besides Cheap Scares!, you have also written quite a few books of fiction. A few words about those and about Gregory Lamberson, the writer?
I more or less make my living as a horror novelist. I say "more or less" because I'm a stay at home father. I wrote a book called Johnny Gruesome which is still doing well, and I have two ongoing series. The first is called The Jake Helman Files, which so far includes Personal Demons, Desperate Souls, and this October, Cosmic Forces. I also have a werewolf series called The Frenzy Wolves, which started with The Frenzy Way last summer and continues with The Frenzy War next summer. My publisher is Medallion Press, which co-produced Slime City Massacre.
The Jake Helman Files are also available as audio books, by the way.
Any other talents of yours you'd like to talk about?
I'm one of the directors of the Buffalo Screams Horror FIlm Festival, which is really taking off, and I sometimes critique screenplays for a fee.
Writers who have influenced you?
I think the writers who influenced me the most were Marv Wolfman, with the Tomb of Dracula comic book in the 1970s; William F. Nolan, who wrote science fiction like Logan's Run before focusing on horror; and David Morrell, who's written many novels, inluding First Blood and The Brotherhood of the Rose.
Directors who inspire you?
Dan Curtis, who created Dark Shadows, produced the original Night Stalker movie, and directed Trilogy of Terror - all TV work. I'm a child of TV. Romero, of course. And Jack Arnold.
Your favourite movies?
I have my favorite horror movies, but my favorite movies in general aren't horror per se. I love dramas, crime dramas, and thrillers from the 1970s, movies like Deliverance, Taxi Driver, Klute and Three Days of the Condor. I don't think I'm being overly nostalgiac when I say movies were better then, before CGI and superheroes, when story mattered most.

Feeling lucky ?
Want to
search
any of my partnershops yourself
for more, better results ?

The links below
will take you
just there!!!

Find Gregory Lamberson
at the amazons ...

amazon.com

amazon.co.uk

amazon.de
Looking for imports ?
Find Gregory Lamberson here ...
Something naughty ?
(Must be over 18 to go there !)

... and of course, films you really deplore?
It's so much hard work to make a movie, especially if you're an independant filmmaker, that I take my hat off to anyone who gets the job done. You know, Ed Wood is considered "the worst filmmaker ever" - but that's bullshit [Ed Wood bio - click here]. His films are bad and funny, but they're also a lot more competent than people give them credit for. And he got it done, man. I'd like to see the people who slam films for being low budget try to get it done. That's a direct challenge to internet trolls who attack filmmakers and their work from the safety of their keyboards. What the hell has budget got to do with writing, acting, and direction?
Your website, Facebook, whatever else?
My website is Slimeguy: www.slimeguy.com. I'm easy to find on Facebook and Twitter.
Anything else you are dying to mention and I have merely forgotten to ask?
Support independent film, and kick in the ass any lowlife scumbag who downloads movies illegally. These creeps claim to love independent filmmaking, but they're making it impossible for most of us to ever make a buck for our hard work. The sense of entitlement is astounding.
Thanks for the interview!
Thank you. :)