Your new movie The Comic Book Palace - in a few words, what is it about?
The Comic Book Palace is an observational documentary about a local comic book store that has survived business for over twenty years in the same location. Follow Glenn, the owner and operator, as he manages his store and talks comics with his loyal clientele.
How did the project come into being to begin with, and are you a regular at the titular store?
This project was born out of frustration! I was at work thinking about making a project, like, a real project. Iíve made plenty of music videos for local rappers but that got really repetitive very fast and since I am a filmmaker I felt like I needed to make a film, I needed something that I can call my own, something that I would be in control of.
Honestly speaking I was not a regular at the store; I barely stopped by even though I only lived a few minutes away, but once inside the store itís hard not to not want to buy a comic book.
Making a movie like The Comic Book Palace does suggest you are not totally impartial to comic books as such - am I at all right in that assumption, and would you care to elaborate?
I totally admit that I know Jack-shit about comic books, other than the fact that they have great artwork and great stories. I donít know that much about the artists except for the well-known ones, like, Alex Ross and Jim Lee, etc. As far as writers? You got me there. I do read The Walking Dead and I thought The Lone Ranger series from Dynamite Comics was fantastic, better than that Lone Ranger movie from Disney, that comic was serious. But all in all, the guys at the store are WAY above my knowledge, but that didnít matter, the documentary was about the people and their love of comics. The comics were the ďtits & assĒ of the documentary.
You shot the movie with literally no crew - where were the challenges but maybe also advantages of that?
No crew is a challenge depending on what you're doing. Something like this, the size of the store, and the hours I had to endure capturing everything really wouldnít have worked with a crew. It was very hard because it was just me. All I had was my Canon T2i, directional Rode Mic, camera batteries, and a couple SD cards. I had to make sure the camera batteries were charged, which sometimes they werenít, and that was annoying because I only had a single battery charger at the time. I had to make sure the Rode Mic was on, which one time I forgot to turn on after a regular customer gave a 30 minute interview in front of me; that was embarrassing, and dear old Glenn gave me some nice shit about it, jokingly. The other thing is only having one camera! I wish I had another camera while making this, at least a stationary camera that I couldíve set-up, but no. I had to place the camera on shelves, on top of comic book piles, counter tops, you name it. I wanted this to look like there was more than one camera so I had to hustle around the store all the time.
The other challenge you face when making a project is yourself. While filming I kept telling myself that this has to be made no matter what, no matter who was talking crap about it, no matter who thought I didnít know what I was doing, etc. I knew that I was making something with my own equipment and my own time so I really didnít care who thought this was going to look stupid because those people that criticize things like this will ALWAYS have a rebuttal as to why they canít do it.
Making this documentary was my own personal film school that didnít cost me anything except my time. I had to be a fly on the wall in that store, it wouldnít have worked if I stayed put on a tripod - boring! I had to be free and move around a lot. All those conversations were shot with one camera and then edited heavily to try and make it seem like there were more than one camera. I had that in my head the whole time, ďdonít make this look like you had one camera, move aroundĒ. There are times when I broke the 180 degree rule, but fuck it, this was my project, and I wasnít making a movie. I was capturing real life.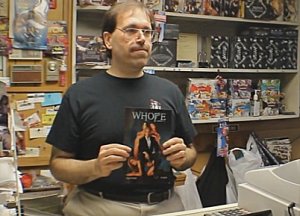 Glenn O'Leary
What was your collaboration with store owner Glenn O'Leary and several of his regulars who appear throughout like during the shoot? And do talk about the shoot as such for a bit!
The best thing Glenn told me when I approached him about the documentary was, ďDo what you want!Ē The craziest thing while making this doc was that the regulars didnít mind the camera at all, it was weird because I thought people were going to look into the camera all the time and make faces like middle school kids, but they were real pros, it was like I wasnít there and that felt great. There was no acting and no playing up to the camera; these guys are like this for real!
Glenn was always a treat to get on camera but my personal favorite was Davey, he was always a bag of fun, his gruff voice and youthful demeanor always made me have the camera ready to REC as soon as I saw him approaching the store.
Corey and Glenn were always good to get together on screen, they would have nice debates and discussions about certain authors *cough* Grant Morrison. I honestly donít know what the big deal is about Grant, but Glenn has it out for him, big time!
There were times when I wasnít recording and just reading some trade paper backs of The Walking Dead, sometimes I was just chatting it up with the guys at the store, or sometimes I was just plain tired and took breaks. When you work a full time job and then after that you go record guys for a few hours it makes you really tired, you feel like just saying ďfuck it!Ē but I know that this was going be pretty good after it was completed, itís cool to like comic books now, for some reason, so I knew people would enjoy it.
What can you tell us about critical and audience reception of your movie so far, and any idea when and where the film will be released onto the general public?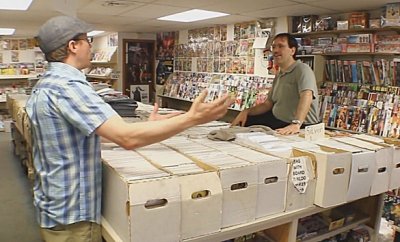 Corey Turner, Glenn O'Leary
The general reaction was great! I had a premiere screening at a local AMC. Glenn sold the tickets at his store so we raised the money to rent out theater by pre-selling the tickets there, and then people who showed up to the screening that night were able to buy tickets at a table we set-up. Mostly everyone that showed up were from Glennís side, I tried to get people from my side to show up by sending text messages and posting flyers around town but in my neighborhood comic books are not that gangster. I only had a few people I knew show up, but it didnít matter to me, that was MY movie and people DID show up and they LOVED it! The people that know me in my area of town and blew off my doc missed out on something great; the people that showed got a great show! One person thought I was going to be rich and famous and was all smiles and asking me questions, like ďSo how much money do you think youíll make if someone buys this?Ē and ďYouíre really talented!Ē YADDA-YADDA-YADDA, Iím not even in Hollywood and already theyíre coming out, was my thought about that.
I felt like a real big time for one night and really wish I had a real career in filmmaking because it was fun making that documentary! The thing that sucked was knowing I had to go back to my job the following day so I can work and pay my bills. I like my job because it provides a roof over my head, but I love filmmaking because it is what I want to do for life, no matter if Iím Hollywood or indie, I donít give a shit, I WANT IN!
I hope I can get this out to the general public; itís on VHX, thatís a place where you can download movies by purchasing them, so I guess thatís a start. I would LOVE to get this on Netflix because that would just put it right in peopleís faces. No offense, but if Bong of the Dead can get on Netflix, thenÖ
One very cool thing is that Iím screening this at the 2014 Boston Comic-Con on Friday, August 8th at 6 PM. Iím really looking forward to the crowd reaction; Comic-cons are the real deal for these kinds of things and there will lots people there! Iíll be selling DVDs there as well!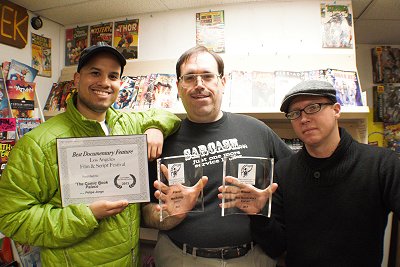 Felipe Jorge, Glenn O'Leary, Corey Turner
Any future projects you'd like to share?
I made a short horror film after my documentary, but that was for a contest, itís called Mandible. I am saving up for a brand new camera because I really need an upgrade. That BlackMagic Pocket is on sale for $500, so once I get that I think Iím going to make another documentary or an actual narrative movie. I am working on other peopleís movies, Iím editing one for Chris Esper [Chris Esper interview - click here] called Please Punish Me and I am a cinematographer on another movie called This Time Each Year, but nothing of my own for now, Iím just trying to get my name out there and get some more work.
What got you into filmmaking in the first place, and did you receive any formal training on the subject?
Iíve always been an avid movie watcher! I love going to the movies and staying home and watching the same movies over and over! Iíve always wanted to go to film school but sometimes you donít realize what you shouldíve done with your life until much later in your life.
I started out doing local rap videos because the rap videos Iíve seen on YouTube from the local guys were bland and boring and just not good. I know thatís a douche thing to say but itís true. I figured I can add something that those other videos didnít have. David Fincher is my main inspiration for music video because he added a cinematic experience to his music videos, now music videos are ALL the same; shaky camera and editing that can give you a seizure.
The only real training I had was just watching a lot of movies, listening to commentaries, podcasts, and just making short, little movies. I read Robert Rodriguezís book Rebel without a Crew, and that started the engine, but I didnít step on the gas until I got my own camera. I taught myself how to edit and used YouTube as a reference for learning how to use Sony Vegas, which is what I edited the entire documentary on. So no, I didnít go to film school but that doesnít mean that I canít be a filmmaker! If you can afford to go to film school go on ahead but if you donít have the money, use that money that you would for school to fund your own film and go through your own personal film school.
What can you tell us about your filmwork prior to The Comic Book Palace?
I have a YouTube account: M2MFilms, and there you will see most of my film work. I donít have much of a resume on IMDb but I have a resume. I do like to act sometimes; I was an extra on The Equalizer and actually walked right next to Denzel Washington a few times. I was an extra on an NBC pilot, The Odyssey; I played a uniform cop in the background.
How would you describe yourself as a director?
The only person I can think of is Robert Rodriguez. I know heís not the greatest filmmaker but to me heís someone who just used what he had around him, he knew how to make it happen, he wasnít afraid of problems because there was always a way around it. Reading his book and then listening to his commentaries, theyíre very informative, and inspiring in ways. So to describe myself as a director the best way I can, I think I would call myself a ďfinger paintingĒ type of director. I hope that helps thatís the best thing I can think of.
Filmmakers who inspire you?
Any filmmaker that gets their movie made, good, bad, or ugly, inspires me. Itís tough to make a movie. But as far as actual people, David Fincher, I love! I wrote an art history paper one time comparing Rembrandt to David Fincher because Fincher has that dark, moody lighting and his inserts are awesome! Hitchcock, Richard Donner, Kubrick, Spielberg, Ridley and Tony Scott, Paul Thomas Anderson, Tarantino, Nolan, Kevin Smith; It can go on and on. Iíll admit that Iím not familiar with a lot of foreign directors but I do watch a lot foreign movies because they have more weighty issues. Mother and The Hunt are both fabulous movies, The Hunt especially because of the issue of the movie and it stars Mads Mikkelson.
Your favourite movies?
To me there is no such thing, but to be fair Iíll name a fewÖ
Boogie Nights, Alien, Aliens, Bound, Tango and Cash (because that movie rocks!), The Godfather, Fight Club, Glory, Silence of the Lambs, Philadelphia, They Live, Rocky, Jaws, Groundhog Day, The Crow, The Color of Money, Black Rain, Robocop, T2, Three Amigos, Night of the Living Dead (Romero), Dawn of the Dead (Romero), and The Game.
Those are just to name a few!
... and of course, films you really deplore?

Feeling lucky ?
Want to
search
any of my partnershops yourself
for more, better results ?

The links below
will take you
just there!!!

Find Felipe Jorge
at the amazons ...

amazon.com

amazon.co.uk

amazon.de
Looking for imports ?
Find Felipe Jorge here ...
Something naughty ?
(Must be over 18 to go there !)

I love shitty movies! I watch them all the time! But Iíll name some tooÖ
No Holds Barred, Over the Top, Teen Wolf Too, The Ghost of Mars, Friday the 13th (remake), Robocop 3, Superman 4, Beverly Hills Cop 3, and Seed of Chucky.
Your/your movie's website, Facebook, whatever else?
https://felipejorge.squarespace.com/home/
https://www.facebook.com/felipejorgedirector
https://www.facebook.com/ComicBookPalaceTheDocumentary
Anything else you are dying to mention and I have merely forgotten to ask?
To anyone out there, please, please purchase copy from VHX! Itís only $7.00; youíll spend more money buying a bag of shitty weed or some snacks or whatever.
$7.00 for a short, nice documentary is pretty good - http://thecomicbookpalace.vhx.tv/
Thanks for the interview!