Your new movie Little Chief - in a few words, what is it about?
The lives of a Native woman and nine-year-old boy intersect over the course of a school day on a reservation in Oklahoma.
What were your sources of inspiration when writing Little Chief, and is any of the story based on personal experiences?
There are certain stories I find myself telling over and over again, and I love talking about my mother and the work she does in our Native community. She has been an educator for most of my life, and she has sacrificed so much to provide safety and knowledge to our youth. Growing up, these sacrifices were just the reality that I knew and it wasnít until I was much older that I realized the unique set of challenges she faces as an Indigenous woman teaching Indigenous children. There is a real lack of understanding about modern Native America, and Little Chief offers a simple exploration of one reality set against the complicated constructs in which it exists.
According to my information, you've chiefly made documentaries before Little Chief - so how does making a narrative film compare to shooting a documentary, and which to you prefer, actually?
I have always wanted to tell stories that I'm interested in. Filmmaking is a lot of work and it is a much longer process than most people realize. For me, whether it is documentary or narrative, the story has to be something I am going to be interested in and feel passionate about for a long time. I find both mediums to be highly challenging and rewarding and def couldn't pick a favorite between the two. I hope I am privileged enough to get the chance to continue working in both.
What can you tell us about your overall directorial approach to your story at hand?
This was my first narrative film so I knew that casting was going to be a big key to the success of the film. I wrote Little Chief with Lily Gladstone in mind and was thrilled when she said yes to the project. Once we found Julian Ballentyne to play Bear I was able to relax because I knew I had two fantastic leads that would help bring my narrative debut to life. After the cast was secured I worked with my DP, Marshall Stief, to bring Oklahoma winter to life. We spent a lot of time discussing color and how to stage our shots so the film would feel like you were there with these two characters as they navigated a difficult day.
Where was Little Chief filmed, and what was it like filming there?
Little Chief was predominantly shot on the Seneca-Cayuga reservation in Oklahoma. We shot at the school where my mother and sister taught for many years. It's a place I spent a lot of time over the years. It was really incredible to be there with youth from my Nation. Most of them had never seen a film set before and we had a blast.
Do talk about your key cast, and why exactly these people?
I have been a fan of Lily Gladstone for years. She is exceptionally talented and when I was writing Little Chief I imagined her as Sharon. Julian is a young actor from Canada and when I met him to read I was blown away by his maturity. He is just a delight to be around and I learned so much from him. The other classroom children are all enrolled members of the Seneca-Cayuga Nation. It was such a great experience to work with them.
Your cast includes a group of young children - so did working with children put any extra challenges on you as a director?
I am not sure why but on the day we were working with the children I wore a pair of overalls. They started calling me Farmer Joe and teased me relentlessly throughout the day. They definitely had the upper hand but we had a blast and got through everything we wanted to get with them. I was just recently home and saw a couple of them and they are asking when they get to do it again.
What can you tell us about the shoot as such, and the on-set atmosphere?
We shot for 5 days in Northeastern Oklahoma, and despite a freak snowstorm we had a blast. It was a great set filled with a lot of really talented folks.
The $64-question of course, where can Little Chief be seen?
Little Chief is premiering at the Sundance Film Festival. Screenings as follows:
Monday, January 27, 5:30 p.m. - Egyptian Theatre, Park City, UT
Wednesday, January 29, 8:30 a.m. - The MARC Theatre, Park City, UT
Thursday, January 30, 4:00 p.m. - Holiday Village Cinema 4, Park City, UT
Friday, January 31, 9:00 p.m. - Temple Theatre, Park City, UT
Saturday, February 1, 3:00 p.m. - Broadway Centre Cinema 6, Salt Lake City, UT
Anything you can tell us about audience and critical reception of Little Chief yet?
The film will premiere at Sundance, so we haven't had the chance to receive much feedback. I did have a private screening in Oklahoma for members of my tribe and the response was very positive. I made the film for my community so it was amazing to get their seal of approval.
Any future projects you'd like to share?
I am currently writing a feature called Fancy Dance about a two-spirit woman who kidnaps her niece from a foster home on the way to a powwow. The U.S. government has long been removing Native kids from their homes and placing them with Non-native wards, and I want to explore the devastating impacts of this but in a way that allows us to take a few breathers from all the trauma and have some fun on a road trip movie. I am also working on a feature documentary called Sisterís Gone that investigates the epidemic of missing and murdered Indigenous women in Alaska.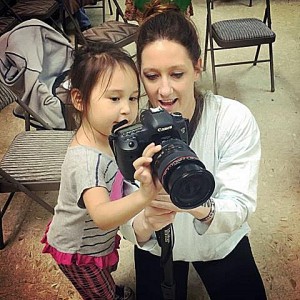 Erica on set
What got you into filmmaking in the first place, and did you receive any formal training on the subject?
As a two-spirit Haudenosaunee woman, I am drawn to stories that actually drive change. Thereís a huge responsibility that comes along with having access to make films and media. It took me a while to figure that out, and it inhibited me as an artist and an activist. I was desperately trying to mimic what already existed and fit into this mainstream form that was actively working against me and the authentic stories I wanted to tell. I don't have any formal training and I still have a lot to learn, but I am no longer interested in working on things that donít have a direct and positive impact on my community. It is incredible to have the backing of an organization like Sundance, but even outside of that, the art legitimately matter the moment it exists.
How would you describe yourself as a director?
I'm inspired by the people in my community that make up the fabric of our culture. The standard tropes of Indigenous people on screen are relentless and violent, and I feel a responsibility to try and push against that narrative with the experiences I have had and have witnessed.
Filmmakers who inspire you?

Feeling lucky ?
Want to
search
any of my partnershops yourself
for more, better results ?

The links below
will take you
just there!!!


I am endlessly inspired other Indigenous storytellers who are out there doing their work - Sterlin Harjo, Zoe Hopkins, Elle-Maija Tailfeathers and Danis Goulet to name a few. I am also a huge fan of Kelly Reichardt. She has been a huge cinematic force in my life.
Your/your movie's website, Facebook, whatever else?
https://www.instagram.com/ericajtremblay/
https://www.instagram.com/littlechieffilm/
Thanks for the interview!