Your new movie A Hymn for Her - in a few words, what is it about?
It's about an ageing starlet, Rosemary De Souza, who is lamenting to herself and to the audience, how she has become invisible to society as she's got older.
Now how did the project come into being in the first place?
I'd written the script a while ago, I'd had the idea of writing something that was mainly to camera and I wanted to do a horror. I wrote and directed a horror – The Ballad of a Haunted Man – in 2017 which had a male protagonist and I was keen to write one for a female lead. I'd had a couple of films do well at The Misty Moon International Film Festival, and Stuart Morriss and I had spoken about me directing something for Misty Moon. Stuart asked if I had a script myself, so I sent him A Hymn for Her. I'd met Linda Marlowe at Misty Moon and had her in mind when writing it – and Stuart also suggested Linda so our vision for the film was very similar right from the start.
What were your sources of inspiration when writing A Hymn for Her?
Someone said to me years ago that she felt invisible now she was older. I thought there was a story – many stories – in that. I also liked the idea that being 'invisible' can have it advantages.
I did an MA in TV Scriptwriting and was writing a shadow script of Jimmy McGovern's Accused. I reached out to Isabelle Grey, who had co-written an episode with Jimmy, to ask for advice. She said Jimmy looks at the situation his protagonist is in and thinks 'how can I make this worse' and he keeps asking and keeps asking. So when writing horror, I do the same: I constantly think 'how I can make it worse', or 'how I can add another level or another twist?'
At least to me, A Hymn for Her is above all a highly ironic movie - would you at all agree, and if so could you elaborate?
I'd agree. Using irony, or ironic situations, is one way of getting a message over without sounding like you're preaching. And you can certainly apply dramatic irony to Jake's situation, who bumps into Rosemary and doesn't apologise! I think the use of humour in unfunny situations, when done properly, can be very effective. I wanted there to be light and shade. The actual truth of the film is a sad one – she's lonely, frustrated and ignored, and her reaction to that is pretty brutal. Her honesty and vulnerability when she tells the audience 'it hurts' is really sad. If the whole film had been pitched to that tone, it would be a pretty bleak watch.
What can you tell us about your directorial approach to your story at hand?
I have a very clear idea of how I think my scripts can translate to screen, which is why I like to direct what I write. From the pre-production stage, I know what I want it to look like so creating the set, scouting locations, sourcing the right props etc is all vital.
I favour a strong collaborative approach, talking to actors about their character and how they see them, and for them to feel free to interpret the script. Also, for the DOP and/or AD to also have idea of what may or may not work. I've been lucky in that so far I've worked with people who can see what I'm envisaging and have helped me get there.
A Hymn for Her stars veteran actress Linda Marlowe - now what was it like working with her, and how did you get her even?
Stuart knows Linda and approached her with the script – and she said yes. I always find it fascinating watching actors say my words. I watch my final films and these magnificent performances and think 'I can't believe I wrote this.' And A Hymn for Her is no exception. It was an absolute pleasure to watch Linda encapsulate Rosemary so brilliantly and switch from humour to pathos to horror with such expert skill.
Do talk about the rest of your cast, and why exactly these people?
Tyger Drew Honey was also expertly cast by Stuart. He played the part of Jake with such an experienced ease. I'd watched Imogen Eden-Brown's showreel was keen to work with her and she pitched her scene perfectly. Stuart knew Deborah Voorhees and Hayley Reece Greenbauer were over from the US to promote 13 Fanboy and suggested I write them into the film so we have these two amazing cameos. My husband Dave Sutherland played Linda's husband, Christopher. I'd wanted Stuart to play him but Covid stepped in and we had to change plans last minute. Dave was well overdue a haircut and shave, but that worked in our favour: A beard, glasses and a change of clothes and even his closest friends didn't recognise him on screen. He did a great job!
A few words about the shoot as such, and the on-set atmosphere?
We were a small team: I had my assistant director Marcus Lorentzen with me. I'd seen a short film Marcus had made and was really impressed by it, so asked him to come on board. He has a great eye and really good ideas. And we had Jason Read as our DOP and Tomo Davies on sound, both very professional and easy to work with. Jason and I had discussed ideas, locations and shots in pre-production. Dave provided all other support (catering, driving etc). It was a lot of work but we worked well together and it was supportive and good fun. In particular all of us – cast and crew – squashed into one car driving between locations was very cosy! We made sure our final scene of the shoot was in the pub, which was a great excuse for us all to have a few drinks afterwards.
The $64-question of course, where can A Hymn for Her be seen?
It'll be on the film festival circuit for a while so at the moment it can be seen at festivals. We premiere at Hastings Rocks Film Festival 22-24 April. There is a trailer available: https://youtu.be/Dg-0whXKDLk
Anything you can tell us about audience and critical reception of A Hymn for Her?
So far, it's been amazing, everyone who has seen it has been very positive and really enjoyed it. We've had a couple of reviews (including one from yourself) and they have both been great and really caught the essence of the film.
Any future projects you'd like to share?
I'll be promoting A Hymn for Her for quite some time (hopefully!). I'm also a judge at The Misty Moon International Film Festival later this year. I have a TV project in the very early stages of development, I have a couple of short plays being staged later this yea,r and I'm also project managing/directing something later this year that I can't talk about just yet! There'll be other projects with Stuart and Misty Moon as well. I'll also be producing and directing music videos for my husband, Dave Sutherland who I mentioned earlier, who's a musician (you can hear his songs on my films). He has a new album out so we're busy promoting that.
What got you into filmmaking in the first place, and did you receive any formal training on the subject?
No formal training as such. I'm a writer first and foremost. I've always liked writing, so a few years ago I took a bit of a leap of faith and did a part time TV Scriptwriting MA. I graduated with a Distinction, got an agent very quickly, and was then commissioned to write for Jed Mercurio's Critical on Sky 1. But a few months later, Critical was axed, a couple of my TV projects were dropped, and then suddenly nothing was happening. I was doing a lot of unpaid writing work and found myself quite disillusioned. Then a friend pointed out I was complaining a lot (which was true), and why didn't I do something myself. So I started planning on filming The Ballad of a Haunted Man, which was initially a short horror play I'd written which had won a competition. I'd met a DOP called Dan Shoring when I made a short film with him (called Maybe Tomorrow) when I was doing my MA, and really wanted to work with him again, so we co-produced. Working with Dan was brilliant training, he's massively talented and very patient. My tutor at uni was Jim Hill, a prolific TV writer and director, and he also came along to help. I also had a really supportive cast so I had the best on set training you could imagine.
What can you tell us about your filmwork prior to A Hymn for Her?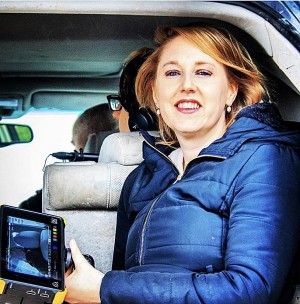 I made a short when I was at uni called Maybe Tomorrow, which starred Tony Bell, Carolyn Pickles, Lucy Pickles, Grace Derby and Louis John Brzozka. I really enjoyed it. Then, as I mentioned, Dan and I co-produced The Ballad of a Haunted Man. Our cast was Shane Attwooll, Helen Lederer and Eliza Leonard. I love that film: I learned a lot making it. I had no expectations but it really took off and was massively successful. Shane picked up Best Actor awards, we won Best Film awards and I won Best Woman Filmmaker at The Los Angeles Independent Film Festival. I loved working with Shane, I think he's amazing, so I wrote The Boy Who Thought He Could Fly for him - it was also in response to me losing a close friend, it's a film about grief. I cast my friends' son, Archie Sanders, it was his first film and he was amazing. I also had the brilliant Jenna Russell, so a stellar cast. I co-produced with Dan, with Jim on board as AD. It also did extremely well, Shane and Archie picked up awards and the film won a lot of Best Inspirational Film Awards. After that, during lockdown, I made My One True Love which was about dementia. That was also with Dan – I wrote it for his wife, Lisa Stevenson who I think is a great actress. Lisa knows the brilliant Sheila Reid, and she agreed to do it, so once again a great cast. We filmed it on Zoom in an afternoon, and the reaction was astonishing. We got thousands of YouTube hits and picked up Best Lockdown Film awards and Best Actress awards. It's now used a training video in hospitals. Both The Boy Who Thought He Could Fly and My One True Love also had TV premieres on London Live.
How would you describe yourself as a director?
Patient, with a clear vision of what I want but very open to other people's ideas. Very collaborative. I think I work well under pressure and I hope I lead well and inspire confidence. Most of all, I hope I make everyone feel they are part of things and that no matter what their role, they are equally valued.
Filmmakers who inspire you?
Martin McDonagh, Ava DuVernay, Edgar Wright, Dorothy Arzner, Greta Gerwig, Kathryn Bigelow. I'm also very inspired by writers. I'm a massive Agatha Christie fan. And TV writers Sally Wainwright, Lisa Holdsworth, Tony Marchant, Jimmy McGovern. The person I've learned the most from is Jed Mercurio, I worked with him for a while and learned an incredible amount about writing, audience, show-running and self-belief.
Your favourite movies?

Feeling lucky ?
Want to
search
any of my partnershops yourself
for more, better results ?

The links below
will take you
just there!!!


The ones that come to mind, for many different reasons, are Three Billboards Outside Epping, Missouri, Hot Fuzz, The Lost Boys, One Night in Miami, Psycho, The Shawshank Redemption, Brief Encounter, Green Book and the Hammer horror films.
... and of course, films you really deplore?
I'll skip this one – if you haven't anything nice to say about someone's work, then just don't say anything (in public at least).
Your/your movie's website, social media, whatever else?
I'm on Twitter @Emj20, The Misty Moon Society have a Facebook group and A Hymn for Her also has a Facebook page.
Anything else you're dying to mention and I have merely forgotten to ask?
No, you asked everything! But if anyone would like to know the best advice that I've been given, it's this: 'Always be nice, and always say thank you.' Thank you.
Thanks for the interview!